Tutus, tiaras and tiramisu: World's first Barbie restaurant opens
January 31, 2013 -- Updated 1138 GMT (1938 HKT)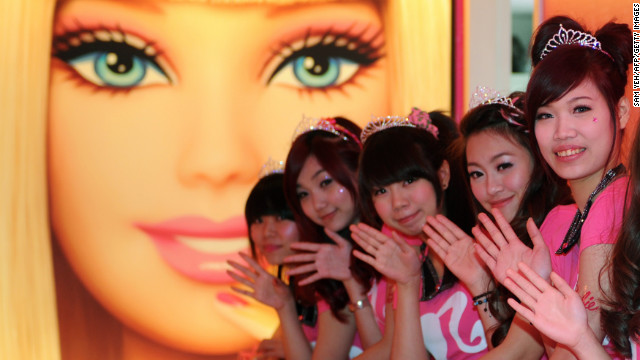 Tiaras and smiles at the opening of Taipei's Barbie Café on Wednesday. This welcome by staff a subtle hint at what lies further ahead.
Female wait staff wear tutus to complement the tiaras.
Some decent imagination is required to get Barbie and Ken from these outfits.
The entrance of Barbie Café, featuring a purse-like sofa. More beauty salon than restaurant.
Barbie and food -- that is one big juxtaposition.
Somewhere hidden in this photo is a serving of macaroons.
These Barbie cakes were only available during the opening. But don't be disappointed, there's more dessert at the dessert bar.
World's first Barbie Café opens in Taipei
World's first Barbie Café opens in Taipei
World's first Barbie Café opens in Taipei
World's first Barbie Café opens in Taipei
World's first Barbie Café opens in Taipei
World's first Barbie Café opens in Taipei
World's first Barbie Café opens in Taipei
STORY HIGHLIGHTS
Barbie-themed restaurant opened Wednesday in Taipei
Lots of pink, waitresses in tutus, waiters trying to look like Ken
Restaurant features a life-sized Barbie box
(CNN) -- Taiwan. Home to the first Hello Kitty-themed café, Hello Kitty-themed airplanes and now -- taking cute perhaps one step too far -- the world's first Barbie-themed restaurant.
Licensed by U.S. toymaker Mattel, Taiwan restaurant company Sinlaku on Wednesday opened the Barbie Café on Zhongxiao road, one of the busiest shopping districts in the capital, Taipei.
The café's decoration, costing TW$50 million (US$1.7 million), is mostly in suitably Barbie-style magenta and pink.
The furniture couldn't be more princess-y -- bar tables look like the heel of a stiletto, chair backs resemble bustiers (some with a tutu) and chandeliers are shaped like elegant teapots and teacups with saucers. Barbie dolls and logos adorn walls and tabletops.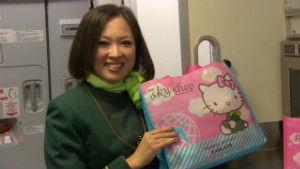 Hello Kitty takes to the skies
The restaurant also has a gigantic Barbie box allowing customers to step in and feel like a packaged up, life-size Barbie.
Waitresses wear tutus and tiaras while their male counterparts try, mostly in vain, to look like Ken, Barbie's on-off squeeze.
Barbie's abnormally, and anatomically-challenging, slim figure may diminish some appetites. With that in mind, the restaurant menu has been designed by professional nutritionists, local media reported (Chinese). There's a calorie chart on the first page of the menu, with calorie data listed alongside each item.
The menu itself is a hodgepodge of offerings, including Chicken toast box, Hazelnut tiramisu, Macaroons in martini glasses, Philadelphia steak salad, Salmon beauty salad and Barbie 128 (a pink drink named after the café's address). You can find photos of some menu items on this Chinese-language blog post.
Sinlaku is planning a second Barbie Café in the central Taiwan city of Taichung and aims to introduce one in Shanghai, Wu ke-jing, the general manager of Sinlaku, said in a local media report on Chinatimes (Trad. Chinese only).
Sinlaku also operates a Hello Kitty-themed café in Taipei, which opened five years ago. The Hello Kitty restaurant is slightly more expensive than Barbie Café with mains from TW$400 (US$14) compared to Barbie Café's mains from TW$250 (US$8). You can read our review of the Hello Kitty restaurant below.
Please, if you have visited the Barbie Café let us know your experience.
Hello Kitty restaurant is terribly cute and its food is just terrible
Barbie Café, 2F, 128, Section 4, Zhongxiao East Road

Part of complete coverage on
December 10, 2013 -- Updated 1811 GMT (0211 HKT)

"To awaken quite alone in a strange town is one of the pleasantest sensations in the world."
December 6, 2013 -- Updated 0304 GMT (1104 HKT)

A Japanese blogger has gained Internet fame for taking selfies with a fake lover. Here's his sad/uplifting tale.
December 6, 2013 -- Updated 0151 GMT (0951 HKT)

Biman Bangladesh Airline will take star-crossed airliner on its last joy ride.
December 3, 2013 -- Updated 0303 GMT (1103 HKT)

Whistler, Chamonix, Aspen -- the best known winter sports resorts have become that for a reason.

More than just the merger of Buda and Pest, the Pearl of the Danube is also the cultural crossroads of Europe's east and west.
December 2, 2013 -- Updated 1316 GMT (2116 HKT)

Visiting the DPRK is easy these days, so long as you don't forget to play by their rules.
November 26, 2013 -- Updated 2330 GMT (0730 HKT)

The best places to indulge our second-favorite thing to do with ice.

Top drinking spots with bird's eye views of one of the world's greatest cities.
November 26, 2013 -- Updated 0138 GMT (0938 HKT)

Mulled wine, skating on the river, light shows over snow. Some cities are made for winter.
November 22, 2013 -- Updated 1607 GMT (0007 HKT)

Only 800 people a year are allowed to visit Namibia's bleak but beautiful Skeleton Coast, littered with whale bones and crumbling shipwrecks.
November 24, 2013 -- Updated 0500 GMT (1300 HKT)

Aah, slide shows. How we hated Grandpa's annual two-hour presentation of his trip to the Grand Canyon. But now, don't we kind of miss them?

For 24 hours, we made the world's busiest airport our destination and found a world unto its own. Join us on our journey.

Today's five most popular stories