Tutus, tiaras and tiramisu: World's first Barbie restaurant opens
January 31, 2013 -- Updated 1138 GMT (1938 HKT)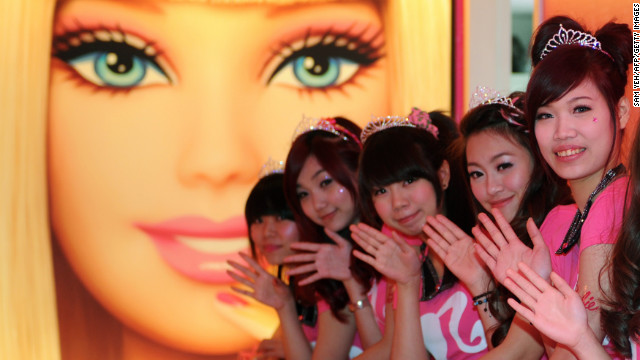 Tiaras and smiles at the opening of Taipei's Barbie Café on Wednesday. This welcome by staff a subtle hint at what lies further ahead.
Female wait staff wear tutus to complement the tiaras.
Some decent imagination is required to get Barbie and Ken from these outfits.
The entrance of Barbie Café, featuring a purse-like sofa. More beauty salon than restaurant.
Barbie and food -- that is one big juxtaposition.
Somewhere hidden in this photo is a serving of macaroons.
These Barbie cakes were only available during the opening. But don't be disappointed, there's more dessert at the dessert bar.
World's first Barbie Café opens in Taipei
World's first Barbie Café opens in Taipei
World's first Barbie Café opens in Taipei
World's first Barbie Café opens in Taipei
World's first Barbie Café opens in Taipei
World's first Barbie Café opens in Taipei
World's first Barbie Café opens in Taipei
STORY HIGHLIGHTS
Barbie-themed restaurant opened Wednesday in Taipei
Lots of pink, waitresses in tutus, waiters trying to look like Ken
Restaurant features a life-sized Barbie box
(CNN) -- Taiwan. Home to the first Hello Kitty-themed café, Hello Kitty-themed airplanes and now -- taking cute perhaps one step too far -- the world's first Barbie-themed restaurant.
Licensed by U.S. toymaker Mattel, Taiwan restaurant company Sinlaku on Wednesday opened the Barbie Café on Zhongxiao road, one of the busiest shopping districts in the capital, Taipei.
The café's decoration, costing TW$50 million (US$1.7 million), is mostly in suitably Barbie-style magenta and pink.
The furniture couldn't be more princess-y -- bar tables look like the heel of a stiletto, chair backs resemble bustiers (some with a tutu) and chandeliers are shaped like elegant teapots and teacups with saucers. Barbie dolls and logos adorn walls and tabletops.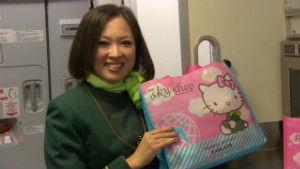 Hello Kitty takes to the skies
The restaurant also has a gigantic Barbie box allowing customers to step in and feel like a packaged up, life-size Barbie.
Waitresses wear tutus and tiaras while their male counterparts try, mostly in vain, to look like Ken, Barbie's on-off squeeze.
Barbie's abnormally, and anatomically-challenging, slim figure may diminish some appetites. With that in mind, the restaurant menu has been designed by professional nutritionists, local media reported (Chinese). There's a calorie chart on the first page of the menu, with calorie data listed alongside each item.
The menu itself is a hodgepodge of offerings, including Chicken toast box, Hazelnut tiramisu, Macaroons in martini glasses, Philadelphia steak salad, Salmon beauty salad and Barbie 128 (a pink drink named after the café's address). You can find photos of some menu items on this Chinese-language blog post.
Sinlaku is planning a second Barbie Café in the central Taiwan city of Taichung and aims to introduce one in Shanghai, Wu ke-jing, the general manager of Sinlaku, said in a local media report on Chinatimes (Trad. Chinese only).
Sinlaku also operates a Hello Kitty-themed café in Taipei, which opened five years ago. The Hello Kitty restaurant is slightly more expensive than Barbie Café with mains from TW$400 (US$14) compared to Barbie Café's mains from TW$250 (US$8). You can read our review of the Hello Kitty restaurant below.
Please, if you have visited the Barbie Café let us know your experience.
Hello Kitty restaurant is terribly cute and its food is just terrible
Barbie Café, 2F, 128, Section 4, Zhongxiao East Road

Part of complete coverage on
September 23, 2014 -- Updated 1007 GMT (1807 HKT)

Which cities provide the most memorable party times? A self-proclaimed "nightlife connoisseur" names his top 10.
September 22, 2014 -- Updated 0344 GMT (1144 HKT)

Whether you're looking for a post-meeting pint or a wild night out, creativity is on the menu at these hot Hong Kong venues.
September 23, 2014 -- Updated 1028 GMT (1828 HKT)

Artists and migrants are moving out as a once-crumbling neighborhood goes upscale.
September 20, 2014 -- Updated 0502 GMT (1302 HKT)

They irrigate our farms, are an important means of transport and a source of eco-friendly power.
September 19, 2014 -- Updated 0828 GMT (1628 HKT)

Open House festivals allow snooping in homes and landmarks normally closed to public
September 19, 2014 -- Updated 0422 GMT (1222 HKT)

Ancient competitions held and yurt town set up to rejuvenate nomadic cultures.
September 19, 2014 -- Updated 0102 GMT (0902 HKT)
Playful sea lions, fearless boobies and the only ocean-going lizards in the world -- these islands offer amazing experiences for naturalists and tourists alike.
September 18, 2014 -- Updated 1200 GMT (2000 HKT)

A foreign language can be the best aphrodisiac, so we traveled the world in search of the hottest accents.
September 23, 2014 -- Updated 0657 GMT (1457 HKT)

Hidden from the rest of the world for decades, Myanmar's Lethwei boxing is experiencing a revival globally.
September 17, 2014 -- Updated 1117 GMT (1917 HKT)

This aging cargo work whale makes more than 60 flights each week, carrying parts for all of the Airbus programs.
September 15, 2014 -- Updated 0026 GMT (0826 HKT)

Former brothels, public toilets and war bunkers now provide eccentric watering holes for those willing to drink deep.
September 12, 2014 -- Updated 0338 GMT (1138 HKT)

Whether filled with electric blue sulfur flames or hissing lava, these mega mountains offer incredible vistas.

Today's five most popular stories