STORY HIGHLIGHTS
English clubs topped spend during the January transfer window
January is one of two periods of the year when European soccer clubs can buy players
English Premier League teams spent $190 million on players throughout the month
The figure is double the amount spent in the same period last year
(CNN) -- January can be a grueling month. Christmas is but a distant memory, with the only reminder of the festive period the credit card bills which keep tumbling through the letter box.
It is often a time for cutting ones cloth as once profligate football clubs are finding out, though the likes of English Premier League club Queen Park Rangers have gone on a spending spree in a desperate bid to avoid relegation.
English Premier League clubs splashed out a combined £120 million ($190 million) on new players during the January transfer window -- double the £60m spent during the same period in 2012 -- but those figures can be deceptive, with QPR, Liverpool and Newcastle United accounting for over half of the money spent in England's top flight.
But, in truth, the increase in spending contradicts the mood of austerity which is blowing like tumbleweed through European soccer.
Read: Deadline day as it happened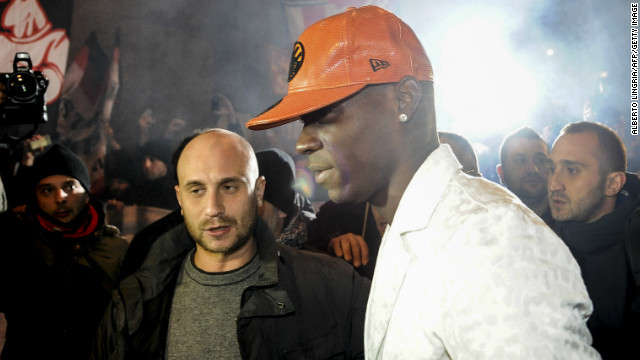 Mario Balotelli was mobbed by fans outside a restaurant as he returned home to Italy to complete his $30 million move from AC Milan to Manchester City.
His future at the English Premier League champions had been in doubt since his training ground bust-up with manager Roberto Mancini in early January, when coaching staff had to intervene to separate the pair. Mancini later downplayed the tussle, sparked by Balotelli's hostile tackle on a fellow player, as "nothing unusual."
Balotelli made his Inter Milan debut in 2007 after being signed by the club at the age of 15. He scored the first goals of his senior career in a Coppa Italia match against Reggina in December of that year.
Balotelli joined Manchester City from Italian club Inter Milan. His relationship with Inter coach Jose Mourinho endured numerous ups and downs. Disciplinary issues littered his time at the San Siro and the situation came to a head in March 2010, when Balotelli was left out of Inter's squad for a Champions League tie after an altercation with Mourinho.
Mancini was Balotelli's first coach at Inter Milan and the pair were reunited in 2010 when the striker joined Manchester City. The start of Balotelli's City career was disrupted by injury, but he finally scored his first Premier League goals in a 2-0 away win at West Bromwich Albion. His joy at netting a brace was short-lived, however, as he was sent off after picking up two yellow cards.
Balotelli became a hit with City's fans, as much for off-field antics as his goalscoring. His stock with the supporters was never higher than in October 2011, when he scored twice in City's 6-1 thumping of neighbors Manchester United at Old Trafford. After scoring the first goal in City's victory, he revealed a t-shirt stating "Why always me?" -- instantly creating one of the most iconic images of the Premier League era. City went to beat United to the English title on goal difference with a dramatic last-gasp victory over Queens Park Rangers on the final day of the season.
Balotelli reminded everyone of his undoubted talent during the 2012 European Championships. He scored three times as Italy reached the final, including both goals in the Azzurri's 2-1 semi win over Germany. Italy lost 4-0 to Spain in the final of the tournament co-hosted by Poland and Ukraine.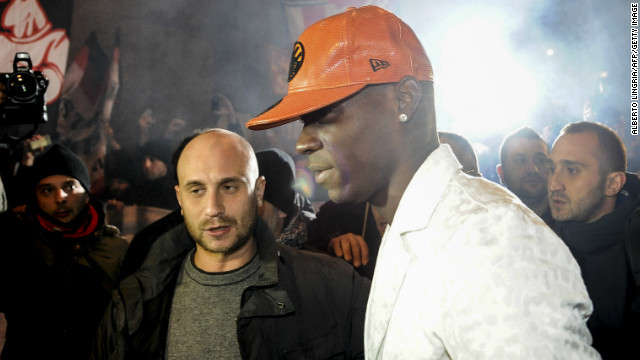 Being Balotelli: The life and times of Mario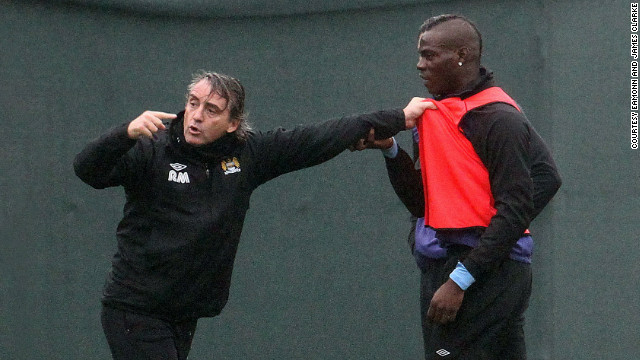 Manchester City manager Roberto Mancini was photographed grappling with his firebrand striker Mario Balotelli during a training run on Thursday, prompting coaching staff to intervene to separate the pair. Mancini later downplayed the tussle, sparked by Balotelli's hostile tackle on a fellow player, as "nothing unusual."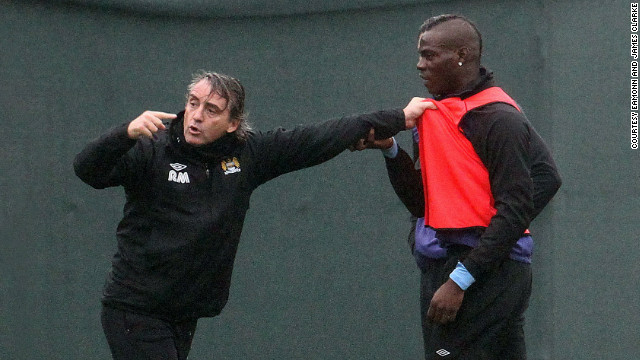 Balotelli's training ground bust up
"There were relatively few active spenders in the winter window, with over half of this January's total transfer spending coming from three clubs," said Dan Jones, partner in the sports business group at Deloitte, as he analyzed spending trends in the English Premier League.
"Winter window activity tends to be driven by the on-pitch competition at the upper and lower ends of the Premier League table."
The elephant in every club boardroom is the need to factor in European governing body UEFA's new financial rules that are designed to prevent big spending clubs spending beyond their means and posting unsustainable yearly losses.
"Clubs are now in a reporting period that will count towards the first assessment of UEFA's financial fair play break-even requirement for international competition and Premier League clubs are also considering the implementation of additional cost control regulation at a domestic level," added Jones.
Read: Last chance saloon for "rotten apple" Balotelli
"Their apparent relative restraint in this transfer window may reflect an increasing focus on clubs achieving more sustainable levels of expenditure relative to revenues."
Like QPR, the motivation for Newcastle, currently 15th in the table, to bring in reinforcements was to ensure Premier League survival. And the arrival of the cavalry at both clubs is already starting to have an effect.
France striker Loic Remy scored on his debut for QPR in a 1-1 draw with West Ham United, while Newcastle's new French midfielder Moussa Sissoko dominated the game during Tuesday's 2-0 win at relegation rivals Aston Villa, who preferred a strategy of financial prudence, which may yet backfire.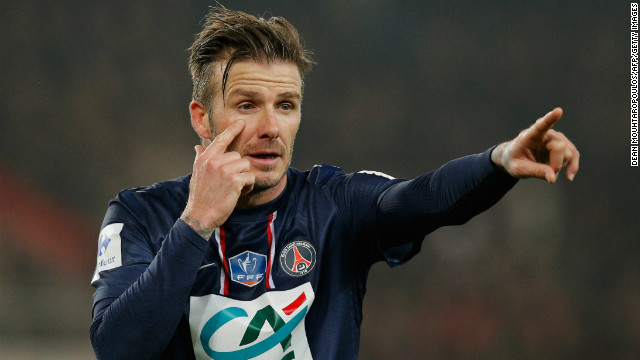 David Beckham made an immediate impact at Paris Saint-Germain, with victories in his first two appearances against French rivals Marseille.
He was unveiled at the Parc des Princes on the final day of the January 2013 transfer window, and announced that he will donate the pay he receives during his five-month contract to a children's charity in Paris.
Beckham celebrated his second MLS Cup success with Los Angeles Galaxy in December 2012, when he decided to leave with a year left on his contract as he sought one final career challenge in Europe.
David Beckham made his debut for English Premier League team Manchester United in 1993. By 1996, the midfielder was becoming renowned for his ability to score and create goals with his now legendary right foot. In a match against Wimbledon, Beckham stunned football fans by scoring from the halfway line.
Beckham swiftly progressed into the England team and was part of Glenn Hoddle's squad for the 1998 World Cup in France. In a second-round match against Argentina, Beckham was sent off for kicking out at Diego Simeone. England lost the match on penalties and were eliminated, with Beckham becoming a hate figure for some fans.
Beckham rebuilt his reputation and in 1999 was a key part of the Manchester United team which became the first English club to win the Premier League, FA Cup and European Champions League in the same season. The Old Trafford side, led by Alex Ferguson, secured the treble thanks to a stunning late comeback against Bayern Munich in the Champions League final.
Beckham's redemption was complete in 2000, when caretaker England manager Peter Taylor made him captain of the national team. He retained the role under Sven-Goran Eriksson, leading England at the 2002 and 2006 World Cups and the 2004 European Championships.
In 2003, after a turbulent final few months at United which involved Ferguson accidentally kicking a boot at Beckham, he joined Real Madrid's "Galacticos".
But Beckham's spell in Madrid didn't produce the trophy rush he had hoped for. His sole title came in 2007, under future England manager Fabio Capello, thanks to a win against Real Mallorca on the final day of the season.
Beckham made the switch to Los Angeles Galaxy in the U.S.'s Major League Soccer in 2007. His stated aim was to raise the profile of soccer in the country.
Four years after heading to the States, Beckham finally won the MLS Cup with Galaxy last season. Galaxy beat Houston Dynamo 1-0 in the final thanks to a goal from Landon Donovan.
Off the pitch, Beckham is famous for being one half of one of the world's most high-profile couples. He started dating Victoria Adams of British pop group Spice Girls in 1997. The pair married in 1999 and have four children, son Brooklyn, Romeo and Cruz and daughter Harper Seven.
Football fans wear masks depicting Beckham at the London 2012 Olympics. He was not picked for the GB team, but played a big role in his hometown being awarded the Games.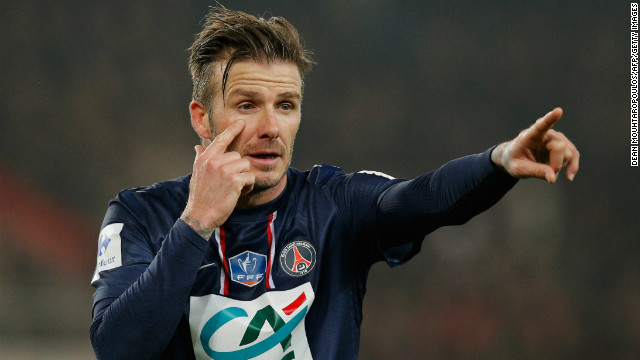 The career of David Beckham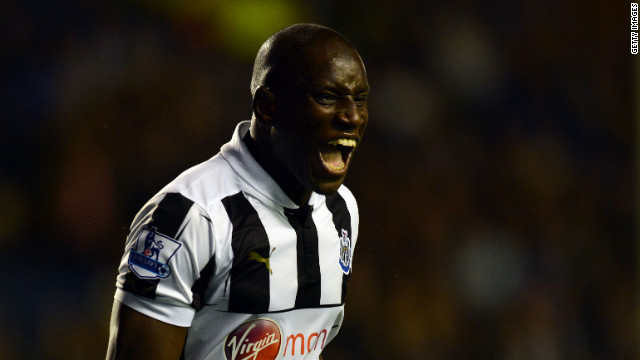 Whether striker Demba Ba will be playing for Newcastle after January has been the subject of intense speculation. The Senegal international is in talks with Chelsea after the London side triggered a £7 million ($11 million) release clause in his contract which became active again on January 1. It is "even (money) whether he'll stay or go," said Newcastle manager Alan Pardew.
While Ba maybe preparing for his St. James' Park exit, the English Premier League club has agreed a deal to sign defender Mathieu Debuchy from Lille. The move for Debuchy, who played in all four of France's games at Euro 2012 and has 13 senior caps, is set to be completed early in the January transfer window.
Inter Milan's Dutch midfielder Wesley Sneijder, who has not played for the Serie A club since September following a dispute over his contract, is another international likely to move during the January window.
Paris St. Germain spent $55 million to sign midfielder Lucas Moura from Sao Paulo. The 20-year-old becomes the sixth Brazilian at the ambitious French club.
Fernando Torres joined Chelsea from Liverpool for $80 million in January 2011. He has struggled at Stamford Bridge, but the Spaniard's goalscoring form has been transformed since the arrival of new interim manager Rafa Benitez.
Liverpool bought Andy Carroll to replace Torres, but the former Newcastle striker found himself out in the cold at Anfield under new manager Brendan Rodgers last summer and is now on loan at Premier League rivals West Ham.
After Carroll's departure, Liverpool have been heavily reliant on Luis Suarez's goals this season. In a bid to provide more support for the Uruguayan striker, the Anfield club signed Chelsea striker Daniel Sturridge on the second day of the January transfer window.
The future of veteran Chelsea midfielder Frank Lampard is also in doubt, with his present deal to expire in July. He is now free to agree pre-contract terms with a foreign club in January.
Barcelona striker David Villa has been linked with a number of English Premier League clubs, including Chelsea and Arsenal, after failing to earna regular place with the Spanish league leaders.
"I'm proud that so many great clubs have manifested an interest in me, but they will have to wait until the end of the season, then we will see what might happen," said Atletico Madrid's top scorer Radamel Falcao recently. "Leaving Atletico in the winter transfer window is absolutely not on."
AC Milan's Brazil international forward Alexandre Pato has been negotiating with Corinthians over a return to his homeland as he seeks to revive his career ahead of the 2014 World Cup.
Former England captain David Beckham is another player looking for a club. French second division side Monaco had been interested in signing the 37-year-old former LA Galaxy midfielder.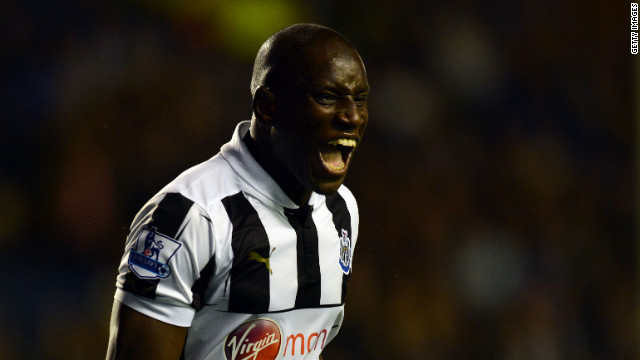 Transfer window offers rich pickings
Premier League survival is more important than ever this term, with a record-breaking television deal set to offer clubs and unprecedented bounty next season.
Read: The eternal city welcomes brand Beckham
"Premier League clubs have been relatively restrained in their player transfer fee spending, in spite of the upcoming uplift in their broadcasting revenues of between £20m and £30m each from next season," added Jones.
"Whilst the clubs' total spending was £120m, after taking into account transfer income, the Premier League clubs' net transfer spend was £70m."
The transfer window system has been in place across European since 2003. In 11 January windows, English clubs have traditionally outspent their continental rivals, and the trend continued in 2013.
The second highest spending league this January was Italy's Serie A, which spent roughly 70% of the EPL's total.
The most high-profile of those transfers was that of controversial striker Mario Balotelli, who joined AC Milan from English champions Manchester City.
Spending in France and Germany was dwarfed by that in England and Italy. The total amount spent in both countries was between 30 and 45% of that recorded in England, with an exodus of players across the English Channel the trend during France's transfer window.
One Englishman who bucked the trend was soccer icon David Beckham, who joined Paris Saint-Germain on a deal which will see his wages donated to a local childrens' charity.