Hospital: Pakistani teen activist Malala awake, talking after successful surgeries
February 4, 2013 -- Updated 1349 GMT (2149 HKT)
STORY HIGHLIGHTS
Operations to repair Malala's skull and help her hearing "were a success," the hospital says
Queen Elizabeth Hospital: She is stable, "awake and talking to staff and members of her family"
Saturday's five-hour surgery is the latest step on a long road to recovery for the teen activist
In October Taliban gunmen shot her in the head and neck
London (CNN) -- Pakistani teen activist Malala Yousufzai was in stable condition at a British hospital on Sunday after undergoing surgeries to repair her skull and help her hearing, officials said.
"Both operations were a success and Malala is now recovering in hospital. Her medical team are 'very pleased' with the progress she has made so far," the Queen Elizabeth Hospital in Birmingham said in a statement. "She is awake and talking to staff and members of her family."
READ: Malala's recovery crosses key threshold
Saturday's five-hour surgeries were the latest step on a long road to recovery for Malala, who was shot in the head and neck by Taliban gunmen in October for speaking out in favor of education for Pakistani girls.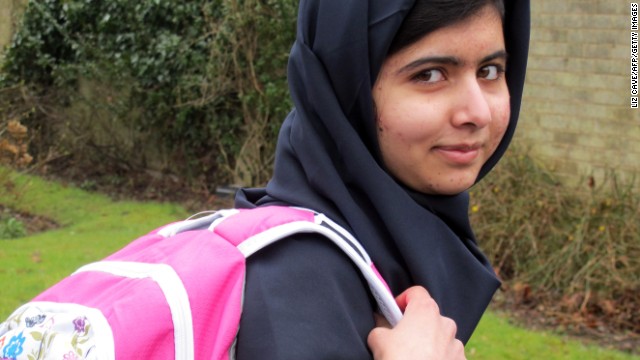 Malala Yousafzai returns to school for the first time at Edgbaston High School for Girls in Birmingham, England, on March 19, 2012. The 15-year-old said she had "achieved her dream."
Malala was one of seven people featured on the cover of Time's 100 most influential people edition of the magazine in April.
The teen was discharged from Queen Elizabeth Hospital in Birmingham, England, in February 2012.
Malala Yousufzai, 15, reads a book on November 7, 2012 at the hospital.
Malala talks with her father, Ziauddin. She was attacked for advocating for girls' education in Pakistan.
Malala sits up in bed on October 25, 2012 after surgery for a gunshot wound to the head.
Malala recovers at Queen Elizabeth Hospital on October 19, 2012 after being treated.
Pakistani hospital workers carry Malala on a stretcher on October 9, 2012 after she was shot in the head by the Taliban in Mingora.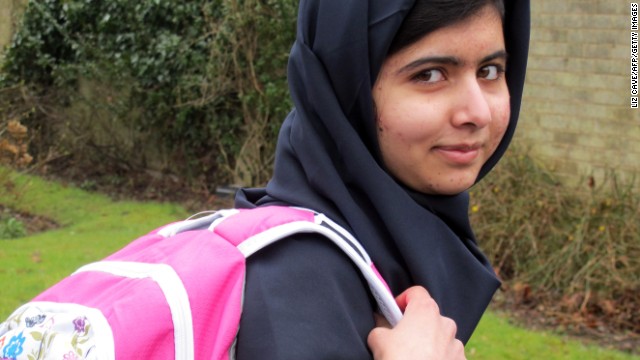 Photos: Malala's recovery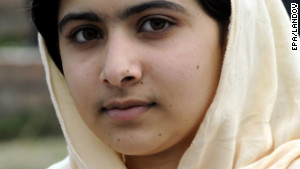 Malala thanks supporters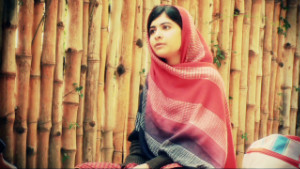 The schoolgirl who took on the Taliban
Last week doctors said they would use a titanium plate to cover an opening in her skull, and give her a cochlear implant to partially restore hearing in her left ear.
READ: Malala's journey from near death to recovery
The plate was necessary to replace a section of her skull about the size of a hand, which doctors removed to relieve swelling after the shooting. And the inner ear implant will restore some function to her damaged ear, doctors said last week.
The 15-year-old became an international symbol of courage after she was shot by Taliban gunmen last fall for her crusade about girls going to school.
She had blogged fearlessly about girls' education and accused the Taliban of thriving on ignorance. The Taliban forbid girls in the classroom and have threatened to kill anyone who defies them.
Malala was in a school van on October 9 when the gunmen stopped the vehicle and shot her at point-blank range.
She was flown to the British hospital six days later.
Doctors there discharged her last month, and she has been recovering with her family at a temporary home nearby. Her father, who had been an educator in Pakistan, is now employed at the Pakistani Consulate in Birmingham.
On Sunday, officials said Malala would remain hospitalized until she is well enough to be discharged.
READ: Pakistan's Malala: Global symbol, but still just a kid
CNN's Ben Brumfield, Laura Smith-Spark and Per Nyberg contributed to this report.

Today's five most popular stories
Part of complete coverage on
October 9, 2013 -- Updated 2238 GMT (0638 HKT)

The teen blogger simply wanted an education. But she became a symbol of defiance against militants, empowering young women worldwide.
October 10, 2014 -- Updated 1624 GMT (0024 HKT)

More than three million girls are out of school in Pakistan, while spending on education has decreased to 2.3 percent of GDP in 2010.
October 9, 2013 -- Updated 1720 GMT (0120 HKT)

According to UNESCO, regional neighbors fare better in getting a literate population than Pakistan.
October 10, 2014 -- Updated 1651 GMT (0051 HKT)

Malala's journey from Pakistan hospital to the United Nations, author and education rights activist.
January 28, 2013 -- Updated 2012 GMT (0412 HKT)

Becky Anderson checks in on Pakistani schoolgirl Malala Yousufzai, who has become a global symbol for girls' education.
October 9, 2013 -- Updated 2233 GMT (0633 HKT)

The Pakistani Taliban issues a new death threat against Malala, who turns the other cheek.
October 19, 2012 -- Updated 1744 GMT (0144 HKT)

Hundreds of messages from around the world were received by CNN for Malala Yousufzai, the Pakistani teen activist attacked by the Taliban.
January 30, 2013 -- Updated 1031 GMT (1831 HKT)

The University Hospital in Birmingham, UK show scans and 3D images of Malala's head wound.
November 10, 2012 -- Updated 1407 GMT (2207 HKT)

Pakistan has a new heroine and a new cause -- a girl's right to education. Now the government vows to get every child into school by end 2015.