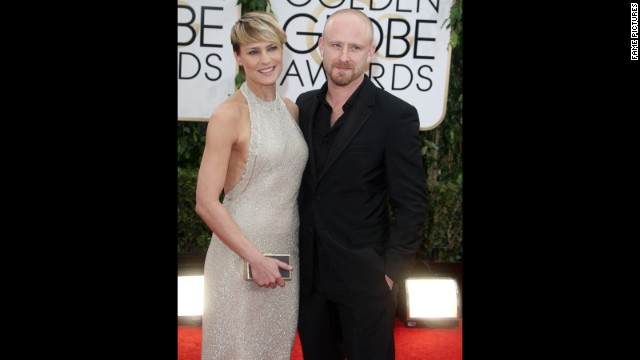 Robin Wright, 47, has found love with 33-year-old actor Ben Foster, and she knows their age difference has raised eyebrows. "If it was the inverse -- a younger woman with an older man -- not many would bat an eye,"
she tells Harper's Bazaar in its April issue
. "But an older woman with a younger man -- it's almost judged the way different religions judge doctrines of other religions." Wright, who announced the couple's engagement in January, is just one star who's open-minded about an age gap.
there have been rumors
that she's dating singer Austin Mahone, who's 17. But
they've been debunked.
Before going public with their relationship, Selena Gomez, 21, referred to Justin Bieber, 20, as her little brother. Following their most recent breakup,
Jennifer Lopez has found happiness with her boyfriend, Casper Smart, who is 18 years younger than the 44-year-old star.
Actress Melissa McCarthy, 43, and her husband, Ben Falcone, 40, have been married since 2005.
Jennifer Aniston, 45, is "thisclose" to marital bliss with her fiance, 42-year-old Justin Theroux. Before becoming engaged to Theroux, Aniston dated John Mayer, who's eight years her junior.
At 33, Nick Cannon is roughly a decade younger than Mariah Carey. The pair wed in 2008.
Cher's romantic history is filled with younger guys, including Gene Simmons, Val Kilmer, Tom Cruise and Gregg Allman, pictured here. Cher was involved with Allman, about two years her junior, on and off throughout the late '70s. The two could never quite decide if they wanted to stay married or not, but they were officially done by the end of the decade.
"The Place Beyond the Pines" co-stars Eva Mendes, 40, and Ryan Gosling, 33, have been attached since 2011.
Demi Moore became the poster woman for the cougar when she settled down with Ashton Kutcher and their nearly 16-year age difference. Since their breakup, Moore has been spotted with a number of younger guys, including Vito Schnabel, Harry Morton and Sean Friday.
After splitting from Tony Parker, left, who is more than seven years her junior, Eva Longoria began dating Eduardo Cruz, who is 10 years younger than she is. The pair have since called it quits.
Halle Berry's dating life has been all over the map. She's married to Olivier Martinez, who like Berry is in his late 40s. But ex-boyfriend Gabriel Aubry, left, is nine years younger than her. She once credited Aubry, a model and eventual father of her first child, for keeping her "mojo" going.
she said in 2012
. "I just met someone that I cared for, and this happened to be his age."
Madonna, 55, recently broke up with 26-year-old dancer Brahim Zaibat. She says her repeat May-December romances aren't intentional. "That's just what happened ... that's the romantic in me,"
In October, actress Jamie-Lynn Sigler, 32, had her first child with her fiance, 24-year-old baseball player Cutter Dykstra.
After splitting from Zac Efron in 2010, 25-year-old actress Vanessa Hudgens began seeing 22-year-old "Carrie Diaries" actor Austin Butler.
Gwyneth Paltrow, 41, married Coldplay's Chris Martin, 37, in 2003.
Stars who date younger men
Stars who date younger men
Stars who date younger men
Stars who date younger men
Stars who date younger men
Stars who date younger men
Stars who date younger men
Stars who date younger men
Stars who date younger men
Stars who date younger men
Stars who date younger men
Stars who date younger men
Stars who date younger men
Stars who date younger men
Stars who date younger men
STORY HIGHLIGHTS
After announcing her engagement to a 23-year-old, Jamie-Lynn Sigler, 31, took flak
20- and 30-something women who date younger men are seen as strange by some
In popular parlance, these young lovers of even younger men are dubbed "pumas"
(CNN) -- When a college girlfriend called to tell me she was dating someone new, I asked the standard, superficial questions any 20-something pal would:
"How tall?"
"He's a foot taller than me!"
"What does he do?"
"He's actually just finishing up school."
"He's in your master's program?"
"Not quite."
At the time, a year ago now, he was 20 and she was 23.
Mrs. Robinson she's not; their three-year age difference isn't exactly shocking. It makes sense that two students (she was earning a master's degree and he was working toward his bachelor's) would meet working a part-time job.
Yet, during a recent gathering of girlfriends, she seemed to be the target of as many cougar jokes as Mariah Carey was in 2008 when she married Nick Cannon. (At 32, Cannon is a decade younger than the singer.) It probably didn't help that, at the start of their relationship, my friend's suitor couldn't legally accompany her to the bar.
"It makes people really uncomfortable for some reason," she said in response to my own mindless cougar quip.
As the public becomes accustomed to tales of 40- and 50-year-old women who date younger men, 20- and 30-something women who do the same are still regarded as a strange species. In popular parlance, these young lovers of even younger men are dubbed "pumas."
Take actress Jamie-Lynn Sigler, for example. After announcing her engagement to 23-year-old baseball player Cutter Dykstra last week, the 31-year-old took flak in some online comment sections.
"I can't imagine being 31 and relating so much to a 23 y/o male...they are too immature still!" said one commenter. Another called Sigler "a mini cougar."
One People.com commenter even suggested that 2013 was "the year of the 'young-er cougar,' " noting that race car driver and model Danica Patrick, 30, is dating fellow driver Ricky Stenhouse Jr., 25.
Three to five years hardly calls for puma and cougar jokes, said Hugo Schwyzer, a professor of history and gender studies at Pasadena City College. If it were the women who were three to five years younger, he added, people would say it's the perfect age gap.
"The biggest obstacle (these couples) are going to face is this enduring myth that boys develop more slowly than girls," Schwyzer said. "We just repeat that as if that's absolutely true. It is developmentally largely true when dealing with infants and toddlers ... but once you get to adulthood, you know, 18 is 18."
Of course, as far as "The Twilight Saga" is concerned, 18 isn't always 18. While Bella jokes that she's "not really into the whole cougar thing" regarding a guy two years her junior, her seemingly teenage vampire boyfriend is actually more than 100 years older than she is -- and that's not creepy at all?
As more Hollywood actresses and models, such as Eva Longoria, date younger men, the unwarranted stigma surrounding such relationships will fade, matchmaker Patti Stanger said.
But for now, a Celebuzz gallery titled "Hollywood's cougars" includes Nicole Kidman and Keith Urban. She's four months older than he is.
Stanger's general rule of thumb for dating, regardless of who is on the winter end of the May-December romance, is "10 up, 10 down." If a couple is 11 years apart in age, she said, "don't cry. It's no big deal. But if you go 15, you're screwed." Stanger has also mentioned this notion on her reality show, "The Millionaire Matchmaker," which is in its sixth season on Bravo. On the series, she often takes on male and female clients who are looking for someone significantly younger than they are.
When that happens, Stanger added, cultural references are lost and one person assumes the caretaker role, which can be a problem when that person is the woman.
"When you do 15 years, when you do Demi Moore and Ashton Kutcher, it's going to run its course," she added. "It can't last when the woman is older than the man. When the man is older than the woman, unfortunately, there is a double standard and it does last. Especially in different cultures ... that is the norm because a man is supposed to provide and guide for his woman."
The puma and cougar debate also has a place among gay, lesbian, bisexual and transgender daters, though the lines are blurrier. When 26-year-old actress Amber Heard and 36-year-old photographer Tasya van Ree went public with their relationship in 2010, age wasn't at the forefront of reports the way it was for Carey and Cannon.
"Opinions on age difference run the gamut from fearful to desirable," author Dave Singleton wrote regarding the gay community in his Match.com column, "Ask Dave."
"There's no hard and fast rule on whether age differences sink the love boat," Singleton wrote. "But age is definitely a factor when you date someone. ... In my research with gay men for my book, 'The Mandates: 25 Real Rules for Successful Gay Dating,' I never met one who described a date without telling me the guy's age first."
As Schwyzer says, "The problem is largely cultural at this time. ... (There will be) jokes about robbing a cradle. The expectations are somehow that (a woman is) not capable of being with a grown man and has thus chosen to date someone who our society thinks of as a boy."
In October, London-based video blogger Emily Hartridge, 28, posted a video about the benefits of dating a younger man. The comedic vlog listed reasons such as "younger guys try harder to please you" and "you get to feel more in charge" among the perks.
Another plus for some career-driven, powerful women in their 20s and 30s, Schwyzer said, is that millennial men tend to be more open about gender roles.
"For decades women have moved into traditionally male spaces," he added. "With some millennial guys ... we're not seeing more guys who are feminine, but flexible."
For my friend, the best thing about dating a younger man -- at least her younger man -- is that there's no noticeable age difference at all.
I can pick on her all I want for dating someone the same age as my younger sister. And I'll probably continue to do so -- out of love, of course. But truth be told, there's less of a cultural gap between her and her younger beau than there was between my last boyfriend and me. At six years my senior, he was behind the wheel of a car while I was still riding around the neighborhood on my Razor scooter.
At least my "cougar" friend and her juvenile boyfriend can both recall growing up listening to cassette tapes, playing video games on the original PlayStation, and watching Bill Clinton deny that he had "sexual relations with that woman" -- even if one of them wasn't quite sure what that meant at the ripe old age of 6.
What do you think of relationships between younger men and older women? Would you embark on one? Share your take in the comments section below.