UBS reveals new tool to claw back bonuses
February 6, 2013 -- Updated 2331 GMT (0731 HKT)
STORY HIGHLIGHTS
UBS unveils compensation model allowing bank to claw back bonuses more easily
Bank will pay out larger portion of bonuses in form of bonds, instead of cash
Bond values to be wiped out if bank needs bailout or if equity ratio falls below minimum
Change in bonus payout model is shift in politically-charged issue of banker bonuses
(CNN) -- Swiss banking giant UBS is changing the way it pays out bonuses to its 6,000 highest earners to limit the firm's exposure to risk and loss.
The rule change comes as the Zurich-based bank reported a huge fourth quarter loss to shareholders of $2.1 billion. A large portion of that stemmed from a December 2012 agreement to pay $1.5 billion in fines over a scandal to manipulate Libor, the rate banks use when borrowing money from one another.
Under the new compensation model, UBS will dole out a larger portion of annual bonuses in the form of bonds instead of cash. Such instruments would be fully paid out over a number of years and only if there are no major financial issues for the bank, such as the need for a bailout or if its common equity ratio falls below 7%, UBS says.
If such events happen, the value of those bonds would be wiped out, essentially erasing a portion of employee bonuses.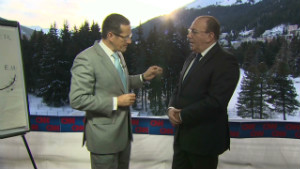 Weber: Political moves could scare market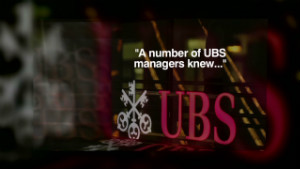 Record fine for UBS
In a press release, UBS said "the changes focus UBS's employees on medium- and longer-term performance, provide them with the opportunity to benefit from the firms longer term success, and simplify UBS's compensation framework, making it more transparent."
The move signals a shift in the politically-charged issue of bank bonuses. Many financial institutions that received government bailouts during the financial crisis were contractually obligated to continue to pay out bonuses, which raised taxpayer ire.
For bank executives, the change may spur them to make less risky trades or to search for a new job at a firm with less stringent bonus pay rules, analysts say.

Part of complete coverage on
March 13, 2014 -- Updated 1157 GMT (1957 HKT)

Mobile World Congress spans the full spectrum of untethered gadgetry Explore this year's top trends with Stuff Magazine Editor Will Findlater.
February 28, 2014 -- Updated 1623 GMT (0023 HKT)

Cocoa-nomics: Why chocolate really doesn't grow on trees. CNN returns to Africa's cocoa plantations to examine the fight against child labor.
February 27, 2014 -- Updated 1958 GMT (0358 HKT)

CNN's Maggie Lake speaks to Lego CEO Jørgen Vig Knudstorp about why Lego continues to be a hugely popular toy.
February 27, 2014 -- Updated 2032 GMT (0432 HKT)

A Japanese rocket roared into orbit carrying what NASA calls its most precise instrument yet for measuring rain and snowfall.
February 28, 2014 -- Updated 2003 GMT (0403 HKT)

When you hail yourself as a "passionate advocate" for job-seekers, you probably ought not blast one of those job-seekers in a snide e-mail.
February 26, 2014 -- Updated 2201 GMT (0601 HKT)

Love that chocolate Haagen-Dazs ice-cream? But what about the way its makers treat their farmers? Oxfam reveals the ethics behind the brands.
February 20, 2014 -- Updated 1121 GMT (1921 HKT)

SnapScan is an award-winning app allowing buyers to pay with their smartphone -- no need to worry about carrying cash or lost credit cards.
February 18, 2014 -- Updated 1452 GMT (2252 HKT)

In the wake of recent credit card breaches, CNN's Richard Quest explores the threats of the non-cash economy. Is your money as safe as you think?
February 19, 2014 -- Updated 0833 GMT (1633 HKT)

Like many companies in China, Fu Shou Yuan uses celebrities to attract clients. Except, in this case, they're dead. They're in the funeral business.
February 19, 2014 -- Updated 1255 GMT (2055 HKT)

Coca-Cola is staying afloat as the soda market shrinks, and many point to a marketing strategy around the so-called "secret recipe."

Today's five most popular stories