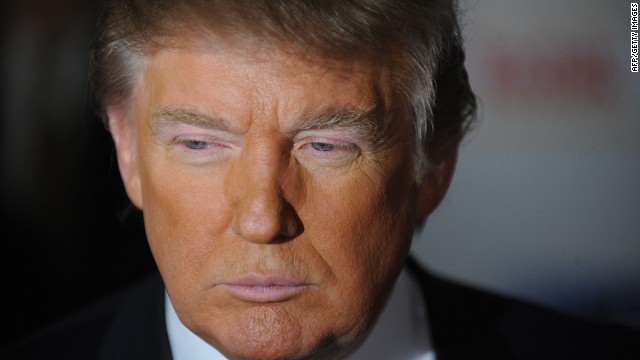 Real estate developer and entrepreneur Donald Trump attends "The Celebrity Apprentice" season finale at the American Museum of Natural History in New York City in 2009. Trump produces and stars in "The Apprentice" and "The Celebrity Apprentice."
Trump dips Marla Maples after the couple married in a private ceremony at the Plaza Hotel in New York City on December 20, 1993. Trump is the chairman and president of the Trump Organization.
Trump, center, stands in front of the Plaza Hotel surrounded by supporters after a news conference on December 21, 1994, where he denied reports that the Sultan of Brunei had bid $300 million to buy the hotel.
Trump with the Rev. Al Sharpton, center, and Geraldine Ferraro, right, attend a ribbon cutting ceremony for Sharpton's National Action Network Convention in 2002 in New York City.
An advertisement for "The Apprentice" hangs at Trump Towers in New York City in 2004.
Trump appears on "The Tonight Show with Jay Leno" at the NBC Studios in Burbank, California, on September 7, 2004.
The new Donald Trump 12-inch talking doll on display at the Toys "R" Us store in New York City on September 29, 2004.
Trump speaks to the press about Bill Rancic, who appeared in the first season of "The Apprentice." Trump chose Rancic to lead the Trump offices in Chicago in 2005.
Trump signs his autograph as he opens the Nasdaq Market in New York City on September 20, 2005.
Trump wrestles on the mat with Stone Cold Steve Austin at World Wrestling Entertainment's WrestleMania in Detroit in 2007. Trump has close ties with the WWE and its CEO Vince McMahon.
Trump attends the U.S. Open tennis championship with his wife Melania Knauss-Trump and their son Barron William Trump in Flushing Meadows, New York in 2006. Trump and Knauss married in 2005 and have one child together.
Trump poses with costumed actors at a casting call for "The Apprentice" at Universal Studios Hollywood in 2006.
Trump was honored with a star on the Hollywood Walk of Fame on January 16, 2007.
Trump holds a copy of his new book "Think Big and Kick Ass in Business and Life" at a book signing in New York City in 2007.
Trump talks to the press at a Gucci Press Conference at the Gucci Store in New York City on February 5, 2008.
Trump supporters stand outside the Aberdeen Exhibition and Conference center in 2008 where Trump attends a public inquiry about his plans to build a golf resort in Aberdeenshire, Scotland.
Trump and his children, from left to right, Donald, Jr., Ivanka and Eric prepare to make hand prints at the new Trump International Hotel and Tower in Chicago on September 24, 2008.
Trump at a press conference in 2009 announces the intent to purchase the Oreo Double Stuff Racing League at Trump Tower in New York City.
Trump kisses Miss Universe 2009 Stefania Fernandez at the 2010 Miss Universe Pageant in Las Vegas in 2010. Trump has owned the beauty pageant since 1996.
Trump attends the Michael Kors Spring 2011 fashion show with his wife Melania during Mercedes-Benz Fashion Week in New York City in 2010.
Trump speaks at the Comedy Central Roast of Donald Trump at the Hammerstein Ballroom in New York City on March 9, 2011.
Trump attends the 2011 "Skating With the Stars" Gala at Wollman Rink in Central Park on April 4, 2011.
Former U.S. vice presidential candidate Sarah Palin leaves Trump Tower in New York City following a dinner meeting with Trump on May 31, 2011.
An supporter comes out for Trump at the 2011 Palm Beach County Tax Day Tea Party on April 16, 2011 in Boca Raton, Florida. Trump has said he has considered running for president in 2012.
A welcome sign for Trump stands outside a hair salon in Portsmouth, New Hampshire, on April 27, 2011.
Trump announces his endorsement of Republican presidential candidate Mitt Romney at Trump International Hotel & Tower in Las Vegas on February 2, 2012.
Trump is escorted by Scottish pipers as he officially opens the Trump International Golf Links course in Aberdeenshire, Scotland, on July 10, 2012.
Trump speaks at the Ritz-Carlton in Sarasota, Florida, after accepting the Statesman of the Year Award at the Sarasota GOP dinner on August 26, 2012, just before the Republican National Convention in Tampa.
Trump attends the opening ceremony for the 39th Ryder Cup golf tournament in Medinah, Illinois, on September 27, 2012.
Trump appears on stage with Nick Jonas and Giuliana Rancic during the 2013 Miss USA pageant in Las Vegas on June 16.
Donald Trump's empire
Donald Trump's empire
Donald Trump's empire
Donald Trump's empire
Donald Trump's empire
Donald Trump's empire
Donald Trump's empire
Donald Trump's empire
Donald Trump's empire
Donald Trump's empire
Donald Trump's empire
Donald Trump's empire
Donald Trump's empire
Donald Trump's empire
Donald Trump's empire
Donald Trump's empire
Donald Trump's empire
Donald Trump's empire
Donald Trump's empire
Donald Trump's empire
Donald Trump's empire
Donald Trump's empire
Donald Trump's empire
Donald Trump's empire
Donald Trump's empire
Donald Trump's empire
31 trump
Donald Trump's empire
Donald Trump's empire
Donald Trump's empire