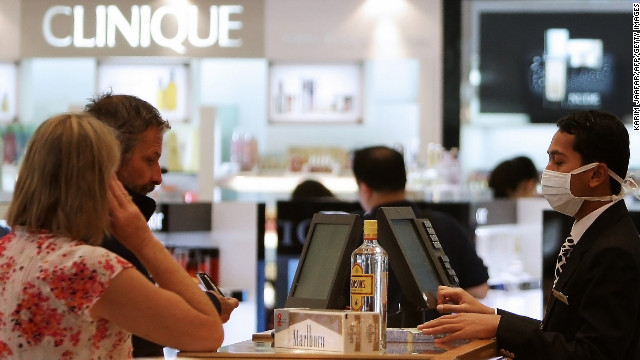 Travelers stick family and friends with untold zillions of worthless or gratuitous gifts each year, but almost nothing good ever gets done at the last minute. The first rule of souvenir shopping? No buying gifts at the airport. Ever.
No plush or inflatable gifts for anyone over three years old. You're better than that.
No leftover foreign coins as "souvenirs" or collectibles. This is worse than giving nothing, because it shows how lazy you are.
No athletic jerseys, caps or visors. Especially visors. And Beckham. And Messi.
No exotic alcohol. Funky label or not, that local rotgut is a hoot when you're in country, undrinkable everywhere else.
No Eiffel Towers, Statues of Liberties, Mt. Rushmores, Taj Mahals, Aussie koalas, Chairman Maos or anything that would fit perfectly in the back of a closet or bottom of a drawer.
No key chains, coasters, mugs or plates. And, whatever you do, no double-whammy Eiffel Tower key chains.
No more little bags of rock, black, sea or flavored salt. The whole designer salt thing is done.
No bottles filled with sand, coral bits, shells or pebbles.
No items that require assembly, watering, sunlight, maintenance, lubrication or refrigeration. Or excessive explanation.
No "I (heart)" anything. Even if you do.
No books. We believe you, it was an amaaaaaazing art exhibit. We just don't have 37 hours to spend reading about it.
No traditional ethnic clothing for non-ethnics.
No items you wouldn't want to get or wouldn't proudly display in your own home.
No plastic leis.
15 biggest souvenir-buying no-no's
15 biggest souvenir-buying no-no's
15 biggest souvenir-buying no-no's
15 biggest souvenir-buying no-no's
15 biggest souvenir-buying no-no's
15 biggest souvenir-buying no-no's
15 biggest souvenir-buying no-no's
15 biggest souvenir-buying no-no's
15 biggest souvenir-buying no-no's
15 biggest souvenir-buying no-no's
15 biggest souvenir-buying no-no's
15 biggest souvenir-buying no-no's
15 biggest souvenir-buying no-no's
15 biggest souvenir-buying no-no's
15 biggest souvenir-buying no-no's