Syrian artist's vision of love amid devastation of war goes viral
February 6, 2013 -- Updated 1615 GMT (0015 HKT)
STORY HIGHLIGHTS
An image of Klimt's "The Kiss" superimposed over a destroyed Syrian building has gone viral
The image was created digitally by Syrian artist Tammam Azzam, who now lives in Dubai
He hopes to return to his homeland and create a physical version of the artwork one day
(CNN) -- An image juxtaposing a famous painting of lovers and the ruins of a building in Syria has gone viral, becoming a powerful symbol of the country's devastation from civil war.
"Freedom Graffiti," by Syrian artist-in-exile Tammam Azzam, digitally superimposes Austrian painter Gustav Klimt's masterpiece "The Kiss" -- a gilded image of lovers embracing -- over a bullet-ridden wall in Syria.
Syria's civil war is now approaching its second anniversary. The United Nations estimated last month that the death toll in the conflict had surpassed 60,000.
Azzam's image has gone viral since it was put online last week, attracting more than 35,000 "likes" and 25,000 "shares" on Facebook since Friday.
While the artwork is a purely digital creation, Azzam, who fled to Dubai with his wife and daughter seven months into the conflict, told CNN he hoped to return to his homeland one day to create a physical version of the work.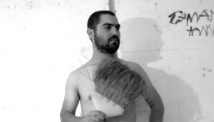 Syrian artist Tammam Azzam
"When I can return to Syria I have vowed to paint 'The Kiss' onto Syria's infrastructure," said the 33-year-old artist. "I cannot say if it will be the same wall though, as who knows if it will still be standing."
Read also: Syrian artists fight Assad regime with satire
Azzam said he began creating digital art as a form of protest shortly after leaving his country -- where his parents remain -- because he did not want to fight in the army.
The work was part of a series, "The Syrian Museum," that was exhibited in a collection at Dubai's Ayyam Gallery, which represents Azzam, last year. The works referenced other European Masters such as Goya, Picasso and Da Vinci, he said, juxtaposing "some of the greatest achievements of humanity with the devastation in my country."

December 6, 2013 -- Updated 0230 GMT (1030 HKT)

Exhibitors making the journey to Dubai in seven years will be setting up their pavilions in the biggest souk in history.
December 5, 2013 -- Updated 1631 GMT (0031 HKT)

Nobody could have anticipated how this 23-year-old from Massachusetts would take the Middle East by storm.
November 29, 2013 -- Updated 0303 GMT (1103 HKT)

Next year's college applicants have some difficult choices to make. Stay close to home or ship out to Abu Dhabi?
November 18, 2013 -- Updated 1004 GMT (1804 HKT)

Dubai-based blog The Pan-Arabian Enquirer is testing the limits of satire in the Middle East
November 7, 2013 -- Updated 0311 GMT (1111 HKT)

When charity and creativity go hand in hand, the result can be a work of art -- quite literally.
November 1, 2013 -- Updated 0213 GMT (1013 HKT)

Bulldozing ancient burial grounds in Bahrain has been necessary to make way for houses, but has it gone too far?
October 25, 2013 -- Updated 1431 GMT (2231 HKT)

There's something extraordinary happening in Saudi Arabia right now.
October 17, 2013 -- Updated 1230 GMT (2030 HKT)

No 'it' event in Dubai is complete without graffiti. But how do unsanctioned artists feel about this?
October 1, 2013 -- Updated 1651 GMT (0051 HKT)

Few books truly invade a national psyche. When a work manages to do so for 1,000 years, it's a pretty spectacular feat.
September 19, 2013 -- Updated 0313 GMT (1113 HKT)

In many ways, the Middle East makes a strange -- and at times perilous -- hotbed for caricature.
September 13, 2013 -- Updated 1653 GMT (0053 HKT)

Traditionally, Saudi Arabia hasn't had much time for film. That could be about to change.
September 13, 2013 -- Updated 1459 GMT (2259 HKT)

Last April, images of Kurdish men dressed in drag started making the rounds on Facebook.

Today's five most popular stories