Syrian artist's vision of love amid devastation of war goes viral
February 6, 2013 -- Updated 1615 GMT (0015 HKT)
STORY HIGHLIGHTS
An image of Klimt's "The Kiss" superimposed over a destroyed Syrian building has gone viral
The image was created digitally by Syrian artist Tammam Azzam, who now lives in Dubai
He hopes to return to his homeland and create a physical version of the artwork one day
(CNN) -- An image juxtaposing a famous painting of lovers and the ruins of a building in Syria has gone viral, becoming a powerful symbol of the country's devastation from civil war.
"Freedom Graffiti," by Syrian artist-in-exile Tammam Azzam, digitally superimposes Austrian painter Gustav Klimt's masterpiece "The Kiss" -- a gilded image of lovers embracing -- over a bullet-ridden wall in Syria.
Syria's civil war is now approaching its second anniversary. The United Nations estimated last month that the death toll in the conflict had surpassed 60,000.
Azzam's image has gone viral since it was put online last week, attracting more than 35,000 "likes" and 25,000 "shares" on Facebook since Friday.
While the artwork is a purely digital creation, Azzam, who fled to Dubai with his wife and daughter seven months into the conflict, told CNN he hoped to return to his homeland one day to create a physical version of the work.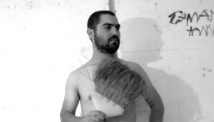 Syrian artist Tammam Azzam
"When I can return to Syria I have vowed to paint 'The Kiss' onto Syria's infrastructure," said the 33-year-old artist. "I cannot say if it will be the same wall though, as who knows if it will still be standing."
Read also: Syrian artists fight Assad regime with satire
Azzam said he began creating digital art as a form of protest shortly after leaving his country -- where his parents remain -- because he did not want to fight in the army.
The work was part of a series, "The Syrian Museum," that was exhibited in a collection at Dubai's Ayyam Gallery, which represents Azzam, last year. The works referenced other European Masters such as Goya, Picasso and Da Vinci, he said, juxtaposing "some of the greatest achievements of humanity with the devastation in my country."

April 24, 2014 -- Updated 0237 GMT (1037 HKT)

Explore the attitudes to Hollywood films from six different countries in the region.
April 18, 2014 -- Updated 0940 GMT (1740 HKT)

Saudi Arabia is set to start construction on the world's tallest tower that will be one kilometer tall.
April 14, 2014 -- Updated 0244 GMT (1044 HKT)

You'll never guess where this record-breaking mural is.
April 10, 2014 -- Updated 0255 GMT (1055 HKT)

The Sea of Gallilee, where Christ reputedly walked on water, is today home to another miracle of sorts.
April 9, 2014 -- Updated 0208 GMT (1008 HKT)

In Syria, not all rebels carry guns, some carry cameras.
April 4, 2014 -- Updated 0336 GMT (1136 HKT)

For three decades or so, Syrian artist Safwan Dahoul has been painting pensive, haunting images -- all of which are titled "Dream".
April 3, 2014 -- Updated 0323 GMT (1123 HKT)

Before releasing an album most bands would talk about record sales. Egyptian band Cairokee talk about whether they will get arrested.
March 28, 2014 -- Updated 0404 GMT (1204 HKT)

Dubai's most impressive monuments are looking a little psychedelic this week.
March 20, 2014 -- Updated 0224 GMT (1024 HKT)

Volunteers and academics in exile hope The Free Syrian University can save a lost generation of students.
March 20, 2014 -- Updated 1543 GMT (2343 HKT)

What would classic Hollywood films look like if reimagined as tradtional Ottoman art?
March 17, 2014 -- Updated 1050 GMT (1850 HKT)

Nawal Ba Abbad on why its time to stop child marriage in Yemen.

Today's five most popular stories