North Korea accused of ripping off 'Call of Duty' in propaganda video
February 7, 2013 -- Updated 1328 GMT (2128 HKT)
STORY HIGHLIGHTS
North Korean propaganda video pulled off YouTube website
Game maker Activision says video used scenes from Call of Duty game
Video appeared as experts say North Korea nuclear test imminent
Walt Disney Company denounced North Korea's use of Mickey Mouse in 2012
Hong Kong (CNN) -- A bizarre three-and-a-half minute North Korean propaganda video -- depicting a city resembling New York but with its skyscrapers on fire -- was pulled from YouTube this week after videogame maker Activision said those scenes were lifted from its top-selling game "Call of Duty."
Clicking on the now-defunct YouTube link brings up the message: "This video has been removed by the user. Sorry about that." But the video can still be found elsewhere on the internet.
The anti-U.S. video also employs an instrumental version of "We Are the World," written by Michael Jackson and Lionel Richie, while a sleeping North Korean man apparently dreams himself aboard a North Korean space shuttle launched into orbit around the Earth.
Just after the video's two-minute mark, a city covered by a large American flag is seen apparently being bombarded by a missile attack.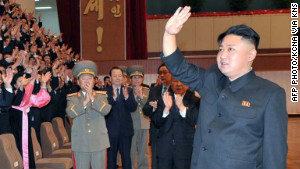 3rd nuclear test could empower N. Korea
The Korean-language caption that scrolls across the screen says, "Black smoke was billowing somewhere in America. Maybe the group of Satan, who has been habitually conducting an invasion war, are burning in the fire they set themselves."
The release of this video, the latest in a series of regular propaganda videos, comes as experts and officials widely believe North Korea is on the verge of its third nuclear test, following trials in 2006 and 2009.
The country's use of copyrighted material is not new. In 2012, Mickey Mouse, Winnie the Pooh and a cast of Disney characters appeared at a Pyongyang theater for newly-ascended North Korean leader Kim Jong Un.
The Walt Disney Company denounced the use of its characters and said in a statement, "This was not licensed or authorized by The Walt Disney Company," according to the Associated Press.

Part of complete coverage on
March 13, 2014 -- Updated 1157 GMT (1957 HKT)

Mobile World Congress spans the full spectrum of untethered gadgetry Explore this year's top trends with Stuff Magazine Editor Will Findlater.
February 28, 2014 -- Updated 1623 GMT (0023 HKT)

Cocoa-nomics: Why chocolate really doesn't grow on trees. CNN returns to Africa's cocoa plantations to examine the fight against child labor.
February 27, 2014 -- Updated 1958 GMT (0358 HKT)

CNN's Maggie Lake speaks to Lego CEO Jørgen Vig Knudstorp about why Lego continues to be a hugely popular toy.
February 27, 2014 -- Updated 2032 GMT (0432 HKT)

A Japanese rocket roared into orbit carrying what NASA calls its most precise instrument yet for measuring rain and snowfall.
February 28, 2014 -- Updated 2003 GMT (0403 HKT)

When you hail yourself as a "passionate advocate" for job-seekers, you probably ought not blast one of those job-seekers in a snide e-mail.
February 26, 2014 -- Updated 2201 GMT (0601 HKT)

Love that chocolate Haagen-Dazs ice-cream? But what about the way its makers treat their farmers? Oxfam reveals the ethics behind the brands.
February 20, 2014 -- Updated 1121 GMT (1921 HKT)

SnapScan is an award-winning app allowing buyers to pay with their smartphone -- no need to worry about carrying cash or lost credit cards.
February 18, 2014 -- Updated 1452 GMT (2252 HKT)

In the wake of recent credit card breaches, CNN's Richard Quest explores the threats of the non-cash economy. Is your money as safe as you think?
February 19, 2014 -- Updated 0833 GMT (1633 HKT)

Like many companies in China, Fu Shou Yuan uses celebrities to attract clients. Except, in this case, they're dead. They're in the funeral business.
February 19, 2014 -- Updated 1255 GMT (2055 HKT)

Coca-Cola is staying afloat as the soda market shrinks, and many point to a marketing strategy around the so-called "secret recipe."

Today's five most popular stories