STORY HIGHLIGHTS
Emily Bauer wound up in ICU after she smoked synthetic marijuana, her family says
Bauer's story received more than 7,000 comments, many from alarmed parents
Synthetic marijuana is an herbal mixture sprayed with chemicals
Bauer's sister first shared the story with CNN iReport
(CNN) -- Pink hair, piercings and the name Emily -- Iowa father Paul Plate saw his own teenage daughter as he read about a different Emily's harrowing experience with synthetic marijuana.
Plate had already had the conversation about the drug with his daughter. But reading about Emily Bauer, a Texas high school student left brain-damaged after smoking "potpourri" she bought at a convenience store, really put him in her parents' shoes.
"I felt horrible for her. I know we all do stupid things as kids, but to have an outcome like this is dreadful," said Plate, one of the thousands of readers who took the time to comment on the CNN.com story. "I am a sucker for my little girl, so I know how I would feel in their place."
Bauer's tale set off warning bells for parents across the country: What is this drug? Why didn't her family keep her from smoking it? What should I tell my kids? What if that were my daughter?
The teenager's symptoms of psychosis and strokes would jolt just about any parent into a conversation about the dangers of synthetic marijuana. Add in the statistics about the drug's popularity -- one in every nine U.S. high school seniors has admitted to smoking fake weed, according to a 2011 study -- and parents were alarmed.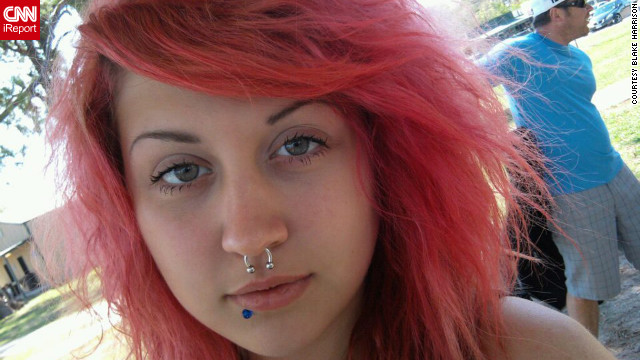 Houston-area teenager Emily Bauer was a normal 16-year-old "full of light and laughter" until her family says she had serious side effects from smoking synthetic marijuana. This family photo of Emily was taken in December 2011.
For Emily, a straight A- and B-student with a penchant for dying her hair bright colors, school has never really been a problem, says her stepfather, Tommy Bryant. This family photo was taken in March 2012.
Emily's family says they realized something was wrong after she woke up from a nap late at night on December 7. Stumbling and slurring her words, she entered a psychotic state of hallucinations and violent outbursts. Her family dialed 911, and she was admitted to ICU, where she was restrained, sedated and intubated the next morning.
After days in an induced coma, an MRI reveals Emily suffered several severe strokes, says Bryant. The Bauers learn from neurologists what this means for Emily's future: "They told us that all white areas on images were dead. It looked to us at least 70% of the images were white," said Tonya Bauer, her mother. She wouldn't be able to breathe on her own, eat by herself, walk or even recognize her family, the Bauers said. The photo was taken the night before Emily's family took her off life support.
After her family ends life support on December 16, Emily survives despite the odds, says her family. She is able to slightly move her arms and legs. She recognizes her family's voices and is able to speak, sometimes with difficulty, says her stepfather.
One month after the life-changing night, Emily is blind. Each day since has been a fight -- a fight to move a finger, a fight to whisper something to her family, a fight for life, according to her big sister.
Emily is transferred to TIRR Memorial Hermann rehab hospital on January 14. The family says they haven't heard Emily's prognosis yet, but they remain hopeful as the teenager tackles physical, occupational and speech therapy, as well as living a new life.
Emily passes a swallow test on January 18. She started eating soft, solid food again, such as green beans, said her family. Emily even asked her sister for Ramen Noodles as they talked on the phone. "Even though they're such small steps for her, they're such giant steps of positivity," her sister said.
Emily spends time with a cute visitor during animal therapy on January 24. Bryant and his family are starting a nonprofit organization called Synthetic Awareness For Emily. Their goal is to educate families, as well as teachers and doctors, about the dangers and warning signs of synthetic marijuana use.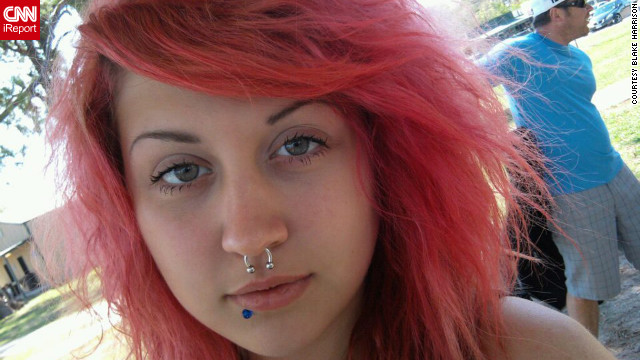 Synthetic weed and strokes: Emily's odyssey
Opinion: Regulate fake pot, it's not going away
While parents like Plate sympathized with the Bauers, others said it would never happen to their kid.
"The story points to another example of people who shouldn't be allowed to be parents," wrote Lynn DeArmond, who added she was thankful Emily is recovering.
She said her six children understand that using weed is unacceptable and they would face consequences if they smoked it. "Parents need to start being parents instead of friends. To do otherwise results in these kind of stories or worse."
On the other side of the debate were parents who might allow their children to smoke real marijuana if that would keep them from experiencing Emily's fate.
One dad argued for its legalization and suggested monitoring children while they try pot.
"Honestly, if my child was seriously showing signs of wanting to smoke pot, or even just try it, I'd probably buy it for them myself and make them do it at home, in a safe environment, just to make sure they're responsible," commenter Rob Doerr wrote.
"I think that's the responsible thing to do. You're being a parent, and monitoring your kid, making sure they don't do anything dumb."
Synthetic marijuana just as dangerous
Emily's stepfather, Tommy Bryant, welcomed the conversation because he wants to raise awareness of the drug, even if some of the comments weren't so kind.
"I don't wish this upon anybody," he said. "My purpose is not to judge myself or judge others, but to get Emily well and help others learn from our mistakes, because obviously we did make a mistake, and I'll be the first to admit it."
While Bryant knows there will be critics and people out there questioning his parenting, he said he's just thankful to have more time with his daughter.
"I think back to all the fond memories I have of her, then I realize that somehow, I got another chance to make more," he said on Wednesday. "And these new memories may actually impact others in a positive way ... I am thankful."
Parents: Do you talk to your children about the dangers of drugs? Why or why not? Please share your thoughts in the comments below.