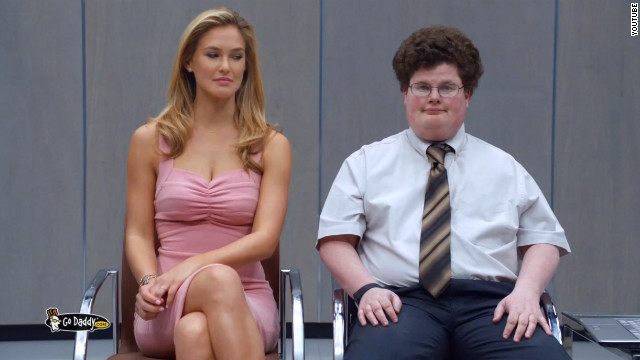 Jesse Heiman became a famous face overnight after the controversial
GoDaddy.com
ad, where he played a nerd who locked lips with model Bar Rafaeli.
dozens of films and TV shows
, including "Glee," "Curb Your Enthusiasm," "Chuck" and recently,
"The Mindy Project."
Check out other extras and commercial actors who have gone on to become stars.
Viewers may recall seeing Heiman as an extra in
Safeguard soap
-- that's him on the left, of course -- before his big break on "Welcome Back Kotter."
John Travolta's charming demeanor earned him quite a few commercial roles in the 1970s, such as this ad for
"Dancing in the Dark?"
That's a pre-"Cougar Town"/"Friends"/"Family Ties" Courteney Cox.
Remember the young woman the Boss dances with in the 1984 music video for
Heinz
Ketchup in 1987 -- he was a master at waiting for just the right moment for that ketchup to come out --
Coke
and
Cherry 7-Up
.
Cox's "Friend," Matt LeBlanc, spent his early career selling products like
one and only commercial
, for Chicago's Mutual Savings Bank, in 1995. Even her famous eye-roll is present and accounted for. The ad might have faded into obscurity until its production company Purple Onion posted it online. Nerds!
Tina Fey shot her
"Bad Boys 2."
(Here she is that year with then-boyfriend David Gallagher of "7th Heaven.") The director made her a star four years later in "Transformers."
Megan Fox had a blink-and-you'll-miss-it moment in a club scene in Michael Bay's 2003 sequel
"Mayhem"
in a series of ads for Allstate.
A few years ago, Dean Winters was best known as Liz Lemon's conniving ex, Dennis, on "30 Rock," and as Ryan on "Oz." But in something of a twist, he's probably even more famous as
Stars who started out like GoDaddy's geek
Jesse Heiman
Sylvester Stallone
John Travolta
Keanu Reeves
Courtney Cox
Matt LeBlanc
Tina Fey
Rainn Wilson
Megan Fox
Dean Winters