New Bank of England boss a 'class act'
February 8, 2013 -- Updated 0521 GMT (1321 HKT)
STORY HIGHLIGHTS
Incoming Bank of England governor Mark Carney met British MPs in first big test
Carney will be first foreigner to lead Bank of England in 318-year history
'Might end up with good marriage' said British MP John Thurso
Carney says Britain may need to keep monetary policy unchanged for a time
Hong Kong (CNN) -- Mark Carney, current Bank of Canada governor and incoming governor for the Bank of England, faced questioning by UK parliament members on how he would lead as the first foreigner to helm Britain's central bank. Carney will succeed Mervyn King at the BOE on July 1, 2013.
New government data shows that Britain risks a third recession since the 2008 financial crisis. Gross domestic product for the UK fell by 0.3% in the fourth quarter, weaker than economists' expectations and adding pressure on London to ease its drive for austerity.
In his first big meeting with British MPs Thursday, Carney appeared to keep from rippling the trans-Atlantic waters.
"I was impressed. I have to say he was clearly a class act," said British MP John Thurso to CNN's Richard Quest. Thurso added that Carney navigated concerns of an overreach of powers as the new BOE boss. "The obvious one was what he could do in statute and what he couldn't do. And he very clearly replied that he would follow the statute. So he was good."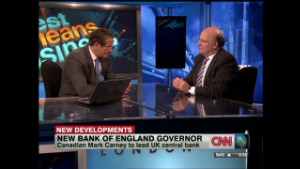 Economist reacts to Bank of England hire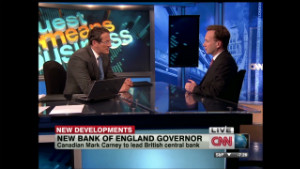 Canadian to head Bank of England
Carney told British MPs the country might need to keep monetary stimulus unchanged for a certain period of time in order to raise business and household confidence, according to Reuters. Through January, the Bank of Canada has held its benchmark interest rate at 1% 19 times in a row in the hopes of spurring growth.
In London, Carney made clear he knew of his existing range of weapons to succeed, including quantitative easing and bank rate changes. Still, he said he would like to develop new tools if needed and engage in collaborative debate on the best way to bring Britain to a recovery.
"I think he made clear to us that it's not his job to take...risks," said Thurso. "It's the job of the bank to have the debate or to lead the debate, but ultimately it's the job for those of us in politics, in Parliament, the chancellor (of the Exchequer George Osbourne) to decide what the remit is. And what he (Carney) said was, 'Tell us what the bounds of our remit are, and we will act within it.'"
"The great thing about the BOE is that it's got a lot of people who are academic and who are very evidence-driven and evidence-led," added Thurso. "If you marry that to a bank -- which has always been very academic in its thinking and in evidence-based conclusion -- we might end up with a really good marriage, and I'm going to be hopeful until proved otherwise."

Part of complete coverage on
April 22, 2013 -- Updated 0647 GMT (1447 HKT)

Twitter resumes -- or "twesumes" -- have been touted as the best way for social media-savvy types to snag a dream job.
April 17, 2013 -- Updated 0800 GMT (1600 HKT)

We live in a three-speed economic world, according to the International Monetary Fund.
April 17, 2013 -- Updated 1627 GMT (0027 HKT)

Women have long dominated the heated discussion around gender equality. But men need to too, says Facebook's Sheryl Sandberg.
April 19, 2013 -- Updated 1053 GMT (1853 HKT)

Security threats from mobile malware are on the rise and nearly 95% of targets operate on the Android operating system, according to a new report from NQ Mobile.
April 15, 2013 -- Updated 2006 GMT (0406 HKT)

Microsoft is working on a touch-enabled smartwatch, The Wall Street Journal says, reporting that the company asked Asian suppliers to ship components for the device.
April 19, 2013 -- Updated 0647 GMT (1447 HKT)

Give your anxious, negative colleagues a chance, and they just might surprise you.
April 17, 2013 -- Updated 1046 GMT (1846 HKT)

In Europe, high-speed rail has come to stand for ease and efficiency where journeys of four hours or less trump airplanes and the hassle of airport security.
April 19, 2013 -- Updated 1812 GMT (0212 HKT)

Infographic: Singapore may be tiny but it is also one of East Asia's most powerful trading hubs.
April 22, 2013 -- Updated 0027 GMT (0827 HKT)

In Hong Kong urban lore, an apartment where a violent death took place can often be bought for as much as 10-30 per cent off the market price.
April 16, 2013 -- Updated 1605 GMT (0005 HKT)

With gold prices officially in a bear market, investors must ask themselves if this is the time to buy?

Today's five most popular stories