New Bank of England boss a 'class act'
February 8, 2013 -- Updated 0521 GMT (1321 HKT)
STORY HIGHLIGHTS
Incoming Bank of England governor Mark Carney met British MPs in first big test
Carney will be first foreigner to lead Bank of England in 318-year history
'Might end up with good marriage' said British MP John Thurso
Carney says Britain may need to keep monetary policy unchanged for a time
Hong Kong (CNN) -- Mark Carney, current Bank of Canada governor and incoming governor for the Bank of England, faced questioning by UK parliament members on how he would lead as the first foreigner to helm Britain's central bank. Carney will succeed Mervyn King at the BOE on July 1, 2013.
New government data shows that Britain risks a third recession since the 2008 financial crisis. Gross domestic product for the UK fell by 0.3% in the fourth quarter, weaker than economists' expectations and adding pressure on London to ease its drive for austerity.
In his first big meeting with British MPs Thursday, Carney appeared to keep from rippling the trans-Atlantic waters.
"I was impressed. I have to say he was clearly a class act," said British MP John Thurso to CNN's Richard Quest. Thurso added that Carney navigated concerns of an overreach of powers as the new BOE boss. "The obvious one was what he could do in statute and what he couldn't do. And he very clearly replied that he would follow the statute. So he was good."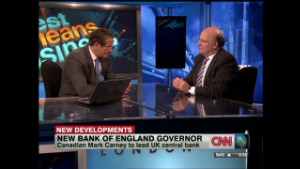 Economist reacts to Bank of England hire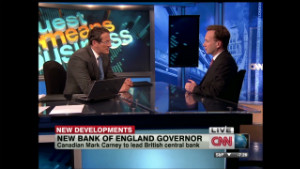 Canadian to head Bank of England
Carney told British MPs the country might need to keep monetary stimulus unchanged for a certain period of time in order to raise business and household confidence, according to Reuters. Through January, the Bank of Canada has held its benchmark interest rate at 1% 19 times in a row in the hopes of spurring growth.
In London, Carney made clear he knew of his existing range of weapons to succeed, including quantitative easing and bank rate changes. Still, he said he would like to develop new tools if needed and engage in collaborative debate on the best way to bring Britain to a recovery.
"I think he made clear to us that it's not his job to take...risks," said Thurso. "It's the job of the bank to have the debate or to lead the debate, but ultimately it's the job for those of us in politics, in Parliament, the chancellor (of the Exchequer George Osbourne) to decide what the remit is. And what he (Carney) said was, 'Tell us what the bounds of our remit are, and we will act within it.'"
"The great thing about the BOE is that it's got a lot of people who are academic and who are very evidence-driven and evidence-led," added Thurso. "If you marry that to a bank -- which has always been very academic in its thinking and in evidence-based conclusion -- we might end up with a really good marriage, and I'm going to be hopeful until proved otherwise."

Part of complete coverage on
March 13, 2014 -- Updated 1157 GMT (1957 HKT)

Mobile World Congress spans the full spectrum of untethered gadgetry Explore this year's top trends with Stuff Magazine Editor Will Findlater.
February 28, 2014 -- Updated 1623 GMT (0023 HKT)

Cocoa-nomics: Why chocolate really doesn't grow on trees. CNN returns to Africa's cocoa plantations to examine the fight against child labor.
February 27, 2014 -- Updated 1958 GMT (0358 HKT)

CNN's Maggie Lake speaks to Lego CEO Jørgen Vig Knudstorp about why Lego continues to be a hugely popular toy.
February 27, 2014 -- Updated 2032 GMT (0432 HKT)

A Japanese rocket roared into orbit carrying what NASA calls its most precise instrument yet for measuring rain and snowfall.
February 28, 2014 -- Updated 2003 GMT (0403 HKT)

When you hail yourself as a "passionate advocate" for job-seekers, you probably ought not blast one of those job-seekers in a snide e-mail.
February 26, 2014 -- Updated 2201 GMT (0601 HKT)

Love that chocolate Haagen-Dazs ice-cream? But what about the way its makers treat their farmers? Oxfam reveals the ethics behind the brands.
February 20, 2014 -- Updated 1121 GMT (1921 HKT)

SnapScan is an award-winning app allowing buyers to pay with their smartphone -- no need to worry about carrying cash or lost credit cards.
February 18, 2014 -- Updated 1452 GMT (2252 HKT)

In the wake of recent credit card breaches, CNN's Richard Quest explores the threats of the non-cash economy. Is your money as safe as you think?
February 19, 2014 -- Updated 0833 GMT (1633 HKT)

Like many companies in China, Fu Shou Yuan uses celebrities to attract clients. Except, in this case, they're dead. They're in the funeral business.
February 19, 2014 -- Updated 1255 GMT (2055 HKT)

Coca-Cola is staying afloat as the soda market shrinks, and many point to a marketing strategy around the so-called "secret recipe."

Today's five most popular stories