STORY HIGHLIGHTS
At least 1 - Member of the president's cabinet who doesn't attend
1 - Times Supreme Court Justice Stephen Breyer has missed the speech since 1994
12 - Times FDR delivered a State of the Union address, the most of any president
22 - Number of guests hosted by first lady Michelle Obama in 2012
(CNN) -- At a time of heightened partisanship and tense relations between the White House and Congress, President Obama is set to give the constitutionally-mandated State of the Union address on Tuesday.
Obama tells House Dems he wants 'big deal' on debt
Both Obama, GOP have laid out hard lines for tough talks ahead
By the numbers, here's a look at the presidential address to Congress:
223 - Number of State of the Union or "annual messages" in U.S. history. President Barack Obama will deliver the 224th.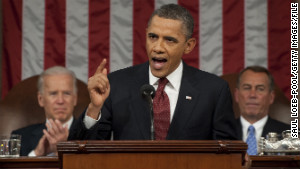 CNN Explains: The State of the Union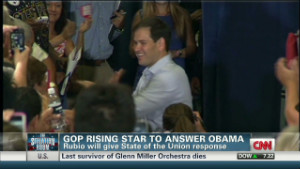 Rubio to deliver bilingual GOP response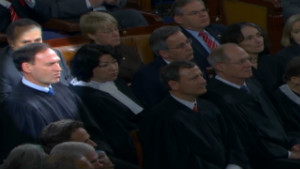 2010: Alito disagrees with Obama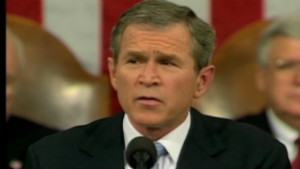 2002: Bush defines enemies
91 - "In person" State of the Union speeches or annual presidential messages. Tuesday's will be the 92nd.
At least 1 - Member of the president's cabinet who doesn't attend, in order to preserve the line of succession.
12 - States in the Union when President George Washington gave the first State of the Union speech in January 1790.
1 - Times Supreme Court Justice Stephen Breyer has missed the speech since he joined the court in 1994.
To go or not to go: Supreme Court at the State of the Union
3 - Years where Breyer was the only attendee from the Supreme Court: 2001, 2003 and 2004.
12 - Times President Franklin D. Roosevelt delivered a State of the Union address, the most of any president. Ten were in person, and two were in writing.
2 - Presidents who were unable to deliver a State of the Union or annual message speech: William Henry Harrison and James Garfield, who both died in office after 32 days and 199 days.
22 - Number of guests hosted by first lady Michelle Obama in 2012.
2012: Buffett's secretary, young cancer survivor among guests
1 - Times the State of the Union or annual message has been postponed. President Ronald Reagan was scheduled to make his address on January 28, 1986, the day of the space shuttle Challenger explosion. It was postponed to February 4th.
7 - State of the Union or annual message speeches since 1966 where there was no official opposition party response. Most of the cases were when a president had just been inaugurated to his first term.
Rubio to deliver GOP's 2012 response
3 - Politicians since 1966 who gave the opposition's response to a State of the Union speech or annual message who later became president: Gerald Ford, George H. W. Bush and Bill Clinton.
89 minutes - Total running time of President Bill Clinton's speech in 2000. It contained 7,452 words.
3 - Countries identified by President George W. Bush in his 2002 State of the Union speech as the "axis of evil": Iran, Iraq and North Korea.
1 - Times Supreme Court Justice Samuel Alito was seen mouthing the words "not true" in response to President Obama's 2010 State of the Union remarks about campaign finance.