Germany's Hoefl-Riesch grabs gold
February 8, 2013 -- Updated 1728 GMT (0128 HKT)
STORY HIGHLIGHTS
Maria Hoefl-Riesch won gold at the women's super-combined
Slovenia's Tina Maze took silver with home favorite Nicole Hosp claiming bronze.
Defending world champion Anna Fenninger loses out after failing to make a gate
(CNN) -- Germany's Maria Hoefl-Riesch showed just why she's the Olympic champion by claiming victory at the women's super-combined event at the World Ski Championships in Austria Friday.
The 28-year-old, who started in fourth position after the opening downhill run, made up the 0.20 second deficit before clocking a fastest time of two minutes 39.92 seconds.
Hoefl-Riesch edged out Slovenia's Tina Maze with home favorite Nicole Hosp pulling off the fastest slalom run to claim bronze, despite finishing a second off the leader.
"I arrived here hoping for a medal, no matter what color," Hoefl-Riesch told reporters.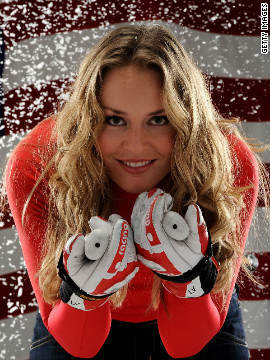 Lindsey Vonn is a marketeer's dream, with her skiing prowess and profile taking the sport to new corners of North America.
Vonn burst on to the scene as a 16-year-old and represented the U.S. team on home soil at the Salt Lake City Winter Olympics in 2002 as a 17-year-old.
Skiing is a treacherous sport, demonstrated by this fall Vonn had at the 2006 Winter Olympic Games in Turin. She was airlifted to hospital but returned two days later to compete and finished eighth. Her grit earned her the U.S. Olympic Spirit Award.
Vonn married fellow U.S. skier Thomas Vonn in 2007. Vonn also became her coach. The pair split in November 2011.
Vonn secured her first World Cup title in 2008. She set a new record for the most World Cup downhill victories in a season with 10. Vonn would go on to win it again two years in a row and now has four to her name.
Another serious injury, this time to her thumb, ruled Vonn out of the World Ski Championships in Val d'Isere back in February 2009.
Vonn's only Olympic gold medal to date came in the downhill competition at the 2010 Winter Olympics in Vancouver. "Seeing my name and the number one next to it was the best feeling I've had in my life," she told reporters.
Lake Louise is Vonn's playground. She has dominated there in recent years, winning all three downhill events in December 2012, like she did the year before. Her request to race against the men there this year was rejected.
Vonn missed out on a fourth successive World Cup title to her good friend Maria Riesch by three points in 2011.
Vonn took time out of her preparations for an Alpine World Cup event in Val d'Isere to catch up with CNN's Alpine Edge show.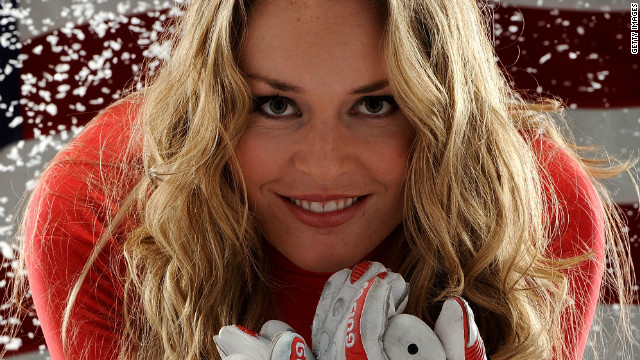 Vonn and on: Lindsey's quest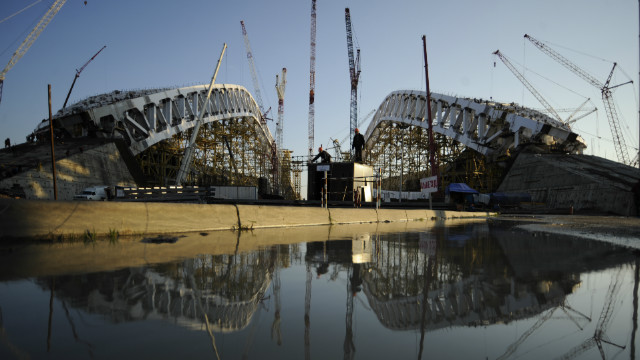 With a year to go before the 2014 Winter Olympics in Sochi, the Russian organizers are seeking to complete one of the world's largest construction projects.
This picture, taken on January 23, 2013, gives an indication of the size of the 40,000-capacity "Fisht" Olympic Stadium that will host the opening and closing ceremonies.
The total cost is expected to top $50 billion, with much of the infrastructure being built from scratch. This picture taken on January 24 shows a view of a new hotel constructed near a railway station between Adler and Krasnaya Polyana Olympic venues in the Caucasus Mountains.
Down in the city itself, work is still being completed outside the "Iceberg" Skating Palace -- seen here on January 22.
A high-speed rail line will link the mountain venues with the seaside stadiums, a journey expected to take 45 minutes. "You can go to downhill alpine skiing events in the morning and watch track and figure skating in the evening," U.S. Olympic Committee official Patrick Sandusky told CNN.
Speed skating is one of the Olympic sports that has already held test events, despite outer parts of the venue still being under construction.
Former World Cup alpine skiing champion Ivica Kostelic blamed the course setup after injuring his knee on the way to victory at a test event at the Rosa Khutor mountain venue in February 2012.
The "RusSki Gorki" Jumping Center at the Krasnaya Polyana resort will host ski jumping and Nordic combined competitions, and has already held test events.
The shooting range will be used in the biathlon competitions. It hosted test events in late January 2013.
The Bolshoi Ice Dome will host some of the ice hockey events.
Americans Charlie White and Meryl Davis triumphed in the figure skating Grand Prix Final held at Sochi's Iceberg Skating Palace in December 2012.
Russia's sports-loving president Vladimir Putin was a guest at the figure skating. "They're putting in a lot of effort to make sure it will come off correctly, and Vladimir Putin showing up is a good sign about how important it is and how much they care," White told CNN.
"A lot of the things weren't finished, but they had done an amazing job on the rink, with the signs, the locker rooms," White said. "It's well placed, easy to get to, and the warmup area is well equipped."
The older, traditional buildings of the Black Sea resort are now being surrounded by more modern structures.
This aerial picture taken on May 18, 2012, shows a general view of the construction area of the Olympic Park.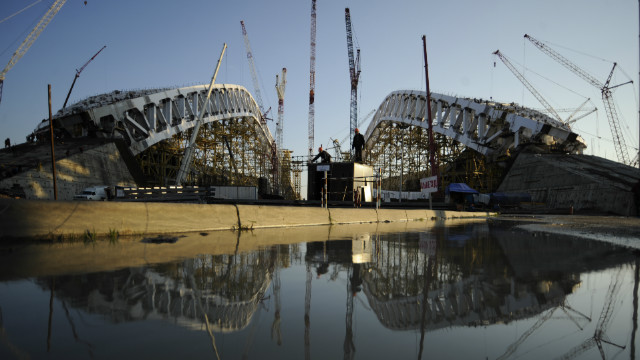 Sochi: One year to go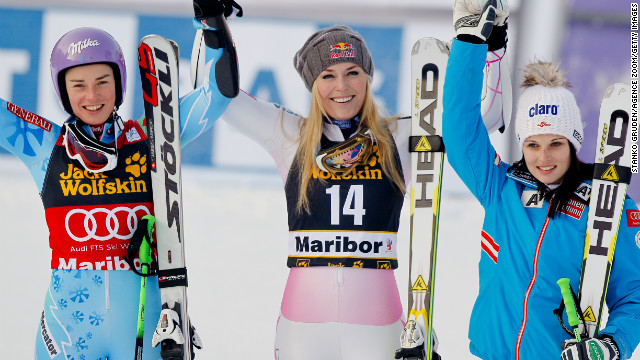 Lindsey Vonn (center) won her 59th World Cup race in Slovenia, heading off overall leader Tina Maze (left) and Austria's Anna Fenninger.
Vonn won her second race since returning to the circuit after a month out following stomach problems, moving closer to Annemarie Moser-Proll's record of 62.
Maze was unable to give her home fans a victory in Maribor, but she extended her overall lead to 748 points from Germany's Maria Hofl-Riesch
Italian skier Dominik Paris won the prestigious men's downhill at Kitzbuhel in Austria for his second World Cup victory after a dead-heat for first at Bormio in late 2012.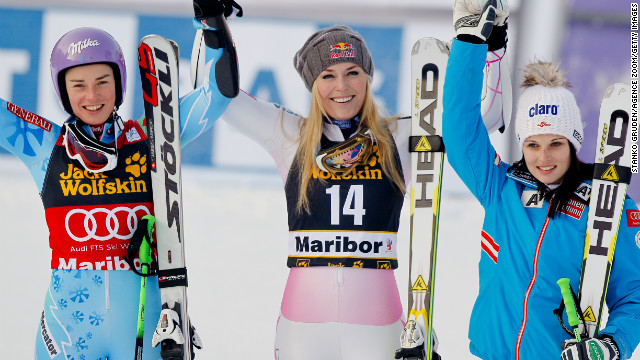 Vonn edges closer to World Cup record
"I've been lacking confidence this winter. I wasn't favorite coming here and I didn't really feel comfortable in today's slalom.
"Knowing Tina's form, I said to myself, 'Okay, second place is already a very good result'. Now I am extremely happy."
The home support at Schladming had hoped defending world champion Anna Fenninger would shine on the big stage, but the 23-year-old failed to make one gate high up the course.
"I wanted to take risks but it can happen that you straddle a gate," Fenninger told reporters.
"It can also happen if I don't take any risks. Straddling is just a timing problem, it's hard to navigate, and even more so if you don't train slalom often."
Ski champ Lindsey Vonn injures knee
Slovenia's Maze, who clinched her second medal and 20th podium of the season following her gold in the Super G, was left frustrated with her performance.
"I held back and showed too much respect," she told reporters.
"My downhill was pretty good though. Second place and a silver medal is still a super result."