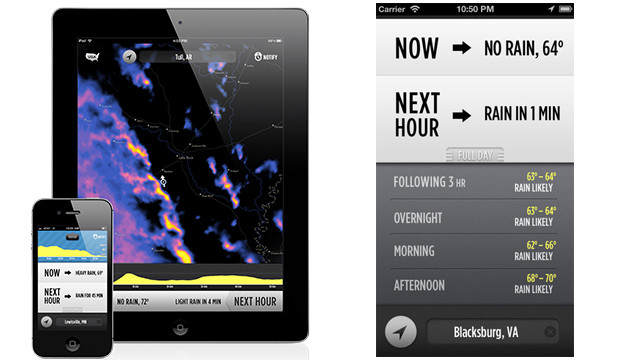 Know exactly what time it will rain or snow and watch inclement weather roll in on a radar map with the
DarkSky
app, $3.99 for the iPhone and iPad.
Weathermob
iOS app lets you file citizen weather reports from anywhere. Attach photos or videos and see what other people are reporting.
For people who love weather Tweets and Facebook updates, the free
mPING
Android and iOS apps send the reports to the National Severe Storms Laboratory where the data is compared to radar readings.
Help improve future weather prediction technology by sharing your on-the-ground reports of precipitation. The free
Seamless
app (iOS, Android, BlackBerry), is in many major cities and lets you place an order and pay right from the app. Browse local food options by type or on a map. If you do order during severe weather, don't forget to allow extra time and give a healthy tip.
If you didn't stock up on food, you can still order in. The free
Flashlight by Rik
(left, iOS) has a strobe option and brightness controls. For $.99, the
Morse-It
iPhone app (center) will turn any text into Morse code flashes, should you need it. Android users get both with the free
Tiny Flashlight + LED
(right).
If the storm knocks out the lights you can still see with these flashlight apps. The free
Survival Guide
has an entire chapter on handling harsh winter weather, and tips starting a fire and catching your own food.
Hopefully you won't need any of the tips in this free iOS app, which is based on a U.S. military survival guide.
Winter Survival Kit
Android and iOS apps can transmit your location to emergency services, and if you get stuck it will calculate how long you can have your car engine on before there's a danger of carbon monoxide poisoning.
If you have to drive anywhere in the bad weather, this could be a life saver. The free
FirePlace
is a $.99 app for the iPhone or iPad, and the free
Fireplace Live Wallpaper
works in the background on Android devices.
Don't just stay safe and warm, stay cozy. These apps will turn your mobile devices into flickering fires.
DarkSky
Weathermob
mPING
Seamless
Flashlight apps
Survival guide
Winter Survival Kit
Fireplaces for your screens
STORY HIGHLIGHTS
These 8 mobile apps are helpful for anyone facing a weekend of severe winter weather
There are weather apps to follow the storms in real-time, and survival apps in case the lights go out
Don't use up all your tablet or smartphone power, save some in case of outages
(CNN) -- Mobile devices have changed how we handle severe weather. Instead of being isolated in our homes, reading books printed on paper by candle light, we share constant updates and photos in real time on social networks. We keep ourselves entertained with ebooks, games and videos on smartphones and tablets.
With the severe winter weather pounding the East Coast this weekend, we have a few suggestions for helpful apps apps to add to your collection. They'll let you follow the weather in real-time, file your own first person reports from the ground, handle any emergencies and even stay cozy.
You should also double check that you're stocked up on the essentials, such as Instagram, Facebook, Twitter, Netflix, Hulu, Amazon Video and a few fresh games (the canned goods and bottled water of storm apps).
A blizzard can result in a power outage, so if you only have one mobile device it's wise to keep app usage to a minimum. We've collected these other great tips on keeping your devices powered up.
DarkSky
The Dark Sky app is for weather watchers craving instant information. Yes, the weather report said it would snow this evening, but where exactly are those clouds and flakes right now? The $3.99 iPhone and iPad app taps into the free radar data available from the U.S. government to predict rainfall and snow for your exact area by the hour. There's a slick radar map that can show what the clouds will be up to at a specific time. The app, which started as a Kickstarter campaign in 2011, is great if you want to make a last minute run to the store for string cheese and wine provisions.
WeatherMob
WeatherMob mixes the social with the snow. Put on your amateur meteorologist hat and file a weather report on the free iPhone app. Pick an icon to describe what the weather is doing, how you're feeling, and what the activities the weather is good for. You can add your own text descriptions and attach photos or videos of the weather in action. Once you've shared your hyperlocal weather report, check out what people nearby or in different parts of the city are experiencing, maybe start following your favorites. The app also has also a basic weather forecast and Twitter and Facebook integration.
Track the storm with a timeline, map
mPING
Like WeatherMob, the mPING Android and iOS apps want you to share information about weather around you. But this is scientific tool, a joint project by the University of Oklahoma and the National Sever Storms Laboratory (NOAA), and it is only interested in precipitation. Use the free apps to pick a type of precipitation, such as snow, sleet, or rain. If it's hailing, you can include a photo and measurement of the hail. The research project sends the data to NOAA where researchers compare the anonymous citizen-reports to official radar images. The reports are also displayed on the official project website. The project will use the data to improve radar and weather forecasting technology.
Seamless
When it's miserable outside, the last thing you want to do it go out to pick up food. If you neglected to stock up on rations ahead of time, or are just really craving Thai, you can use Seamless' free iOS, Android or BlackBerry apps to order delivery or takeout. Available in 40 cities, including New York, Philadelphia, Boston and D.C., Seamless streamlines ordering out by letting you order and pay for food from various restaurants from one mobile device. No phone calls necessary. There is some bad weather etiquette you should follow if you plan on using Seamless this weekend. The company gave some tips to East Coasters ahead of the blizzard, reminding them to be patient and allow extra time for deliveries and to tip their brave delivery people extra well.
Flashlight apps
If the lights go out, you'll find these practical little tools very helpful. There are no shortage of flashlight apps in the Android and iOS app stores that use the LED flash on your camera or the screen itself. iPhone users should check out the free Flashlight by Rik app, which lets you control the intensity of the light, turn on a strobe or send out SOS signals. If you are worried about having to communicate entirely by Morse code, the Morse-It iPhone app converts text to the proper flashes. Android users can download the free Tiny Flashlight + LED which is flashlight that also has text to Morse code support.
Survival Guide
Even if the snow doesn't plunge our cities into darkness and everyone-for-themselves chaos, the free Survival Guide iOS app could come in handy. Based on the "U.S. Military Survival Manual FM 21-76, it's basically a book in app form. Chapter 15 is dedicated to cold weather survival, including first aid, shelter and finding food. It has tips like not overheating when you're outside, as the sweat can cool your body and make your clothing less insulated. The guide also covers how to prepare yourself mentally for survival situations, where to find water, fire-building instructions, signaling techniques and traps for catching animals should your Seamless app stop working.
Winter Survival Kit
If you have to travel at all during severe weather, install the practical and helpful Winter Survival Kit app on your phone before you hit the road. It does things you can probably already handle from your phone, such as call 911, tell you where you are and send notifications to family and friends. It has some unique features, like sending your location to emergency services and calculating how long you can afford to run your car engine before you run out of gas or are at risk of carbon monoxide poising. It can also store all your emergency contacts for roadside assistance and insurance policies. It's available for Android and iOS devices.
Fireplaces
Let's not end this list on a gloomy note. Instead, how about snuggling up next a cracking fire with some hot coco and a loved one. If you don't have a fireplace in your house or apartment, try this chillier but still soothing alternative, the $.99 FirePlace app for the iPhone and iPad, which simulates a roaring fire on your screen. You can even sync the flames up with your favorite cold weather songs. Lucky Android users can enjoy a realistic fire while using their device with the free FirePlace Live Wallpaper. And anyone with the Netflix app can relax with the hit film, "Fireplace for Your Home."