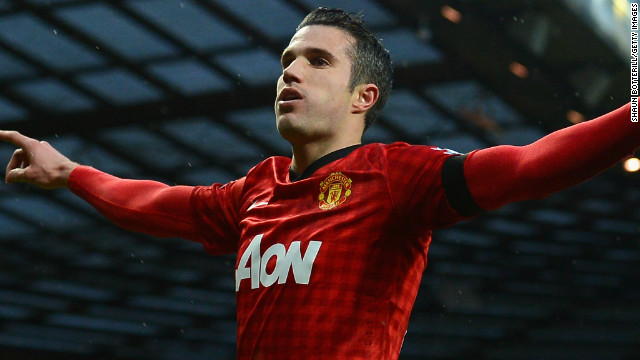 Robin van Persie celebrates after scoring Manchester United's second goal in the 2-0 win at home to Everton, which put his team 12 points clear in the English Premier League.
Van Persie rounded Everton goalkeeper Tim Howard to score his 19th EPL goal this season, sealing a crucial victory ahead of the midweek Champions League trip to Real Madrid.
Veteran Ryan Giggs scored a 13th-minute opener, meaning the 39-year-old has now been on target for each of last 23 league seasons.
Before the match, United fans held aloft a banner honoring the victims of the 1958 Munich Air Disaster,which killed eight of the club's players among 23 dead.
Van Persie pounces
Top scorer
Evergreen Giggs
Munich remembered
STORY HIGHLIGHTS
Robin van Persie and Ryan Giggs score in Manchester United's 2-0 win over Everton
Victory puts United 12 points clear in English Premier League title race
It comes after the 55th anniversary of the Munich air disaster involving United
United will play Real Madrid in last 16 of Champions League on Wednesday
(CNN) -- After a week remembering one of the most traumatic incidents in the club's past, Manchester United fans can now look forward to one of their biggest days in modern history.
The English Premier League leaders will visit nine-time European champions Real Madrid -- and former player Cristiano Ronaldo -- on Wednesday safe in the knowledge that last season's nightmare may soon be erased.
Alex Ferguson's team moved 12 points clear of rivals Manchester City after Sunday's 2-0 win over Everton -- the side who last season came back from 4-2 down to snatch a draw at Old Trafford and derail United's challenge for a record-extending 20th title.
Having seen City lose 3-1 at Southampton on Saturday, Ferguson resisted the temptation to rest key players ahead of the Champions League trip to Spain and was rewarded as veteran Ryan Giggs and top scorer Robin van Persie sealed a crucial win.
Read: Ronaldo fires warning to Man Utd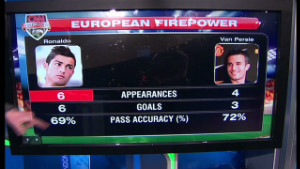 Tactics: Ronaldo vs. Van Persie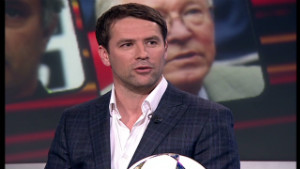 Will Mourinho replace Ferguson?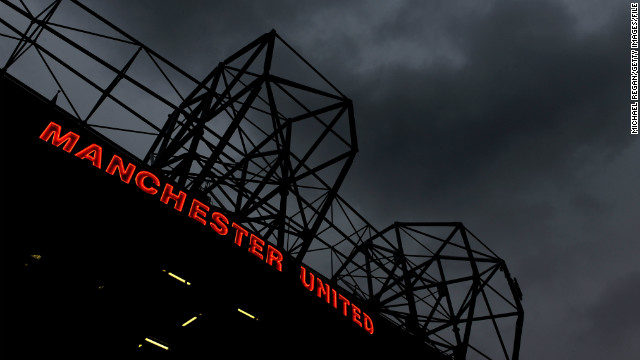 Today Manchester United has an aura of glamor and invincibility. But in 1931 and 10 years later the club's future was in peril.
James Gibson, a wealthy Manchester United supporter who had made his fortune in making uniforms for tram drivers, is credited with saving the club from extinction after taking over in 1931 and helping United navigate its financial troubles.
Old Trafford, home of Manchester United, was blitzed during a raid by the Luftwaffe on March 11 1941. The stadium was obliterated and left the club homeless. All of Gibson's hard work had been undone in a single night. United agreed a deal to play its home matches at Maine Road, home of rival Manchester City, until Old Trafford was rebuilt in 1949.
Gibson and his wife Lillian, had a train named after the football club. Gibson ensured supporters had a far smoother journey to Old Trafford after having steps built up from the local train station to the stadium, while he also had trains make unscheduled stops to help fans make it in time for kick off.
A statue of George Best, Denis Law and Bobby Charlton, which stands outside Old Trafford, depicts three of the club's greatest players. If it wasn't for Gibson, it is arguable the trio would never have pulled on the red of Manchester United.
Matt Busby, who was appointed by Gibson as manager, went on to win the 1968 European Cup, four league titles and two FA Cups. He survived the Munich Air Crash of 1958, where many of his players perished. After his recovery, he helped rebuild the team and lay foundations for the future.
Busby's success has been built on by current United manager Sir Alex Ferguson. It was under Ferguson that United won their19th English League overtaking Liverpool's record of 18.
United have established a buccaneering style of play, which this season has been epitomised by forward Robin van Persie, who is pictured here celebrating with Danny Welbeck. Since joining United from Arsenal in the summer, Van Persie has scored 16 English Premier League goals.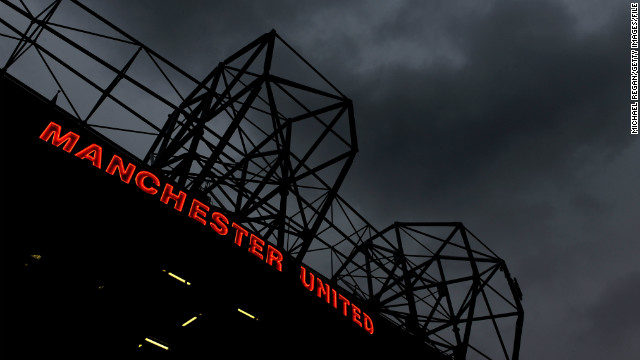 The man who saved Manchester United -- twice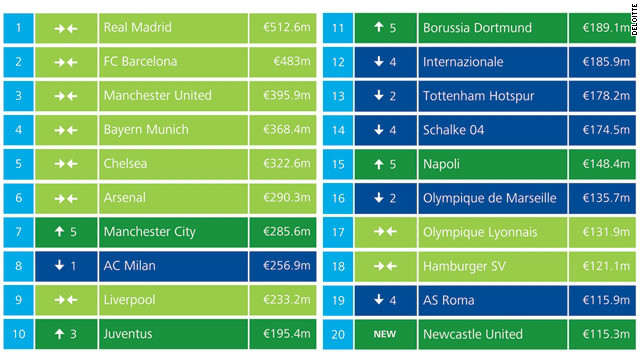 Real Madrid ($650.5 million) and Barcelona ($613 million) lead the way at the top of the chart by some considerable distance over English champion Manchester United ($502.4) . The top six places remain unchanged from last year.
Real Madrid star Cristiano Ronaldo has become an integral part of the club's success both on and off the pitch with the Spanish giant leading the Football Money League table for the eighth year in a row.
Leo Messi's goals and success has been key to Barcelona's ability to draw in fans and broadcasters at will. It is the fourth year in a row that the club has finished second in the Football Money League table behind arch-rival Real Madrid.
Robin van Persie, a $38 million summer signing, has helped Manchester United reach the top of the Premier League as it looks to wrestle the title back from rival Manchester City. United, which has recently signed a record shirt deal with General Motors, has been tipped to overhaul the top two over the coming years.
Bayern Munich, which recently appointed Pep Guardiola as its new manager for the 2013/14 season, remain in fourth position. The German giant reached the Champions League final last season where it was beaten by Chelsea.
Last year's European Champions League finalists Bayern Munich and Chelsea remain in fouth and fifth but it is Manchester City which has surged up the table. The English champion was 12th last year but is now up to seventh with revenue of $362.4 million.
European Champions League holder Chelsea is fifth in the money list. The London club has spent big money in recent years including the $80 million purchase of Spain striker Fernando Torres.
Borussia Dortmund leads the average attendance count with 79,900, beating Manchester United into second place. The matchday experience at Bundesliga clubs has seen attendances rise across the board with safe standing and cheaper tickets both key to its success.
.Arsenal stays sixth in the table despite it's failure to win a single trophy since 2005. The club has also seen big name departures with Cesc Fabregas joining Barcelona and Robin van Persie moving to Manchester United
Manchester City's Premier League title win catapulted the club up the Football Money League table and into seventh position. City's revenue grew to $452.6 million, the largest absolute and relative growth of any Money League club.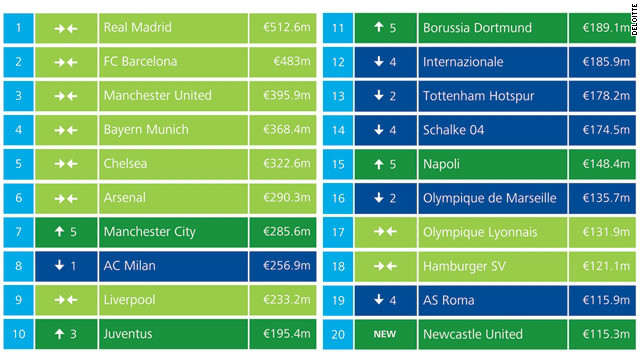 Spain dominates football's rich list
"I was going to make about seven changes but when I got the result, I felt this was a more important game for us because it could give us a comfortable lead," Ferguson said.
"We can make changes later on in the season. It is realistic; we knew that if we got a good result today then we'd be in a positive position."
Before the match, United fans had unveiled a huge banner commemorating the 55th anniversary of the Munich air disaster, which killed 23 of 44 people onboard including eight United players.
Ferguson, who was 16 at the time, said on Wednesday's anniversary that he had been affected by the incident ever since.
The 39-year-old Giggs put United ahead on Sunday in the 13th minute from Van Persie's assist, and has now scored in the league for each of the last 23 seasons.
Read: The man who saved Man Utd - twice
"His legacy lives on, he is a fantastic human being," Ferguson said of one-club man Giggs, who made his debut against Everton on March 2, 1991.
"He's up and down that pitch all day and has shown fantastic energy for the game, it is wonderful to see."
Van Persie doubled the lead at the end of the first half, beating the offside trap and rounding keeper Tim Howard before sliding in a shot that Everton defender Johnny Heitinga could only help into the net.
It was the Dutchman's league-leading 19th goal this season and his 23rd in all competitions since joining from Arsenal for $38 million in August.
Everton dropped to sixth after the weekend's results, losing ground in the race for Champions League qualification.
At the other end of the table, Aston Villa moved out of the bottom three with a 2-1 win over midtable West Ham, ending a run of nine league matches without a victory.
Belgium striker Christian Benteke broke the deadlock in the 74th minute from the penalty spot -- his 11th league goal this season -- after a foul on Charles N'Zogbia, who curled home a free-kick four minutes later.
Paul Lambert's team then held on despite a late own goal from Ashley Westwood.