STORY HIGHLIGHTS
LAPD beefs up security at Grammy Awards as a precaution
NEW: Slain Riverside officer identified as 11-year veteran Michael Crain
Los Angeles puts up $1 million reward for Dorner's capture and conviction
Dorner claims LAPD racism cost him his job and declared war on the department
Los Angeles (CNN) -- The city of Los Angeles put up $1 million in reward money Sunday for help catching Christopher Dorner, the renegade ex-cop accused of killing three people in a vendetta against his old department.
"We will not tolerate anyone undermining the security, the tranquility of our neighborhoods and our communities," Los Angeles Mayor Antonio Villaraigosa told reporters. "We will not tolerate this reign of terror that has robbed us of the peace of mind that residents of Southern California deserve. We will not tolerate this murderer remaining at large."
The offer -- raised in conjunction with businesses, private donors and community groups -- is "the largest ever offered to our knowledge," Los Angeles Police Chief Charlie Beck said. The hope is it will shake loose a tip that leads to Dorner's eventual conviction.
The Los Angeles Police Department says Dorner, a 270-pound, 6-foot former Navy officer, was fired in 2009 for filing a false complaint of excessive force against his training officer. In an interview aired Sunday on CNN affiliate KCBS, Beck called Dorner a "trained assassin" but said he wouldn't be harmed if he gave himself up.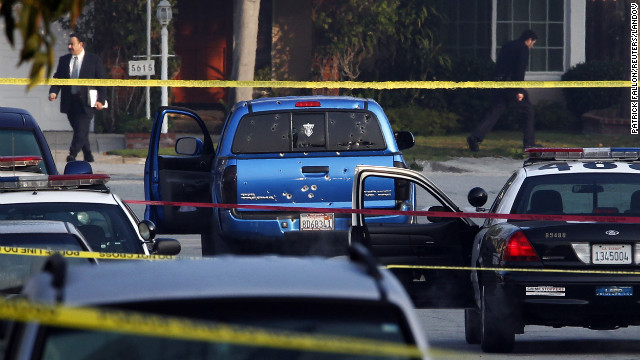 Detectives investigate the scene where officers fired on a vehicle they believed was Christopher Dorner's on February 7, in Torrance, California. Two people in the truck were wounded.
An employee of Southern California Edison surveys the damage at the burned-out cabin where the remains of multiple-murder suspect and former Los Angeles Police Department officer Christopher Dorner were found on Friday, February 15, in Big Bear, California.
A statue of an angel stands on a wood column in front of the burned cabin on February 15.
An evidence flag placed by San Bernardino County Sheriff's crime scene investigators sits on pile of rubble in the burned cabin on February 15.
Cindy Bachman, public information officer for the San Bernardino Sheriff's Department, updates the media after a standoff and a shootout with Dorner on Tuesday, February 12.
Police search cars at a blockade as they come down off the mountain during a manhunt for Dorner on February 12.
Cindy Bachman, information officers for the San Bernardino County Sheriff's Department, speaks to reporters at a roadblock near Big Bear Lake, California, on Tuesday, February 12. Christopher Jordan Dorner has been the subject of a massive manhunt and is accused of killing one police officer and wounding two others, as well as killing the daughter of his police union representative and her fiance on Sunday.
Authorities take positions during the manhunt for former LAPD officer Christopher Jordan Dorner near the town of Angelus Oaks, California, on Tuesday.
San Bernardino County Sheriff SWAT team members return to the command post at Bear Mountain in Big Bear Lake, California, on Friday, February 8, after heavy snow hindered the manhunt for ex-LAPD cop Christopher Jordan Dorner.
Officers keep watch outside of the Twin Towers Jail in response to an unconfirmed sighting of Dorner in Los Angeles.
Officers investigate the burned out truck of Christopher Jordan Dorner that was discovered at the base of Bear Mountain Ski Resort in Big Bear Lake, California, on Thursday, February 7.
Department of Homeland Security officers search vehicles at the San Ysidro Port of Entry in San Diego on February 7 as they search for former LAPD officer Christopher Dorner.
Los Angeles Police Chief Charlie Beck speaks at a press conference about the manhunt for Dorner as photos of the suspect stand in the background on February 7.
An illuminated sign at San Diego State University along Interstate 8 displays information about Dorner's last known vehicle on February 7.
San Diego Harbor Police officers near Naval Base Point Loma armed with high-powered firearms walk along a street on February 7 in San Diego.
Investigators inspect a bullet-ridden squad car where a police officer was shot on Magnolia Avenue in Corona, California on February 7.
Police stand guard near a LAPD car where a police officer was shot on Magnolia Avenue as officers across the state remain on high alert.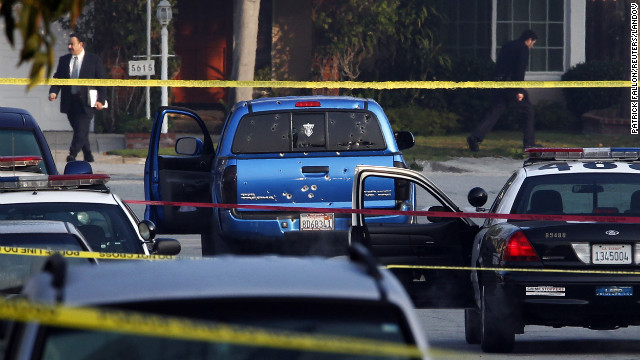 Ex-cop at center of California manhunt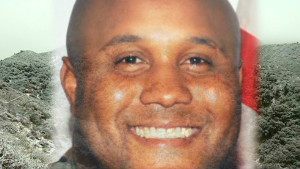 Weather hampers search for former cop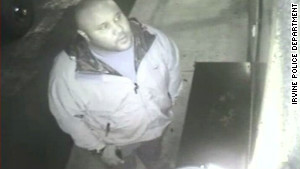 Where is Christopher Dorner?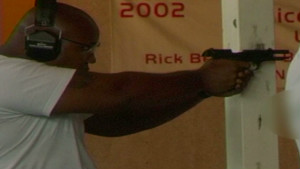 See video of Dorner during LAPD training
"If you turn yourself in, then you will be safe and nobody else has to die," he said. "If you don't, if you decide to try to take the life of another Los Angeles police officer or their family member, then you'll have to suffer the consequences."
Amid the manhunt, the LAPD beefed up security at Sunday night's Grammy Awards show "out of an abundance of caution," police Cmdr. Andy Smith said. And Villaraigosa said authorities are confident they'll catch Dorner.
"This search is not a matter of if. It's a matter of when," Villaraigosa said. "And I want Christopher Dorner to know that."
Chief calls it 'domestic terrorism'
Dorner accused his training officer of kicking a mentally ill man during an arrest in 2007. The LAPD ruled the complaint unfounded and kicked Dorner off the force for filing a false complaint. He challenged his firing in court and lost.
In a manifesto released last week, he blamed racism and corruption in the department for his removal and vowed to wage "unconventional and asymmetrical warfare" against LAPD officers and their families. He called it a "last resort" to clear his name and strike back at a department he says mistreated him.
Beck had a different term for it Sunday.
"This is an act -- and make no mistake about it -- of domestic terrorism," he said. "This is a man who has targeted those that we entrust to protect the public. His actions cannot go unanswered."
But the chief announced Saturday that the LAPD would re-examine its proceedings against Dorner. The review is "not to appease a murderer," but "to reassure the public that their police department is transparent and fair in all things we do," he said.
"I am aware of the ghosts of the LAPD's past, and one of my biggest concerns is that they will be resurrected by Dorner's allegations of racism within the department," Beck said.
Mountain dragnet scaled back
Meanwhile, about 90 miles east of the city, the dragnet was back in action around the Big Bear Lake resort in the San Bernardino Mountains. After working through a weekend of heavy snow and overnight temperatures in the single digits, investigators were trying to pick up Dorner's trail anew after his burned-out truck was found there Thursday afternoon near the property of someone a federal arrest affidavit described as a known associate.
But there has been speculation, based in part on the affidavit, that the suspect could have crossed state lines into Nevada or made his way into Mexico.
The day's effort began with about 60 officers, San Bernardino County sheriff's spokeswoman Lehua Pahia said. But by early afternoon, it had been scaled back to about 25 investigators, aided by a helicopter equipped with body-heat sensors and other specialized equipment, Pahia said. None of the tips the department had received so far has panned out, she said.
According to authorities, Dorner began making good on his threats a week ago when he killed Monica Quan and her fiance, Keith Lawrence, in a parking lot in Irvine, south of Los Angeles. Quan was the daughter of a now-retired Los Angeles police officer who represented Dorner in a disciplinary hearing that led to his termination.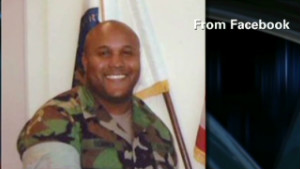 Significance of suspect's torched truck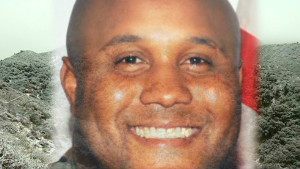 Weather hampers search for former cop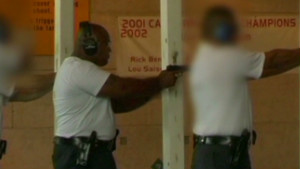 Accused killer's military skills
Days later, early Thursday morning, Dorner allegedly opened fire on two LAPD police officers, wounding one, in the suburban city of Corona.
Roughly 20 minutes later, Dorner allegedly fired on two police officers in the nearby city of Riverside, killing one and wounding another. On Sunday, authorities identified the slain officer as Michael Crain, an 11-year veteran officer.
LAPD guarding 50 police families
Authorities say Dorner spent at least two days in the San Diego area after the shooting of Quan and her fiance. Dorner's ID and some of his personal belongings were found Thursday at the San Ysidro Point of Entry at the U.S.-Mexico border, according to the affidavit.
Border patrol agents have been searching cars crossing into Mexico for signs of Dorner, while authorities have searched a home Dorner owned in Las Vegas and one owned by his mother in La Palma, California.
Two sailors reported that Dorner, a former Navy lieutenant, approached them at the San Diego-area Point Loma Naval Base, and local police allege he attempted to steal a boat.
And Monica Quan's father told investigators that someone identifying himself as Dorner called him Thursday and told him he "should have done a better job of protecting his daughter," the federal affidavit states. Investigators traced the call to Vancouver, Washington, but based on the timing of other sightings, they don't believe Dorner was in Vancouver at the time, the affidavit states.
Beck said the LAPD is now guarding the families of more than 50 police officers. Officers guarding one house early Thursday shot and wounded two women who were driving a pickup similar to Dorner's, something Beck called a "tragic, horrific incident."
Beck said that the shootings of Margie Carranza, 47, and her mother, Emma Hernandez, 71, occurred a day after the manhunt for Dorner began and that the officers were under enormous pressure.
CNN's AnneClaire Stapleton and Irving Last contributed to this report. Paul Vercammen and Stan Wilson reported from Big Bear Lake, and Chelsea J. Carter reported from Atlanta. Matt Smith wrote from Atlanta.