Was the euro ever 'about to collapse'?
February 13, 2013 -- Updated 0341 GMT (1141 HKT)
STORY HIGHLIGHTS
Former European Central Bank chief says euro was never going to collapse
In 2012, critics predicted at least partial breakup of 17-member eurozone
Euro plunged to 25-month low against U.S. dollar in July 2012
Currency war fears prevail in run-up to G20 finance ministers meeting this week
Hong Kong (CNN) -- Less than six months ago, eurozone watchers had been predicting the breakup of the 17-member bloc of nations as the euro plunged to a 25-month low against the U.S. dollar last July.
Even as recently as November, Warren Buffett, the famed CEO of Berkshire Hathaway, said of the eurozone's future that "it's hard to tell exactly how it comes out."
But since then, the euro has appreciated nearly 11% as its member countries battled to contain sovereign debt crises, rising unemployment and social unrest. The euro now stands at a 13-month high against the greenback.
And flying in the face of last year's critics, former European Central Bank chief Jean-Claude Trichet told CNN's Nina dos Santos that the euro "was never about to collapse" and that its viability as a currency is solid.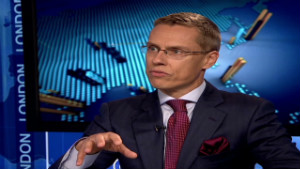 Finnish minister sees 'light' for euro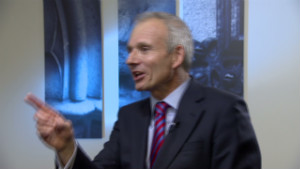 Lidington: UK happy keeping its currency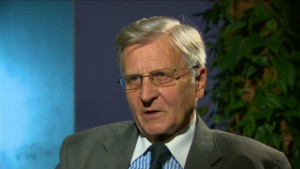 Trichet: Financial situation not normal
"The euro as a currency has never been put in question," asserted Trichet, while at the same time admitting the euro area's financial stability and credit worthiness had been tested.
As for the euro, he said it "is certainly reliable and credible."
Yet, the euro's gains over the past seven months is a mixed blessing. Arguments have long-existed for and against a stronger currency. Appreciation means investors are more confident in the euro but eurozone exports become more expensive when sold overseas; devaluation makes the bloc's exports more competitive globally, which many eurozone officials would prefer.
But if the world's major economies devalued their currencies to make exports more competitive and to spur their economies to growth again, it would be chaos, says Trichet.
"If the reasoning is the same in all constituencies you have nothing but...a 'beggar-thy-neighbor' policy which is a recipe for catastrophe."
That catastrophe could take the form of an all-out currency war. And this week, the world's leading banks called on the G20 group of richest nations to avoid such an outcome.
"We believe major central banks should focus on enhancing their cooperation...to guide market expectations and thus help avoid a disorderly interest rate adjustment process and undue exchange rate volatility," the Institute of International Finance wrote in a letter to Russian Finance Minister Anton Siluanov, who is chairing the G20 finance minister's meeting later this week.
But with the eurozone in recession for the second time in four years, the desire to devalue the euro may be strong. The European Central Bank in December cut its 2013 growth forecast, with a best-case growth rate scenario of only 0.3%.
"It is no time for complacency," warned Trichet who added that the central banks of the United States, Japan and Europe as well as their private sectors should get their "house(s) in order."

Part of complete coverage on
April 22, 2013 -- Updated 0647 GMT (1447 HKT)

Twitter resumes -- or "twesumes" -- have been touted as the best way for social media-savvy types to snag a dream job.
April 17, 2013 -- Updated 0800 GMT (1600 HKT)

We live in a three-speed economic world, according to the International Monetary Fund.
April 17, 2013 -- Updated 1627 GMT (0027 HKT)

Women have long dominated the heated discussion around gender equality. But men need to too, says Facebook's Sheryl Sandberg.
April 19, 2013 -- Updated 1053 GMT (1853 HKT)

Security threats from mobile malware are on the rise and nearly 95% of targets operate on the Android operating system, according to a new report from NQ Mobile.
April 15, 2013 -- Updated 2006 GMT (0406 HKT)

Microsoft is working on a touch-enabled smartwatch, The Wall Street Journal says, reporting that the company asked Asian suppliers to ship components for the device.
April 19, 2013 -- Updated 0647 GMT (1447 HKT)

Give your anxious, negative colleagues a chance, and they just might surprise you.
April 17, 2013 -- Updated 1046 GMT (1846 HKT)

In Europe, high-speed rail has come to stand for ease and efficiency where journeys of four hours or less trump airplanes and the hassle of airport security.
April 19, 2013 -- Updated 1812 GMT (0212 HKT)

Infographic: Singapore may be tiny but it is also one of East Asia's most powerful trading hubs.
April 22, 2013 -- Updated 0027 GMT (0827 HKT)

In Hong Kong urban lore, an apartment where a violent death took place can often be bought for as much as 10-30 per cent off the market price.
April 16, 2013 -- Updated 1605 GMT (0005 HKT)

With gold prices officially in a bear market, investors must ask themselves if this is the time to buy?

Today's five most popular stories