Medal of Honor recipient declines invitation to State of the Union
February 12, 2013 -- Updated 1725 GMT (0125 HKT)
STORY HIGHLIGHTS
Clint Romesha was invited by the first lady to attend the State of the Union speech
He said it was an honor, but he wants to spend the evening with former Army buddies
It's also his 13th wedding anniversary, Romesha says
He was awarded the Medal of Honor Monday by the president
(CNN) -- The former Army staff sergeant who was awarded the Medal of Honor by President Barack Obama Monday is declining the first lady's invitation to be her guest at Tuesday's State of the Union address.
Clint Romesha, who was awarded the prestigious medal for uncommon valor in Afghanistan, told CNN that he has decided to spend the evening with friends from his former unit, Black Knight Troop, 3-61 CAV, his wife Tammy -- with whom he celebrates a wedding anniversary Tuesday -- and their families.
"It's such a great honor to be invited to the State of the Union," Romesha, 31, told CNN. "I really feel bad about not being able to go. But a lot of these guys I haven't seen a really long time and I'd like to hang with them just a little bit more."
Romesha said he also wants "to be there with the family, especially on the 13th wedding anniversary of me and Tammy," his high school sweetheart.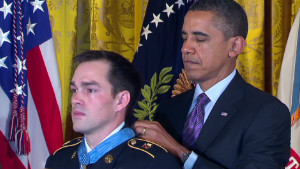 Obama honors soldier's heroics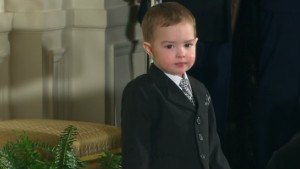 Little boy steals show at medal ceremony
"I've done some soul searching," he said. "As much as a great honor it would be to be a guest of the first lady, it's also kind of hard to break away from the friends and the family and all the great guys here" from Black Knight Troop, who have come to Washington for the Medal of Honor events. "I just need to spend a little more time with them."
Opinion: Clint Romesha, the bravest of the brave
Romesha has always been a reluctant hero, uncomfortable in the spotlight and eager to share credit with his fellow troops. After the ceremony Monday, Romesha briefly spoke to reporters on the White House grounds, where he was overcome with emotion.
"I stand here with mixed emotions of both joy and sadness for me today," he said. "I don't think I'm much different than Medal of Honor recipients Sergeant First Class Petry and former Staff Sergeant Giunta and feeling conflicted with this medal I now wear. But joy comes from recognition for us doing our jobs as soldiers on distant battlefields, but is countered by the constant reminder of the loss of our battle buddies, my battle buddies, my soldiers, my friends."
Romesha said he accepted "this tremendous honor on behalf of all soldiers who have served with me that day."
"This award is for the eight soldiers that didn't make it and for the rest of the team that fought valiantly and magnificently that day. I will forever be humbled by their bravery, their commitment to service and their loyalty to one another."

Today's five most popular stories
Part of complete coverage on
Medal of Honor recipients
June 19, 2014 -- Updated 1926 GMT (0326 HKT)

William "Kyle" Carpenter lost most of his jaw and an eye when he fell on a grenade to shield a fellow Marine from the blast.
May 13, 2014 -- Updated 2026 GMT (0426 HKT)

An Army veteran credited with trying to save the lives of fellow soldiers during a firefight in Afghanistan will be awarded the nation's highest military award.
March 19, 2014 -- Updated 1210 GMT (2010 HKT)

If not for the hue of their skin or their ethnicity, 24 soldiers who faced death in service to their nation would have received the most prestigious medals for their valor long ago.
November 4, 2013 -- Updated 1426 GMT (2226 HKT)

Four years after a brutal battle in Afghanistan in which he was "outnumbered, outgunned, and taking casualties," this former Army Captain received his due.
April 21, 2014 -- Updated 1651 GMT (0051 HKT)

President Obama awards the Medal of Honor to former Army Staff Sgt. Clint Romesha for his efforts in Afghanistan.
February 12, 2013 -- Updated 1528 GMT (2328 HKT)

His eyes moist and lower lip trembling, Clint Romesha nodded haltingly at family, comrades, military brass and the president standing to applaud him for receiving the nation's highest military decoration, the Medal of Honor.
February 8, 2013 -- Updated 0646 GMT (1446 HKT)

It's not often that someone you know and consider a friend is awarded the Medal of Honor.
April 21, 2014 -- Updated 1659 GMT (0059 HKT)

Former Army Staff Sgt. Clint Romesha is known for his valor, but he admits to Jake Tapper that all he feels is guilt.
February 7, 2013 -- Updated 1518 GMT (2318 HKT)

Read an excerpt from CNN anchor and chief Washington correspondent Jake Tapper's book, "The Outpost," detailing Romesha's time in Afghanistan.
February 7, 2013 -- Updated 2210 GMT (0610 HKT)

CNN's Jake Tapper debuts An American Hero: The Uncommon Valor of Clint Romesha Thurs., 2/7 at 10 p.m. ET.
May 17, 2012 -- Updated 0105 GMT (0905 HKT)

Rose Mary Sabo Brown spent just 30 days with her new husband, Army Spec. Leslie Sabo Jr., before he shipped out to fight in Vietnam. But from that month together in 1969 grew a lifetime of love.

In most cases when a soldier does something extraordinarily brave in battle, it happens in a matter of moments. But to reward that bravery often takes years.

Since 1863, it has been awarded the bravest soldiers, sailors, airmen, Marines and Coast Guardsmen.

Readers share their thoughts on what actions call for a Medal of Honor.