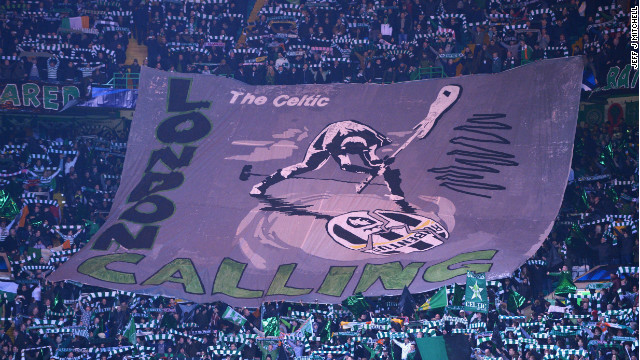 Celtic had suffered just two home defeats in 23 Champions League games before welcoming Juventus to Parkhead. The Scottish champion saw off the might of Barcelona in the Group Stage with the famous Celtic atmosphere a huge factor in the team's success.
Alessandro Matri gave Juventus the perfect start by firing the Italian side ahead after just three minutes. Matri's effort was adjudged to have crossed the line before Claudio Marchisio smashed the ball into the back of the net.
Juventus stun Celtic Park thanks to Matri's early strike and temporarily silence one of the most partisan crowds in European football. The goal came following a dreadful defensive error from Efe Ambrose, who helped Nigerian win the Africa Cup of Nations just last Sunday.
Celtic captain Scott Brown rages at Juventus playmaker Andrea Pirlo during the high octane clash. Pirlo, who played a starring role in Italy's run to the World Cup Final last year, was outstanding once again at the heart of the Juventus midfield.
Celtic striker Gary Hooper had scored 22 goals in 34 appearances before taking on Juventus Tuesday, but the in-form forward couldn't find a way past a deteremined Italian defense.
Claudio Marchisio celebrates after firing Juventus into a 2-0 lead with 13 minutes remaining. After enduring a barrage of Celtic pressure, Marchisio rounded off an incisive move to inflict further damage upon the home side.
Mirko Vucinic rubbed salt into Celtic wounds by firing home his side's third and final goal in the 83rd minute following another defensive mistake by Efe Ambrose. The tie is all but over going into the second leg in Turin on March 6.
David Beckham was in attendance to watch his new club Paris Saint-Germain take on Valencia in the last-16 of the European Champions League. Beckham recently signed a five-month deal to play in the French capital and hopes to make his debut in the next couple of weeks.
Ezequiel Lavezzi celebrates his early strike for Paris Saint-Germain with teammate Zlatan Ibrahimovic. The Argentine struck in the 10th minute and has now scored in each of his past three Champions League games.
Javier Pastore doubled PSG's lead with just two minutes of the first half remaining after a flowing move scythed through the Valencia defense. The talented Argentine playmaker was just one of a number of stars on show for the French club along with Ibrahimovic, Lucas Moura and Lavezzi.
Ibrahimovic was shown a straight red card following a controversial studs-up challenge on Andres Guardado. It was the Swede's third red of his Champions League career, only Edgar Davids, four, has more. It means that the striker will miss the second leg in Paris.
Valencia's Adil Rami pulled a goal back in the final minute to give his side a lifeline going into the second leg in France. The La Liga side had won all eight of its Champions League home against French opposition before Tuesday's defeat.
Celtic cauldron
Magic Matri
Party time
I'm watching you
Hard for Hooper
Double trouble
Game over
Beckham's back
Fast start
Perfect Pastore
Red mist
Rami's rocking
STORY HIGHLIGHTS
Juventus claims 3-0 win at Celtic in first leg of last-16 tie
Italian champion now in pole position to qualify for quarterfinal
Zlatan Ibrahimovic sent off in Paris Saint-Germain's 2-1 win at Valencia
Ibrahimovic will miss the second leg on March 6
(CNN) -- Juventus took a giant step towards the quarterfinals of the European Champions League following a crushing 3-0 win over Celtic.
Alesandro Matri's early strike and further goals from Claudio Marchisio and Mirko Vucinic completed a perfect night's work for the Italian champions.
There was also success for Paris Saint-Germain, which claimed a 2-1 away win at Valencia, although it must do without star striker Zlatan Ibrahimovic in the second leg after he was shown a straight red card.
Ezequiel Lavezzi and Javier Pastore had given the French club a two goal lead at the break, but Adil Rami's late strike and Ibrahimovic's dismissal means its all to play for in the French capital in three weeks time.
Lisbon Lions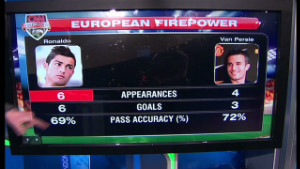 Tactics: Ronaldo vs. Van Persie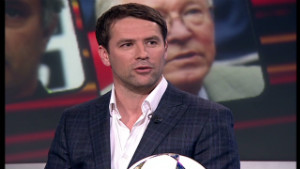 Will Mourinho replace Ferguson?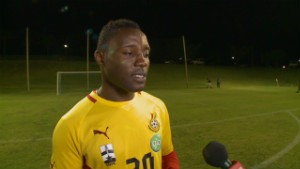 Juventus midfielder: Stop racism
While PSG might still have to sweat, no such problems are expected for Serie A leaders and two-time European Cup winners Juventus.
Dressed in all black and surrounded by the cauldron of Celtic Park, Juventus headed out to face one of the most intimidating atmospheres in European football.
With the majority of the 57,917 crowd clad in green and white bellowing out their support for the Scottish champion, it was clear that this night was something special.
Back in the knockout phase for the first time in five years, Celtic was dreaming of the glory days when it ruled the continent following its legendary cup final win of 1967.
The victory over the might of Inter Milan in Lisbon, led to the team, which was to become known as the 'Lisbon Lions', becoming the first non-Latin side to win the trophy.
Managed by the legendary Jock Stein, all of the players were born within a 30 mile radius of Glasgow.
On May 24 1967, Lisbon was overrun with the green and white of Celtic and not that of local club Sporting.
Goals from Tommy Gemmel and Stevie Chalmers secured victory over an Inter side which had won three of the four past editions of the competition.
"There is not a prouder man on God's Earth than me at this moment," said Stein following the triumph.
"Winning was important, but it was the way that we won that has filled me with satisfaction.
"We did it by playing football; pure, beautiful, inventive football. There was not a negative thought in our heads."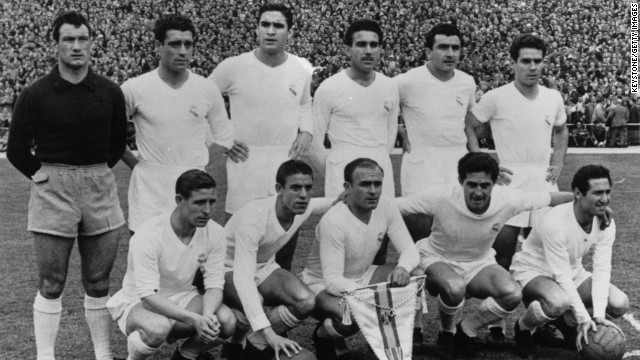 The Real Madrid team poses for a photograph ahead of the second leg of the European Cup semifinal against Manchester United at Old Trafford in 1957 with captain Alfredo Di Stefano clutching his side's pennant.
Manchester United, who were the 1956 and 1957 league champions, became the first English side to take part in the European Cup, reaching the semifinals before being beaten by Real Madrid. Tragically, six of the United players who faced Madrid were killed in Munich the following year.
Duncan Edwards, one of the greatest players of his generation, lost his life in the Munich Air Disaster in 1958 at the age of 21. He was the youngest player to represent England after the war and won two league titles with the club before his life was so tragically cut short.
Roger Byrne captained Manchester United under manager Matt Busby but he too lost his life in the Munich Air Disaster of 1958. An inspirational and charismatic figure, he was Busby's leader on the pitch until his death. Just days after he passed away, his widow Joy discovered she was pregnant.
After survivng the Munich Air Crash at the age of 20, Bobby Charlton went on to become both a local and national hero for club and country. He scored 249 goals in 758 appearances for Manchester United during a 17-year playing career. He won three league titles, the 1963 FA Cup and 1968 European Cup. He was also a key member of the England side which won the World Cup on home soil in 1966 and he remains the country's top scorer to this very day with 49 international goals.
David Pegg had caused Real all sorts of problems in the first leg of the semifinal leading the Spaniards to fetch in Valencia's tough-tackling defender Manuel Torres on-loan for one game only. Pegg made his debut at the age of 17 after joining straight from school and had been tipped to shine on the international stage until his untimely death in Munich at the age of 22.
This giant mural outside Old Trafford next to the statue of Busby depicts the United team lining up at their European Cup game with Red Star Belgrade before the disaster at Munich airport on February 6, 1958. Their legacy will never be forgotten.
Real Madrid dominated European football during the 1950s by winning the competition five times in succession between 1955 and 1960. Hungarian star Ferenc Puskas joined the club in 1958 to link up with Di Stefano, Kopa, Gento and Rial to form one of the most exciting teams ever seen.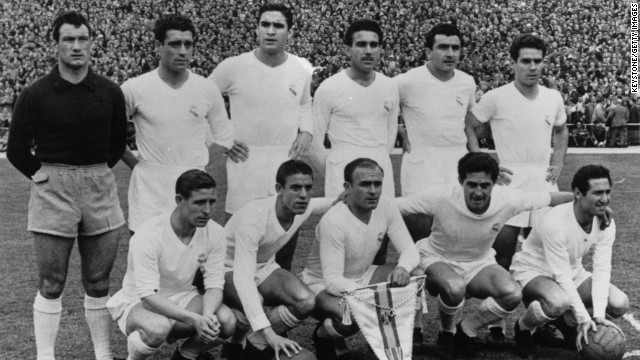 When Real rained on United's parade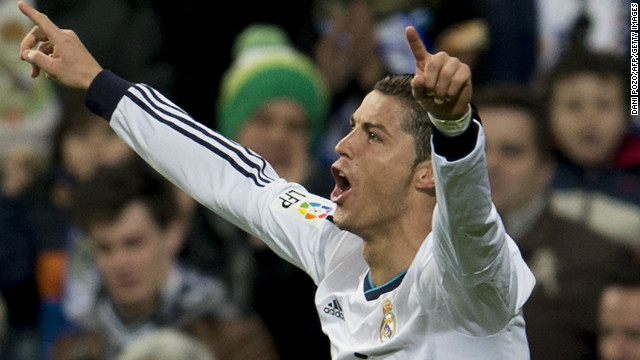 Real Madrid forward Cristiano Ronaldo warmed up for the Champions League clash with his former club Manchester United by scoring a hat-trick in the 4-1 victory at home to Sevilla.
English Premier League leaders United are in pole position to reclaim the title from Manchester City, whose manager Roberto Mancini was furious with his players after a 3-1 defeat at Southampton.
City's low point came when Gareth Barry -- who had been at fault for the first goal -- passed the ball into his own net to restore Southampton's advantage after Edin Dzeko had reduced the deficit just before the break.
Alessandro Matri helped Juventus move five points clear in Italy's Serie A, scoring the second goal in the 2-0 win at home to Fiorentina despite losing his boot before firing into the net.
David Alaba helped Bayern Munich move 15 points clear in Germany's Bundesliga, with the 20-year-old Austrian scoring twice in the 4-0 win at home to Schalke.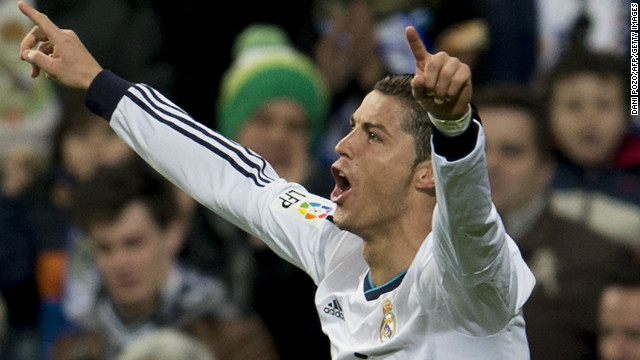 Ronaldo fires United warning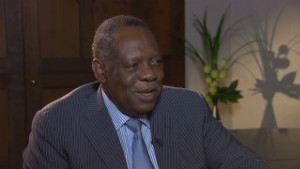 Hayatou: Good example key against racism
That night in Lisbon is never far from memory whenever the words 'Europe' and 'Celtic' are mentioned in the same breath. They are synonomous.
The success of the past generation is a reminder of how Celtic became the first British club to win the competition, a fact which supporters are quick to point out at every opportunity.
But while it has dominated domestically in recent years, helped by the downfall of fierce rival Glasgow Rangers, success in Europe has been more difficult to achieve.
Real Madrid, Barcelona or Manchester United: Which is the biggest club?
Not since it lost to Porto in the 2003 UEFA Cup final had Celtic hit the European headlines, that was until this year and its shock victory over Barcelona.
A 2-1 home win against the La Liga champions helped Neil Lennon's side qualify for the last-16 and a meeting with Juventus.
While the visitor appeared favorite on paper, Celtic's home form in the Champions League has been nothing short of remarkable.
In its 23 matches before welcoming Juventus, Celtic had suffered just two defeats, while winning 15 and drawing six.
With the second leg in Turin on March 6 to come, the home side would have hoped to secure a result in a bid to keep the tie alive.
The atmosphere suggested a gladiatorial arena, the bloodcurdling noise of Celtic Park rose as the players emerged. This was Celtic's time.
Foreign owners in UK football: The good the bad and the ugly
Or perhaps not. Instead, it took Juventus just three minutes to silence one of European football's most intimidating arenas.
On Sunday, Efe Ambrose was celebrating Nigeria's victory in the final of the Africa Cup of Nations -- but on a freezing February night in Glasgow he was left to rue a horrendous defensive error.
It was his mistake which allowed Federico Peluso's long ball to release Alessandro Matri and the striker fired home, despite Kelvin Wilson trying to clear off the line.
The shock and horror was etched across the faces of the Celtic players, but slowly and surely, those emblazoned with the green and white began to show its famous spirit.
Kris Commons came agonizingly close to an equalizer when his overhead kick sailed just inches wide of the far post, while Ambrose should have netted with a free header just after the hour mark.
That miss was to be severely punished as Juventus wrapped the game up with 13 minutes remaining when Matri released Marchisio, who turned Scott Brown and slotted the ball home.
Worse was to come for Celtic with 83 minutes on the clock when Ambrose, who only returned from South Africa on Tuesday morning, gave away possession and Vucinic raced in to score.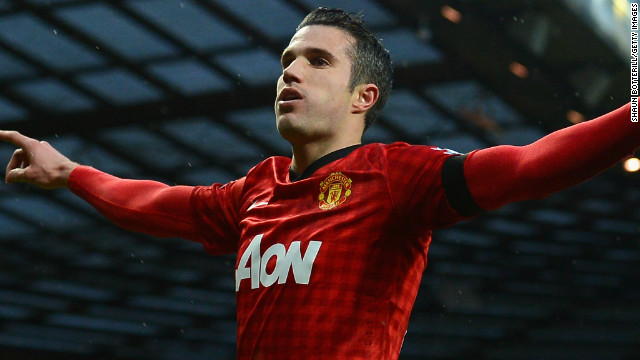 Robin van Persie celebrates after scoring Manchester United's second goal in the 2-0 win at home to Everton, which put his team 12 points clear in the English Premier League.
Van Persie rounded Everton goalkeeper Tim Howard to score his 19th EPL goal this season, sealing a crucial victory ahead of the midweek Champions League trip to Real Madrid.
Veteran Ryan Giggs scored a 13th-minute opener, meaning the 39-year-old has now been on target for each of last 23 league seasons.
Before the match, United fans held aloft a banner honoring the victims of the 1958 Munich Air Disaster,which killed eight of the club's players among 23 dead.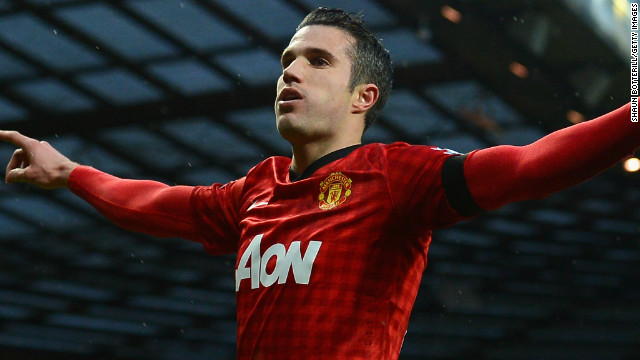 Man Utd move 12 points clear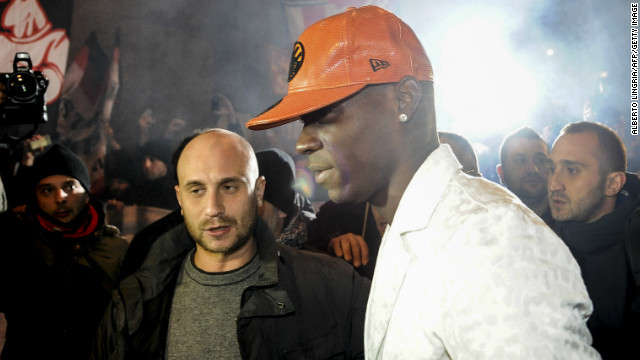 Mario Balotelli was mobbed by fans outside a restaurant as he returned home to Italy to complete his $30 million move from AC Milan to Manchester City.
His future at the English Premier League champions had been in doubt since his training ground bust-up with manager Roberto Mancini in early January, when coaching staff had to intervene to separate the pair. Mancini later downplayed the tussle, sparked by Balotelli's hostile tackle on a fellow player, as "nothing unusual."
Balotelli made his Inter Milan debut in 2007 after being signed by the club at the age of 15. He scored the first goals of his senior career in a Coppa Italia match against Reggina in December of that year.
Balotelli joined Manchester City from Italian club Inter Milan. His relationship with Inter coach Jose Mourinho endured numerous ups and downs. Disciplinary issues littered his time at the San Siro and the situation came to a head in March 2010, when Balotelli was left out of Inter's squad for a Champions League tie after an altercation with Mourinho.
Mancini was Balotelli's first coach at Inter Milan and the pair were reunited in 2010 when the striker joined Manchester City. The start of Balotelli's City career was disrupted by injury, but he finally scored his first Premier League goals in a 2-0 away win at West Bromwich Albion. His joy at netting a brace was short-lived, however, as he was sent off after picking up two yellow cards.
Balotelli became a hit with City's fans, as much for off-field antics as his goalscoring. His stock with the supporters was never higher than in October 2011, when he scored twice in City's 6-1 thumping of neighbors Manchester United at Old Trafford. After scoring the first goal in City's victory, he revealed a t-shirt stating "Why always me?" -- instantly creating one of the most iconic images of the Premier League era. City went to beat United to the English title on goal difference with a dramatic last-gasp victory over Queens Park Rangers on the final day of the season.
Balotelli reminded everyone of his undoubted talent during the 2012 European Championships. He scored three times as Italy reached the final, including both goals in the Azzurri's 2-1 semi win over Germany. Italy lost 4-0 to Spain in the final of the tournament co-hosted by Poland and Ukraine.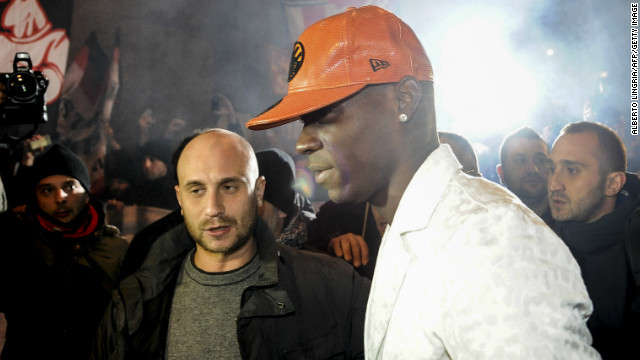 Being Balotelli: The life and times of Mario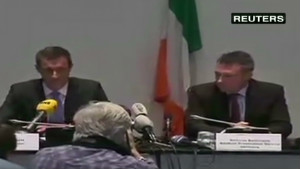 Match-fixing scandal engulfs Europe
"We need a miracle," Celtic manager Lennon told ITV. "But it's the harsh reality of Champions League football and some of my young players will learn a huge lesson tonight.
"I thought for 70-odd minutes, until the second goal, we were by far the better side -- but you can't give away goals like we gave away, sloppy."
How Manchester United tried to drown the stars of Real Madrid in 1957
On a day when wrestling was dropped from the Olympics, Lennon was frustrated with the way Juventus' defenders manhandled his players at set-pieces.
Time and time again, defender Stephane Lichtsteiner was grappling with Gary Hooper and Scott Brown inside the penalty area, but nothing was forthcoming from referee Alberto Undiano Mallenco.
"I'd like to ask the referee, is the game different in Spain or Italy?" Lennon said.
"Every time one of my players tried to move he was held. He should have given a penalty on at least two occasions."
Big spending masks age of austerity for top soccer clubs
While that win all but secures Juventus' place in the last eight, PSG faces a more difficult proposition following an infuriatingly frustrating second half performance.
In front of a watching David Beckham, who is hoping to make his debut within the next few weeks, PSG showed why they should be feared in this year's competition.
Leading 2-0 thanks to goals from Lavezzi and Pastore, Carlo Ancelotti's men missed several golden opportunities and could have easily scored four or five at the Mestalla.
Lavezzi, who has now scored in each of his past three Champions League games, should have had a hat-trick only to miss two simple chances.
Beckham to donate PSG wages to children's charity
That wastefulness was punished in the final minute when Rami bundled home from close range to give the home side hope.
The tie then took another twist when Ibrahimovic was shown a straight red card for a controversial studs up challenge on Andres Guardado.
"Ibrahimovic did not deserve the red card. I don't understand the decision," Ancelotti told French Canal Plus television at full time.
"We played well and had chances to score more goals. It was a good team performance, but this was just the first leg. There is still the return to come."