Tibetan sets himself on fire in front of shrine in Nepal
February 14, 2013 -- Updated 0244 GMT (1044 HKT)
STORY HIGHLIGHTS
"The whole of his body is burnt," a police spokesman says
The man doused himself in petrol and set himself on fire near a shrine
Dozens of Tibetans have self-immolated in recent years to protest Chinese rule
Kathmandu, Nepal (CNN) -- A Tibetan man set himself on fire in front of a famous Buddhist shrine in the Nepalese capital on Wednesday, police said, becoming the latest Tibetan to adopt this harrowing form of protest over Chinese rule.
Read more: The politics of Tibetan self-immolations
The man, believed to be in his early 20s, came out of a nearby restaurant doused in petrol and set himself alight in front of the revered Boudhanath Stupa in Kathmandu, said Keshav Adhikari, a police spokesman.
"The whole of his body is burnt," Adhikari said, adding that the Tibetan was not able to communicate when he was taken to a hospital for treatment. Authorities are still trying to identify the man.
Read more: China sentences 2 Tibetans over self-immolations
Self-immolation has become a dramatic and desperate form of protest in recent years for ethnic Tibetans unhappy with Chinese rule.
Tibetan advocacy groups say the number of self-immolations by Tibetans inside China since February 2009 stood at 99 at the end of January. Several others have set themselves on fire in other countries, including India.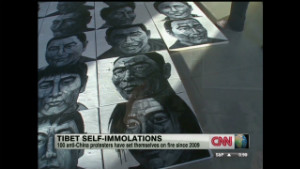 Chinese artist portrays Tibetan woes
Opinion: Tibetans reject Chinese rule with one voice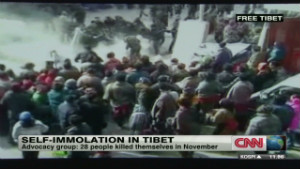 Tibetan self-immolations on the rise
Self-immolation began as a form of protest among Tibetans in China in February 2009, when a young monk set himself ablaze. In March 2011, another young monk followed in his footsteps, becoming the first to die. Scores of others have since followed suit.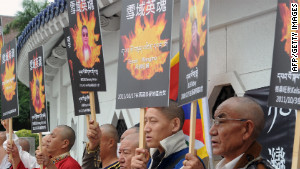 Should Dalai Lama condemn immolations?
Independently verifying the reported self-immolations inside China is often difficult because of restrictions on reporting from the restive areas and the reluctance of local officials to comment on the accounts provided by foreign-based Tibetan advocacy groups.
Beijing has taken a tough line on the protesters and their associates, accusing the Dalai Lama, the exiled Tibetan spiritual leader, of fomenting unrest inside Chinese borders.
Read more: How many more Tibetans will sacrifice themselves?
Last month, a court in southwestern China gave heavy sentences to two ethnic Tibetans convicted of murder for "inciting" people to set themselves of fire.
The Dalai Lama, who fled to India in 1959 after a failed uprising, has long denied China's assertion that he's seeking Tibetan independence. He says he wants only enough autonomy to protect their traditional Buddhist culture.
Beijing rejects accusations of oppression, saying that under its rule, living standards have greatly improved for the Tibetan people. It makes centuries-old historical claims on the region.

Part of complete coverage on
May 23, 2013 -- Updated 2302 GMT (0702 HKT)

When the former teacher Ingrid Loyau-Kennett saw the bloodied man wielding a knife, she tried to engage him in a conversation to distract him.
May 24, 2013 -- Updated 1053 GMT (1853 HKT)

A man dressed up as a woman to expose sexual harassment in Egypt -- and says he can't imagine how women put up with the daily abuse.
May 24, 2013 -- Updated 1029 GMT (1829 HKT)

The breakdown of the education system, growing youth unemployment and insecurity swelled Boko Haram, 'Funmi Olonisakin writes.
May 24, 2013 -- Updated 1251 GMT (2051 HKT)

"It's always the one we feared, the lone wolf that can come from nowhere and not be on our radar," said ex-London police chief John Yates.
May 24, 2013 -- Updated 0613 GMT (1413 HKT)

Christiane Amanpour and Nic Robertson give their insight on the brutal murder of a man in broad daylight. What's behind the horrific attack?
May 24, 2013 -- Updated 1054 GMT (1854 HKT)

In India, a child goes missing every eight minutes. What is behind this devastating statistic felt most by the parents left searching?

Learn about one woman's tireless battle against sex slavery in the Philippines, with Manny Pacquiao in her corner. Watch the full version here.
May 23, 2013 -- Updated 1043 GMT (1843 HKT)

Ai Weiwei, the controversial Chinese artist-activist, has released a music single and video inspired by his harrowing detention by the government.
May 24, 2013 -- Updated 1156 GMT (1956 HKT)

Meet Ugandan Ruganzu Bruno who uses recycled materials to create functional pieces of art, raising environmental awareness through his art.
May 24, 2013 -- Updated 1227 GMT (2027 HKT)

The Germans are coming, this time in the form of the first all-German Champions League football final -- and this time, London cannot wait.
May 23, 2013 -- Updated 1106 GMT (1906 HKT)

Bayern Munich's super fan Boris Becker takes a tour of London ahead of the 2013 Champions League final. What are his favorite spots?
May 23, 2013 -- Updated 1415 GMT (2215 HKT)

Imagine if you could paint a working light switch directly onto your wall, without any need for sockets, cables or wiring. Well, now you can.

Today's five most popular stories