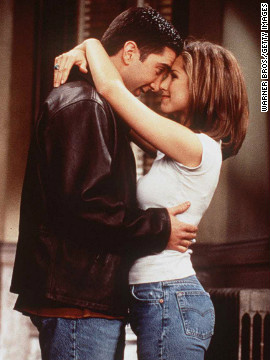 Few sitcom couples have had the impact of Ross Gellar (David Schwimmer) and Rachel Green (Jennifer Aniston). Their romance was the major driving force behind the early success of "Friends," solidifying NBC's dominance on Thursday nights in the 1990s. Ten wildly popular seasons meant that we saw them on again, off again and on again. Yes, they even had a child together. See other small-screen couples whom fans have cheered on through the years:
For four seasons on "Castle," writer Richard Castle and detective Kate Beckett solved murders both grisly and outlandish until they finally made it official in last season's finale. Fans are loving actors Nathan Fillion and Stana Katic's give-and-take as the couple this season.
When Zooey Deschanel's Jess first moved in with three guys in Fox's instant hit sitcom "New Girl," you just knew she would end up with one of them. It soon became clear that she had a connection with Nick (Jake Johnson), but fans wondered how long before they would become a couple. Just a few weeks ago, things progressed rather quickly as Nick and Jess shared a surprise smooch.
At first, the popular teen soap "Dawson's Creek" paired Joey (Katie Holmes) with Dawson, but as the years went by, it turned out that Pacey (Joshua Jackson) was her true love.
Innocent Elena (Nina Dobrev) only had eyes for the nocturnally oriented Stefan on "The Vampire Diaries" at first, but sparks have flown between her and bad boy Damon (Ian Somerhalder) since then. The two are officially together on the series' fourth season (and have been offscreen for even longer).
It was love at first sight for viewers of "The Big Bang Theory" when Sheldon Cooper (Jim Parsons) met the equally geeky, slightly more adventurous Amy Farrah Fowler (Mayim Bialik) via an online dating site. The series' producers have hinted about a big surprise for the couple this Valentine's Day.
When you think of successful TV marriages, you have to put Cliff and Claire Huxtable at or near the top of the list. Bill Cosby and Phylicia Rashad kept their characters' romance alive and the ratings high for eight seasons of "The Cosby Show." (Here the two are at a 2002 event.)
It's quite a feat to steal scenes regularly on one of the most acclaimed comedies on television, but Cam (Eric Stonestreet, left) and Mitchell (Jesse Tyler Ferguson) make it look easy on "Modern Family."
This Canadian cult series about a succubus has gained a following in the United States as well, and Bo's (Anna Silk) relationship with Lauren (Zoie Palmer, as one of Bo's two lovers on the show) has been the subject of much discussion by "Lost Girl" fans online.
Dr. Temperance "Bones" Brennan and Seeley Booth were a mismatched pair from the start, but audiences have eaten up the chemistry of Emily Deschanel and David Boreanaz over eight seasons (with at least one more to go).
The "will they or won't they?" status of Jim Halpert (John Krasinski) and Pam Beesly (Jenna Fischer) remained the heart of "The Office" from early on. One wedding and two babies later, fans are wondering what will become of these two as the show comes to an end in May.
Ted's quest to find a woman and Robin and Barney's long and winding quest for each other carried through the hit comedy "How I Met Your Mother," but Alyson Hannigan's Lily and Jason Segel's Marshall have been the glue that held it all together (with the exception of their brief breakup early on).
down on one knee
and asked Amy Poehler's Leslie to marry him, just as it looked like the couple's jobs might keep them apart. Oh, "Parks and Rec," we never thought you'd make us tear up.
In perhaps the most unexpected TV proposal in recent memory, Adam Scott's Ben went
"Bang, zoom!" probably wouldn't fly these days on a TV sitcom, but audiences loved watching Jackie Gleason and Audrey Meadows spar (every bickering TV couple owes them a debt of gratitude), and they were reassured when so many episodes ended with Ralph telling Alice, "Baby, you're the greatest."
In the early going, Dylan McKay and Brenda Walsh, bottom right, were the It couple in Beverly Hills. "Beverly Hills 90210" became one of the first hits in the history of the Fox network -- in large part due to Luke Perry and Shannen Doherty as Dylan and Brenda. Doherty exited the show after reports of friction with cast members, and that was it for the onscreen couple.
The love life of Sookie Stackhouse (Anna Paquin) has seen more than its share of twists and turns through the years on "True Blood," but fans seem to embrace whoever her boyfriend is (such as Alexander Skarsgard, left, as Eric) at any given moment.
Sure, their show's theme song was memorable, but George and Louise "Weezy" Jefferson (Sherman Hemsley and Isabel Sanford) also remain one of the most beloved sitcom couples of all time. (Here they are at the TV Land Awards in 2004. Sanford died later that year, and Hemsley passed away last year.)
When "Glee" producers set out to introduce a love interest for Chris Colfer's Kurt, they hit a home run when the virtually unknown Darren Criss was cast as Blaine.
Lucille Ball and Desi Arnaz portrayed a show business couple on "I Love Lucy," while behind the scenes they invented the sitcom. The real-life couple controlled every aspect of their hit show, still one of the most beloved of all time. And it wouldn't have been a hit if these two didn't make people fall in love with Lucy (and Ricky) every week.
It became clear this romance was doomed as soon as it turned out that a night of passion with Buffy (Sarah Michelle Gellar) would turn vampire-with-a-soul Angel (David Boreanaz) back into his evil self, Angelus. Buffy ended up with another vamp; Spike and Angel ended up with a spinoff.
Dysfunctional doesn't begin to describe the relationship between Dr. Gregory House (Hugh Laurie) and dean of medicine Lisa Cuddy (Lisa Edelstein). Fans got what they wanted at long last at the end of "House's" season six, but sadly it didn't last.
Roseanne and Dan Connor (Roseanne Barr and John Goodman) were unlike any married couple before in sitcom history. Through nine seasons of wisecracks, put-downs and tough times, you knew at the end of the day they loved each other. Here they are with the cast at the 2008 TV Land Awards.
Sam Malone (Ted Danson) and Diane Chambers (Shelley Long) bickered in the early years of "Cheers," and audiences loved it. When their wedding was called off and Long left the series, Kirstie Alley's Rebecca replaced her, but it was never the same -- despite high ratings for the rest of the show's run.
Known more often as "McDreamy" than the character's name of Derek, Patrick Dempsey's hunky doctor swept Ellen Pompeo's Meredith off her feet when "Grey's Anatomy" first premiered (though there were plenty of complications). The couple are now married as the show continues its ninth season.
Meet sci-fi's power couple. Agents Fox Mulder and Dana Scully brought sex appeal to the paranormal as every glance between the two was analyzed by fans in the early days of the Internet. David Duchovny eventually left the series, and interest in "The X-Files" waned when Gillian Anderson paired up with Robert Patrick (any romance was out of the question). Duchovny returned for the poorly received finale and even more poorly received second movie.
The romance between George Clooney and Julianna Margulies on the hit NBC medical drama "ER" didn't have all that much staying power. Both Clooney and Margulies eventually left the series, and it moved on without them.
The Fonz aside, the romance between Joanie (Erin Moran) and Chachi (Scott Baio) was one of the most memorable parts of the ABC hit sitcom "Happy Days." But their spinoff, "Joanie Loves Chachi," was decidedly less successful.
Soaps never saw anything like Luke (Anthony Geary) and Laura (Genie Francis) and haven't since. The couple's wedding in 1981 broke ratings records, and "General Hospital" has brought them back off and on in the years since. (Here they are at the Daytime Emmys in 2006.)
The marriage of Paul and Jaime Buchman (Paul Reiser and Helen Hunt) put every relationship under a microscope (though often in a humorous vein), and "Mad About You" made Hunt into a star over its seven seasons.
Lois Lane (Teri Hatcher) and Clark Kent (Dean Cain) were more the focus here than "The New Adventures of Superman," and initially, it was a hit for ABC. Once the writers brought the couple together (including a timed-with-the-"Superman"-comics wedding), ratings took a nose dive for "Lois & Clark."
"Moonlighting" is also TV shorthand for a romantic series that succeeds so long as the couple never get together. As soon as Bruce Willis and Cybill Shepherd's characters made it official, viewers tuned out in droves (reports of tension off-screen between the actors didn't help).
The mysterious island from the hit drama could also wreak havoc to relationships as Jack Shephard (Matthew Fox) and Kate Austen (Evangeline Lilly) learned over six seasons of "Lost." They tried to make it work, but it wasn't to be. (The actors are seen here in 2007.)
Rob and Laura Petrie set the standard for many a sitcom marriage. You had two gifted comedians (Dick Van Dyke and Mary Tyler Moore) with chemistry to beat the band. Plus sitcom wives weren't expected to be sex symbols when "The Dick Van Dyke Show" first appeared in 1961. (Van Dyke here presents Moore with Screen Actors Guild honors for lifetime achievement in 2012.)
When Lisa Bonet abruptly left college-based sitcom "A Different World" after one season, the focus shifted to Dwayne Wayne (Kadeem Hardison) and Southern belle Whitley Gilbert (Jasmine Guy) and their unlikely romance. But their chemistry clicked. (Here are Hardison and Guy in 2006.)
When spy Sarah Walker (Yvonne Strahovski) took Chuck Bartowski (Zachary Levi) under her wing, the show's devoted fans quickly found a couple to cheer on -- all the way until last year's bittersweet final scene on "Chuck." (Levi and Strahovski are seen here in 2008.)
Ross and Rachel, 'Friends'
Castle and Beckett, 'Castle'
Jess and Nick, 'New Girl'
Joey and Pacey, 'Dawson's Creek'
Elena and Damon, 'The Vampire Diaries'
Sheldon and Amy, 'The Big Bang Theory'
Cliff and Claire, 'The Cosby Show'
Cam and Mitchell 'Modern Family'
Bo and Lauren, 'Lost Girl'
Bones and Booth, 'Bones'
Jim and Pam, 'The Office'
Lily and Marshall, 'How I Met Your Mother'
Leslie and Ben, 'Parks and Recreation'
Ralph and Alice, 'The Honeymooners'
Brenda and Dylan, 'Beverly Hills 90210'
Sookie and Eric (or Bill or Alcide), 'True Blood'
George and Weezy, 'The Jeffersons'
Kurt and Blaine, 'Glee'
Lucy and Ricky, 'I Love Lucy'
Buffy and Angel, 'Buffy the Vampire Slayer'
House and Cuddy, 'House'
Roseanne and Dan, 'Roseanne'
Sam and Diane, 'Cheers'
Derek and Meredith, 'Grey's Anatomy'
Mulder and Scully, 'The X-Files'
Doug and Carol, 'ER'
Joanie and Chachi, 'Happy Days'
Luke and Laura, 'General Hospital'
Paul and Jamie, 'Mad About You'
Lois and Clark, 'Lois & Clark'
David and Maddie, 'Moonlighting'
Jack and Kate, 'Lost'
Rob and Laura, 'The Dick Van Dyke Show'
Dwayne and Whitley, 'A Different World'
Chuck and Sarah, 'Chuck'