Publicis CEO: Europe 'world's sick child'
February 15, 2013 -- Updated 0510 GMT (1310 HKT)
STORY HIGHLIGHTS
Publicis CEO: 2012 ad revenue growth not great, 2013 may be harder
French ad firm to focus more on digital, emerging markets for revenue
CEO Maurice Levy: 'Europe is sick child of world'
Levy: 'Good growth only to come in 2015'
(CNN) -- The London Summer Olympics may have been the most-watched event in television history but advertising revenue from the 2012 Games surprisingly disappointed French advertising group Publicis, as did revenue from last year's highly-watched European football championships.
But the lackluster revenues from such sporting events' ad purchases illustrate a disturbingly larger trend -- last year's revenue was worse than expected. And Publicis expects this year to be even harder.
In 2012, the European advertising network saw its "organic revenue" -- a key measure of growth and a barometer in the advertising industry -- grow less than 3%. Matching, let alone surpassing, that number in 2013 will be even tougher, said Maurice Levy, Publicis' CEO to CNN's Nina dos Santos. To push back, he says his company will shift toward "fast-growing markets" in digital and emerging economies while its home base of Europe recovers from its problems.
"I call Europe the sick child of the world nowadays because there are so many issues that have to be addressed -- starting with budget deficits (and) public spending -- that need to be addressed quite seriously," said Levy. "And this will probably lead to very little growth, if any."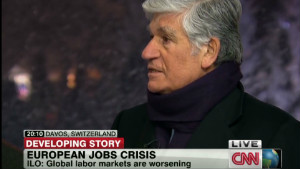 Solving the European jobs crisis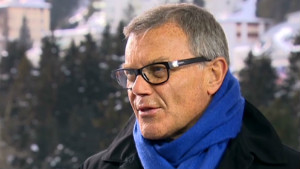 Sorrell on UK economy, referendum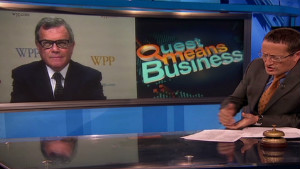 Sorrell: Europe in decade of slow growth
Publicis' pivot to digital and emerging markets echoes a similar strategy that WPP's CEO Martin Sorrell outlined in 2011. He said his firm's focus would include new markets and new media for better revenues over the next decade.
"I think there are three things," said Sorrell. "Our strategy is new markets, which are the BRICs and next 11 (emerging economies); new media, which is running from PC, through mobile to video content, to social networking and then...consumer insight, which is about data analytics and application of technology."
But while the euro recently hit a 13-month high, which makes eurozone exports more expensive and less competitive when sold overseas, Publicis' Levy said the currency exchange issue is not as big a concern as the operating challenges that European companies face.
"When you look at the current situation, we are loaded with a lot of costs, charges, taxes, which are making the competitiveness of this company much more difficult. We have to take this down if we want to solve our problem for the long term."
"I don't see the European market growing in 2013," said Levy. "I believe that it will start to recover a little bit in 2014, and the good growth will come only in 2015."

Part of complete coverage on
March 13, 2014 -- Updated 1157 GMT (1957 HKT)

Mobile World Congress spans the full spectrum of untethered gadgetry Explore this year's top trends with Stuff Magazine Editor Will Findlater.
February 28, 2014 -- Updated 1623 GMT (0023 HKT)

Cocoa-nomics: Why chocolate really doesn't grow on trees. CNN returns to Africa's cocoa plantations to examine the fight against child labor.
February 27, 2014 -- Updated 1958 GMT (0358 HKT)

CNN's Maggie Lake speaks to Lego CEO Jørgen Vig Knudstorp about why Lego continues to be a hugely popular toy.
February 27, 2014 -- Updated 2032 GMT (0432 HKT)

A Japanese rocket roared into orbit carrying what NASA calls its most precise instrument yet for measuring rain and snowfall.
February 28, 2014 -- Updated 2003 GMT (0403 HKT)

When you hail yourself as a "passionate advocate" for job-seekers, you probably ought not blast one of those job-seekers in a snide e-mail.
February 26, 2014 -- Updated 2201 GMT (0601 HKT)

Love that chocolate Haagen-Dazs ice-cream? But what about the way its makers treat their farmers? Oxfam reveals the ethics behind the brands.
February 20, 2014 -- Updated 1121 GMT (1921 HKT)

SnapScan is an award-winning app allowing buyers to pay with their smartphone -- no need to worry about carrying cash or lost credit cards.
February 18, 2014 -- Updated 1452 GMT (2252 HKT)

In the wake of recent credit card breaches, CNN's Richard Quest explores the threats of the non-cash economy. Is your money as safe as you think?
February 19, 2014 -- Updated 0833 GMT (1633 HKT)

Like many companies in China, Fu Shou Yuan uses celebrities to attract clients. Except, in this case, they're dead. They're in the funeral business.
February 19, 2014 -- Updated 1255 GMT (2055 HKT)

Coca-Cola is staying afloat as the soda market shrinks, and many point to a marketing strategy around the so-called "secret recipe."

Today's five most popular stories