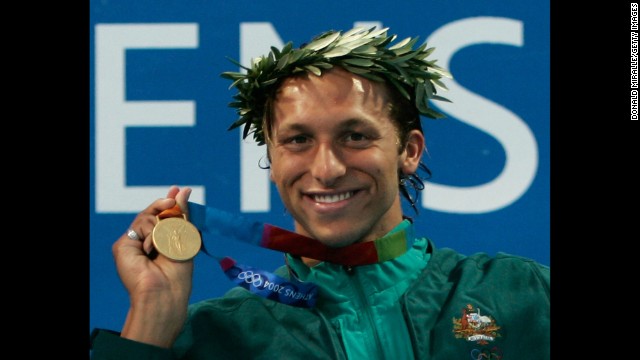 Swimmer Ian Thorpe, seen here in 2004 with one of his five Olympic gold medals, told an Australian news outlet that he is gay in an interview that aired on Sunday, July 13. Click through to see other openly gay athletes.
Former Missouri defensive end Michael Sam told ESPN and The New York Times that he is gay on February 9. Sam later became the first openly gay player to be drafted by a NFL team when he was taken by the St. Louis Rams in the seventh round.
Robbie Rogers became the first openly gay male athlete to play in a professional American sporting match when he took the field for Major League Soccer's Los Angeles Galaxy during a match against the Seattle Sounders on May 26.
Sheryl Swoopes, a retired WNBA star and coach of the Loyola University Chicago's women's basketball team, came out in 2005.
Brittney Griner
, selected No. 1 in the 2013 WNBA draft by the Phoenix Mercury, is openly gay.
came out as gay
after rumors circulated in the media.
In an exclusive interview with CNN, former San Francisco 49ers player Kwame Harris
Rugby player Gareth Thomas of Wales spoke about being gay to a British news channel in 2009.
Justin Fashanu became the first openly gay soccer player in Europe when he came out in 1990. Eight years later, he took his own life.
Tennis great Martina Navratilova came out in 1981.
After his retirement in 2007, basketball player John Amaechi announced he was gay.
After retiring from professional football in 1972, David Kopay acknowledged to the Washington Star that he was gay.
Villanova University's Will Sheridan came out to his teammates in 2003.
In 2012, U.S. women's soccer player Megan Rapinoe confirmed in Out magazine that she was a lesbian.
Champion figure skater Johnny Weir confirmed in his 2011 memoir, "Welcome to My World," that he was gay.
Australia's Matthew Mitcham came out in an interview with the Sydney Morning Herald in 2008.
In 2012, Orlando Cruz became the first active professional fighter to publicly announce that he was gay.
Openly gay British dressage rider Carl Hester helped his team win gold at the 2012 Olympics.
English cricketer Steven Davies announced he was gay in 2011.
Germany's Judith Arndt won the silver medal in cycling at the 2012 Olympics.
Billy Bean, a former Major League Baseball player, discussed being gay in a 1999 New York Times article.
Tennis legend Billie Jean King was outed by a former female partner in 1981.
In 2002, professional football player Esera Tuaolo came out on HBO's "Real Sports."
French tennis player Amelie Mauresmo came out in 1999.
Greg Louganis, who won four Olympic golds for the United States during his diving career, has been openly gay since 1995.
Openly gay athletes
Openly gay athletes
Openly gay athletes
Openly gay athletes
Openly gay athletes
Openly gay athletes
Openly gay athletes
Openly gay athletes
Openly gay athletes
Openly gay athletes
Openly gay athletes
Openly gay athletes
Openly gay athletes
Openly gay athletes
Openly gay athletes
Openly gay athletes
Openly gay athletes
Openly gay athletes
Openly gay athletes
Openly gay athletes
Openly gay athletes
Openly gay athletes
Openly gay athletes
Openly gay athletes
Openly gay athletes
STORY HIGHLIGHTS
U.S. soccer player Robbie Rogers has "come out" as gay and retired from the game
The 25-year-old had been playing in England with third-tier Stevenage until recently
He wrote on his blog: "Try explaining to your loved ones after 25 years you are gay"
Former teammates give their support following announcement
(CNN) -- U.S soccer star Robbie Rogers has "come out" as gay on the day he retired from the game Friday.
The former Columbus Crew winger represented America on 18 occasions, including at the 2008 Beijing Olympics.
But Rogers, who was released from his deal by second-tier club Leeds United last summer before taking up a spot with third-tier Stevenage, revealed on his blog that he is homosexual and keen to seek a life away from football.
"Secrets can cause so much internal damage," Rogers wrote on his blog.
"People love to preach about honesty, how honesty is so plain and simple. Try explaining to your loved ones after 25 years you are gay.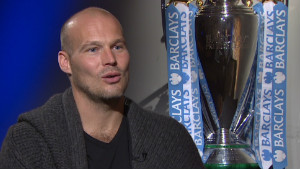 Ljungberg: 'I was called gay'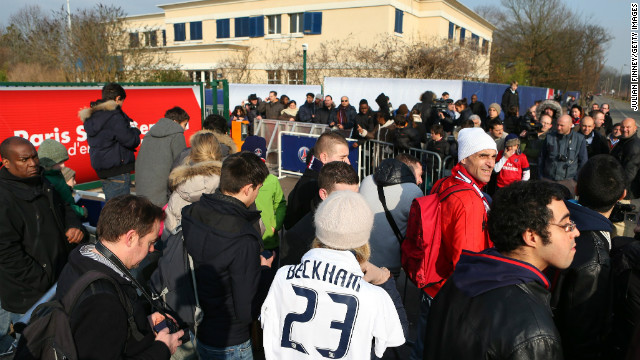 Hundreds of fans and journalists flocked to the Paris Saint-Germain training ground Wednesday to get a glimpse of David Beckham in action on the practice field. The interest in Beckham's move to the French club has caused huge excitement with the anticipation building ahead of the midfielder's possible debut on Sunday.
David Beckham took part in his first training session with his new Paris Saint-Germain teammates less than 24 hours after watching them claim a 2-1 win at Valencia in the last-16 round of the Champions League. on Tuesday.
Beckham, 37, was put through is paces at the club's open training day where more than 100 journalists turned up to witness the event. The former Manchester United and Real Madrid star is hoping to make his debut against Sochaux on Sunday, but it's not known if his pop star wife Victoria will be in attendance. Beckham's family has remained in London where his children Brooklyn, Romeo and Cruz attend school following their move from Los Angeles.
Beckham, who won 115 caps for England, has signed a five-month deal with the Qatari-backed club, but has revealed that his salary will be donated to a Paris children's charity. He will now hope to force his way into the side and link up with the likes of Zlatan Ibrahimovic, Lucas Moura and Ezequiel Lavezzi with the team six points clear at the top of Ligue 1.
Beckham waves to the waiting press pack as he makes his way out at the club's Camp des Loges training center in Saint-Germain-en-Laye, near Paris. The session, which was led by PSG's Italian coach Carlo Ancelotti, was shown live on French television.
Beckham shows off his new pink boots, a pair of which even Posh Spice might approve of. While Beckham is busy preparing for his debut, fashion designer Victoria was having her latest designs shown off by models in London.
After working up a sweat, Beckham throws off his top and gets back to work with the players who didn't feature in Tuesday's win at Valencia. If Beckham doesn't play against Sochaux on Sunday, he could line-up the following week against fierce rival Marseille and fellow Englishman Joey Barton.
Beckham takes to the sand as he steps up his training regime. Running on sand has several long-term benefits which includes strengthening the lower body muscles, burning more calories and is supposed to be easier on the joints as opposed to grass.
Beckham watched PSG's win at Valencia alongside the club's sporting director Leonardo. The pair looked on as their side edged out Valencia 2-1 in the first leg thanks to goals from Ezequiel Lavezzi and Javier Pastore, before Zlatan Ibrahimovic was sent off late on. The Swede will miss the second leg in the French capital on March 6.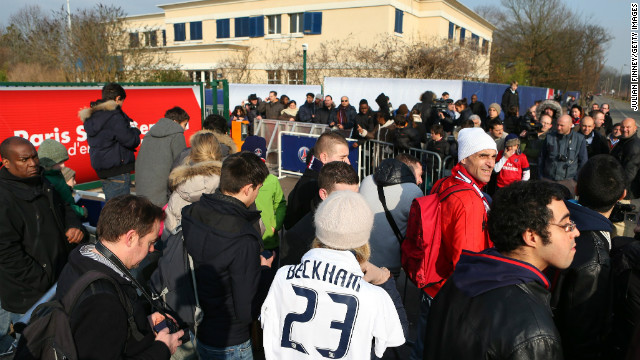 'Box Office' Beckham thrills French audience
"Try convincing yourself that your creator has the most wonderful purpose for you even though you were taught differently.
"I always thought I could hide this secret. Football was my escape, my purpose, my identity. Football hid my secret, gave me more joy than I could have ever imagined.
Soccer's last taboo: Why gay players stay in the closet
"I will always be thankful for my career. I will remember Beijing, The MLS Cup, and most of all my teammates. I will never forget the friends I have made a long the way and the friends that supported me once they knew my secret.
"Now is my time to step away. It's time to discover myself away from football. It's 1 A.M. in London as I write this and I could not be happier with my decision.
"Life is so full of amazing things. I realized I could only truly enjoy my life once I was honest.
"Honesty is a b**** but makes life so simple and clear. My secret is gone, I am a free man, I can move on and live my life as my creator intended."
Rogers' announcement has seen former teammates flock to show their support, with U.S. international defender Oguchi Onyewu, tweeting: "Extremely proud of the courage from @robbierogers. Truth is not always easy to display, but truly strong people always find a way #RESPECT"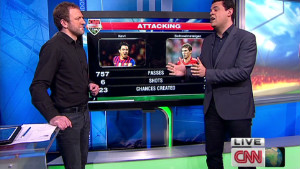 Football tactics: Xavi vs. Schweinsteiger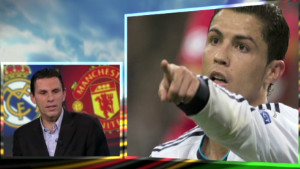 Does Ronaldo carry Real Madrid?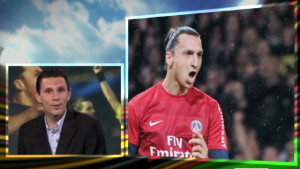 Ibrahimovic: Hero or villain?
U.S. midfielder Stuart Holden added on Twitter: "Much love and respect to my boy @robbierogers ! Proud to be your friend bro."
Rogers' retirement means there are still no openly gay players participating in professional football in Europe with the exception of Swedish-based Anton Hysen.
'Brave' cricketer Davies reveals he is gay
It was hoped that Hysen's coming out, which attracted headlines the world over in March 2011, would pave the way for other gay footballers to take similar steps.
But not since the tragic loss of Justin Fashanu has a top-flight league witnessed an openly gay professional football player.
Fashanu, who committed suicide in 1998, became the first £1 million black player in the history of English football when he signed for Nottingham Forest in 1981.
While at Forest, constant rumors and speculation surrounded his private life with concocted allegations of affairs with Conservative MPs.
Thomas relief after admitting he is gay
With the rumors continuing throughout his career, he finally came out in 1990 and continued to play for a whole host of lower league clubs.
"You have to understand," he said in an interview before his death, "that footballers are very narrow minded people. It's the nature of the business. When you put yourself in the firing line, you are open to attack. I know I'm there to be shot down in flames."
Following his passing, one particular group of fans would recite the chant: "He's gay, he's dead, he's hanging in a shed, Fashanu, Fashanu."
Expert: Use gay slurs controversy to tackle homophobia in sports
While there has been huge progress since those dark days, the presence of homophobia in football has not been extinguished.
Only this week, police launched an investigation into allegations that a Blackburn Rovers footballer made homophobic gestures towards Brighton fans during an English second division match.
View: Hi-res gallery of openly gay athletes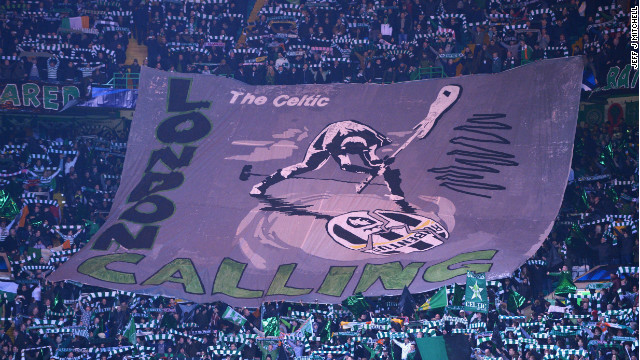 Celtic had suffered just two home defeats in 23 Champions League games before welcoming Juventus to Parkhead. The Scottish champion saw off the might of Barcelona in the Group Stage with the famous Celtic atmosphere a huge factor in the team's success.
Alessandro Matri gave Juventus the perfect start by firing the Italian side ahead after just three minutes. Matri's effort was adjudged to have crossed the line before Claudio Marchisio smashed the ball into the back of the net.
Juventus stun Celtic Park thanks to Matri's early strike and temporarily silence one of the most partisan crowds in European football. The goal came following a dreadful defensive error from Efe Ambrose, who helped Nigerian win the Africa Cup of Nations just last Sunday.
Celtic captain Scott Brown rages at Juventus playmaker Andrea Pirlo during the high octane clash. Pirlo, who played a starring role in Italy's run to the World Cup Final last year, was outstanding once again at the heart of the Juventus midfield.
Celtic striker Gary Hooper had scored 22 goals in 34 appearances before taking on Juventus Tuesday, but the in-form forward couldn't find a way past a deteremined Italian defense.
Claudio Marchisio celebrates after firing Juventus into a 2-0 lead with 13 minutes remaining. After enduring a barrage of Celtic pressure, Marchisio rounded off an incisive move to inflict further damage upon the home side.
Mirko Vucinic rubbed salt into Celtic wounds by firing home his side's third and final goal in the 83rd minute following another defensive mistake by Efe Ambrose. The tie is all but over going into the second leg in Turin on March 6.
David Beckham was in attendance to watch his new club Paris Saint-Germain take on Valencia in the last-16 of the European Champions League. Beckham recently signed a five-month deal to play in the French capital and hopes to make his debut in the next couple of weeks.
Ezequiel Lavezzi celebrates his early strike for Paris Saint-Germain with teammate Zlatan Ibrahimovic. The Argentine struck in the 10th minute and has now scored in each of his past three Champions League games.
Javier Pastore doubled PSG's lead with just two minutes of the first half remaining after a flowing move scythed through the Valencia defense. The talented Argentine playmaker was just one of a number of stars on show for the French club along with Ibrahimovic, Lucas Moura and Lavezzi.
Ibrahimovic was shown a straight red card following a controversial studs-up challenge on Andres Guardado. It was the Swede's third red of his Champions League career, only Edgar Davids, four, has more. It means that the striker will miss the second leg in Paris.
Valencia's Adil Rami pulled a goal back in the final minute to give his side a lifeline going into the second leg in France. The La Liga side had won all eight of its Champions League home against French opposition before Tuesday's defeat.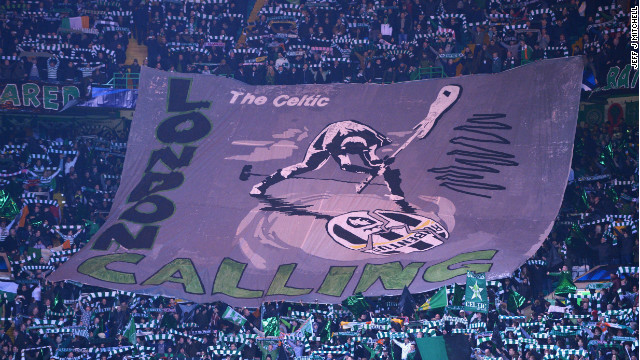 Champions League: It's back!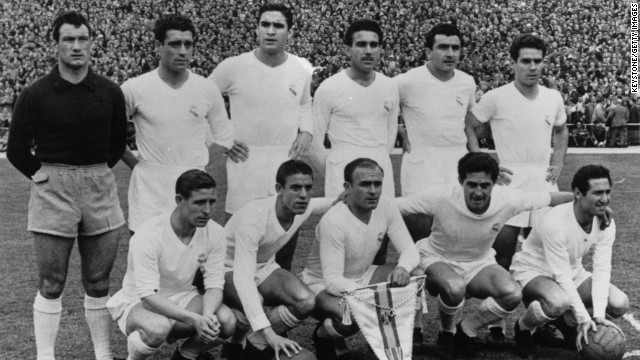 The Real Madrid team poses for a photograph ahead of the second leg of the European Cup semifinal against Manchester United at Old Trafford in 1957 with captain Alfredo Di Stefano clutching his side's pennant.
Manchester United, who were the 1956 and 1957 league champions, became the first English side to take part in the European Cup, reaching the semifinals before being beaten by Real Madrid. Tragically, six of the United players who faced Madrid were killed in Munich the following year.
Duncan Edwards, one of the greatest players of his generation, lost his life in the Munich Air Disaster in 1958 at the age of 21. He was the youngest player to represent England after the war and won two league titles with the club before his life was so tragically cut short.
Roger Byrne captained Manchester United under manager Matt Busby but he too lost his life in the Munich Air Disaster of 1958. An inspirational and charismatic figure, he was Busby's leader on the pitch until his death. Just days after he passed away, his widow Joy discovered she was pregnant.
After survivng the Munich Air Crash at the age of 20, Bobby Charlton went on to become both a local and national hero for club and country. He scored 249 goals in 758 appearances for Manchester United during a 17-year playing career. He won three league titles, the 1963 FA Cup and 1968 European Cup. He was also a key member of the England side which won the World Cup on home soil in 1966 and he remains the country's top scorer to this very day with 49 international goals.
David Pegg had caused Real all sorts of problems in the first leg of the semifinal leading the Spaniards to fetch in Valencia's tough-tackling defender Manuel Torres on-loan for one game only. Pegg made his debut at the age of 17 after joining straight from school and had been tipped to shine on the international stage until his untimely death in Munich at the age of 22.
This giant mural outside Old Trafford next to the statue of Busby depicts the United team lining up at their European Cup game with Red Star Belgrade before the disaster at Munich airport on February 6, 1958. Their legacy will never be forgotten.
Real Madrid dominated European football during the 1950s by winning the competition five times in succession between 1955 and 1960. Hungarian star Ferenc Puskas joined the club in 1958 to link up with Di Stefano, Kopa, Gento and Rial to form one of the most exciting teams ever seen.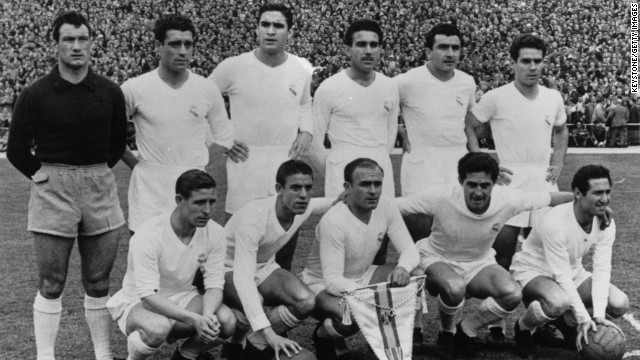 When Real rained on United's parade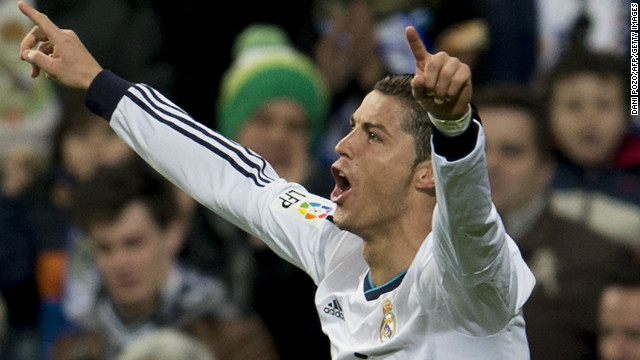 Real Madrid forward Cristiano Ronaldo warmed up for the Champions League clash with his former club Manchester United by scoring a hat-trick in the 4-1 victory at home to Sevilla.
English Premier League leaders United are in pole position to reclaim the title from Manchester City, whose manager Roberto Mancini was furious with his players after a 3-1 defeat at Southampton.
City's low point came when Gareth Barry -- who had been at fault for the first goal -- passed the ball into his own net to restore Southampton's advantage after Edin Dzeko had reduced the deficit just before the break.
Alessandro Matri helped Juventus move five points clear in Italy's Serie A, scoring the second goal in the 2-0 win at home to Fiorentina despite losing his boot before firing into the net.
David Alaba helped Bayern Munich move 15 points clear in Germany's Bundesliga, with the 20-year-old Austrian scoring twice in the 4-0 win at home to Schalke.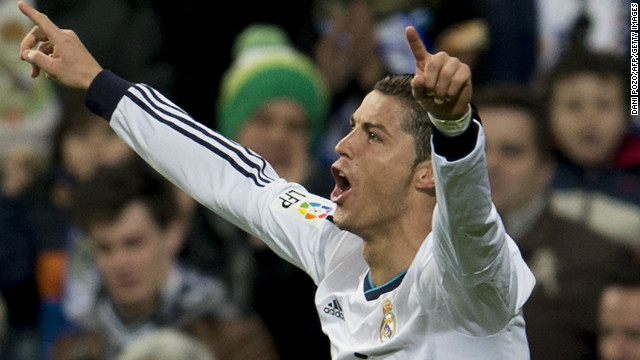 Ronaldo fires United warning
Brighton, which is situated on the south coast, has a large gay population and its fans are often targeted with homophobic chants.
"I think there's a big culture shift needed within football from the grassroots to the top of the game," Louise Englefield of FootballvHomophobia told CNN
"The top of the game is a symptom of a much wider issue about lack of awareness and ignorance around the ability of gay men to participate and excel at football
"When you've got a lack of gay players at the top level, then it's easy for that environment to be quite negative.
"I imagine there are players who are reticent to come out."
Opinion: Why the fuss about gay marriage?
While other sports have embraced their gay stars, such as John Amaechi in basketball, Martina Navratilova in tennis and Gareth Thomas in rugby, football has yet to move with the times.
Off the field, the UK Parliament backed a bill to legalize gay marriage earlier this month as society continues to move forward.
And while football has yet to move with the times, progress is being made.
Premier League and Football League clubs in the UK have created several initiatives to combat homophobia, working alongside charities such as HvF.
"Within football, people don't understand the seriousness of homophobia," added Englefield.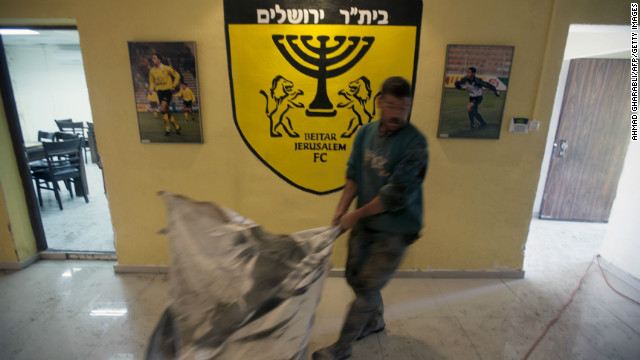 A club official at Beitar Jerusalem cleans up after the arson attack on the club's offices.
Dzhabrail Kadaev (left) and Zaur Sadaev were signed on January 26 by Beitar Jerusalem from Chechen side Terek Grozny. Both are Muslims.
Beitar Jerusalem fans display a banner reading "Beitar -- pure forever" at a match on January 26 after their signing of two Muslim players.
A club official examines the charred remains of the trophies won by Israeli league side Beitar Jerusalem after an arson attack on its clubhouse.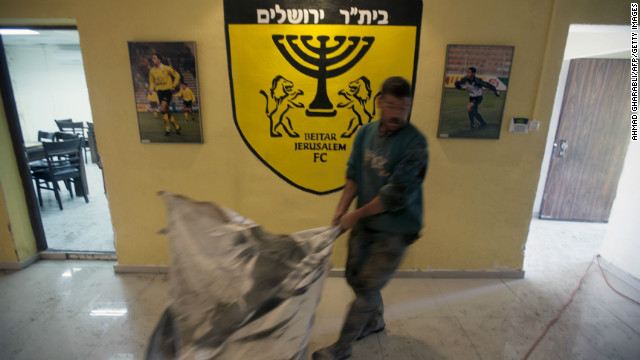 Beitar Jerusalem trophy room torched after two Muslim players sign for Israeli club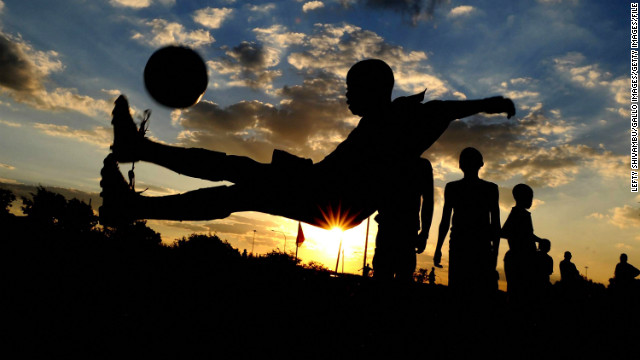 The fabrication of players' ages continues to be a problem for football. One international -- Democratic Republic of Congo defender Chancel Mbemba Mangulu -- has "four different birthdays".
Mbemba was recently with the Congolese squad at the Africa Cup of Nations. He is pictured here, standing behind the team's French coach Claude Leroy, in a training session. Mbemba was not used by Leroy in the tournament.
The Democratic Republic of Congo went out of the competition at the group stage after drawing all three of their games.
Mbemba was born in the Congolese capital of Kinshasa, as was another of the city's most famous sons French midfielder Claude Makelele, who played for Nantes, Marseille, Real Madrid, Chelsea and Paris Saint Germain.
Africa's second biggest country, the Democratic Republic of Congo has seen more than its fair share of violence and its citizens are some of the poorest in the world.
Mbemba was registered by his first Congolese club - E.S. La Grace -- as having been born on August 8, 1988, according to one of the documents obtained by CNN. The documents -- showing Mbemba's various ages -- were provided by the Brazilian agent Paulo Teixeira, who was called in by E.S. La Grace to obtain money they claimed was owed to them by Anderlecht for training the player in his formative years. In attempting verification of these documents -- from FIFA, the various federations and clubs involved -- only the world governing body and the Belgian Football Assocation responded directly to CNN's request by saying they appeared to be authentic.
In another document obtained by CNN, Mbemba was registered by his second Congolese club -- Mputu -- as also having been born on August 8,1988.
When Mbemba obtained a Belgian citizenship document in July 2011, a month after he arrived in Europe, his date of birth is now dated August 8, 1994.
That meant when Mbemba played for Anderlectht's Under-19 team against Club Brugge in September 2011, the Congolese defender was now six years younger than when he had been playing for his first two Congolese clubs. A professional Belgian referee confirmed to CNN that the Anderlecht team sheet was the type of document used in Belgian football.
The Fédération Congolaise de Football-Association -- FECOFA -- regulates football in the Democratic Republic of Congo. FECOFA's president is Constant Omari and is pictured here walking behind president of the Confederation of African Football Issa Hayatou (R) in January 2010.
In April 2012, Anderlecht confirmed in a letter to FIFA that Mbemba had been sent back to Kinshasa, but later that year he returned to the Brussels club. The Belgian FA confirmed that this document is geniune.
In April 2012, Mbemba was sent back to the Congo, but by August 2012 he was back at Anderlecht when he was given a three-year professional contract. Anderlecht's general manager Herman van Holsbeeck is pictured here sitting in the club's stadium watching a first-team training session.
The Congolese players of Frenchman Leroy, who is pictured here, went on a two-day strike just before the start of the Africa Nations Cup following a row with the country's football federation over bonus payments.
Leroy's side came back from 2-0 down to deny Ghana victory in their first game of Group B at the Africa Cup of Nations.
Anderlecht have a number of Congolese players in their squad and the Brussels club's forward Dieumerci Mbokani was recently elected Belgium's player of the year.
The Democractic Republic of Congo's progress at the Africa Cup of Nations was avidly followed back in Kinshasa.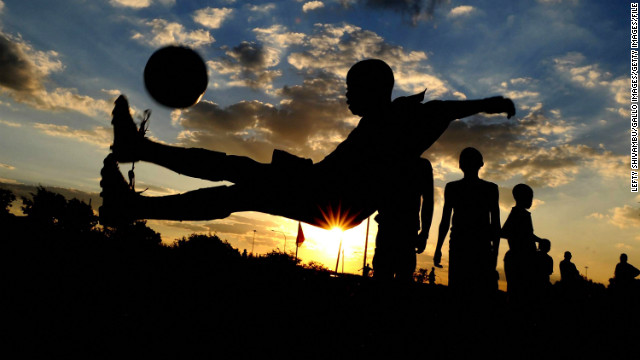 Age fabrication controversy in football: The player with 'four ages'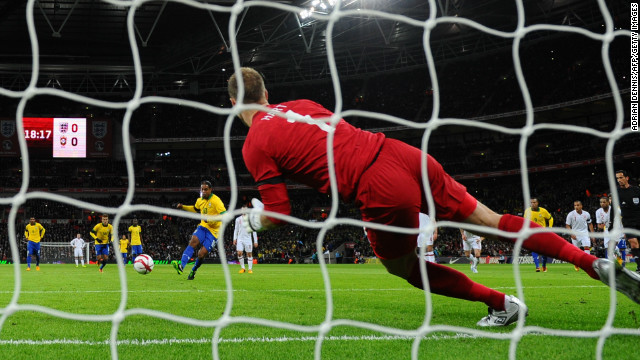 Ronaldinho was making his first appearance for Brazil in over a year, but he struggled. The two-time World Player of the Year missed a penalty before being substituted at half-time in a 2-1 defeat by England.
Neymar is the star of the current Brazil team. The Santos playmaker also endured a frustrating match, failing to breakdown England's stubborn defence.
Brazil captain David Luiz, fourth from the left, is confident La Selecao can win the World Cup when it is staged in the South American country for just the second time next year.
In a bid to transform Brazil's fortunes, Luis Felipe Scolari has been reinstated as coach. Scolari led Brazil to World Cup glory in 2002.
Scolari's Brazil beat Germany 2-0 in the final 11 years ago, with Ronaldo scoring a brace in the showpiece match.
All Brazilians fear a repeat of the 1950 World Cup, when hosts Brazil lost 2-1 to Uruguay in the final game of the tournament and missed out on glory. The defeat was referred to as "our Hiroshima" by Brazilian playwright Nelson Rodrigues.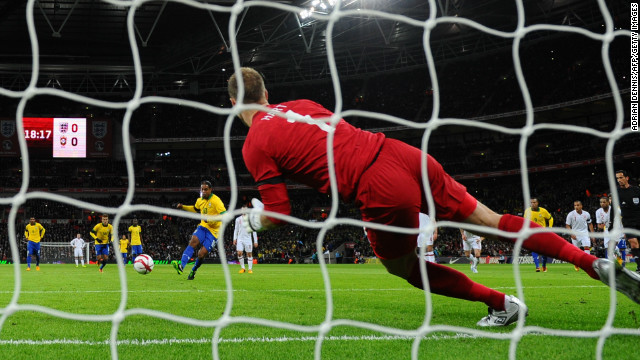 Brazil's World Cup rescue mission
"The things fans shout at players, they believe it's not hurting them and they don't care if they're gay or not.
"Homophobia is used to put players down and it's a way of deriding players. That's cultural all the way through football and happens in other sports.
"When a player gives a pass away or falls over, fans use homophobia abuse to put them down and it's that which we want to stop.
"One of our key things is changing chanting in the stadium. Stop and think before you chant."
Liverpool youngster Suso fined for calling teammate 'gay'
A particular success story in England has been the creation of the GFSN Gay National League, where "gay friendly" teams compete on a regular basis.
Rogers' story has been met with admiration from fellow gay football players, but his retirement from the game means that the community is still waiting for a player to come out and continue playing.
"The great pity with Robbie is that he felt it was an 'either or choice,' " Scott Lawley, who plays for Nottingham Ball Bois in the GFSN Gay National League told CNN.
"Reading his blog, it felt as if he thought he had no choice but to quit football if he wanted come out.
"He could have easily retired without coming out but he's been very brave and hopefully set us in the right direction.
"He hasn't forced us to the point where a gay man runs out in front of 30,000 people to play football
"And the fact that no professional player has come out in recent years means there are still issues to deal with.
"But we will come to that day when we do have openly gay players in the top divisions and we're moving in the right direction."