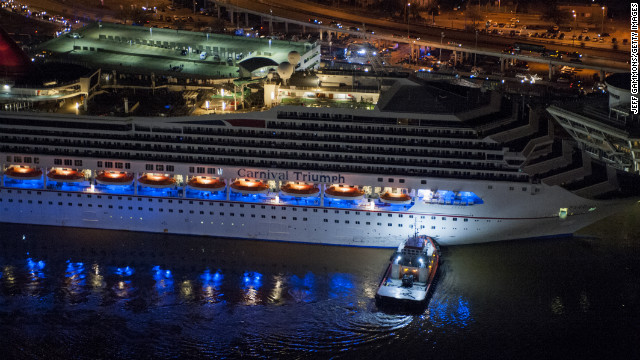 The crippled cruise liner Carnival Triumph limps into port late Thursday, February 14, in Mobile, Alabama. Passengers had endured five days aboard the stricken ship with little power and few toilet facilities after a fire knocked out propulsion and other systems on Sunday, February 10.
Passengers wave from the decks of the Triumph after docking at the Alabama Cruise Terminal in Mobile.
Passengers cheer after stepping off the crippled cruise ship. The last ones got off early Friday, February 15.
Gerry Cahill, president and CEO of Carnival Cruise Lines, holds a press conference at the Alabama Cruise Terminal after the ship docked February 14.
The Triumph will be moved on February 15 to a shipyard at Mobile's port, where it could be repaired. Carnival has canceled more than a dozen of the ship's planned voyages.
Passenger Kendall Jenkins kisses the ground after stepping off the Triumph.
Members of the media wait for the last passengers to disembark the ship.
Journalists await the final unloading from the Triumph.
A U.S. Coast Guard helicopter delivers equipment, including a generator and electrical cables, to the Triumph on Wednesday, February 13, in the Gulf of Mexico.
The cruise ship drifts in the Gulf of Mexico on Monday, February 11. The ship was carrying more than 3,200 passengers and nearly 1,100 crew members.
Triumph cruise ship docks
Triumph cruise ship docks
Triumph cruise ship docks
Triumph cruise ship docks
Triumph cruise ship docks
Triumph cruise ship docks
Triumph cruise ship docks
Triumph cruise ship docks
Triumph cruise ship docks
Triumph cruise ship docks
STORY HIGHLIGHTS
Triumph passengers praised crew members for keeping calm
Crew had nasty job of picking up bags filled with human waste
"It's a part of the job," one crew member says
(CNN) -- The crew aboard Carnival Triumph didn't hesitate when a fire broke out and power was lost, an emergency that turned the cruise liner into a bobbing Porta-Potty.
From blackjack dealers to chefs to dishwashers, the disparate crew, from about 60 countries, did "things I wouldn't do," one passenger said.
The scene that unfolded aboard the Triumph has been well-documented: Sewage spilled into rooms and halls, steak and lobster rotted when freezers went out, and swimming pool decks turned into a tent city.
"I just wanted to vomit, like every second probably," said 12-year-old passenger Allie Taylor.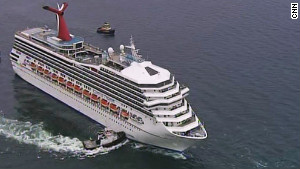 See sewage run down walls inside ship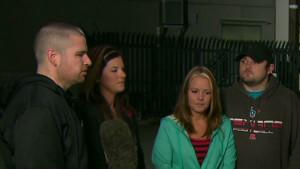 Passengers: Waiting in limbo for hours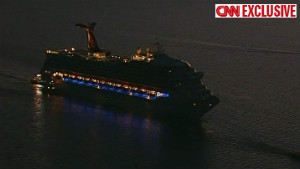 Lawyer on Carnival: 'You're out of luck'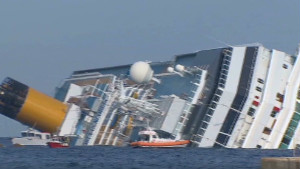 Carnival's history of cruise nightmares
But most passengers said the one thing that kept their sanity was the professionalism of the crew.
Tears and big hugs as passengers reunite with families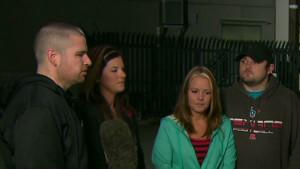 Passengers: Waiting in limbo for hours
Built in 1999, the Triumph spans three football fields, weighs 102,000 tons and covers 13 decks, complete with four swimming pools, seven whirlpools, a giant casino and a relaxing spa. Passengers could dine at an array of restaurants, from the South Beach Club to the Paris Dining Room. They could lap up drinks in many of the ship's bars, including the Big Easy.
On such a massive ship, the jobs of the 1,086-member crew vary widely. But when emergency calls, their duties shift to make the best of a bad situation. At least two passengers were evacuated, including one for dialysis treatment.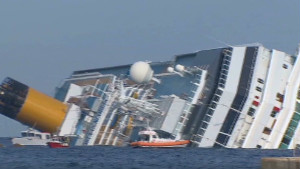 Carnival's history of cruise nightmares
The ship had reached its destination of Cozumel, Mexico, and was en route back home when a fire broke out in the engine room early Sunday, and then power was lost. Every time the boat tilted with the wind, toilets overflowed and spilled into halls, seeping through walls to floors below.
Without functioning toilets, passengers were given red biohazard bags to use -- and it became the crew's duty to pick up the used ones.
Some passengers shared the bags; others lined baskets with them and turned them into makeshift outhouses.
"At first, nobody wants to use it. But, I mean, after a while, you have no choice," said Darryl Malone, a student at Texas A&M who was vacationing. "It got so bad, I was walking through the ship, and this little girl was like, 'I need a red bag; I need a red bag.' "
Lawsuit filed over 'floating hell' cruise
The crew tried to keep passengers calm as they slept on decks and waited in food lines, sometimes for as long as four hours. At times, the only food was stale vegetables.
The crew figured out one way to appease guests: "Free beer and wine for everybody," said chilled-out passenger Ed Buck.
The crew worked around the clock to try to make the situation somewhat bearable. They constantly checked on passengers, often with smiles on their faces.
"The people onboard the ship, the crew, has been amazing," said Trey Love, who was celebrating his 40th birthday on Triumph.
"They did the dirtiest work," said Dee Tucker, "doing things I wouldn't do."
"We've had our breaking moments. We've had our panic attacks. But it is what it is," Bethany Nutt said while the boat was still being tugged toward shore.
Once the ship docked late Thursday and passengers disembarked, the crew members were shuttled to hotels in Mobile. Carnival employees work on a contract basis, often on the same ship, for months at a time.
The Triumph workers will receive full and normal compensation and be sent to other ships or offered vacation if they had some scheduled soon, said Carnival spokesman Vance Gulliksen.
Crew member Sachin Sharma of India said workers had no problems with being thrust into the icky job of handling the red bags filled with human waste.
"It's very simple," he said, "because we are used to it. That's why we make the best effort for them. ... It's a part of the job."
He will enjoy three days off.
Then, it's off to the next ship.
My celebration trip on the Carnival Triumph: From joy to misery
CNN's Victor Blackwell contributed to this story.