STORY HIGHLIGHTS
State announces snake hunt winners
State offered prizes up to $1,500 for the most Burmese pythons harvested
Florida estimates up to 100,000 pythons live in the Everglades
(CNN) -- They can reach lengths of 18 feet and their numbers are estimated to be in the tens of thousands, but Burmese pythons, a nuisance in the Everglades, aren't easy to find.
"It's an amazing challenge to try to come out and hunt these big snakes," hunter Dennis Jordan told CNN Miami affiliate WSVN in the closing days of the 2013 Python Challenge sponsored by state officials.
The Florida Fish and Wildlife Conservation Commission announced Saturday that 68 Burmese pythons were killed during the January 12-February 10 competition that drew 1,600 registrants lured by prizes of up to $1,500.
Though the take was small, wildlife officials said their main aim was heightening public awareness of the invasive species.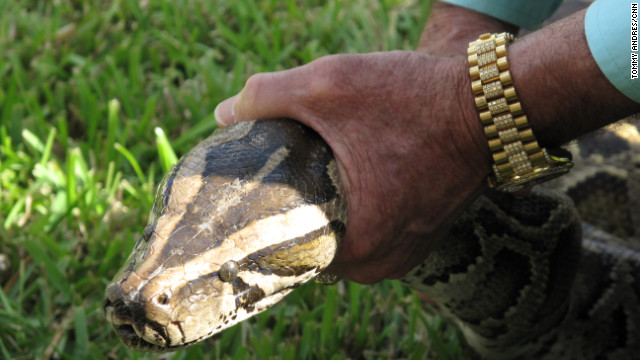 A 13-foot Burmese python pulled from a family's pool near the Everglades is shown off to a crowd of reporters and onlookers. Last August, the largest recorded Burmese python was captured and killed. It was more than 17 feet long and was filled with nearly 90 eggs. Sixty-eight of the snakes were culled during the 2013 Python Challenge, which ended February 10.
Bob Pawlowski, from left, son Coby and friend Jimmy Harper of Fort Myers, Florida, hike a dirt road in the southeastern portion of the Everglades near Miami. First-time hunters have been directed by the Florida Fish and Wildlife Commission to stay along the levees, a system of roads and canals built in the park to control water flow.
A former rodeo professional, "Alligator" Ron Bergeron is now a commissioner for the Florida Fish and Wildlife Conservation Commission. He owns more than 6,000 acres of pristine land in the Everglades and is one of the area's most successful businessmen.
Alligator Ron is a colorful character who has become somewhat of a cult hero in southern Florida. His family started the famous Bergeron Rodeo Grounds in Davie, Florida. He also owns major land development, contracting, real estate and mining companies that employ more than 750 people in the state. Alligator Ron got his nickname after famously losing the tip of his finger in one of many alligator wrestling bouts. He drives through town in a gold-plated Hummer with "Alligator Ron" emblems on the side.
Blake Freeman, left, and Graham Rogers drove all the way from Kentucky to compete during the first weekend of the monthlong event. Both law school students, the pair admit they have no experience and are "bad afraid of snakes." They consulted Alligator Ron for advice before heading out into the Everglades tailed by a French film crew.
Reporters from as far away as France, England and China flocked to the kickoff of the 2013 Python Challenge at the University of Florida Fort Lauderdale campus in Davie, Florida. Members of the media seemed to outnumber hunters 2 to 1. Here, FWC officer Jorge Pinto is asked about the challenge.
Dave Leibman, 46, has hunted pythons all his life. His friends, co-workers and even his wife call him "Python Dave." But he has reservations about average Joes entering the Everglades to kill a species of snake that he "loves." When he captures a Burmese python, he brings it to the FWC to have it humanely euthanized.
Chris Wood's (far right) family business All American Gator offered participants an opportunity to turn their catches into just about anything, even pants. The pair held in this photo cost $3,000. The company is also offering to pay for snake hides and is offering a bonus prize for the biggest skins.
Coby Pawlowski surveys the land with a .22-caliber rifle on his shoulder. The 17-year-old is one of the youngest participants in the 2013 Python Challenge and is accompanied by his father Bob Pawlowski and his friend, 17-year-old Jimmy Harper.
As of Wednesday, 11 Burmese pythons had been captured and killed by hunters in the 2013 Python Challenge. While the group I followed didn't see one, we did stumble across a 3-foot long water moccasin, one of several other dangerous species native to the Everglades.
The 15.6-foot female Burmese Python was found by contractors for the state in a water conservation area just north of the Everglades National Park on Florida state land in October. The snake was brought to the National Parks Service for a necropsy. Researchers discovered a deer weighing more than 70 pounds inside it.
The Pawlowskis and Jimmy Harper use machetes to cut away shrubs and sawgrass. They prod every hole they stumble across with sticks hoping to find a coiled Burmese python on the second day of the monthlong hunt.
Jimmy Harper wraps up Sunday's hunt with nothing to show for it, but he and the Pawlowskis say they'll be back at least five or six more times. Harper says his dad builds airboats as a hobby, and they may try their luck on the water next time.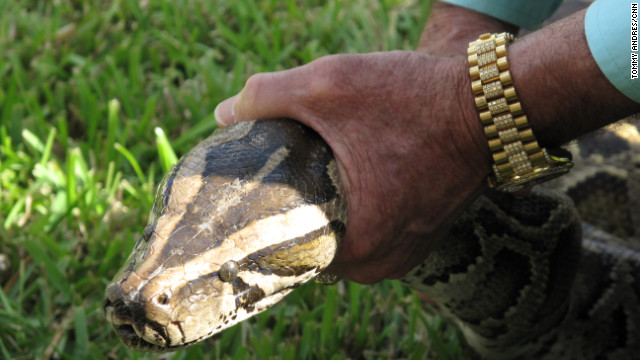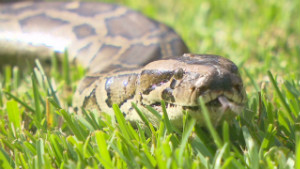 First kills made in python challenge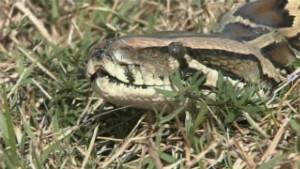 Python hunt to curb snake numbers
"Thanks to the determination of Python Challenge competitors, we are able to gather invaluable information that will help refine and focus combined efforts to control pythons in the Everglades," commission executive director Nick Wiley said.
State wildlife officials say there may be as many as 100,000 Burmese pythons living in the vast swamps outside Miami. By comparison, the state is home to about 1.3 million alligators.
"You can go out there for days and days and days and not see one python," snake hunter Justin Matthews said last month. "I don't care how much experience you have. It is going to take some luck."
Hunters covered a million acres of swamp and sawgrass, officials said.
Scientists examine record python found in Florida
The pythons began turning up in the Everglades in 1979, most likely abandoned by pet owners when the snakes got too big to handle. They have no natural predators.
Rabbits and foxes have disappeared, while raccoon, opossum and bobcat populations have dropped as much as 99%, researchers at Virginia Tech University, Davidson College and the U.S. Geological Survey reported in 2012. The U.S. Fish and Wildlife Service has banned the importation of Burmese pythons, along with three other exotic snake species and their eggs.
While the pythons can run to double-digit lengths, University of Florida wildlife ecologist Frank Mazzotti said the average snake runs about 6 to 9 feet.
State officials recommended shooting the snakes in the head or decapitating them with a machete.
Hunter Brian Barrows of Fort Myers won a $1,500 grand prize in the amateur category for harvesting six pythons, as did Ruben Ramirez of Miami, who bagged 18 of the creatures in the competition for professional hunters.
Paul Shannon of Lehigh Acres won $1,000 for the longest python, which stretched 14 feet, 3 inches.
CNN's Phil Gast and Matt Smith contributed to this report.