Alec Baldwin, photographer trade accusations after encounter
February 20, 2013 -- Updated 0151 GMT (0951 HKT)
STORY HIGHLIGHTS
New York Post photographer says Baldwin called him a racial epithet
Baldwin's representative says the claim is "absolutely false"
Both Baldwin and the photographer file harassment reports with police
(CNN) -- Alec Baldwin and a photographer for the New York Post are trading accusations and harassment claims after an encounter between the actor and the photographer.
In an article published Monday, the newspaper said Baldwin allegedly called the photographer, who is black, a racial epithet and hurled other insults after the photographer and a reporter approached the actor Sunday while he was walking his dogs.
A spokesman for Baldwin denied the report. "The accusations are completely false," Baldwin representative Matthew Hiltzik told CNN Monday.
"That's one of the most outrageous things I've heard in my life," Baldwin said in a statement, referring to the accusation that he used a racial epithet.
The New York Police Department's Hate Crime Unit is now involved due to the alleged nature of Baldwin's "rant," according to Deputy Commissioner Paul Browne on Tuesday.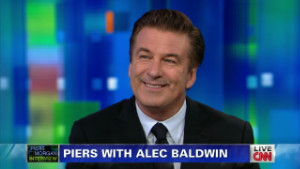 Baldwin: Wish I could flush paparazzi
The newspaper, describing the incident as a "confrontation," also said Baldwin, star of NBC's recently wrapped "30 Rock," grabbed the female Post reporter who was with the photographer by the arm and allegedly said, "I want you to choke to death."
There were no eyewitnesses other than the parties involved, and the reports are still under investigation, according to Browne.
The photographer -- identified by the newspaper as G.N. Miller, "a decorated retired detective with the NYPD's Organized Crime Control Bureau and a staff photographer for The Post" -- and Baldwin both filed police reports for harassment on Sunday. The reports are still under investigation, police Detective Marc Nell said Monday.
Hiltzik specified that the actor's harassment report was filed against the photographer as an individual and not against the newspaper.
The newspaper, meanwhile, quoted Miller as saying that Baldwin "was saying some serious racist stuff."
CNN affiliate WABC-TV asked Baldwin to set the record straight on Monday. The actor responded, "Why would I bother doing that with you?"
CNN's Rande Iaboni and Deborah Feyerick contributed to this report.

Part of complete coverage on
May 24, 2013 -- Updated 1545 GMT (2345 HKT)

When the former teacher Ingrid Loyau-Kennett saw the bloodied man wielding a knife, she tried to engage him in a conversation to distract him.
May 24, 2013 -- Updated 1053 GMT (1853 HKT)

A man dressed up as a woman to expose sexual harassment in Egypt -- and says he can't imagine how women put up with the daily abuse.
May 24, 2013 -- Updated 1029 GMT (1829 HKT)

The breakdown of the education system, growing youth unemployment and insecurity swelled Boko Haram, 'Funmi Olonisakin writes.
May 24, 2013 -- Updated 1251 GMT (2051 HKT)

"It's always the one we feared, the lone wolf that can come from nowhere and not be on our radar," said ex-London police chief John Yates.
May 24, 2013 -- Updated 0613 GMT (1413 HKT)

Christiane Amanpour and Nic Robertson give their insight on the brutal murder of a man in broad daylight. What's behind the horrific attack?
May 24, 2013 -- Updated 1054 GMT (1854 HKT)

In India, a child goes missing every eight minutes. What is behind this devastating statistic felt most by the parents left searching?

Learn about one woman's tireless battle against sex slavery in the Philippines, with Manny Pacquiao in her corner. Watch the full version here.
May 23, 2013 -- Updated 1043 GMT (1843 HKT)

Ai Weiwei, the controversial Chinese artist-activist, has released a music single and video inspired by his harrowing detention by the government.
May 24, 2013 -- Updated 1156 GMT (1956 HKT)

Meet Ugandan Ruganzu Bruno who uses recycled materials to create functional pieces of art, raising environmental awareness through his art.
May 24, 2013 -- Updated 1227 GMT (2027 HKT)

The Germans are coming, this time in the form of the first all-German Champions League football final -- and this time, London cannot wait.
May 23, 2013 -- Updated 1106 GMT (1906 HKT)

Bayern Munich's super fan Boris Becker takes a tour of London ahead of the 2013 Champions League final. What are his favorite spots?
May 23, 2013 -- Updated 1415 GMT (2215 HKT)

Imagine if you could paint a working light switch directly onto your wall, without any need for sockets, cables or wiring. Well, now you can.

Today's five most popular stories