Alec Baldwin, photographer trade accusations after encounter
February 20, 2013 -- Updated 0151 GMT (0951 HKT)
STORY HIGHLIGHTS
New York Post photographer says Baldwin called him a racial epithet
Baldwin's representative says the claim is "absolutely false"
Both Baldwin and the photographer file harassment reports with police
(CNN) -- Alec Baldwin and a photographer for the New York Post are trading accusations and harassment claims after an encounter between the actor and the photographer.
In an article published Monday, the newspaper said Baldwin allegedly called the photographer, who is black, a racial epithet and hurled other insults after the photographer and a reporter approached the actor Sunday while he was walking his dogs.
A spokesman for Baldwin denied the report. "The accusations are completely false," Baldwin representative Matthew Hiltzik told CNN Monday.
"That's one of the most outrageous things I've heard in my life," Baldwin said in a statement, referring to the accusation that he used a racial epithet.
The New York Police Department's Hate Crime Unit is now involved due to the alleged nature of Baldwin's "rant," according to Deputy Commissioner Paul Browne on Tuesday.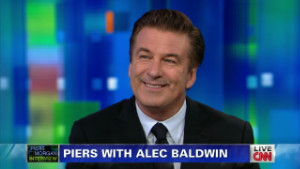 Baldwin: Wish I could flush paparazzi
The newspaper, describing the incident as a "confrontation," also said Baldwin, star of NBC's recently wrapped "30 Rock," grabbed the female Post reporter who was with the photographer by the arm and allegedly said, "I want you to choke to death."
There were no eyewitnesses other than the parties involved, and the reports are still under investigation, according to Browne.
The photographer -- identified by the newspaper as G.N. Miller, "a decorated retired detective with the NYPD's Organized Crime Control Bureau and a staff photographer for The Post" -- and Baldwin both filed police reports for harassment on Sunday. The reports are still under investigation, police Detective Marc Nell said Monday.
Hiltzik specified that the actor's harassment report was filed against the photographer as an individual and not against the newspaper.
The newspaper, meanwhile, quoted Miller as saying that Baldwin "was saying some serious racist stuff."
CNN affiliate WABC-TV asked Baldwin to set the record straight on Monday. The actor responded, "Why would I bother doing that with you?"
CNN's Rande Iaboni and Deborah Feyerick contributed to this report.

Part of complete coverage on
May 21, 2013 -- Updated 2217 GMT (0617 HKT)

The image of the Gaza boy and his father under a hail of Israeli bullets became a powerful symbol. Now Israel insists its military is not to blame.
May 22, 2013 -- Updated 1831 GMT (0231 HKT)

The tornado that ripped through Oklahoma saw teachers rise to be surrogate parents, protectors and heroes, according to LZ Granderson.
May 21, 2013 -- Updated 1714 GMT (0114 HKT)

Did you know that hurricanes can also produce tornadoes? Read facts you didn't know about destructive twisters.
May 22, 2013 -- Updated 1301 GMT (2101 HKT)

The petite frame of 19-year-old Zoe Smith should fool nobody -- she's a weightlifting warrior who has fought stereotypes and broken a British record.
May 22, 2013 -- Updated 0441 GMT (1241 HKT)

Prime Minister Shinzo Abe calls women "Japan's most underutilized resource," yet traditions have been hard to overcome.
May 22, 2013 -- Updated 1455 GMT (2255 HKT)

According to the United Nations' mission in Iraq, 712 Iraqis were violently killed in April 2013. This is both normal and extraordinary.
May 22, 2013 -- Updated 1121 GMT (1921 HKT)

Myanmar's Muslims have generally coexisted with the Buddhist majority. But ethnic fault lines are exposed as it emerges from military rule.
May 22, 2013 -- Updated 1209 GMT (2009 HKT)

Actresses Carey Mulligan, Isla Fisher and Elizabeth Debicki tell CNN who gave them inspiration for their characters.
May 22, 2013 -- Updated 0521 GMT (1321 HKT)

A quarter century after his death, American pop artist Andy Warhol has popped up in China again after his first and only trip to the country in 1982.
May 22, 2013 -- Updated 1439 GMT (2239 HKT)

Revolutionary "bionic exoskeletons," like the metal suit worn by comic book hero Tony Stark, may be closer than you think.
May 21, 2013 -- Updated 1951 GMT (0351 HKT)

Photos: From Sharon Stone to Matt Damon, browse through the best from the Cannes red carpet this year.

Damnit we have work to do ... but not before we have another go at this annoyingly difficult web-based game.

Today's five most popular stories