Should the euro never have existed?
February 19, 2013 -- Updated 0619 GMT (1419 HKT)
STORY HIGHLIGHTS
Saxo co-CEO: 'Euro should never have existed'
Germany fears Greek exit from eurozone would spark monetary union breakup
Euro has risen 10% against U.S. dollar since July 2012
Saxo's Christensen: 'Euro demise depends on Germany'
(CNN) -- "I don't think the euro should exist," said Saxo Bank co-CEO Lars Seier Christensen to CNN's Richard Quest, in terms that could hardly be less fractious to supporters of the 17-nation single currency bloc.
"It's quite clear that what lacks here is fiscal union but it's also very clear that the populations of Europe are not supportive of that goal."
The eurozone will also pull itself apart as competitiveness will continue "to develop in different directions," said the head of the online Danish investment bank. He added that the people of the eurozone -- in particular, Germany as the monetary zone's prime pillar -- will not make sacrifices for "the weaker part of the eurozone" -- Greece and other southern European countries.
Christensen's controversial comments stand in stark contrast to what eurozone supporters have said -- advocating for austerity to keep the union together.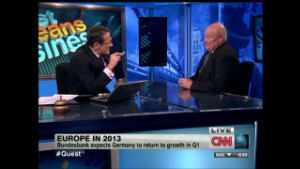 Europe 'will muddle through' in 2013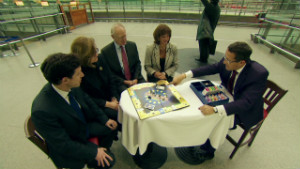 Quest's Eurozone Monopoly challenge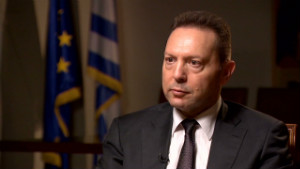 Greek FM on leaving Eurozone
Germany, Europe's largest economy, fears that a Greek exit from the eurozone could lead to a domino effect in which other massively-indebted countries -- Ireland, Portugal, Spain and Italy -- may pull out from the common currency, leading to the breakup of the eurozone.
In December 2012, German Chancellor Angela Merkel won more support for bailout funds for Greece. In July, Mario Draghi, the president of the European Central Bank promised to do "whatever it takes to preserve the euro" which set off rallies for Greek, Spanish and Italian bonds.
Still, Saxo Bank's Christensen believes the euro will disappear at some point in the future -- and despite hitting 13-month highs -- because he believes overall support does not exist.
"I'm not saying it's a bad thing that support is not there," said Christensen, "because the ability to adjust your currency is an important equilibrium between different economies and different developments. When that's gone you're left with a completely different set of problems."
The bank CEO declined to give a timeline but said it "depends how long the Germans hold out... how long the German population is willing to buy into supporting" fiscal union.
"I can tell you the problem is going to get greater rather than smaller... I fear that the markets will take the thing apart eventually."

Part of complete coverage on
March 13, 2014 -- Updated 1157 GMT (1957 HKT)

Mobile World Congress spans the full spectrum of untethered gadgetry Explore this year's top trends with Stuff Magazine Editor Will Findlater.
February 28, 2014 -- Updated 1623 GMT (0023 HKT)

Cocoa-nomics: Why chocolate really doesn't grow on trees. CNN returns to Africa's cocoa plantations to examine the fight against child labor.
February 27, 2014 -- Updated 1958 GMT (0358 HKT)

CNN's Maggie Lake speaks to Lego CEO Jørgen Vig Knudstorp about why Lego continues to be a hugely popular toy.
February 27, 2014 -- Updated 2032 GMT (0432 HKT)

A Japanese rocket roared into orbit carrying what NASA calls its most precise instrument yet for measuring rain and snowfall.
February 28, 2014 -- Updated 2003 GMT (0403 HKT)

When you hail yourself as a "passionate advocate" for job-seekers, you probably ought not blast one of those job-seekers in a snide e-mail.
February 26, 2014 -- Updated 2201 GMT (0601 HKT)

Love that chocolate Haagen-Dazs ice-cream? But what about the way its makers treat their farmers? Oxfam reveals the ethics behind the brands.
February 20, 2014 -- Updated 1121 GMT (1921 HKT)

SnapScan is an award-winning app allowing buyers to pay with their smartphone -- no need to worry about carrying cash or lost credit cards.
February 18, 2014 -- Updated 1452 GMT (2252 HKT)

In the wake of recent credit card breaches, CNN's Richard Quest explores the threats of the non-cash economy. Is your money as safe as you think?
February 19, 2014 -- Updated 0833 GMT (1633 HKT)

Like many companies in China, Fu Shou Yuan uses celebrities to attract clients. Except, in this case, they're dead. They're in the funeral business.
February 19, 2014 -- Updated 1255 GMT (2055 HKT)

Coca-Cola is staying afloat as the soda market shrinks, and many point to a marketing strategy around the so-called "secret recipe."

Today's five most popular stories