Should the euro never have existed?
February 19, 2013 -- Updated 0619 GMT (1419 HKT)
STORY HIGHLIGHTS
Saxo co-CEO: 'Euro should never have existed'
Germany fears Greek exit from eurozone would spark monetary union breakup
Euro has risen 10% against U.S. dollar since July 2012
Saxo's Christensen: 'Euro demise depends on Germany'
(CNN) -- "I don't think the euro should exist," said Saxo Bank co-CEO Lars Seier Christensen to CNN's Richard Quest, in terms that could hardly be less fractious to supporters of the 17-nation single currency bloc.
"It's quite clear that what lacks here is fiscal union but it's also very clear that the populations of Europe are not supportive of that goal."
The eurozone will also pull itself apart as competitiveness will continue "to develop in different directions," said the head of the online Danish investment bank. He added that the people of the eurozone -- in particular, Germany as the monetary zone's prime pillar -- will not make sacrifices for "the weaker part of the eurozone" -- Greece and other southern European countries.
Christensen's controversial comments stand in stark contrast to what eurozone supporters have said -- advocating for austerity to keep the union together.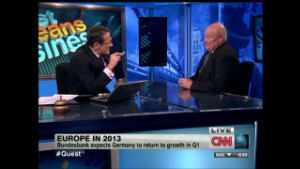 Europe 'will muddle through' in 2013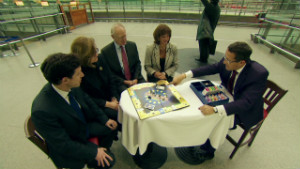 Quest's Eurozone Monopoly challenge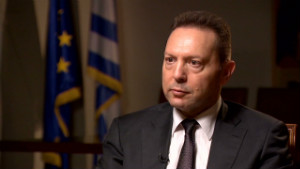 Greek FM on leaving Eurozone
Germany, Europe's largest economy, fears that a Greek exit from the eurozone could lead to a domino effect in which other massively-indebted countries -- Ireland, Portugal, Spain and Italy -- may pull out from the common currency, leading to the breakup of the eurozone.
In December 2012, German Chancellor Angela Merkel won more support for bailout funds for Greece. In July, Mario Draghi, the president of the European Central Bank promised to do "whatever it takes to preserve the euro" which set off rallies for Greek, Spanish and Italian bonds.
Still, Saxo Bank's Christensen believes the euro will disappear at some point in the future -- and despite hitting 13-month highs -- because he believes overall support does not exist.
"I'm not saying it's a bad thing that support is not there," said Christensen, "because the ability to adjust your currency is an important equilibrium between different economies and different developments. When that's gone you're left with a completely different set of problems."
The bank CEO declined to give a timeline but said it "depends how long the Germans hold out... how long the German population is willing to buy into supporting" fiscal union.
"I can tell you the problem is going to get greater rather than smaller... I fear that the markets will take the thing apart eventually."

Part of complete coverage on
April 22, 2013 -- Updated 0647 GMT (1447 HKT)

Twitter resumes -- or "twesumes" -- have been touted as the best way for social media-savvy types to snag a dream job.
April 17, 2013 -- Updated 0800 GMT (1600 HKT)

We live in a three-speed economic world, according to the International Monetary Fund.
April 17, 2013 -- Updated 1627 GMT (0027 HKT)

Women have long dominated the heated discussion around gender equality. But men need to too, says Facebook's Sheryl Sandberg.
April 19, 2013 -- Updated 1053 GMT (1853 HKT)

Security threats from mobile malware are on the rise and nearly 95% of targets operate on the Android operating system, according to a new report from NQ Mobile.
April 15, 2013 -- Updated 2006 GMT (0406 HKT)

Microsoft is working on a touch-enabled smartwatch, The Wall Street Journal says, reporting that the company asked Asian suppliers to ship components for the device.
April 19, 2013 -- Updated 0647 GMT (1447 HKT)

Give your anxious, negative colleagues a chance, and they just might surprise you.
April 17, 2013 -- Updated 1046 GMT (1846 HKT)

In Europe, high-speed rail has come to stand for ease and efficiency where journeys of four hours or less trump airplanes and the hassle of airport security.
April 19, 2013 -- Updated 1812 GMT (0212 HKT)

Infographic: Singapore may be tiny but it is also one of East Asia's most powerful trading hubs.
April 22, 2013 -- Updated 0027 GMT (0827 HKT)

In Hong Kong urban lore, an apartment where a violent death took place can often be bought for as much as 10-30 per cent off the market price.
April 16, 2013 -- Updated 1605 GMT (0005 HKT)

With gold prices officially in a bear market, investors must ask themselves if this is the time to buy?

Today's five most popular stories