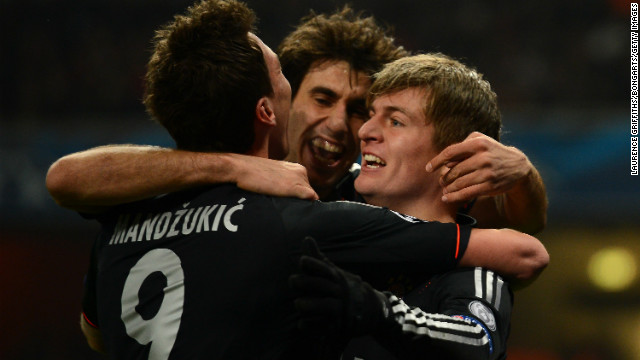 Toni Kroos fired Bayern Munich into a seventh minute lead as the German side made the perfect start to its last-16 Champions League clash at Arsenal.
Thomas Muller headed home Bayern's second after Arsenal keeper Wojciech Szczesny could only parry Daniel van Buyten's close range header.
Lukas Podolski headed Arsenal back into the tie, taking advantage of some poor defending to score against his former club just 10 minutes after the interval.
Mario Mandzukick bundled home a late third for Bayern to leave it in pole position going into the second leg in Munich on March 13.
Fast start
Muller time
Fleeting chance
Game over
STORY HIGHLIGHTS
Bayern Munich claims a 3-1 win at Arsenal in last-16 of Champions League
Toni Kroos, Thomas Muller and Mario Mandzukic score crucial away goals
Porto will take 1-0 lead to Malaga for second leg of last-16 clash
Joao Muutinho's second half strike the difference between the two sides
(CNN) -- Perhaps it is ironic that in London Fashion week, a man who crafted one of the most beautiful and enriching football tapestries should be left watching the seams of his work unravel.
While the next set of trendsetters sit with their heads craned towards the catwalk across some of the capital's plushest venues, one of football's great designers was left shrouded under a cloak of misery on a cold February night in north London.
As Arsene Wenger trudged off down the Emirates tunnel, his side soundly beaten 3-1 by Bayern Munich in the first leg of its last-16 Champions League clash Tuesday, perhaps the reality had at last set in.
Read: Wenger defends his Arsenal record
Outplayed and outclassed, the seemingly unstoppable chasm between Arsenal and Europe's elite shows no sign of stopping.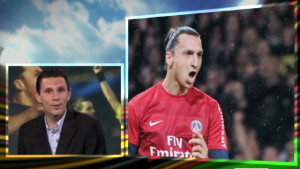 Ibrahimovic: Hero or villain?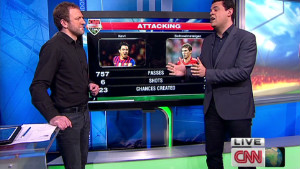 Football tactics: Xavi vs. Schweinsteiger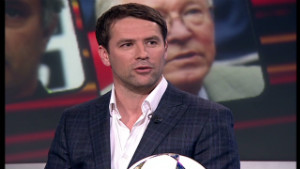 Will Mourinho replace Ferguson?
When Wenger arrived as a virtual unknown at Arsenal in October 1996, few had the foresight to imagine just how this professorial figure would redefine the game in England.
While his look may have suggested a more school teacher like approach, the reality was anything but.
It was art. From knitting together one of the most wonderfully aesthetic sides to have graced the Premier League and embroidering it with gems such as Thierry Henry, Dennis Bergkamp and the other strands of brilliance, Wenger brought about a renaissance period in English football.
To watch Wenger's Arsenal in its pomp was something joyful to behold, a privilege and a delight.
Read: Arsenal slump to cup defeat
And yet while it was easy on the eye, this team was made of such strong fabric, resilient, interwoven with the DNA of winners.
Those were the days when Bergkamp would produce moments to take your breath away, pirouetting on a sixpence and scoring a goal which would leave you open mouthed.
Thierry Henry would have you believe he was from a different planet with an outrageous flick, run and finish, while the gladiatorial Patrick Vieira would give Arsenal the heart it so sorely lacks today.
The likes of Robert Pires, Freddie Ljungberg, Marc Overmars, Emmanuel Petit, Sol Campbell and Ashley Cole, players who would excite, produce when it mattered. They were winners.
This makes it all the more galling for Arsenal fans, who have watched their club fall dramatically from the days where it produced some of the most scintillating football ever witnessed in the Premier League.
During the 2003/4 season, Arsenal went through an entire season unbeaten, winning 26 and drawing 12 of their 38 league games, cruising to the title by 11 points. That team was labeled 'The Invincibles'.
Those days seem a lifetime ago. Not since its FA Cup win in 2005 has Arsenal managed to win a trophy -- a fact which Wenger is reminded of almost daily whenever he lifts a newspaper or turns on the radio.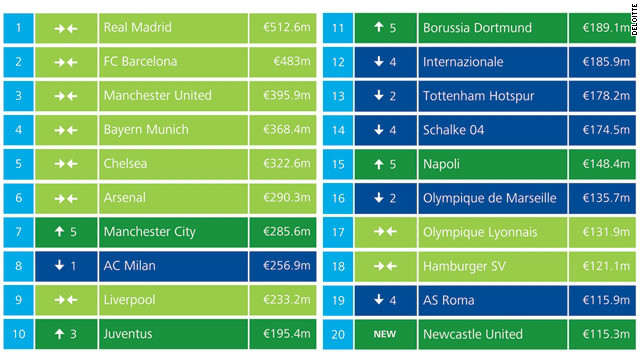 Real Madrid ($650.5 million) and Barcelona ($613 million) lead the way at the top of the chart by some considerable distance over English champion Manchester United ($502.4) . The top six places remain unchanged from last year.
Real Madrid star Cristiano Ronaldo has become an integral part of the club's success both on and off the pitch with the Spanish giant leading the Football Money League table for the eighth year in a row.
Leo Messi's goals and success has been key to Barcelona's ability to draw in fans and broadcasters at will. It is the fourth year in a row that the club has finished second in the Football Money League table behind arch-rival Real Madrid.
Robin van Persie, a $38 million summer signing, has helped Manchester United reach the top of the Premier League as it looks to wrestle the title back from rival Manchester City. United, which has recently signed a record shirt deal with General Motors, has been tipped to overhaul the top two over the coming years.
Bayern Munich, which recently appointed Pep Guardiola as its new manager for the 2013/14 season, remain in fourth position. The German giant reached the Champions League final last season where it was beaten by Chelsea.
Last year's European Champions League finalists Bayern Munich and Chelsea remain in fouth and fifth but it is Manchester City which has surged up the table. The English champion was 12th last year but is now up to seventh with revenue of $362.4 million.
European Champions League holder Chelsea is fifth in the money list. The London club has spent big money in recent years including the $80 million purchase of Spain striker Fernando Torres.
Borussia Dortmund leads the average attendance count with 79,900, beating Manchester United into second place. The matchday experience at Bundesliga clubs has seen attendances rise across the board with safe standing and cheaper tickets both key to its success.
.Arsenal stays sixth in the table despite it's failure to win a single trophy since 2005. The club has also seen big name departures with Cesc Fabregas joining Barcelona and Robin van Persie moving to Manchester United
Manchester City's Premier League title win catapulted the club up the Football Money League table and into seventh position. City's revenue grew to $452.6 million, the largest absolute and relative growth of any Money League club.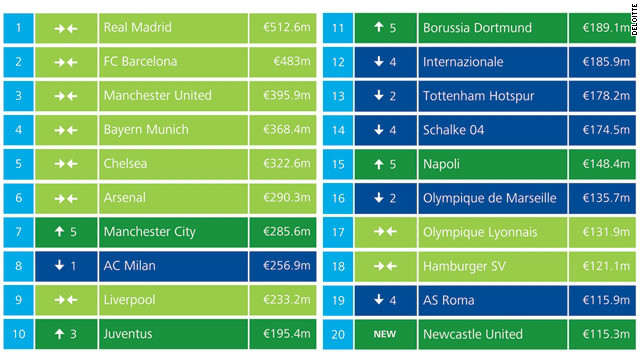 Spain dominates football's rich list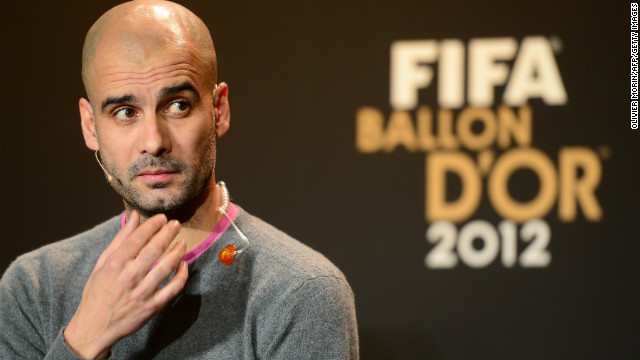 Pep Guardiola has been on a year-long sabbatical in the U.S. after stepping down as Barcelona coach, but he returned to Europe in January for the Ballon d'Or when he was shortlisted for FIFA's world coach of the year award.
When he confirmed he was to end his four-year reign as Barcelona coach, Guardiola gave an emotional press conference.
Guardiola announced his intent to quit at the end of last season just three days after the club's Champions League semifinal exit against Chelsea, drawing 2-2 at home and losing 3-2 on aggregate. He left a remarkable legacy.
He was massively popular at the Camp Nou after four trophy-laden seasons. Here he is thrown in the air by his players after winning the FIFA Club World Cup for the second time in December 2011, having been the first team from Spain to win it two years earlier.
Guardiola congratulates Barca players Cesc Fabregas and Javier Mascherano after winning the Spanish Supercup against Real Madrid at the start of the 2011-12 season.
Guardiola lifts the 2011Champions League trophy after Barca beat Manchester United at Wembley. The 41-year-old has earned a reputation as a coach who prepares meticulously for matches.
Guardiola won the FIFA Men's Football Coach of the Year award in January 2012. "I can't promise you silverware, but I can say that we'll keep on battling to the end and you'll be proud of us," he said after becoming coach four years ago.
In the 2009 calendar year, Guardiola won six trophies in total -- the Copa del Rey, La Liga, the European Champions League, the Spanish Supercup, the UEFA Supercup and the Club World Cup.
Former Barcelona president Joan Laporta shakes hands with Guardiola on June 5, 2008. The Catalan club's 15th coach arrived with the mission to end a two-season trophy drought -- he didn't disappoint.
As a player, Guardiola spent more than a decade in Barcelona's senior team, winning six Spanish titles and one European Cup. He captained Spain to a gold medal at the 1992 Barcelona Olympics and went to the 1994 World Cup.
He joined Barca's famed La Masia youth academy in 1984, and wore the No. 4 shirt until leaving for Italy in 2001.
He had two spells at Serie A side Brescia either side of a brief time at Roma, and is pictured playing against Perugia in 2002.
Guardiola left Europe to join Qatar's Al-Ahly from 2003 to 2005, then joined Mexico's Dorades de Sinaloa for a season before finally hanging up his boots.
Guardiola is pictured here with fellow Spaniard Jose Maria Olzabal at the Ryder Cup after Europe produced a remarkable comeback to win the tournament at Medinah in the U.S.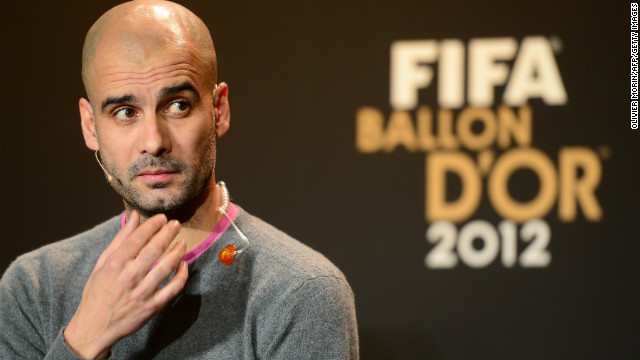 The end of an era: Josep Guardiola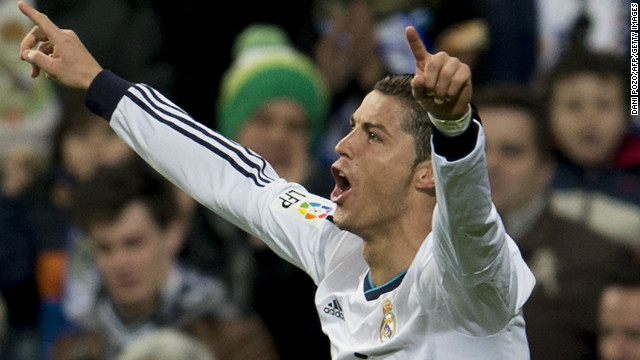 Real Madrid forward Cristiano Ronaldo warmed up for the Champions League clash with his former club Manchester United by scoring a hat-trick in the 4-1 victory at home to Sevilla.
English Premier League leaders United are in pole position to reclaim the title from Manchester City, whose manager Roberto Mancini was furious with his players after a 3-1 defeat at Southampton.
City's low point came when Gareth Barry -- who had been at fault for the first goal -- passed the ball into his own net to restore Southampton's advantage after Edin Dzeko had reduced the deficit just before the break.
Alessandro Matri helped Juventus move five points clear in Italy's Serie A, scoring the second goal in the 2-0 win at home to Fiorentina despite losing his boot before firing into the net.
David Alaba helped Bayern Munich move 15 points clear in Germany's Bundesliga, with the 20-year-old Austrian scoring twice in the 4-0 win at home to Schalke.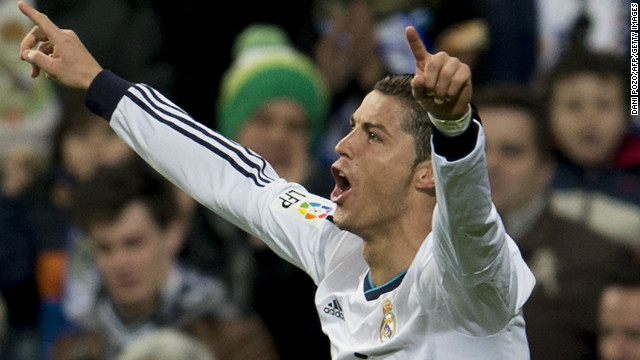 Ronaldo fires United warning
The three Premier League titles and four FA Cup trophies are part of yesteryear as is the club's appearance in the 2006 Champions League final, where it was beaten by Barcelona.
In a society which demands instant gratification, Wenger is losing the battle.
Read: Bayern on cruise control
Held up as a beacon of financial prudence and a club ideally positioned for the advent of the FFP rules, Arsenal is constantly applauded for the way it conducts itself.
But while the bank accounts might be full, the trophy cabinet continues to gather dust as frustration grows over the lack of progress made on the pitch.
The sale of star players such as Robin van Persie and Cesc Fabregas has only exacerbated the fact that Arsenal can no longer compete with the likes of Manchester United, Manchester City and Chelsea over an entire season.
Being dumped out of the League Cup, the country's third most important domestic competition, by a Bradford side in the bottom rung of English football, was humiliating.
Crashing out at home to first division Blackburn in the prestigious FA Cup was another embarrassing episode in a season which is unraveling at an alarming pace.
But against Bayern, a team seemingly cruising to domestic title success, there was a chance for redemption.
A lesser club than Bayern might have wilted under the disappointment of losing last year's Champions League final inside its own stadium in such heartbreaking fashion.
The penalty shoot out defeat by Chelsea left its players crushed, devastated and bewildered after it had dominated for so much of the contest.
Read: From Barca to Bayern: Why is Pep Munich bound?
Its reply, however, speaks volumes for the team. A 15 point lead at the top of the Bundesliga, a team with a record of 57 points from 22 games and a defense which had conceded in 450 minutes of football shows little sign of sulking.
Add to that the staggering run of away form which had seen Jupp Heynckes team win 10 out of its past 11 away games and it was obvious to see why Arsenal was up against it.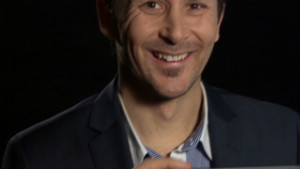 Mendieta: Barca, Real out in front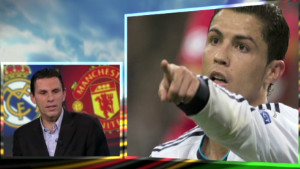 Does Ronaldo carry Real Madrid?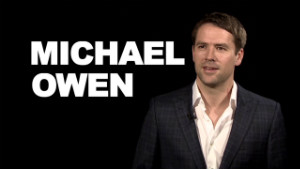 Michael Owen's Liverpool regret?
Fresh from Wenger's outburst at the press conference Tuesday and its shock FA Cup defeat by second-tier Blackburn last Saturday, Arsenal began confidently.
At least it did for the first six minutes. Then it all went downhill.
Germany international Tony Kroos was afforded time and space and duly took advantage, lashing home his fifth Champions League goal and giving Bayern the perfect start.
That strike tore through the already fragile confidence of an Arsenal side which looked decisively anaemic.
While Arsenal struggled, Bayern appeared to be cut from a different cloth.
The Germans swarmed around the pitch, every pass tailor made as it unpicked the stitching in Arsenal's defense with ease.
It took just 21 minutes to leave Arsenal's dream of qualification ripped to shreds as Bayern strengthened its grip on the contest.
Read: AVB: Bayern is the perfect club for Guardiola
Goalkeeper Wojciech Szczesny could only parry Daniel van Buyten's near-post header and Thomas Muller was on hand to smash the ball into the roof of the net.
The interval brought respite from the jeers which greeted the halftime whistle and gave a chance for Arsenal to regroup.
And regroup it did. Suddenly it awoke from its nerve induced coma and began to show glimpses of what its fans so badly crave.
That fleet of foot, that crisp passing with the wonderfully talented Jack Wilshere trying to thread those "eye of the needle" passes to finally find a way through the Bayern defense.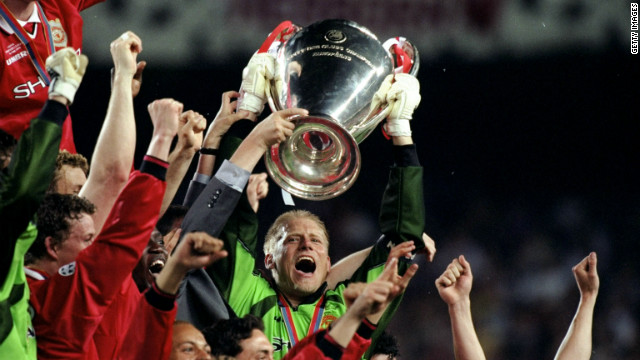 In the absence of suspended skipper Roy Keane, Peter Schmeichel captained Manchester United to European Champions League glory in 1999. United trailed Bayern Munich 1-0 heading into the 90th minute, but stunned the Germans by scoring twice in a matter of minutes to seal a famous 2-1 success. The win completed an historic Champions League, Premier League and FA Cup treble.
Schmeichel is backing Jurgen Klopp's Borussia Dortmund to pull off a shock and lift the Champions League for the second time in their history. The German title winners have been lauded for topping a group which contained Real Madrid, Manchester City and Ajax.
Lionel Messi has been unstoppable in 2012, scoring a record 90 goals so far this calendar year. Barcelona will be looking to win the Champions League for the fourth time in seven years.
Jose Mourinho has already won the Champions League with two different clubs -- Inter Milan and Porto. Despite an indifferent start to the Spanish league season, Schmeichel is confident Mourinho has the ability to lead Real Madrid to a landmark 10th European triumph.
Manchester United sit top of the English Premier League as the season approaches its halfway point, but Alex Ferguson's team has leaked goals all season. Schmeichel thinks his old club will need defender Nemanja Vidic to return to his top form if United are to stand any chance of reaching May's Wembley final.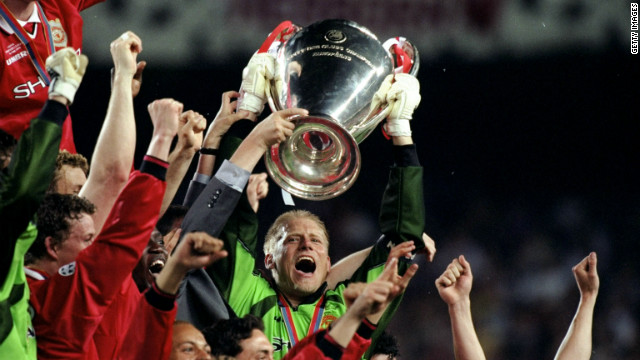 Schmeichel's Champions League tips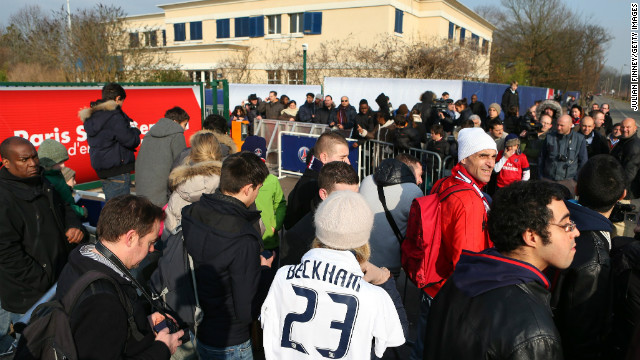 Hundreds of fans and journalists flocked to the Paris Saint-Germain training ground Wednesday to get a glimpse of David Beckham in action on the practice field. The interest in Beckham's move to the French club has caused huge excitement with the anticipation building ahead of the midfielder's possible debut on Sunday.
David Beckham took part in his first training session with his new Paris Saint-Germain teammates less than 24 hours after watching them claim a 2-1 win at Valencia in the last-16 round of the Champions League. on Tuesday.
Beckham, 37, was put through is paces at the club's open training day where more than 100 journalists turned up to witness the event. The former Manchester United and Real Madrid star is hoping to make his debut against Sochaux on Sunday, but it's not known if his pop star wife Victoria will be in attendance. Beckham's family has remained in London where his children Brooklyn, Romeo and Cruz attend school following their move from Los Angeles.
Beckham, who won 115 caps for England, has signed a five-month deal with the Qatari-backed club, but has revealed that his salary will be donated to a Paris children's charity. He will now hope to force his way into the side and link up with the likes of Zlatan Ibrahimovic, Lucas Moura and Ezequiel Lavezzi with the team six points clear at the top of Ligue 1.
Beckham waves to the waiting press pack as he makes his way out at the club's Camp des Loges training center in Saint-Germain-en-Laye, near Paris. The session, which was led by PSG's Italian coach Carlo Ancelotti, was shown live on French television.
Beckham shows off his new pink boots, a pair of which even Posh Spice might approve of. While Beckham is busy preparing for his debut, fashion designer Victoria was having her latest designs shown off by models in London.
After working up a sweat, Beckham throws off his top and gets back to work with the players who didn't feature in Tuesday's win at Valencia. If Beckham doesn't play against Sochaux on Sunday, he could line-up the following week against fierce rival Marseille and fellow Englishman Joey Barton.
Beckham takes to the sand as he steps up his training regime. Running on sand has several long-term benefits which includes strengthening the lower body muscles, burning more calories and is supposed to be easier on the joints as opposed to grass.
Beckham watched PSG's win at Valencia alongside the club's sporting director Leonardo. The pair looked on as their side edged out Valencia 2-1 in the first leg thanks to goals from Ezequiel Lavezzi and Javier Pastore, before Zlatan Ibrahimovic was sent off late on. The Swede will miss the second leg in the French capital on March 6.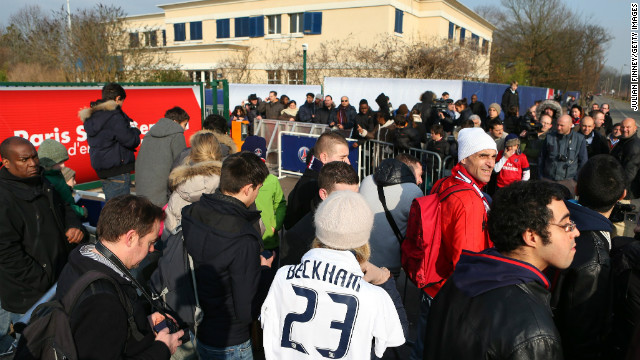 'Box Office' Beckham thrills French audience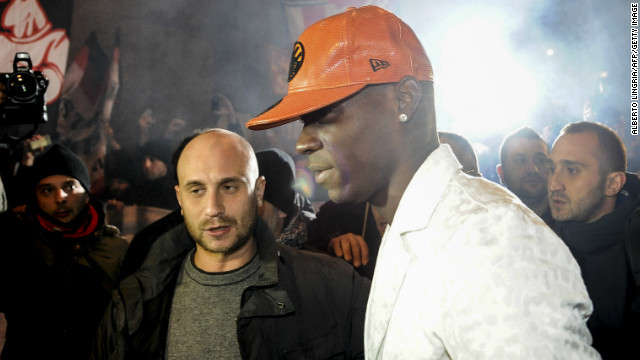 Mario Balotelli was mobbed by fans outside a restaurant as he returned home to Italy to complete his $30 million move from AC Milan to Manchester City.
His future at the English Premier League champions had been in doubt since his training ground bust-up with manager Roberto Mancini in early January, when coaching staff had to intervene to separate the pair. Mancini later downplayed the tussle, sparked by Balotelli's hostile tackle on a fellow player, as "nothing unusual."
Balotelli made his Inter Milan debut in 2007 after being signed by the club at the age of 15. He scored the first goals of his senior career in a Coppa Italia match against Reggina in December of that year.
Balotelli joined Manchester City from Italian club Inter Milan. His relationship with Inter coach Jose Mourinho endured numerous ups and downs. Disciplinary issues littered his time at the San Siro and the situation came to a head in March 2010, when Balotelli was left out of Inter's squad for a Champions League tie after an altercation with Mourinho.
Mancini was Balotelli's first coach at Inter Milan and the pair were reunited in 2010 when the striker joined Manchester City. The start of Balotelli's City career was disrupted by injury, but he finally scored his first Premier League goals in a 2-0 away win at West Bromwich Albion. His joy at netting a brace was short-lived, however, as he was sent off after picking up two yellow cards.
Balotelli became a hit with City's fans, as much for off-field antics as his goalscoring. His stock with the supporters was never higher than in October 2011, when he scored twice in City's 6-1 thumping of neighbors Manchester United at Old Trafford. After scoring the first goal in City's victory, he revealed a t-shirt stating "Why always me?" -- instantly creating one of the most iconic images of the Premier League era. City went to beat United to the English title on goal difference with a dramatic last-gasp victory over Queens Park Rangers on the final day of the season.
Balotelli reminded everyone of his undoubted talent during the 2012 European Championships. He scored three times as Italy reached the final, including both goals in the Azzurri's 2-1 semi win over Germany. Italy lost 4-0 to Spain in the final of the tournament co-hosted by Poland and Ukraine.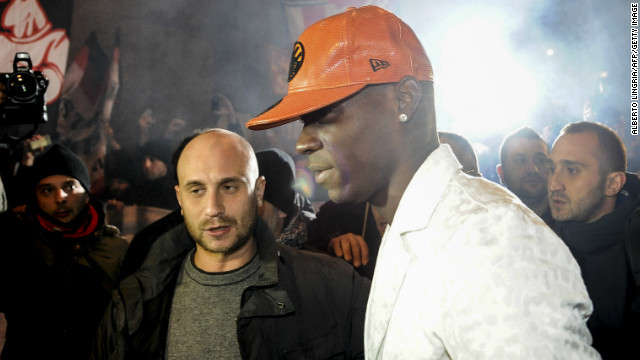 Being Balotelli: The life and times of Mario
In the end, it took some luck and an uncharacteristic piece of poor defending which allowed the home side back into the game.
A corner was awarded when it shouldn't have been and Lukas Podolski ensured his side made the most of its good fortune, heading home against his former club to reduce the deficit.
Now it was Arsenal which began to grow and only a wonderful reaction save from Manuel Neuer denied substitute Olivier Giroud an equalizer.
It proved to be a crucial moment as with 13 minutes remaining, Mario Mandzukic bundled home Philipp Lahm's cross to all but end Arsenal's hope of making the quarterfinal.
Bayern, which is unbeaten in 19 games since losing to Bayer Leverkusen on October 28 last year, will now expect to finish the job on March 13 in Munich.
Read: 'Pep will make Bayern's team better'
"We expected a very big start from Arsenal here at home with the fans behind them," Bayern's Arjen Robben told ITV.
"I know from my time in England and we warned all of the players we have to be there from the first minute because there will be a storm going here at the Emirates Stadium.
"I think we did very well and of course if you score two goals you're in a great position."
Based on past results in the competition, Arsenal has just a 2.2% chance of progressing to the next stage -- but in Wilshere it has one player with great heart and determination.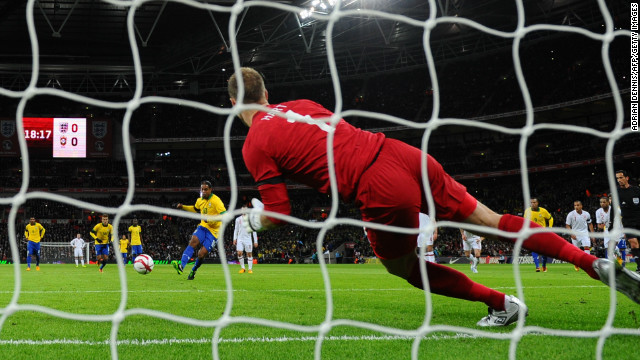 Ronaldinho was making his first appearance for Brazil in over a year, but he struggled. The two-time World Player of the Year missed a penalty before being substituted at half-time in a 2-1 defeat by England.
Neymar is the star of the current Brazil team. The Santos playmaker also endured a frustrating match, failing to breakdown England's stubborn defence.
Brazil captain David Luiz, fourth from the left, is confident La Selecao can win the World Cup when it is staged in the South American country for just the second time next year.
In a bid to transform Brazil's fortunes, Luis Felipe Scolari has been reinstated as coach. Scolari led Brazil to World Cup glory in 2002.
Scolari's Brazil beat Germany 2-0 in the final 11 years ago, with Ronaldo scoring a brace in the showpiece match.
All Brazilians fear a repeat of the 1950 World Cup, when hosts Brazil lost 2-1 to Uruguay in the final game of the tournament and missed out on glory. The defeat was referred to as "our Hiroshima" by Brazilian playwright Nelson Rodrigues.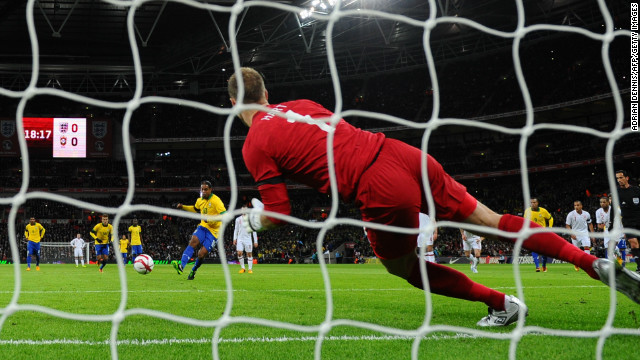 Brazil's World Cup rescue mission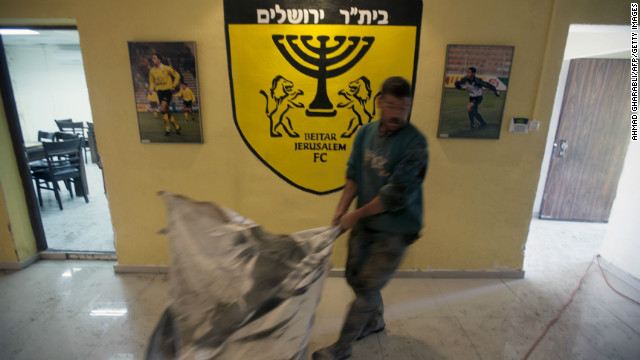 A club official at Beitar Jerusalem cleans up after the arson attack on the club's offices.
Dzhabrail Kadaev (left) and Zaur Sadaev were signed on January 26 by Beitar Jerusalem from Chechen side Terek Grozny. Both are Muslims.
Beitar Jerusalem fans display a banner reading "Beitar -- pure forever" at a match on January 26 after their signing of two Muslim players.
A club official examines the charred remains of the trophies won by Israeli league side Beitar Jerusalem after an arson attack on its clubhouse.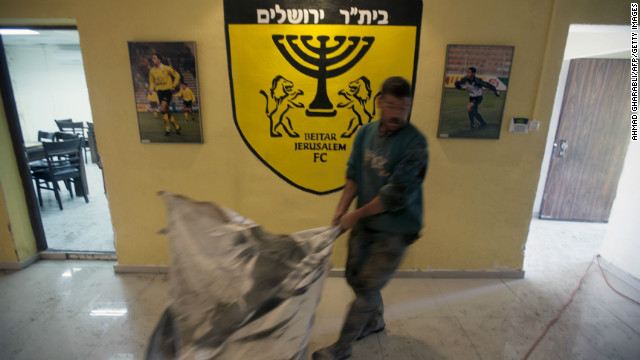 Beitar Jerusalem trophy room torched after two Muslim players sign for Israeli club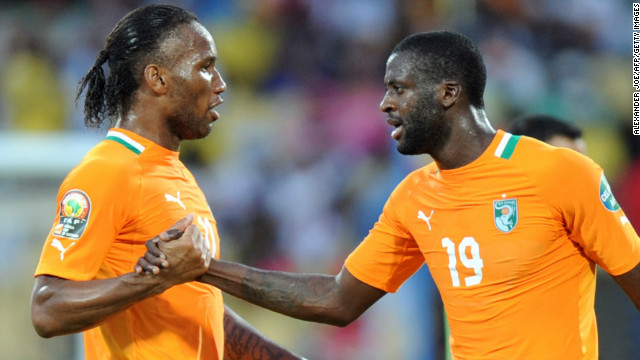 Substitute Didier Drogba (left) celebrates with Yaya Toure after the midfielder put the Ivory Coast 2-0 ahead near the end of the Africa Cup of Nations Group D match against Tunisia in Rustenburg.
Former Chelsea star Drogba had been dropped from the starting line-up for the first time in his international career, having been taken off during his country's opening match after failing to impress.
Manchester City star Toure, the two-time African player of the year, netted his second goal of the tournament in the 88th minute.
Another substitute, Didier Ya Konan (No. 13) sealed the Ivorians' second successive win with the third goal at Royal Bafokeng Stadium.
Striker Gervinho, who plays for English club Arsenal, scored the opening goal in the 21st minute. He also netted a late winner in the opening match against Togo.
Emmanuel Adebayor helped Togo bounce back from that 2-1 defeat as the Sparrowhawks' captain scored in a 2-0 win against Algeria which put the Ivorians into the quarterfinals and eliminated the north Africans with one match still to play.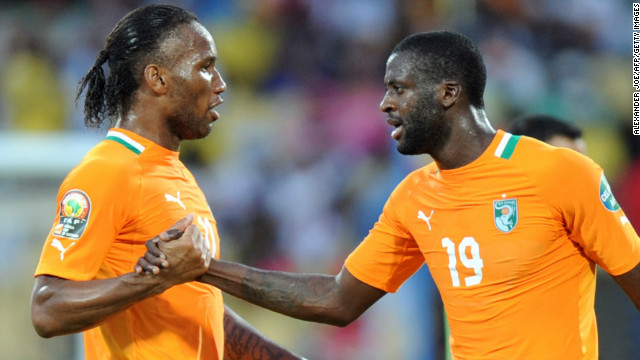 Drogba dropped by Ivory Coast
It is little surprise that Barcelona's players are already beginning to voice their admiration of the midfielder in a similar way they did during the pursuit of Cesc Fabregas.
For now Wilshere remains at Arsenal and fully focused on the task in hand.
"In the second half, we stepped it up and it's unfortunate we didn't do that in the first half," Wilshere told ITV.
"I'm not sure why. Maybe it's a bit of nerves or anxiety, because we show what we can do when we play. We will look at it and try to put it right."
But while Wenger ponders a redesign, Bayern will surely only grow stronger.
For next season they will have their own artist and in Pep Guardiola, the former Barceloan coach, it will have a man who has produced one of the great works of modern football.
Read: Malaga handed ban for financial irregularities
In the night's other game, Joao Moutinho's second half strike was enough to give Porto a 1-0 win over Malaga.
In a tight and cagey contest, Moutinho popped up six minutes after the break to take Alex Sandro's pass in his stride and fire home past Willy Caballero.
But Malaga coach Manuel Pellegrini is adamant his side can still prevail when the two teams meet again in three weeks time.
"Whether it is a good result or not we will see at the end of 180 minutes," Pellegrini told Spanish TV station TVE.
"To lose is never good, but losing by just the one goal is the best thing we can take from the game.
"For all the possession Porto had they didn't create many clear cut chances and even the goal itself is offside.
"You have to give credit to Porto for the way they pressed us all over the pitch, but we have to apply the same pressure in Malaga.
"We can still turn the tie around at La Rosaleda. We have demonstrated this year that we can compete with anyone."