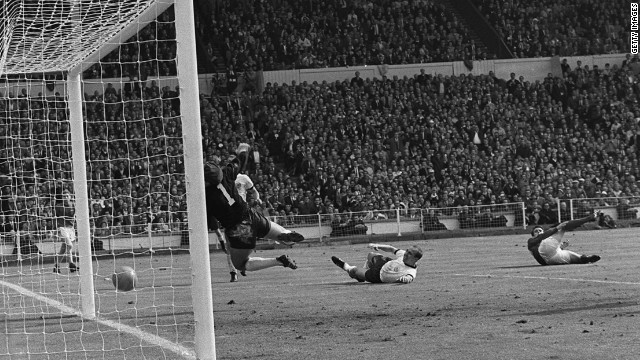 Deciding whether or not a shot has crossed the line has long been an issue in football. Arguably the most famous incident was in the 1966 World Cup final, when England's Geoff Hurst saw his shot in extra-time bounce down off the underside of the West Germany crossbar. A goal was awarded, giving England a 3-2 lead, with the hosts going on to win the match 4-2.
Hurst's goal was awarded after referee Gottfried Dienst consulted Azerbaijan linesman Tofik Bakhramov who judged the ball had bounced beyond the line. Azerbaijan's national stadium is named after folk hero Bakhramov, who even had a statue modelled in his honour.
England have been at the center of some of the most famous goal-line controversies. At the 2010 World Cup, England and Germany met again in the round of 16. With Germany leading 2-1, England's Frank Lampard hit a shot which struck the bar and landed well over the goal line, but no goal was awarded, and Germany won 4-1.
At the Euro 2012 tournament, England were involved in controversy for a third time. Co-hosts Ukraine needed to beat England to advance from the group stage, but fell behind to a Wayne Rooney header. Artim Milevskiy thought his shot had crossed the line before John Terry was able to hook it clear, but once again no goal was given and Ukraine crashed out.
Two months earlier Terry had been involved in another goal-line incident, this time for club team Chelsea. In an FA Cup semifinal with Tottenham Hotspur, Chelsea's Juan Mata hit a shot which was inadvertently blocked by Terry, but a goal was given and Chelsea won 5-1.
Hawkeye ball-tracking technology was first used in tennis in 2006, with players able to challenge calls by umpires and line judges. Each player is allowed three challenges in each set, but they do not lose a challenge if it the technology shows the umpire or line judge made the wrong call.
Other sports have embraced video technology. Cricket uses the Decision Referral System (DRS) to rule on leg before wicket (lbw) calls. Hawkeye ball-tracking software is used to see whether a delivery was in line to strike the stumps before hitting the batsman's leg.
Both rugby codes -- league and union -- use a video referee to rule on whether a try should be awarded. The video referee was first introduced at the rugby league Super League World Nines tournament in 1996 and the "Television Match Official" is widely used in possible point-scoring situations.
A legacy of controversies
Azerbaijan folk hero
History repeated
Ukraine unlucky
A Mata of inches
Hawkeye
Decision Referral System (DRS)
Television Match Official (TMO)
STORY HIGHLIGHTS
FIFA confirms that goal-line technology will be used at the 2014 World Cup
Technology was successfully trialled at last year's Club World Cup in Japan
System will be in place for Confederations Cup in Brazil this June
FIFA has opened tender and is expecting multiple bids for rights
(CNN) -- Hanging just above the reception at Wembley Stadium is a long, white pole.
As tourists flock to the iconic "Home of Football" they gaze toward the slightly discolored and aging artifact.
In days gone past, some would rub it. Some would kiss it. Some would simply walk past while muttering "Nein" under their breath.
But to underestimate the contribution of this seemingly lifeless piece of apparatus would be criminal.
Read: World football enters technological era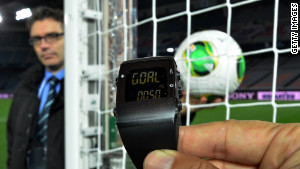 Goal line technology gets rave reviews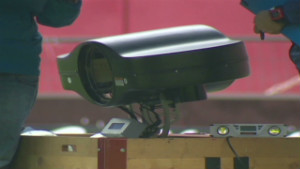 Goal-line technology approved by FIFA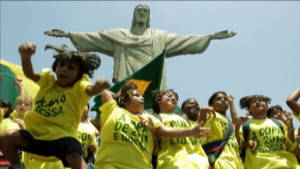 Brazil prepares for World Cup in 2014
Some 47 years since that pole played an integral role in deciding the 1966 World Cup final, FIFA, the game's governing body, has announced that goal-line technology will be used at the tournament in Brazil in 2014.
When tourists take the grand tour of Wembley, they begin at the "Crossbar reception" where they will find that iconic feature still hanging to this day.
It was on July 30, 1966 that Geoff Hurst appeared to fire England into a 3-2 lead on the way to victory over West Germany.
Hurst's effort, which hit the crossbar and bounced down "over" the line, was awarded by referee Gottfried Dienst and Soviet linesman Tofik Bakhramov amid heavy protestations
England eventually went on to win the contest 4-2, lifting the Jules Rimet trophy for the first and only time.
Yet, even now, following years of fierce debate and the introduction of technology, nobody has definitively proved whether the correct decision was made that day.
Read: Will FIFA regret opening technology can of worms?
Fast forward to the 2010 World Cup and it was England which once again furthered the case for the introduction of technology.
Frank Lampard's strike, ironically against Germany, was not awarded by Uruguayan referee Jorge Larrionda, despite the ball quite clearly landing over the goal line.
To the entire watching world, it was a goal. But not the one man who mattered.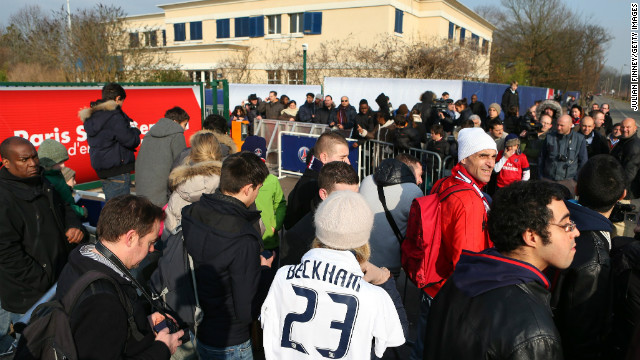 Hundreds of fans and journalists flocked to the Paris Saint-Germain training ground Wednesday to get a glimpse of David Beckham in action on the practice field. The interest in Beckham's move to the French club has caused huge excitement with the anticipation building ahead of the midfielder's possible debut on Sunday.
David Beckham took part in his first training session with his new Paris Saint-Germain teammates less than 24 hours after watching them claim a 2-1 win at Valencia in the last-16 round of the Champions League. on Tuesday.
Beckham, 37, was put through is paces at the club's open training day where more than 100 journalists turned up to witness the event. The former Manchester United and Real Madrid star is hoping to make his debut against Sochaux on Sunday, but it's not known if his pop star wife Victoria will be in attendance. Beckham's family has remained in London where his children Brooklyn, Romeo and Cruz attend school following their move from Los Angeles.
Beckham, who won 115 caps for England, has signed a five-month deal with the Qatari-backed club, but has revealed that his salary will be donated to a Paris children's charity. He will now hope to force his way into the side and link up with the likes of Zlatan Ibrahimovic, Lucas Moura and Ezequiel Lavezzi with the team six points clear at the top of Ligue 1.
Beckham waves to the waiting press pack as he makes his way out at the club's Camp des Loges training center in Saint-Germain-en-Laye, near Paris. The session, which was led by PSG's Italian coach Carlo Ancelotti, was shown live on French television.
Beckham shows off his new pink boots, a pair of which even Posh Spice might approve of. While Beckham is busy preparing for his debut, fashion designer Victoria was having her latest designs shown off by models in London.
After working up a sweat, Beckham throws off his top and gets back to work with the players who didn't feature in Tuesday's win at Valencia. If Beckham doesn't play against Sochaux on Sunday, he could line-up the following week against fierce rival Marseille and fellow Englishman Joey Barton.
Beckham takes to the sand as he steps up his training regime. Running on sand has several long-term benefits which includes strengthening the lower body muscles, burning more calories and is supposed to be easier on the joints as opposed to grass.
Beckham watched PSG's win at Valencia alongside the club's sporting director Leonardo. The pair looked on as their side edged out Valencia 2-1 in the first leg thanks to goals from Ezequiel Lavezzi and Javier Pastore, before Zlatan Ibrahimovic was sent off late on. The Swede will miss the second leg in the French capital on March 6.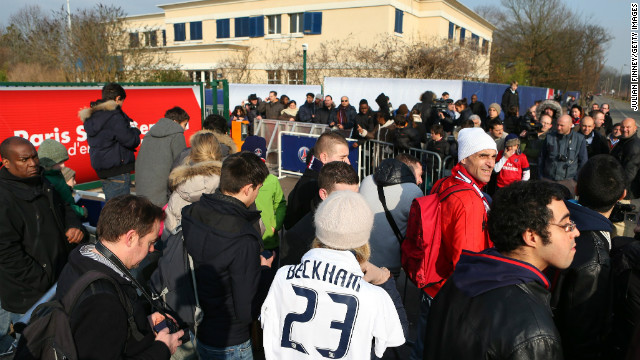 'Box Office' Beckham thrills French audience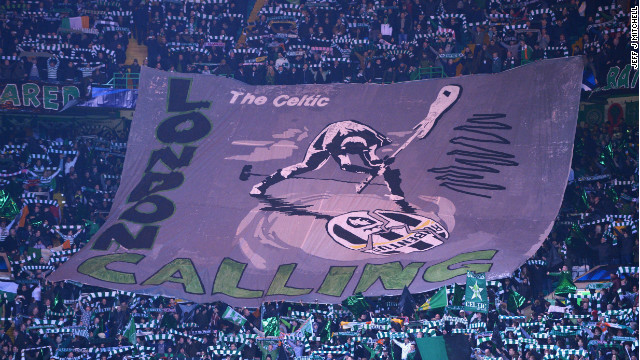 Celtic had suffered just two home defeats in 23 Champions League games before welcoming Juventus to Parkhead. The Scottish champion saw off the might of Barcelona in the Group Stage with the famous Celtic atmosphere a huge factor in the team's success.
Alessandro Matri gave Juventus the perfect start by firing the Italian side ahead after just three minutes. Matri's effort was adjudged to have crossed the line before Claudio Marchisio smashed the ball into the back of the net.
Juventus stun Celtic Park thanks to Matri's early strike and temporarily silence one of the most partisan crowds in European football. The goal came following a dreadful defensive error from Efe Ambrose, who helped Nigerian win the Africa Cup of Nations just last Sunday.
Celtic captain Scott Brown rages at Juventus playmaker Andrea Pirlo during the high octane clash. Pirlo, who played a starring role in Italy's run to the World Cup Final last year, was outstanding once again at the heart of the Juventus midfield.
Celtic striker Gary Hooper had scored 22 goals in 34 appearances before taking on Juventus Tuesday, but the in-form forward couldn't find a way past a deteremined Italian defense.
Claudio Marchisio celebrates after firing Juventus into a 2-0 lead with 13 minutes remaining. After enduring a barrage of Celtic pressure, Marchisio rounded off an incisive move to inflict further damage upon the home side.
Mirko Vucinic rubbed salt into Celtic wounds by firing home his side's third and final goal in the 83rd minute following another defensive mistake by Efe Ambrose. The tie is all but over going into the second leg in Turin on March 6.
David Beckham was in attendance to watch his new club Paris Saint-Germain take on Valencia in the last-16 of the European Champions League. Beckham recently signed a five-month deal to play in the French capital and hopes to make his debut in the next couple of weeks.
Ezequiel Lavezzi celebrates his early strike for Paris Saint-Germain with teammate Zlatan Ibrahimovic. The Argentine struck in the 10th minute and has now scored in each of his past three Champions League games.
Javier Pastore doubled PSG's lead with just two minutes of the first half remaining after a flowing move scythed through the Valencia defense. The talented Argentine playmaker was just one of a number of stars on show for the French club along with Ibrahimovic, Lucas Moura and Lavezzi.
Ibrahimovic was shown a straight red card following a controversial studs-up challenge on Andres Guardado. It was the Swede's third red of his Champions League career, only Edgar Davids, four, has more. It means that the striker will miss the second leg in Paris.
Valencia's Adil Rami pulled a goal back in the final minute to give his side a lifeline going into the second leg in France. The La Liga side had won all eight of its Champions League home against French opposition before Tuesday's defeat.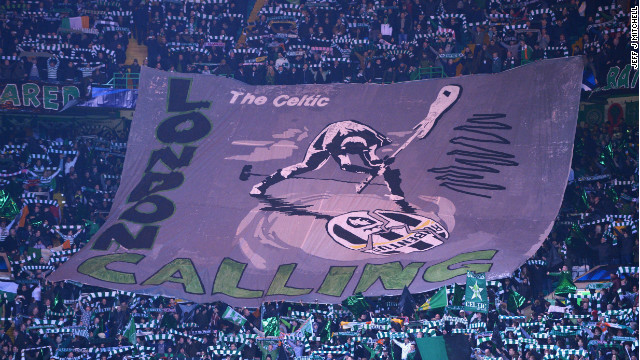 Champions League: It's back!
The incident, which occurred under the watching gaze of FIFA president Sepp Blatter, convinced the Swiss administrator that technology should be introduced sooner rather than later.
Goal-line technology (GLT) was successfully trialled at last year's Club World Cup in Japan and will be used at the Confederations Cup in Brazil this June ahead of the 2014 World Cup in the same country, FIFA said Tuesday.
"The aim is to use GLT in order to support the match officials and to install a system in all stadia, pending the successful installation, and pre-match referee tests," it said in a statement.
"With different technologies on the market, FIFA has launched a tender today, setting out the technical requirements for the two forthcoming competitions in Brazil."
Goal-line technology approved in soccer
The news will be widely greeted, and with some relief, following a whole host of incidents in recent years.
At the 2012 European Championship finals, Ukraine was denied a goal against England when Marko Devic's shot crossed the English goal line but was not given.
There have been several other instances, from Pedro Mendes' "goal" for Tottenham at Manchester United in 2005 through to Clint Hill's header for Queens Park Rangers in another English Premier League match at Bolton last year which was not given, despite replays showing it had quite clearly gone over the line.
Two rival systems have been given licenses by FIFA: Hawk-Eye, which is similar to the system used at the Wimbledon tennis tournament; and GoalRef from Germany. FIFA expects others to enter the bidding, which is open until mid-March, with a final decision to be made in April.
Read: Goal-line technology enters final testing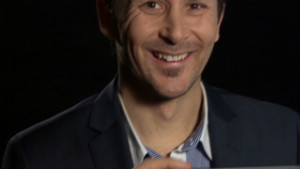 Mendieta: Barca, Real out in front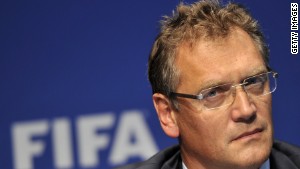 Jerome Valcke: Match-fixing a 'disease'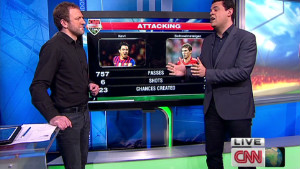 Football tactics: Xavi vs. Schweinsteiger
Hawk-Eye uses "triangulation" to pinpoint the exact location of the football. If it crosses the goal line, then an encrypted radio signal is sent to the referee's wristwatch to indicate a goal has been scored.
In line with FIFA's requirements, the whole process takes less than a second to complete.
GoalRef uses a microchip implanted in the ball and low magnetic waves around the goal. The system detects any change in the magnetic field on or behind the goal line to determine if a goal has been scored and alerts the ref.
Michel Platini, head of European football's ruling body UEFA, remains a staunch opponent of the use of such technology.
A football purist, Platini has maintained his position, despite incidents such as Ukraine's "goal" at Euro 2012.
Read: Goal-line technology to be tested during England friendly
UEFA does not use goal-line technology in its Champions League and Europa League competitions.
Instead, it persists with the use of extra officials behind the goal to inform the referee's decisions.
Speaking to the media last June, Platini said: "The goal between England and Ukraine: it was a goal. It was a mistake from the referee. But there was an offside before then.
"If the officials had given offside there wouldn't have been a goal. So why don't we have technology for offside decisions as well? Where does it stop? It's not goal-line technology in itself.
"I am against technology coming into force to actually make decisions. It invades every single area. If tomorrow someone handballs it on the line and the referee doesn't see it, what then?
"We can't just have goal-line technology. We also need sensors to see if someone has handballed it.
"We need cameras to see if it should be a goal or not."