Greek man charged in theft of Salvador Dali painting
February 21, 2013 -- Updated 2057 GMT (0457 HKT)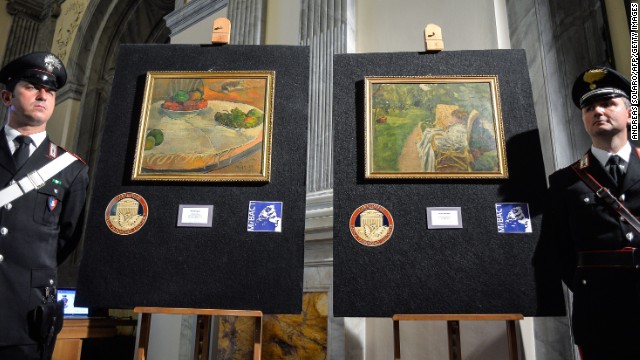 Italy's Culture Ministry unveils two paintings by the French artists Paul Gauguin and Pierre Bonnard on Tuesday, April 2. The paintings,
worth millions of euros
, were stolen from a family house in London in 1970, abandoned on a train and then later sold at a lost-property auction, where a factory worker paid 45,000 Italian lire for them -- roughly equivalent to 22 euros ($30).
A Renoir painting
finished in the 1800s, loaned to a museum, reported stolen in 1951 and then bought at a flea market in 2010 has to be returned to the museum, a judge ruled January 10. The 5½-by-9-inch painting, titled "Landscape on the Banks of the Seine," was bought for $7 at a flea market by a Virginia woman. The estimated value is between $75,000 and $100,000.
Seven famous paintings were stolen from the Kunsthal Museum in Rotterdam, Netherlands, in 2012, including Claude Monet's "Charing Cross Bridge, London." The paintings, in oil and watercolor, include Pablo Picasso's "Harlequin Head," Henri Matisse's "Reading Girl in White and Yellow," Lucian Freud's "Woman with Eyes Closed" and Claude Monet's "Waterloo Bridge," seen here. Works by Gauguin and Meyer de Haan were also taken.
a Greek national was indicted
on a grand larceny charge in 2013.
Eight months after Salvador Dali's "Cartel de Don Juan Tenorio" was stolen in a New York gallery,
In 1473, Hans Memling's "The Last Judgment" was stolen by pirates and became the first documented art theft.
Adam Worth, the inspiration for Sir Arthur Conan Doyle's diabolical character Moriarty, stole "Georgiana, Duchess of Devonshire," painted by Thomas Gainsborough in 1876.
In 1911, Leonardo Da Vinci's "Mona Lisa" was stolen from the Louvre by an Italian who had been a handyman for the museum.
Among their many crimes, the Nazis plundered precious artworks as they gained power during World War II. "Adele Bloch-Bauer I," by Austrian artist Gustav Klimt, was confiscated from the owner when he fled from Austria.
Many works of art that were taken by the Nazis were never recovered. Others were returned after years of legal battles. "Christ Carrying the Cross," by Italian artist Girolamo de' Romani, was returned to his family in 2012.
"The Scream" was one of two Edvard Munch paintings that were stolen from the Munch Museum in Oslo, Norway, in 2004.
In 2007, Pablo Picasso's oil painting ''Portrait of Suzanne Bloch" was taken from the Sao Paulo Museum of Art. It was recovered two years later.
Notorious art heists
Notorious art heists
Notorious art heists
Notorious art heists
Notorious art heists
Notorious art heists
Notorious art heists
Notorious art heists
Notorious art heists
Notorious art heists
Notorious art heists
STORY HIGHLIGHTS
A Greek national is charged with grand larceny in the theft from a Manhattan gallery
Man took "Cartel de Don Juan Tenorio" off the wall, put it in a bag and left, prosecutor says
The painting, valued at $150,000 was anonymously returned by mail, officials say
New York (CNN) -- Exactly eight months after the "brazen" theft of a Salvador Dali painting from a Manhattan art gallery, a Greek national was indicted Tuesday on a grand larceny charge, according to the New York County District Attorney's Office.
Phivos Istavrioglou, 29, is accused of stealing the 1949 Dali watercolor "Cartel de Don Juan Tenorio" on June 19 from the Venus Over Manhattan gallery.
Istavrioglou is charged with one count of second-degree grand larceny and is scheduled to appear in court next Tuesday. He is being held on $100,000 bail, according to David Cohen, Istavrioglou's attorney.
Istavrioglou was detained by Homeland Security agents on Saturday and arrested by the New York police after flying from Milan, Italy, to New York's Kennedy International Airport, according to a district attorney's office media release.
An undercover detective posing as an art gallery business manager had invited Istavrioglou to New York, proposing to hire the defendant as an art gallery consultant, according to the district attorney's office.
In June, Istavrioglou allegedly posed as a potential gallery customer, lifted the painting off a wall, placed it in a shopping bag and left the gallery, according to the district attorney's office statement.
Surveillance video showed a suspect walking out of the gallery with a shopping bag, the district attorney's office statement said.
"Today's indictment brings us one step closer to bringing an international art caper to a close," New York County District Attorney Cy Vance said in the statement.
The painting was sent back to the United States anonymously and was recovered at Kennedy International Airport customs on June 28. It was intercepted in a cardboard shipping tube en route to the same gallery. The painting was then returned to the gallery. The painting is valued at approximately $150,000.
Cohen says his client is not facing mandatory jail time and that he plans on challenging his client's high bail.