STORY HIGHLIGHTS
NEW: "She has a winning smile and easy charm," royal commentator says of Catherine
NEW: Duchess says it would be "unnatural" if she was not nervous about having a child
Author Hilary Mantel describes Catherine as "precision-made, machine-made"
UK newspapers criticize Mantel's comments as cheap and venomous
London (CNN) -- An award-winning author has whipped up controversy by describing Catherine, the Duchess of Cambridge, as a "machine-made" doll with a "plastic smile" who lacks the personality and human frailty shown by Princess Diana.
Hilary Mantel, who has twice won the Man Booker Prize for her historical novels set in Tudor times, made the comments in a talk for the London Review of Books titled "Royal Bodies," looking at how royal lives play out under the public gaze.
READ: Hilary Mantel becomes first woman to win literary prize twice
The furor over her comments came as Catherine carried out her first official engagement since she announced her pregnancy, with a visit to an addiction treatment clinic in London.
While there, she told reporters it would be "unnatural" if she was not nervous about having a child.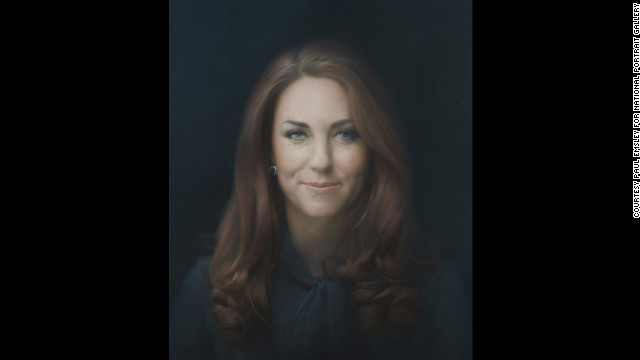 Paul Emsley's "The Duchess of Cambridge" has been unveiled at the National Portrait Gallery in London. The painting is the first official portrait of Catherine, wife of Britain's Prince William, at the gallery. It joins centuries-worth of official paintings and photographs of the British royal family in the gallery's collection.
The unveiling of the Duchess of Cambridge's first official portrait at the National Portrait Gallery has attracted considerable attention.
Paul Emsley, an award-winning artist born in Glasgow, Scotland, painted the picture from a series of photos taken during two sittings in May and June 2012.
The duchess is said to have asked to be portrayed naturally, and Emsley said he had chosen to show her smiling, because "that is really who she is."
Catherine, who is expecting her first baby, is reported to be pleased with the finished work, telling Emsley at a private viewing that it is "amazing."
However, the reaction from art critics and the public has been more mixed, with many taking to Twitter to share their views that the portrait is unflattering.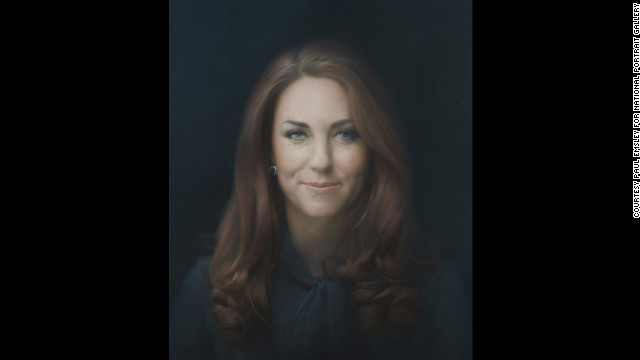 Duchess of Cambridge's portrait unveiled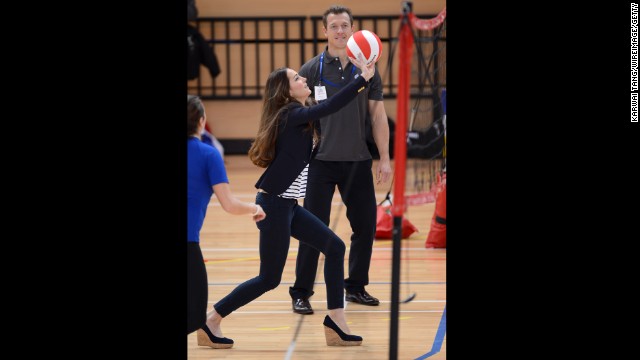 Catherine, Duchess of Cambridge, participates in a SportsAid Athlete Workshop in London on Friday, October 18. She showed up for the charity event in skinny jeans, a smart blazer and wedges. Click through to see more photos of her style through the years.
Catherine, Duchess of Cambridge attends the Tusk Trust Conservation Awards at The Royal Society on Thursday, September 12, in London.
Kate and Prince William start the Ring O'Fire Anglesey Costal Ultra Marathon In Holyhead, Wales, on Friday, August 30. It was Kate's first public appearance since the birth of Prince George.
Kate at the Ring O'Fire Anglesey Coastal Ultra Marathon on August 30.
Kate, has proved to be quite the fashionista since her relationship with Prince William catapulted her into the limelight.
Showing off her new 'do on November 27, she wore a green Mulberry dress to the opening of The Natural History Museum's Treasures Gallery in London.
Prince William and Catherine dress casually for a walk through the Danum Valley research center in Sabah, Malaysia, on September 15.
The duchess donned a white and gold gown by Alexander McQueen for a dinner hosted by Malaysia's head of state on September 13.
Wearing a white suit by Alexander McQueen, the Duchess of Cambridge arrived at Singapore's Gardens by the Bay on September 12.
She wore a Prabal Gurung dress while visiting the Istana in Singapore on September 11. "So xctd that I just stopped some strangers on the street n showed them the pic of Kate Middleton in our dres," Prabal Gurung tweeted that day.
Also on July 26, she and Prince William visited Bacon's College in London. The grey and white Hobbs dress she wore sold out quickly.
The Duchess of Cambridge stunned in a Jenny Packham gown at an event hosted by the British Olympic Association. The teal number, complete with a lace back, is just one of her many noteworthy looks.
Kate donned a belted emerald coat by Emilia Wickstead on St. Patrick's Day in Aldershot, England. She accessorized her ensemble with a gold shamrock brooch -- a royal heirloom, according to The Telegraph.
She ditched her usual heels and fascinator to play field hockey with Great Britain's women's team wearing tangerine-colored jeans.
Kate wore a printed Orla Kiely coatdress while visiting Rose Hill Primary School in Oxford. That day, Lucky magazine reported that the jacket had already sold out in stores and online.
Wearing a gray coatdress, the Duchess of Cambridge posed for pictures at the National Portrait Gallery in London.
Prince William kept his wife dry at the London premiere of "War Horse" on January 8, 2012. She wore a black lace Alice by Temperley gown and carried a black clutch.
Kate wore an Amanda Wakeley gown to a reception at London's Clarence House on October 26 2011.
Clad in Alexander McQueen, she arrived for BAFTA's Brits to Watch event in Los Angeles on July 9 2011.
Earlier that day, Kate attended the Foundation Polo Challenge wearing a knee-length, floral Jenny Packham dress.
Kate wore a green Diane Von Furstenberg frock in Los Angeles on July 8 2011.
That same day, she attended an event at the Beverly Hilton hotel wearing a knee-length Roksanda Ilincic dress.
On one of the first stops on Will and Kate's Canadian tour, the couple watched a rodeo demonstration in Calgary on July 7 2011.
Kate almost had a wardrobe malfunction when the pair arrived in Calgary that day. The skirt of her canary yellow Jenny Packham dress kept blowing up in the wind.
Kate kept it casual in Yellowknife, Canada, on July 6 2011.
Will and Kate, wearing a purple Issa dress, celebrate Canada Day in Ottawa.
Stepping out in another Jenny Packham gown, Kate attends a gala at London's Kensington Palace with William on June 9 2011.
Camilla, duchess of Cornwall, and Kate attend the Order of the Garter Service on June 13 2011. Kate wore a silver coat and fascinator.
Last but not least is Kate's stunning wedding dress. She wore the gown by Alexander McQueen designer Sarah Burton when she married William on April 29, 2011.
Kate, dressed in a red coat, and her then-fiancé visited the University of St. Andrews in Fife, Scotland, in February 2011. The couple met while studying at the university.
Will and Kate posed for photographs after announcing their engagement in November 2010.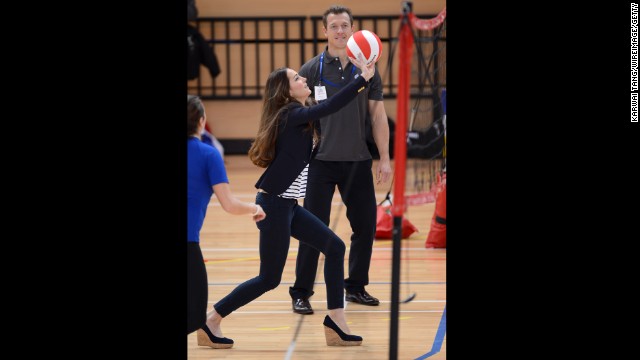 Photos: Kate's best looks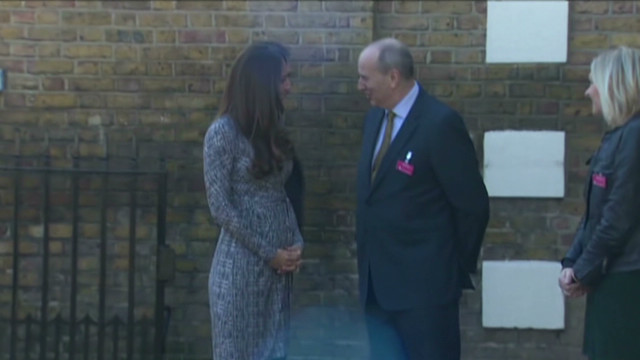 See the Duchess and her royal bump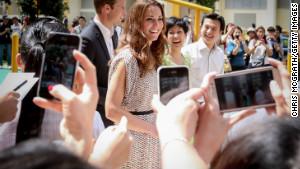 Duchess of Cambridge's fashion secrets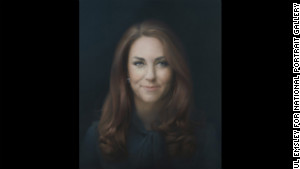 Critics slam Kate Middleton's portrait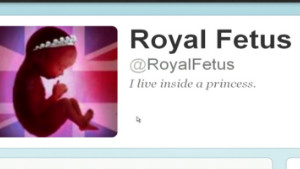 Royal pregnancy births new jokes
The duchess, who is patron of the charity that runs the clinic, Action on Addiction, was briefly hospitalized late last year with acute morning sickness. She and husband Prince William are expecting a baby in July.
In her lecture, Mantel described how Catherine's public image was first defined by her clothes, and then her pregnancy.
Before she became a mother-to-be, "I saw Kate becoming a jointed doll on which certain rags are hung," Mantel said, and "a shop-window mannequin, with no personality of her own, entirely defined by what she wore." Now, she will be portrayed as "her only point and purpose being to give birth."
READ: Duchess of Cambridge's fashion secrets revealed
The author also suggested the chief attribute brought by Catherine to her royal marriage was good manners, adding that the duchess "appeared to have been designed by a committee and built by craftsmen, with a perfect plastic smile and the spindles of her limbs hand-turned and gloss-varnished."
And Mantel contrasted that with the potential for disaster that Diana, the late Princess of Wales and mother to princes William and Harry, carried with her, saying Kate was "irreproachable: as painfully thin as anyone could wish, without quirks, without oddities, without the risk of the emergence of character."
Unlike Diana, "whose human awkwardness and emotional incontinence showed in her every gesture," Mantel said, Kate appears to be "precision-made, machine-made."
In the first official portrait of the duchess, unveiled by artist Paul Emsley in January, her "eyes are dead" and she wears a strained smile, the author added.
Mantel was also critical of the public and the media, which, she suggests, place royal women under unhealthy scrutiny, particularly when it comes to producing a royal heir.
Nonetheless, her words attracted fierce criticism Tuesday.
Royal commentator Robert Jobson dismissed Mantel's remarks as "a cheap publicity stunt" and questioned whether she had ever met Catherine or seen her at work.
"People who meet Kate warm to her," he told CNN. "She has a winning smile and easy charm. Yes, she has a long way to go, and is not the new Princess Diana as many in the media are hoping for.
"But I think she is slowly but surely carving out a role for herself."
In the Telegraph newspaper, women's editor Emma Barnett branded Mantel's comments "not only unfounded, but incredibly cheap."
Opinion: Author's rant on Catherine 'mean and cheap'
It is very early days for Kate as a royal, and her image is being carefully managed, Barnett said. "She has ample time to develop her public persona and become a fully-fledged role model if needs be," she said.
Nor does Catherine have the luxury of answering criticism, she added. "As a fully paid-up member of the royal family, she can only respond by doing the very same thing Mantel has criticized her for: staying quiet."
The Daily Mail also blasted Mantel's comments as "an astonishing and venomous attack."
Mantel's literary agent, Bill Hamilton, said Tuesday the author had no comment on the controversy over her lecture. "The article speaks for itself," he said.
Mantel last year became the first woman to twice win the Man Booker Prize, for her novel "Bring Up the Bodies." She previously won in 2009 with "Wolf Hall."
Her novels focus on the Tudors -- and in the lecture, she draws a parallel between the current fascination with Catherine's body and the public scrutiny under which the wives of Henry VIII sought to produce a male heir.
Last week, an Italian magazine provoked an uproar in the UK media when it published pictures of a bikini-clad Catherine on vacation, with her "baby bump" visible. Palace officials said they were disappointed by what they said was a clear breach of privacy.
READ: Magazine defends photos of pregnant, bikini-clad Duchess of Cambridge
"Long before Kate's big news was announced, the tabloids wanted to look inside her to see if she was pregnant," Mantel said.
"Cheerful curiosity can easily become cruelty. It can easily become fatal. We don't cut off the heads of royal ladies these days, but we do sacrifice them, and we did memorably drive one to destruction a scant generation ago."
The institution of monarchy may be irrational, Mantel added, but those outside don't have to forget their principles as they observe the "entertainment" the royals provide.
"I'm not asking for censorship. I'm not asking for pious humbug and smarmy reverence. I'm asking us to back off and not be brutes," she said.
Emily Bell, director of the Tow Center for Digital Journalism at the Columbia Journalism School, defended Mantel via Twitter, saying the furor exemplified the author's point about the media's role.
"The Middleton row is caused by the Mail turning Hilary Mantel's rather wonderful lecture into an example of exactly what Mantel warns of..." she said.
CNN's royal correspondent Max Foster and Peter Wilkinson contributed to this report.