Centrist party leader joins new Israeli coalition
February 20, 2013 -- Updated 0034 GMT (0834 HKT)
STORY HIGHLIGHTS
Tzipi Livni is a former justice minister
Her centrist party, Hatnua, is the first to join the future coalition
Livni will play a role in welcoming U.S. President Barack Obama to Israel
Jerusalem (CNN) -- A former foreign minister joined Prime Minister Benjamin Netanyahu's future governing coalition and has been tapped to lead peace talks with the Palestinians.
Tzipi Livni and her centrist Hatnua party will be part of a government headed by Likud-Beitenu, the political movement headed by the prime minister. Livni, a former opposition leader, foreign minister and justice minister, will again serve in the justice minister post.
Hatnua, which means "movement," is the first party to join a Netanyahu's coalition.
There has been a lot of political jockeying among a range of movements since last month's national elections. Among those are centrists, rightists, and ultra-Orthodox groups.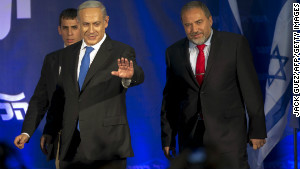 Netanyahu's mixed victory in Israel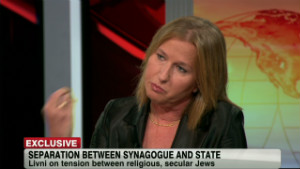 'Intl. community impotent on Syria'
Netanyahu, who was chosen to pick a government after his party won the most votes in the election, wants to build a broad coalition -- one that easily surpasses the 60-seat majority in the 120-member Knesset, Israel's parliament.
"The threats coming from Iran, Syria and the Hezbollah have not stopped for a moment and in order to give an answer to these threats we need to form a wide and stable government," Netanyahu said.
Livni, who campaigned on the importance of the peace process, thanked Netanyahu.
"The obligation to the diplomatic process and the confidence that has been bestowed on us led to this partnership, a partnership that came about after we had talks and I received the appropriate powers to be the negotiator of the State of Israel to get to the end of the conflict with the Palestinians on the basis of the two-state solution," she said.
Pundits are saying that Livni will play an important role in welcoming U.S. President Barack Obama in his upcoming visit to the region.
CNN's Mike Schwartz reported from Jerusalem. CNN's Joe Sterling reported from Atlanta

Part of complete coverage on
May 24, 2013 -- Updated 0122 GMT (0922 HKT)

"It's always the one we feared, the lone wolf that can come from nowhere and not be on our radar," said ex-London police chief John Yates.

Learn about one woman's tireless battle against sex slavery in the Philippines, with Manny Pacquiao in her corner. Watch the full version here.
May 23, 2013 -- Updated 1043 GMT (1843 HKT)

Ai Weiwei, the controversial Chinese artist-activist, has released a music single and video inspired by his harrowing detention by the government.
May 24, 2013 -- Updated 0209 GMT (1009 HKT)

CNN's Christiane Amanpour and Nic Robertson give their insight on the brutal murder of a man in broad daylight.
May 23, 2013 -- Updated 1415 GMT (2215 HKT)

Imagine if you could paint a working light switch directly onto your wall, without any need for sockets, cables or wiring. Well, now you can.
May 23, 2013 -- Updated 1445 GMT (2245 HKT)

A rare Apple 1 computer, with only 50 in existence today, could sell at auction for $400,000.
May 21, 2013 -- Updated 1714 GMT (0114 HKT)

Did you know that hurricanes can also produce tornadoes? Read facts you didn't know about destructive twisters.
May 23, 2013 -- Updated 1119 GMT (1919 HKT)

The World Economic Forum has declared Egypt one of the most dangerous places for tourists, above Yemen and Pakistan in terms of risks for visitors.
May 23, 2013 -- Updated 2107 GMT (0507 HKT)

Doctors used an experimental technique never tried before on humans to save the life of a six-week-old baby from a rare lung condition.

Five years after the 2008 Olympics construction boom, new Beijing hotels have steadily cropped up.

Today's five most popular stories