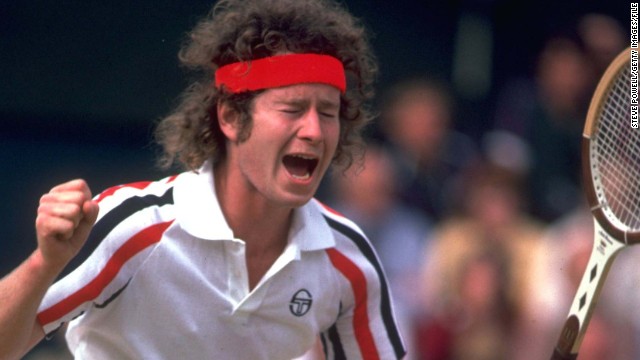 John McEnroe is known as much for his on-court outbursts as his classic rivalries with Bjorn Borg and Jimmy Connors. Here the American tennis legend answers quickfire questions from CNN's Open Court. Himself in three words? "Interested person overall."
"Wimbledon final in 1981 when I finally beat Bjorg." McEnroe defeated the Swede 4-6 7-6 7-6 6-4 to win at the home of tennis for the first of three times, his personal career highlight.
"I hear that about 10 times a day." McEnroe was notorious for arguing with umpires -- here haranguing an official during a semifinal win over Connors at Wimbledon. His famous catchphrase: "You cannot be serious!"
"American Pie." McEnroe is a keen musician, and is seen here performing with legendary guitarist Bo Diddley during the U.S. Open in 2005. As well as Don McLean's 1970s classic, he's also a big fan of the Black Keys and Foo Fighters.
"French Open 1984, just the last few games." McEnroe's biggest tournament regret is blowing a two-set lead against Ivan Lendl and losing 3-6 2-6 6-4 7-5 7-5 in his only final at Roland Garros.
"Derek Jeter (right) and Tom Brady," McEnroe says of his most admired current sports stars. "I think they're incredible team players. I'm an individual but for me to see how they make everyone around them better ... you don't hear anything about them off the field, it's impressive."
"My toughest opponent was a guy by the name of Pete Sampras." McEnroe's career briefly overlapped with that of the 14-time grand slam champion, but he lost all three of their matches. McEnroe was later his Davis Cup captain and they have renewed their rivalry on the legends circuit.
"Sean Penn. He played high school tennis and we seem to be cut from the same cloth." The actor, far left, is pictured with McEnroe, the tennis star's wife Patty Smyth (2nd left) and Donna Karan at a Haiti relief fundraiser in 2011.
"My hero was Rod Laver." The Australian twice completed the grand slam of winning Wimbledon and the French, Australian and U.S. Opens in the same year -- the only player, male or female, to do so.
"Its energy -- New York is an inspiring metropolis that continues to amaze me ... it's the greatest city in the world."
John McEnroe in his own words
Happiest moment on court?
'You cannot be serious!'
Favorite karaoke song?
What match would you play again?
Athlete you admire the most?
Toughest opponent?
Who'd play John McEnroe in a film?
Who was your biggest inspiration?
What does being a New Yorker mean to you?
STORY HIGHLIGHTS
American tennis legend John McEnroe talks to CNN about his controversial career
He says Serena Williams is the greatest female player of all time
The 54-year-old bemoans the United States' long wait for a male grand slam champion
He explains why golf has overtaken tennis in popularity
Editor's note: Open Court is CNN's monthly tennis show. Click here for screening times and follow on Twitter @cnnopencourt
(CNN) -- He's "Mac the Mouth" both on and off the court -- one of the most controversial and iconic players in tennis history, and he's still talking up a storm about the game he loves.
John McEnroe's gift of the gab has helped him make the transition from one of sport's fiercest competitors to sought-after television analyst and commentator.
But the competitive fires are still burning -- the 54-year-old remains a popular figure on the legends circuit -- and the winner of 17 grand slam singles and doubles titles did not hold back in a trademark "million words a minute" interview with CNN's Open Court.
"You cannot be serious!" Oh yes he is...
On the United States' long wait for another grand slam champion: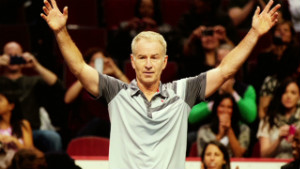 McEnroe: Still going strong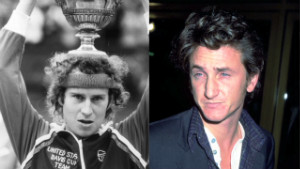 McEnroe: Sean Penn would play me in film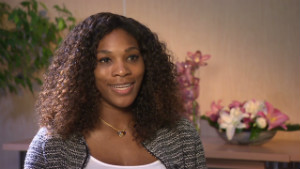 Serena Williams' rise to greatness
"Andy Roddick's now gone and we haven't won any slams in 10 years since Pete Sampras quit other than Roddick's one, so obviously there's some concern here. There's a lot of work to do and I think people remember the old days a bit.
Read: McEnroe mission - Meeting a tennis legend
"It was a great time for me and it was sort of a golden era for American tennis -- Jimmy Connors and myself and then Pete Sampras, Andre Agassi, Jim Courier trying to run this tour -- so there's something that's missing and hopefully we can fill that niche and maybe inspire some younger kids as well."
On why Serena Williams is the best female player of all time:
"I've seen them all. What Billie Jean King has done for the game and the way she played was more like how I played, and Martina Navratilova, Chris Evert won a billion tournaments, Steffi Graf ... but to me overall, when Serena's on, she's the best I've ever seen play, the whole package as far as what she can bring to the table.
"Hopefully for us, we're wondering where the next American guy is -- the next American woman, we're still looking pretty sharp. Hopefully this will inspire some other people to get out there before she quits."
On why Serena has it harder than most:
"Serena's way better than I am (in terms of keeping her temper). There's no comparison. I think she's held herself and she's needed to -- obviously being a woman and, second, being looked at closer because she's black, so I think she's got a couple strikes against her before she even starts.
"Compared to the overall package that I think she's gone through and what she's experienced, I think she should be cut some slack. It doesn't excuse the time she got foot-faulted (at the 2009 U.S. Open), I think she would tell you she deserved to get faulted, but for the most part I think she's done an extremely good job. I mean, certainly compared to me (laughs)."
On playing with fellow tennis legends Agassi, Sampras, Connors, Courier, Michael Chang, Mats Wilander and Pat Rafter on the Power Shares circuit: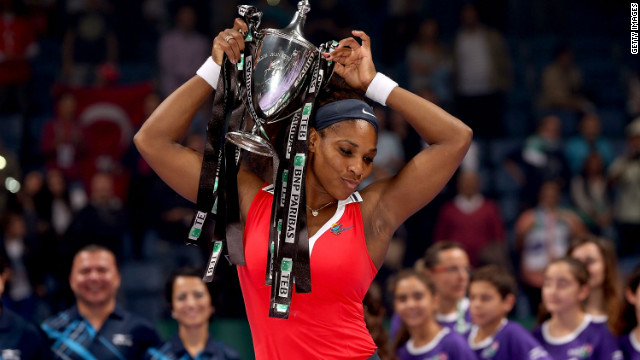 Serena Williams ended a dominant second half of 2012 by winning the season-ending WTA Championships in Istanbul. It marked the end of a dramatic change in fortunes for the 31-year-old.
After nearly a year out with a foot injury and a life-threatening blood clot on her lung, Serena returned to the Tour in June 2011, at Eastbourne. Things didn't go exactly to plan upon her return.
After a disappointing start to 2012, the nadir of Serena's season came with a first round French Open exit at the hands of world No. 111 Virginie Razzano. She told CNN she didn't leave her house for two days after her surprise defeat.
But Serena stormed back to form at Wimbledon where she secured her fifth singles title at the All England Club and 15th grand slam crown. She overcame a mini meltdown after losing the second set in the final when she thought to herself: "I'm never going to win another grand slam."
Serena's London experience got even better a few hours after her singles win as she and Venus took the ladies doubles crown -- their fifth Wimbledon doubles title.
It is Serena's power and predatory nature on court that can help to give her the edge over her opponents. Outwardly she projects an image of steel but she admits she does get nervous and apprehensive. "I'm a good actress," she says.
Serena didn't look back after her doubles triumph at Wimbledon, taking the singles gold at the Olympics back on the famous Centre Court.
Unsurprisingly, Serena and Venus went on to claim gold in the doubles too. They confirmed to CNN they will defend their title at the Olympics in Rio in 2016.
Serena went on to win the final grand slam of the season at the U.S. Open, beating world No. 1 Victoria Azarenka in the final at Flushing Meadows. It underlined what supreme form she was in.
As soon as the tennis season finished Serena and Venus visited Africa, to promote an initiative that recognizes women of all ages who have broken the mould in their respective fields.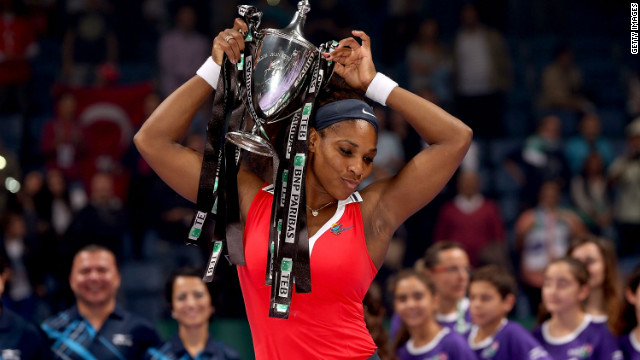 French farce to golden glory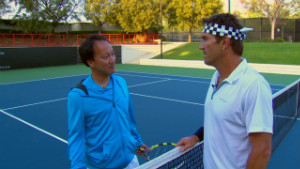 Michael Chang's historic French victory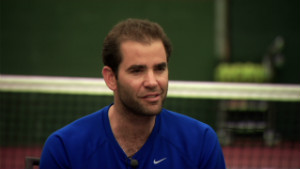 On court with Pete Sampras
"It's an opportunity for us to show that we still got it a little. Most sports you don't have this chance. Most guys are too beat up physically -- you see what's happened in American Football, it's sad in a way, so we have it lucky.
Read: Champions chat - Sampras talks tennis
"There's a lot of physical wear and tear but if you keep it short like we try to do here -- short and sweet, we're not playing best of five sets, we're not even playing best of three sets, we're playing one set -- so it gives old guys like myself a chance."
On Tiger Woods and how golf has eclipsed tennis in U.S. popularity:
"I think tennis was bad for tennis more than he (Woods) was bad for tennis. Clearly there are a lot of elder statesman that it's a lot easier for them to go on a golf course than the tennis court. I happened to be one of those guys who doesn't play much golf.
"I know it's an extremely difficult game but in terms of keeping your health and in terms of what tennis has got to offer, I think it's a great sport, so I'm perplexed by the people who make that decision.
Read: Chang's 'underhand' tactics
"Back in my day in the early to mid-'80s, that's when they feel I nipped with (Arnold) Palmer and (Gary) Player who were incredible champions -- we were getting double the ratings of golf. If you would have told me then that golf would out-rate tennis, I would have laughed at you.
"Now they look at me like I'm crazy, like remember when tennis did better in the ratings than golf. But there's some marketing things we don't do, we're not reaching out to the fan the way golf or a lot of other sports do, so we've got our work cut out for us -- but that doesn't mean it can't turn around."
On why he was destined to play tennis:
"When I was eight and a half, my parents moved to a part of Queens where there was a club nearby. We joined and if you believe in someone up above I think I was meant to play tennis.
"I was extremely well taught and there was a bit of magic hopefully in the hands, the feel of the racket -- those days the wood racket, that suited me, the strategy, the feel, the subtlety of the game.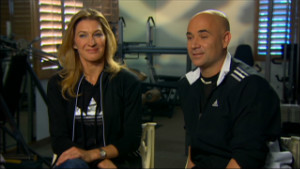 Agassi and Graf's Olympic moments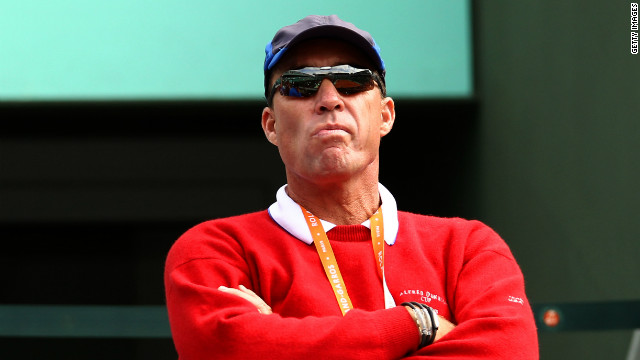 Ivan Lendl, twice Wimbledon runner-up and now Andy Murray's coach, believes serve and volley is a dying art in tennis.
Boris Becker, Wimbledon's youngest men's champion at the age of 17 in 1985, was renowned for his trademark diving volleys. The German was powerful in the serve and wonderfully athletic at the net.
Feisty New Yorker John McEnroe was not blessed with great serving power but his speed, aggression and razor-sharp reflexes enabled him to finish off many a rally with a perfectly executed volley.
Australian Ken Rosewall adopted serve and volley during his career as a way of shortening rallies and therefore boosting his longevity. It was no coincidence that he played in his last Wimbledon final at the age of 39.
Sweden's Stefan Edberg could not match the serve of his rival Becker, but his sublime volleying ability helped him to several notable wins over the German. He sometimes employed slower serves to afford himself more time to get to the net.
One of the most naturally gifted serve and volley players, Pat Rafter combined pinpoint placement with silky work at the net. The Australian twice fell short in the Wimbledon final but won two U.S. Opens in the late 1990s.
Australian legend Rod Laver, four times a Wimbledon champion during the 1960s, played serve and volley better than anyone in an era where the technique was more common.
Martina Navratilova was one of the few serve-volleyers in the women's game, and the style helped the Czech-American star win a record nine Wimbledon titles.
Big-serving Richard Krajicek's 1996 success is testament to Wimbledon's benefits for serve and volley players. The Dutchman's triumph at the All England Club was his solitary grand slam title.
Wimbledon's most successful male player, Pete Sampras, had a phenomenal all-round game, and the American's serve and volley expertise was one of his most potent weapons as he won seven titles and 14 grand slams overall.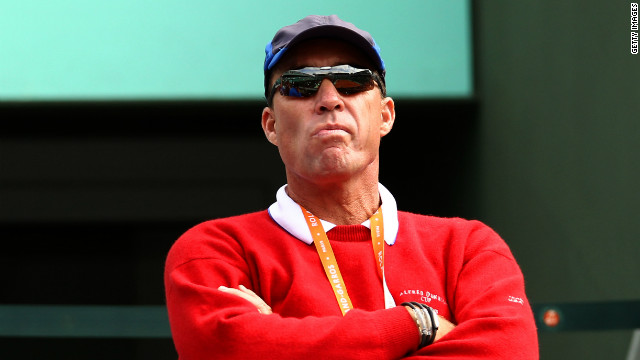 Wimbledon's great serve and volley players
"And then there's a bit of Jekyll and Hyde that comes out, maybe with the upbringing, maybe it's something inexplicable, maybe with the times, but it somehow came together."
On being the enfant terrible of tennis:
"People have personalities ... seems like umpires did terrible jobs when I came out, so to me it was normal, you're confronting people all the time, so I was surprised when I went to England and they thought I was Attila the Hun or something.
"I think despite what you may see here, I'm not as physically intimidating as a Rafael Nadal, so you have to try to get an edge in a different way. One person who I saw that did an unbelievable job at that was Connors.
"The guy wanted it more, he was hungry, he tried harder, and he had this intensity. He hated your guts before he stepped on the court so I had to try to get inside someone's head and get myself so worked up so they'd feel they were up against it.
"So the best way I knew how was to give 110% and want it more than them, and walk on the court and every moment of the match feel like it was the end of the world, in a sense. So that worked for me in a lot of ways. There were times that it hurt me but for the most part it helped me."
On being shy underneath the anger:
"Well it's a bit of an act now, but to me it wasn't an act then. I felt like it was something that just came out. Believe it or not I was a pretty shy youngster growing up. I guess the cat was out of the bag when they said, 'Hey there's umpires and you can question calls.'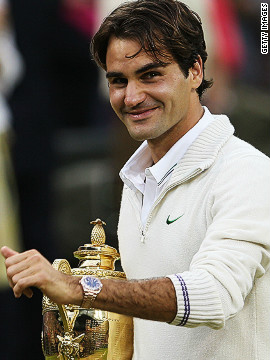 Roger Federer has surpassed Pete Sampras' record of 286 weeks at the top of the world rankings, after a two-year absence from the No. 1 spot. Federer will be hoping to cement his status as the best in the world with a gold medal at the Olympic Games in London later this month.
Sampras' record had looked to be safe, but Federer's Wimbledon win -- his first grand slam title since 2010 -- equaled the American's mark of seven crowns at the All England Club and ended Novak Djokovic's 12-month reign.
In this month's final, Federer defeated Britain's world No. 4 Andy Murray -- who is coached by Ivan Lendl. The Czech never won Wimbledon in his collection of eight grand slam titles, but spent the third-highest number of weeks at No. 1, achieving a total of 270.
Jimmy Connors is fourth on the list with 268 weeks. The American is the only male to have won more than 100 singles titles, while he has also reached more grand slam quarterfinals (41) than any other player. The eight-time major champion was also the first man to spend a total of five years in the No. 1 spot.
Perhaps more famous now for his commercial ubiquity, John McEnroe was one of the best players of his era. Renowned for his fiery temperament and on-court rivalries with the likes of Lendl, Connors and Sweden's Bjorn Borg, the American has spent the fifth longest amount of time in the top spot with 170 weeks.
By defending her Stanford title on Sunday, Serena Williams (left) equaled her older sister Venus' record of 43 WTA tournament victories, the most by any player still active on the Tour. Former world No. 1 Serena retained her ranking of fourth, achieved by winning her fifth Wimbledon title this month. She also won the doubles with Venus.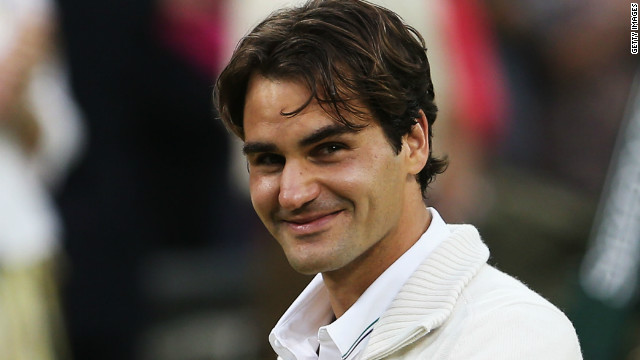 Federer: No. 1 of the No. 1s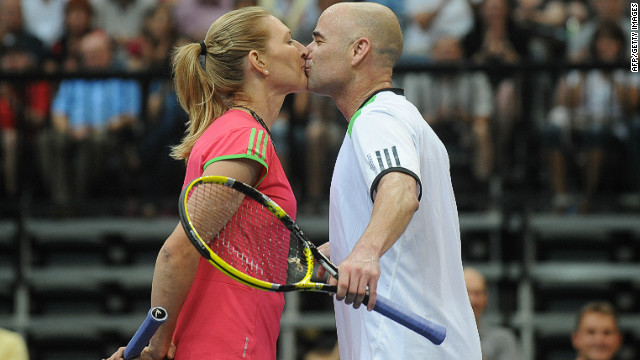 Tennis' ultimate poster couple are still going strong after 10 years of marriage since reportedly getting together at the champions' ball after both won the French Open in 1999. They have two children and still play the odd charity match, but rarely battle each other. As their website reveals: "Andre says his problem playing Steffi is not watching the ball."
Roger Federer met Mirka Vavrinec at the Sydney Olympics in 2000 when they both represented Switzerland. Mirka says her husband's glittering career has eased her pain after injury forced her retirement in 2002. Of his wife, Roger told the Telegraph newspaper: "I developed faster, grew faster with her. I owe her a lot."
She is the former world No. 1 waiting to land her first major title -- he's the baby-faced golfer whose capitulation at the 2011 Masters, and subsequent victory at the U.S. Open, entranced the sport. Together since September last year, Denmark's Wozniacki and McIlroy, from Northern Ireland, go by the moniker of "Wozilroy" and say they lean on each other's experiences to help their sporting performance.
World No. 8 Adam Scott's appearance at last month's Australian Open confirmed that another powerful golf and tennis combo are back on the scene. They split in 2010, but 2008 French Open champion Ivanovic told Australian newspaper the Herald Sun: "Sometimes you need time apart to figure things out."
Hewitt and Clijsters, both former world No. 1s, met at the Australian Open in 2000, reportedly after Kim's sister Elkie asked her to get Lleyton's autograph. They announced their engagement in 2003 but split in October 2004. Both decried the "malicious gossip" that followed their separation.
Chris Evert's romance with Jimmy Connors was one that captivated the sporting world after they both won Wimbledon singles titles in 1974, but a planned wedding in November that year was called off. Tennis writer Peter Bodo famously said of the couple: "It was a match made in heaven, not on Earth, which is probably why it didn't last."
The courtship of former world No. 8 Kournikova and pop star Iglesias was the very definition of a high-profile romance when they started dating in 2001. The Russian appeared in the video for Iglesias' song "Escape," causing a media frenzy. They are still together, 10 years on.
British pop star Cliff Richard revealed in his 2008 autobiography "My Life, My Way" that he nearly asked 1976 French Open winner Sue Barker -- now a TV presenter -- to marry him in 1982. The couple's relationship attracted much press attention. "I seriously contemplated asking Sue to marry me," he wrote. "But in the end I realized that I didn't love her quite enough to commit the rest of my life to her."
They grew up in the same town and were instantly dubbed the "Czech mates" when they started dating in 2003. But they split in 2011, with Czech model Ester Satorova seen watching world No. 7 Berdych at November's season-ending ATP World Tour Finals in London.
After her split with Connors in 1974, 18-time grand slam winner Evert married British tennis pro John Lloyd in 1979, the same year he reached the Australian Open final. Evert's alleged affair with late British pop star Adam Faith threatened to derail their marriage. They reconciled, but then divorced in 1987.
Former women's No. 1 Hingis became engaged to Stepanek in 2006 but a year later the couple announced through the ATP Tour they had split. Hingis, who won five grand slam titles, retired in 2007 after testing positive for cocaine during Wimbledon. Stepanek married fellow Czech Nicole Vaidisova in July 2010.
A third entry to the list for Evert, whose romance and susbsequent marriage to Australian golfer Greg Norman -- known as the "The Great White Shark" -- captured headlines in 1998. Evert even caddied for the two-time British Open winner at the Masters during a par-three tournament. The couple split 15 months after their wedding.
Former world No. 1 Andy Roddick famously began dating Brooklyn Decker in 2007 after asking his agent to track down a phone number for the Sports Illustrated model. They were married in 2009 at a ceremony that included Agassi and Graf as guests.
The romance between Russian tennis ace Sharapova and Slovenian basketballer Vujacic blossomed in 2009 before their engagement was announced in October the following year. The former L.A. Lakers star can often be seen courtside, cheering the three-time grand slam winner on at major tournaments. He now plys his trade in Turkey.
Before Agassi teamed up with Graf, he married actress Brooke Shields in 1997 after a four-year courtship. Agassi, winner of three grand slam titles by then, and Shields, star of TV sitcom "Suddenly Susan," were a box office hit but split after less than two years of marriage in 1999.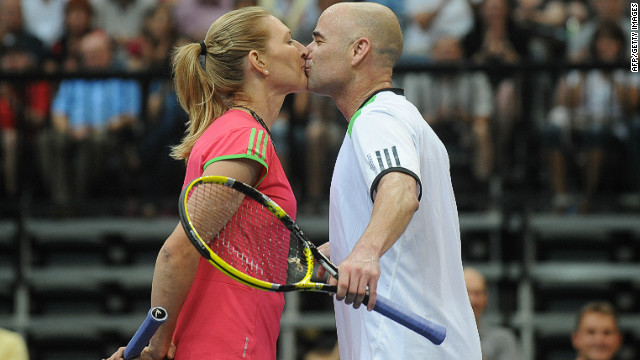 15-love: Top tennis romances
"In juniors, we don't have that. There are no umpires so it was a big change and all of the sudden it was a different situation. I saw guys I learned a lot from, like Connors and (Ilie) Nastase, I mean people were starting to rebel against the typical tennis players who were very polite and were wearing the long pants and who would act a certain way, and we wanted to be considered the way athletes in other sports were.
"On an American Football field or a soccer field, they're not saying 'Hello, how are you out there?' "
On why tennis needs strong rivalry:
"I didn't get along with most of the players I played against, but the one guy I did get along with was my greatest rival, so it can be done. Nadal and Roger Federer have great respect for each other. I think Novak Djokovic gets under those two guys' skin a little bit and maybe they don't want to admit it and I think that's in a way healthy.
"I think fans react to that more, if they sense there's something extra there other than two great tennis players. It's one thing if you live in London and you're rooting for Chelsea or you're in New York and you love the Giants or Jets and no matter who's on the team you're into it. It's different in tennis, you're sort of your own guy, so you have to reach out and grab a person in a different way."
On being a YouTube star:
"I've gotten a second wind with the kids. They're like, 'Man you were crazy,' but I don't think it compares to some of the crazy things going on now in the sports world -- off the field even more so than on. I mean, I'm sort of vanilla in a way.
"Yeah, I was getting into it but no more so to me than some of the other sports. I think because it was tennis, it was different."
On his dream opponents: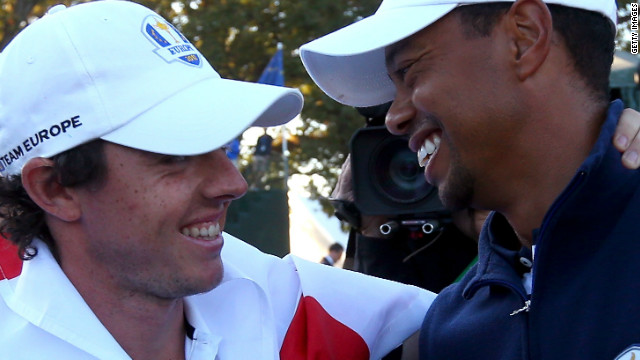 Tiger Woods, right, congratulates Rory McIlroy after Europe's remarkable victory over the U.S. on the final day of the 2012 Ryder Cup in September. The two are big rivals on the golf course, but a friendship has also blossomed this year.
Golf great Nick Faldo has questioned whether they should be so close. Sports psychologist Dan Abrahams says they would benefit from keeping a bit of distance. "In the heat of battle it becomes more difficult to emotionally detach yourself from that person's performance if you're good friends with that person," he told CNN.
McIlroy has admitted idolizing Woods as a boy, but has now usurped him as golf's No. 1. "Once they step on the first tee, those competitive juices are flowing and they're focused either on their own game or beating each other," Abrahams said.
They are following in golf's great tradition of rivalries -- most notably Jack Nicklaus, left, and Arnold Palmer. "The power of the mind and the capability of that mental discipline is what separates the good from the great," sports leadership expert Khoi Tu told CNN. "That might allow them to become friends with people off the course, but not on the course."
Formula One's greatest rivalry was between Alain Prost and Ayrton Senna. "They absolutely detested each other," Tu says. "They were two very different personalities, and often that's one of the features of great sporting rivalries: Fire and ice."
Fernando Alonso, left, has now twice been beaten to the F1 championship by Sebastian Vettel -- who is widely rumored to be his teammate at Ferrari come 2014. "When you get two No. 1 drivers together with no team rules, then the sparks can really fly," Tu says. "It's rare for them to be good mates. They may get along, they may trust and respect each other in a professional capacity, but hanging out is a different issue."
Former world champion Jackie Stewart, seen here playing with the children of F1 rival Graham Hill, was remarkably friendly with his peers, Tu says. "He was incredibly fond of a number of people who drove with him. That partly is because there was a clearer distinction of him being a number one and them being number two drivers."
A new rivalry has grown in tennis this year between U.S. Open and Olympic champion Andy Murray, left, and childhood friend Novak Djokovic, the world No. 1. "People say that Murray and Djokovic are close but I think it's rare," Tu says. "The best sporting rivalries are the ones where there are these very distinct, almost opposite personalities, but they're very close in terms of their competence."
Rafael Nadal, left, ended the tennis dominance of Roger Federer but they have publicly expressed their friendship despite reports of arguments about on-tour issues. "As people get older they've done so much, broken lots of records, I think that competitive edge is slightly dulled," Tu says. "That makes it easier to be friendlier. You can keep your dignity if you're not crying every time you lose to a younger, faster athlete."
Martina Navratilova, left, and Chris Evert had one of the biggest rivalries in women's tennis. "They ended up as good buddies, but that was when the battling had been done," Tu says. "All of the respect and friendship you get in sport comes through competence first -- ' I know how hard it is to be this good, so I respect them for that.' "
Fiery American John McEnroe, left, and ice-cool Swede Bjorn Borg created an iconic tennis rivalry. "When those two collided, at the height of tennis perfection, that's when the audience is really enthused and enthralled," Tu says. "To get that rivalry, they have to leave any friendship on the sidelines."
Sometimes you get two great athletes, but they are too close to be proper rivals -- such as tennis star Serena Williams, left, and her sister Venus. "The great things about sport is the sense of competition, the uncertainty of the outcome, the fairness of the playing field," Tu says. "You might be able to suspend enough of your fraternal or sisterly love to play a decent game of tennis but it won't reach the heights of the rivalries that make the sport."
Muhammad Ali, left, "demonized" Joe Frazier to hype up their fights despite being showed respect outside the ring by his rival. "He came up with the gorilla term to create a spectacle, which he knew was important, but it revved himself up too," Tu says. "He needed to have a real enemy. By the end of the (Manila) fight, he said that Frazier brought out the best of him."
Then there's modern football's greatest rivalry -- Lionel Messi and Cristiano Ronaldo. "I'm not sure Messi is a rival with anyone, he still has that unique joy of just playing," Tu says. "But I think with Ronaldo, the truth is Messi is his nemesis -- and the fact that Messi doesn't care makes it even worse."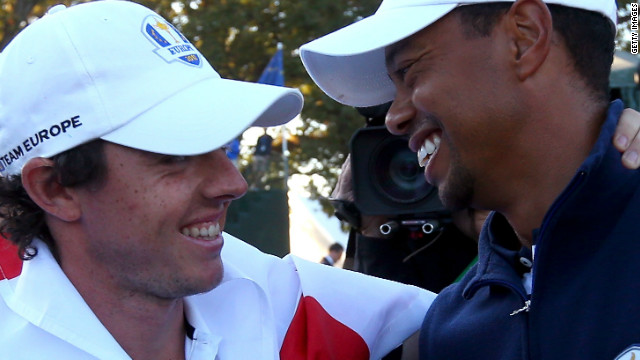 Great sporting rivalries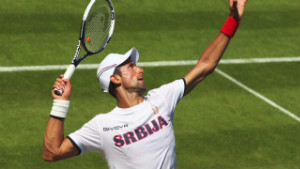 How Novak Djokovic stays on top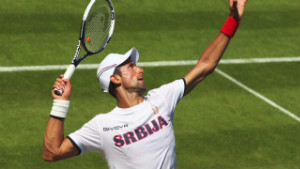 How Novak Djokovic stays on top
"I wouldn't have done well against Nadal on clay, that's for sure, but I always dreamed of playing Bjorn Borg on clay -- we never played at the French Open, probably for the best when I look back, and I bet Nadal would have been a similar nightmare.
"Sampras on grass would have been the ultimate test, and Federer -- I have to play him, Boris Becker was one of the greats, I played Boris, but on grass we never actually played at Wimbledon.
"And clearly Djokovic now because I played Connors and I said this guy's the greatest returner I've ever seen, and I played Agassi and said he's even better than Connors, and now I see Djokovic can sort of play offense and defense off the return, so he would be unbelievably tough as well.
"Out of the four guys (in today's rankings) Andy Murray probably plays close to the style I played. We actually did play very early in his career, some sort of big match in London with a big group of guys, winner take all sort of thing. The reason I brought it up is that I won -- Andy may have been seven at the time (laughs)."
On why New York will never lose the U.S. Open:
"I don't worry about that. I would be more worried about like the Australian Open if I was someone Down Under. They've done a good job trying to reach the level of the other three slams but you've got Paris, London, New York ... that's a pretty good start. Australia should be worried about China.
"You're talking to the wrong guy 'cause I live in New York, so New York is the greatest city in the world."