Cameron marks 1919 Amritsar massacre by British troops in India
February 20, 2013 -- Updated 1453 GMT (2253 HKT)
STORY HIGHLIGHTS
David Cameron visits a memorial to a 1919 massacre in the Indian city of Amritsar
Cameron: "We must never forget what happened here"
British prime minister stops short of a formal apology for the colonial-era massacre
Hundreds of people were killed when British troops opened fire on unarmed protesters
New Delhi (CNN) -- UK Prime Minister David Cameron visited the site of the infamous 1919 Amritsar massacre by British troops in India on Wednesday -- but those hoping he might apologize for the atrocity were disappointed.
Cameron, the first serving British prime minister to visit Amritsar, a Sikh holy city in the northwestern state of Punjab, laid a wreath at a memorial to the hundreds killed in the massacre.
Writing in a book of condolences at the Jallianwala Bagh memorial, he described the massacre as "a deeply shameful event in British history." He added, "We must never forget what happened here."
However, he did not give a formal apology for the atrocity, which occurred while India was part of the British Empire.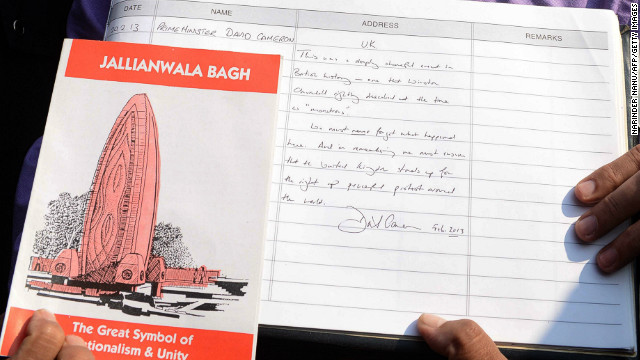 Cameron's remarks in the visitor book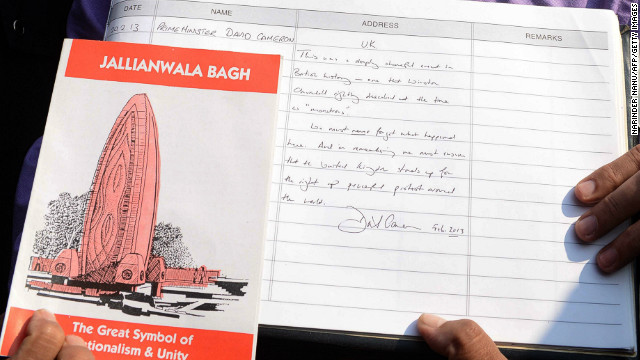 Cameron's remarks in the visitor book
A spokesman for Cameron said the British state had always described the massacre as monstrous, but that "we need to be careful about going around apologizing for things that happened 40 years before the prime minister was born."
Cameron's trip to India is focused on promoting closer trade and business links.
Queen Elizabeth II and her husband, Prince Philip, previously visited Amritsar in 1997.
In 1920, then-cabinet minister Winston Churchill condemned the massacre as "an episode which appears to me to be without precedent or parallel in the modern history of the British Empire ... It is an extraordinary event, a monstrous event, an event which stands in singular and sinister isolation."
The atrocity occurred when a British Army general ordered troops to open fire to disperse a crowd of unarmed protesters who had gathered in Jallianwala Bagh, Amritsar.
A report by a British-led committee in the wake of the massacre put the number killed at close to 400, with three to four times as many people injured. Indian observers put the number killed at more than 1,000.

Part of complete coverage on
December 9, 2013 -- Updated 1558 GMT (2358 HKT)

The Web is set to change our lives over the next decade. This will also question the use of personal data and balancing new powers with ethics.
December 9, 2013 -- Updated 0111 GMT (0911 HKT)

The image of the Shinkansen bullet train streaking past Mount Fuji is a powerful part of the iconography of the resurgent post-war Japan.
December 9, 2013 -- Updated 2023 GMT (0423 HKT)

Imagine the delight at unwrapping your Christmas present in 2043 and discovering you've been gifted a trip around the Moon.
December 9, 2013 -- Updated 0727 GMT (1527 HKT)

A new political party claiming to champion ordinary Indian voters makes a startling electoral debut.

Few words in Hungarian, including place names, are easily recognizable to foreigners.
December 9, 2013 -- Updated 1744 GMT (0144 HKT)

Browse through images you don't always see in news reports, taken by CNN teams all around the world.
December 9, 2013 -- Updated 1234 GMT (2034 HKT)

Walking into one of Yayoi Kusama's infinity rooms is like walking into a completely different universe.
December 9, 2013 -- Updated 1529 GMT (2329 HKT)

Meet Tony Allen -- famous for helping create Afrobeat by fusing different beats and patterns.
December 8, 2013 -- Updated 2116 GMT (0516 HKT)

Fans converged on the site where Paul Walker died to pay tribute to the actor. CNN's Paul Vercammen reports.

He was imprisoned for life but that did not quiet him. Nelson Mandela became South Africa's first black president, and an icon and inspiration.
December 9, 2013 -- Updated 1002 GMT (1802 HKT)

Watching digital artist Kyle Lambert's stunning photo-realistic iPad paintings emerge from a blank screen is an awe-inspiring experience.

Today's five most popular stories