Cameron marks 1919 Amritsar massacre by British troops in India
February 20, 2013 -- Updated 1453 GMT (2253 HKT)
STORY HIGHLIGHTS
David Cameron visits a memorial to a 1919 massacre in the Indian city of Amritsar
Cameron: "We must never forget what happened here"
British prime minister stops short of a formal apology for the colonial-era massacre
Hundreds of people were killed when British troops opened fire on unarmed protesters
New Delhi (CNN) -- UK Prime Minister David Cameron visited the site of the infamous 1919 Amritsar massacre by British troops in India on Wednesday -- but those hoping he might apologize for the atrocity were disappointed.
Cameron, the first serving British prime minister to visit Amritsar, a Sikh holy city in the northwestern state of Punjab, laid a wreath at a memorial to the hundreds killed in the massacre.
Writing in a book of condolences at the Jallianwala Bagh memorial, he described the massacre as "a deeply shameful event in British history." He added, "We must never forget what happened here."
However, he did not give a formal apology for the atrocity, which occurred while India was part of the British Empire.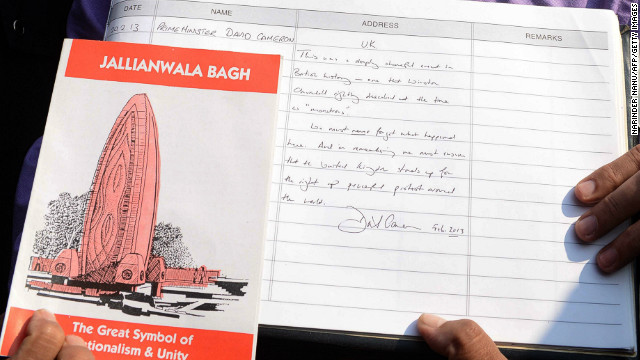 Cameron's remarks in the visitor book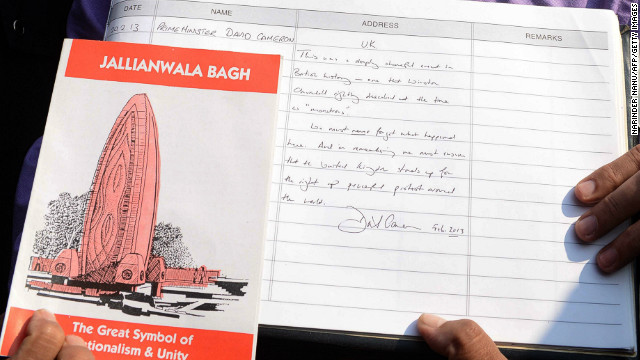 Cameron's remarks in the visitor book
A spokesman for Cameron said the British state had always described the massacre as monstrous, but that "we need to be careful about going around apologizing for things that happened 40 years before the prime minister was born."
Cameron's trip to India is focused on promoting closer trade and business links.
Queen Elizabeth II and her husband, Prince Philip, previously visited Amritsar in 1997.
In 1920, then-cabinet minister Winston Churchill condemned the massacre as "an episode which appears to me to be without precedent or parallel in the modern history of the British Empire ... It is an extraordinary event, a monstrous event, an event which stands in singular and sinister isolation."
The atrocity occurred when a British Army general ordered troops to open fire to disperse a crowd of unarmed protesters who had gathered in Jallianwala Bagh, Amritsar.
A report by a British-led committee in the wake of the massacre put the number killed at close to 400, with three to four times as many people injured. Indian observers put the number killed at more than 1,000.

Part of complete coverage on
December 10, 2013 -- Updated 1406 GMT (2206 HKT)

Presidents and prime ministers, celebrities and royals joined tens of thousands of South Africans to pay tribute to Nelson Mandela.
December 10, 2013 -- Updated 1235 GMT (2035 HKT)

President Obama pays tribute at the Mandela Memorial: "Mandela reminds us that it always seems impossible until it is done," he said.
December 9, 2013 -- Updated 2311 GMT (0711 HKT)

Until he returned home this weekend, Merrill Newman -- an American held in North Korea -- had no idea what a story he'd become.
December 10, 2013 -- Updated 0246 GMT (1046 HKT)

Transportation throughout the inhospitable Arctic region may soon be revolutionized.
December 10, 2013 -- Updated 1430 GMT (2230 HKT)

There were no genetic tests 400,000 years ago, so our ancient relatives didn't know as much about themselves as we know about them now.

Theme parks, sports stadiums, and city squares are among the most popular destinations that people checked into on Facebook in 2013.
December 10, 2013 -- Updated 1346 GMT (2146 HKT)

Actress Eleanor Parker, nominated for three Oscars and known for her "Sound of Music" role, died Monday at 91, her family said.
December 10, 2013 -- Updated 1249 GMT (2049 HKT)

Director and actor Charlie Chaplin made Virginia Cherrill perform one scene -- in which she says just two words in a silent film -- 342 times.
December 10, 2013 -- Updated 1118 GMT (1918 HKT)

Each volunteer at Yekokeb Berhan in Ethiopia will take in 25 disadvantaged children as her own.
December 9, 2013 -- Updated 1558 GMT (2358 HKT)

The Web is set to change our lives over the next decade. This will also question the use of personal data and balancing new powers with ethics.
December 10, 2013 -- Updated 1344 GMT (2144 HKT)

Browse through images you don't always see in news reports, taken by CNN teams all around the world.

He was imprisoned for life but that did not quiet him. Nelson Mandela became South Africa's first black president, and an icon and inspiration.

Today's five most popular stories