Cameron marks 1919 Amritsar massacre by British troops in India
February 20, 2013 -- Updated 1453 GMT (2253 HKT)
STORY HIGHLIGHTS
David Cameron visits a memorial to a 1919 massacre in the Indian city of Amritsar
Cameron: "We must never forget what happened here"
British prime minister stops short of a formal apology for the colonial-era massacre
Hundreds of people were killed when British troops opened fire on unarmed protesters
New Delhi (CNN) -- UK Prime Minister David Cameron visited the site of the infamous 1919 Amritsar massacre by British troops in India on Wednesday -- but those hoping he might apologize for the atrocity were disappointed.
Cameron, the first serving British prime minister to visit Amritsar, a Sikh holy city in the northwestern state of Punjab, laid a wreath at a memorial to the hundreds killed in the massacre.
Writing in a book of condolences at the Jallianwala Bagh memorial, he described the massacre as "a deeply shameful event in British history." He added, "We must never forget what happened here."
However, he did not give a formal apology for the atrocity, which occurred while India was part of the British Empire.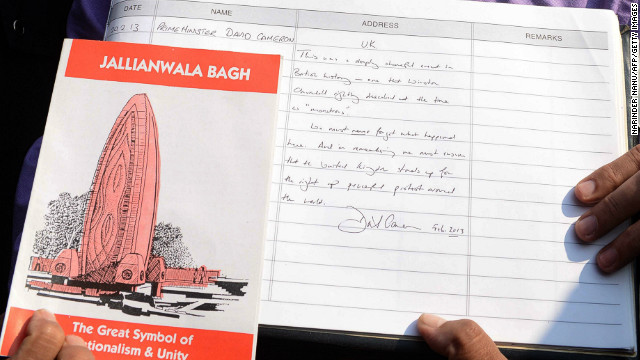 Cameron's remarks in the visitor book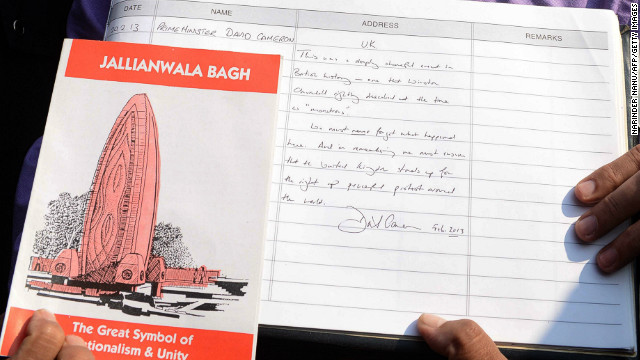 Cameron's remarks in the visitor book
A spokesman for Cameron said the British state had always described the massacre as monstrous, but that "we need to be careful about going around apologizing for things that happened 40 years before the prime minister was born."
Cameron's trip to India is focused on promoting closer trade and business links.
Queen Elizabeth II and her husband, Prince Philip, previously visited Amritsar in 1997.
In 1920, then-cabinet minister Winston Churchill condemned the massacre as "an episode which appears to me to be without precedent or parallel in the modern history of the British Empire ... It is an extraordinary event, a monstrous event, an event which stands in singular and sinister isolation."
The atrocity occurred when a British Army general ordered troops to open fire to disperse a crowd of unarmed protesters who had gathered in Jallianwala Bagh, Amritsar.
A report by a British-led committee in the wake of the massacre put the number killed at close to 400, with three to four times as many people injured. Indian observers put the number killed at more than 1,000.

Part of complete coverage on
May 24, 2013 -- Updated 1545 GMT (2345 HKT)

When the former teacher Ingrid Loyau-Kennett saw the bloodied man wielding a knife, she tried to engage him in a conversation to distract him.
May 24, 2013 -- Updated 1053 GMT (1853 HKT)

A man dressed up as a woman to expose sexual harassment in Egypt -- and says he can't imagine how women put up with the daily abuse.
May 24, 2013 -- Updated 1029 GMT (1829 HKT)

The breakdown of the education system, growing youth unemployment and insecurity swelled Boko Haram, 'Funmi Olonisakin writes.
May 24, 2013 -- Updated 1251 GMT (2051 HKT)

"It's always the one we feared, the lone wolf that can come from nowhere and not be on our radar," said ex-London police chief John Yates.
May 24, 2013 -- Updated 0613 GMT (1413 HKT)

Christiane Amanpour and Nic Robertson give their insight on the brutal murder of a man in broad daylight. What's behind the horrific attack?
May 24, 2013 -- Updated 1054 GMT (1854 HKT)

In India, a child goes missing every eight minutes. What is behind this devastating statistic felt most by the parents left searching?

Learn about one woman's tireless battle against sex slavery in the Philippines, with Manny Pacquiao in her corner. Watch the full version here.
May 23, 2013 -- Updated 1043 GMT (1843 HKT)

Ai Weiwei, the controversial Chinese artist-activist, has released a music single and video inspired by his harrowing detention by the government.
May 24, 2013 -- Updated 1156 GMT (1956 HKT)

Meet Ugandan Ruganzu Bruno who uses recycled materials to create functional pieces of art, raising environmental awareness through his art.
May 24, 2013 -- Updated 1227 GMT (2027 HKT)

The Germans are coming, this time in the form of the first all-German Champions League football final -- and this time, London cannot wait.
May 23, 2013 -- Updated 1106 GMT (1906 HKT)

Bayern Munich's super fan Boris Becker takes a tour of London ahead of the 2013 Champions League final. What are his favorite spots?
May 23, 2013 -- Updated 1415 GMT (2215 HKT)

Imagine if you could paint a working light switch directly onto your wall, without any need for sockets, cables or wiring. Well, now you can.

Today's five most popular stories