Cameron marks 1919 Amritsar massacre by British troops in India
February 20, 2013 -- Updated 1453 GMT (2253 HKT)
STORY HIGHLIGHTS
David Cameron visits a memorial to a 1919 massacre in the Indian city of Amritsar
Cameron: "We must never forget what happened here"
British prime minister stops short of a formal apology for the colonial-era massacre
Hundreds of people were killed when British troops opened fire on unarmed protesters
New Delhi (CNN) -- UK Prime Minister David Cameron visited the site of the infamous 1919 Amritsar massacre by British troops in India on Wednesday -- but those hoping he might apologize for the atrocity were disappointed.
Cameron, the first serving British prime minister to visit Amritsar, a Sikh holy city in the northwestern state of Punjab, laid a wreath at a memorial to the hundreds killed in the massacre.
Writing in a book of condolences at the Jallianwala Bagh memorial, he described the massacre as "a deeply shameful event in British history." He added, "We must never forget what happened here."
However, he did not give a formal apology for the atrocity, which occurred while India was part of the British Empire.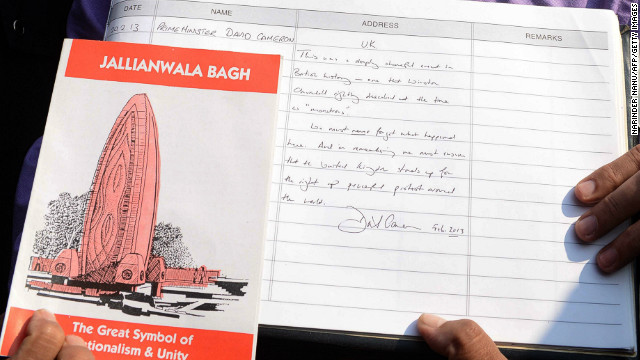 Cameron's remarks in the visitor book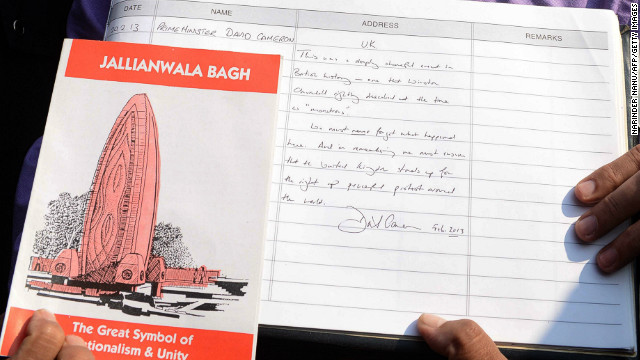 Cameron's remarks in the visitor book
A spokesman for Cameron said the British state had always described the massacre as monstrous, but that "we need to be careful about going around apologizing for things that happened 40 years before the prime minister was born."
Cameron's trip to India is focused on promoting closer trade and business links.
Queen Elizabeth II and her husband, Prince Philip, previously visited Amritsar in 1997.
In 1920, then-cabinet minister Winston Churchill condemned the massacre as "an episode which appears to me to be without precedent or parallel in the modern history of the British Empire ... It is an extraordinary event, a monstrous event, an event which stands in singular and sinister isolation."
The atrocity occurred when a British Army general ordered troops to open fire to disperse a crowd of unarmed protesters who had gathered in Jallianwala Bagh, Amritsar.
A report by a British-led committee in the wake of the massacre put the number killed at close to 400, with three to four times as many people injured. Indian observers put the number killed at more than 1,000.

Part of complete coverage on
December 13, 2013 -- Updated 1644 GMT (0044 HKT)

Put aside out-of-date views of Africa and see it the way Africans seem to: With a high level of optimism, a CNN survey shows.
December 13, 2013 -- Updated 0937 GMT (1737 HKT)

The all too real political theater playing out in Pyongyang may offer another tantalizing glimpse behind the opaque curtain of the North Korea.

Read the journal of Mira Sorvino, a human rights activist and Oscar winning actress, who went to Cambodia with the CNN Freedom Project.
December 13, 2013 -- Updated 0757 GMT (1557 HKT)

Kenya could reinvent itself as a center for innovation. But it needs to build new research universities and expand its education, one expert argues.
December 12, 2013 -- Updated 1819 GMT (0219 HKT)

The sign language interpreter widely ridiculed for his performance at the Nelson Mandela memorial stands by his work.
December 12, 2013 -- Updated 1456 GMT (2256 HKT)

Behind the scenes in Cambodian karaoke bars -- a common front for child prostitution.
December 12, 2013 -- Updated 0446 GMT (1246 HKT)

A global risk firm surveys the most politically explosive countries.
December 12, 2013 -- Updated 1509 GMT (2309 HKT)

On Tuesday, I was free. On Wednesday, I became a criminal. India's high court just made being gay illegal, writes Tushar Malik.
December 12, 2013 -- Updated 1046 GMT (1846 HKT)

A Japanese actor says playing villians in Chinese films has helped the China-Japan divide. CNN's Ivan Watson reports.
December 11, 2013 -- Updated 1524 GMT (2324 HKT)

Pope Francis is Time's person of the year. His papacy has drawn adulation from people around the world for his man-of-the-people ways.

He was imprisoned for life but that did not quiet him. Nelson Mandela became South Africa's first black president, and an icon and inspiration.
December 13, 2013 -- Updated 1333 GMT (2133 HKT)

Browse through images you don't always see in news reports, taken by CNN teams all around the world.

Today's five most popular stories