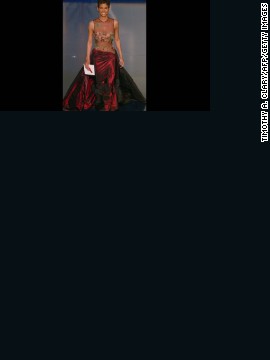 Halle Berry was stunning in an embroidered Elie Saab gown in 2002 when she won an Oscar for her role in "Monster's Ball," becoming the first African-American woman to win best actress.
In 2006, Michelle Williams was nominated for best actress in a supporting role for her performance in "Brokeback Mountain." She walked the red carpet wearing a yellow Vera Wang gown with her then-boyfriend, the late Heath Ledger.
Cher channeled her inner showgirl at the 1986 Academy Awards, showing up in this sequined and feathered ensemble.
Hilary Swank turned heads in a backless dress by Guy Laroche in 2005, the year she won the Oscar for her role in "Million Dollar Baby."
Jennifer Lawrence was praised for donning a simple Calvin Klein gown on the red carpet at the 2011 Academy Awards. The actress was nominated for her role in "Winter's Bone," but lost the statue to Natalie Portman.
In 2001, Julia Roberts accepted her Oscar for "Erin Brockovich" wearing a black and white vintage Valentino gown.
Jennifer Hudson showed off her impressive weight loss at the 2011 Academy Awards wearing a tangerine-colored Atelier Versace gown.
Celine Dion took a fashion risk in 1999 when she wore a white suit and hat, with the Jacket backwards.
Sandra Bullock won best actress for her role in "The Blind Side" in 2010, as well as a spot on several best-dressed lists, thanks to her beaded Marchesa gown.
The Balenciaga gown (complete with a giant red bow) that Oscar winner Nicole Kidman donned on the red carpet in 2007 might have inspired
Emma Stone's 2012 Oscar look.
Diane Keaton is known for rocking menswear inspired looks, so no one was surprised to see the actress walk the red carpet wearing a Ralph Lauren suit in 2004. However, the ensemble did earn Keaton a spot on quite a few worst dressed lists.
Octavia Spencer wowed in a Tadashi Shoji gown at the 2012 Academy Awards, where she won an Oscar for her role in "The Help."
Courtney Love didn't have a strand of hair out of place when she attended the Oscars in 1997 wearing a white satin Versace gown. Of course, grunge won out in the end. "The People vs. Larry Flynt" actress's more polished style was short lived.
In 2011, the year Amy Adams was nominated for her role in "The Fighter," she paired her navy blue L'Wren Scott gown with emerald and diamond jewels.
The Ralph Lauren gown Gwyneth Paltrow wore to the Oscars in 1999 is credited with making the color pink fashionable again. The dress received mixed reviews from critics, but it's still one of the most recognizable looks ever on the red carpet.
Paltrow donned another memorable look in 2002. The darker Alexander McQueen separates she wore on the red carpet were a far cry from the pink prom dress she sported in 2000.
Natalie Portman draped her baby bump in a purple Rodarte gown for the 2011 Academy Awards. The actress, who had been nominated once before, won her first Oscar that year for her role in "Black Swan."
Charlize Theron looked glamorous in the sparkly Gucci gown she wore in 2004, the year she won an Oscar for her performance in "Monster."
Angelina Jolie channeled Morticia Addams in this black number at the 2000 Academy Awards.
Cate Blanchett's 2011 Oscar dress received mixed reviews, but the pastel Givenchy Couture gown was certainly a look to remember.
Reese Witherspoon wore another iconic black-and-white gown in 2011. She paired the Giorgio Armani Prive dress with Neil Lane jewels and a glamorous ponytail.
Jennifer Garner wore a memorable tangerine gown at the 2004 Academy Awards. "Jennifer is so comfortable in her own skin, she can wear a gown this complex," designer Valentino said.
The plum Vera Wang gown that Keira Knightley wore in 2006 landed the actress on many best-dressed lists.
"South Park" creators Trey Parker, left, and Matt Stone showed up at the 2000 awards show dressed as Jennifer Lopez at the 42nd Grammy Award and Gwyneth Paltrow at the 1999 Oscars. The men eventually
told Jimmy Kimmel
that they were on acid while walking the red carpet.
The red vintage Valentino gown that Anne Hathaway wore on the red carpet at the 2011 Academy Awards proved to be a fan favorite. The actress donned
at least seven different looks
that night to host the show with James Franco.
The infamous swan dress that Bjork wore in 2001 has been ingrained in pop culture as the absolute worst dress anyone could ever wear on the red carpet. Memorable is an understatement.
Halle Berry, 2002
Michelle Williams, 2006
Cher, 1986
Hilary Swank, 2005
Jennifer Lawrence, 2011
Julia Roberts, 2001
Jennifer Hudson, 2011
Celine Dion, 1999
Sandra Bullock, 2010
Nicole Kidman, 2007
Diane Keaton, 2004
Octavia Spencer, 2012
Courtney Love, 1997
Amy Adams, 2011
Gwyneth Paltrow, 1999
Gwyneth Paltrow, 2002
Natalie Portman, 2011
Charlize Theron, 2004
Angelina Jolie, 2000
Cate Blanchett, 2011
Reese Witherspoon, 2011
Jennifer Garner, 2004
Keira Knightley, 2006
Trey Parker and Matt Stone, 2000
Anne Hathaway, 2011
Bjork, 2001