STORY HIGHLIGHTS
One report: More than half South Africans fear home invasion
Former detective: Crimes are difficult to solve because many don't trust police
Pistorius case brings gun violence in the country to global attention
(CNN) -- Oscar Pistorius claims that when he heard noises in his home, he mistook girlfriend Reeva Steenkamp for an intruder and accidentally shot her with his 9 mm pistol.
Plausible? The courts will decide. In the meantime, the killing has highlighted South Africa's history of gun violence and high crime. And it's shown the world that many South Africans live with a palpable, almost paranoid, fear of having their homes broken into.
In 2012, more than 50% of South Africans told the country's police force that they're afraid. The number of home burglaries across the country of 50 million have more than doubled. They totaled 9,063 in a 12-month period spanning 2002/2003; seven years later, it was up 18,786. And in a similar period ending in 2012, reported break-ins dipped to 16,766, according to South Africa's crime reporting body, the Institute for Security Studies.
The international group Gunpolicy.org reports that there are about 6 million licensed firearms in South Africa.
"The paranoia about being a victim of a house robbery is understandable," said the group's small arms researcher Lauren Tracey. "Victims are relatively helpless against these attacks."
READ MORE: Who is "Blade Runner" Oscar Pistorius?
It's common to see armed guards patrolling gated, middle-class neighborhoods.
Hiring a private security firm is not the exception but the norm. Workaday people install panic buttons, closed-circuit televisions, man trap doors, boom gates and outdoor point-to-point infrared motion-sensing beams on their houses.
Also unique to South Africa: When burglars break in, they likely aren't after a flat-screen television or jewelry, experts say. They want the homeowner's guns.
That's in part because it's very hard to acquire a gun legally in South Africa, but it remains, many say, relatively easy to get a gun illegally.
A history of violence
To understand South Africa's gun culture, it's crucial to go back nearly two decades. In 1994, apartheid ended. The official system of racial segregation, in place since 1948, took rights away from black Africans and gave virtually all power in every aspect of life to whites.
For generations, violence born out of apartheid spawned a kind of arms race; blacks and whites fought against each other, and everyone else armed themselves, afraid to be caught in the cross fire.
READ MORE: Reeva Steenkamp, from model to law graduate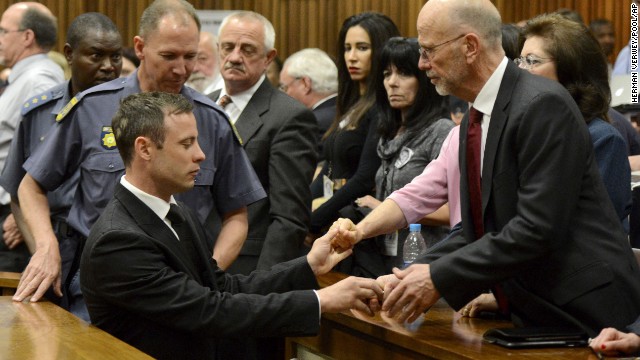 Oscar Pistorius reaches out to his uncle Arnold Pistorius and other family members as he is led out of court in Pretoria, South Africa, after being sentenced to five years in prison on Tuesday, October 21. Pistorius, the first double-amputee runner to compete in the Olympics, was sentenced for culpable homicide in the February 2013 death of his girlfriend, Reeva Steenkamp.
Pistorius leaves the high court in Pretoria on Monday, October 13. A judge cleared Pistorius of premeditated murder last month, but he was found guilty of culpable homicide -- the South African term for unintentionally, but unlawfully, killing a person.
Pistorius speaks with his uncle Arnold Pistorius during his trial at the Pretoria High Court on Friday, September 12.
Pistorius cries on the stand in Pretoria on Thursday, September 11, as the judge reads notes while delivering her verdict.
Pistorius arrives at court on September 11.
Pistorius speaks to someone in court as his murder trial resumes in Pretoria on Thursday, August 7.
Pistorius sits in court in Pretoria on Tuesday, July 8.
Pistorius arrives at court in Pretoria on Monday, July 7.
Pistorius yawns during day 37 of his murder trial on June 3.
Pistorius hugs a supporter Wednesday, July 2.
Pistorius listens to evidence being presented in court on Monday, June 30.
Pistorius leaves the court in Pretoria on Tuesday, May 20.
Pistorius reads notes during his trial on Monday, May 12.
Ballistics expert Tom "Wollie" Wolmarans testifies for the defense on May 12.
A red laser dot points at bullet holes in the bathroom door for a forensic demonstration during the trial on May 12. Pistorius admits firing four bullets through the closed door, killing Steenkamp, but says he thought he was protecting himself from a burglar.
Pistorius returns to court as his murder trial resumes Monday, May 5, after a break of more than two weeks.
Pistorius gets a hug from a woman as he leaves court in Pretoria on Wednesday, April 16.
Pistorius rubs his eye Tuesday, April 15, after testifying during his murder trial.
Pistorius arrives at the court in Pretoria on Monday, April 14.
Pistorius' sister, Aimee, cries in court as she listens to her brother's testimony on Tuesday, April 8.
June Steenkamp, Reeva Steenkamp's mother, reacts as she listens to Pistorius' testimony on April 8.
Pistorius is hugged by his aunt Lois Pistorius in court on Monday, April 7.
Pistorius sits inside the courtroom as members of his defense team talk in the foreground Friday, March 28.
Pistorius leaves court on March 28. The trial was delayed until April 7 because one of the legal experts who will assist the judge in reaching a verdict was sick.
Steenkamp's mother, right, and family friend Jenny Strydom react in court Tuesday, March 25, during cross-questioning.
Cell phone analyst Francois Moller testifies during the trial on March 25. Questioned by the prosecution, Moller listed in order the calls made and received by Pistorius after he shot Steenkamp.
Pistorius cries as he sits in the dock during his trial on Monday, March 24.
Pistorius talks to defense attorney Barry Roux on March 24.
Pistorius holds his head while members of his family talk behind him on Tuesday, March 18.
Steenkamp's mother, wearing the white collared shirt, looks on while a police officer takes notes in court March 18.
Pistorius is hugged by his aunt Lois on March 18.
Pistorius takes notes Monday, March 17, as his murder trial enters its third week.
Pistorius covers his head as he listens to forensic evidence Thursday, March 13.
Forensic investigator Johannes Vermeulen, left, is questioned during the trial March 13.
Pistorius listens to questions during his trial on Wednesday, March 12.
A police officer takes part in a court reconstruction March 12. A police forensic expert said Pistorius was on the stumps of his amputated legs when he knocked down a locked toilet door with a cricket bat to reach his shot girlfriend. That counters the track star's assertion he was wearing his prosthetic legs at the time. Defense attorney Barry Roux countered by suggesting that even with his prosthetic legs on, Pistorius would not be swinging a bat at the same height as an able-bodied person.
Pistorius listens to cross-questioning on Monday, March 10.
Friends of Steenkamp's family watch Pistorius during his trial on March 7.
Pistorius covers his ears on Thursday, March 6, as a witness speaks about the morning Steenkamp was killed.
Pistorius' sister, Aimee, right, speaks with members of Steenkamp's family on March 6.
Pistorius sits in court on the third day of his trial Wednesday, March 5.
Pistorius appears on the second day of his trial Tuesday, March 4.
Members of the media work during a break in proceedings March 4.
Pistorius talks with Roux inside the court on March 4.
Pistorius speaks with his legal representatives on March 4.
Pistorius is escorted out of the court Monday, March 3, after the first day of his murder trial.
People try to get a glimpse of Pistorius as he leaves the court building on March 3.
Pistorius is seen shortly after arriving for his trial on March 3.
Pistorius walks into the courtroom on March 3.
Pistorius takes a drink of water March 3 during his trial.
The case has captivated South Africa. Here, Lauren Wentzel watches the proceedings from her home outside Cape Town on March 3.
June Steenkamp arrives at the court building for the start of the trial.
Pistorius' relatives wait inside the courtroom on March 3.
People at the court building wait for Pistorius' arrival on March 3.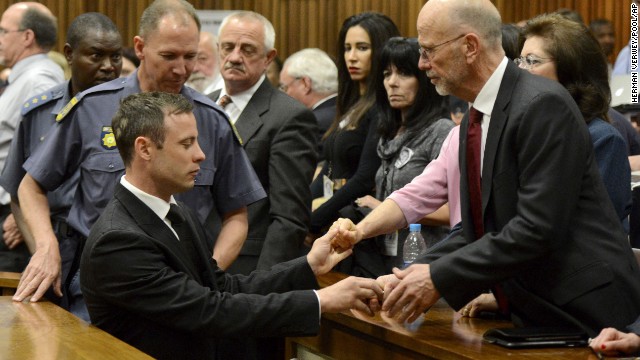 Photos: Oscar Pistorius trial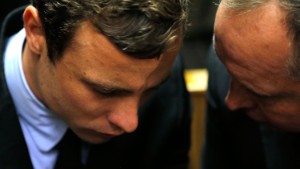 Pistorius trial to be partially televised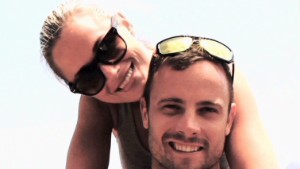 One year since Pistorius shooting
Gun violence was at a record high as the country made its first effort to become what archbishop and peace crusader Desmond Tutu envisioned -- a rainbow nation.
Other spiritual leaders around the country began campaigning to reduce violence.
"Before 1994, there was a low-key civil war in South Africa," said Claire Taylor, a spokesperson for Gun Free South Africa, a non-profit group that grew out of a movement to cut down on crime born from years of inequity during apartheid. "Both sides -- white and blacks -- were armed soldiers in a way."
READ MORE: South Africa's legal system in the spotlight
The roots of gun culture in South Africa are not unlike those of the United States, she said.
"There is a history of colonization, of taking, of settling," she said. "For black people, the AK-47 was a symbol of liberation, of fighting back. There is huge meaning attached. Gun are about fighting and superiority."
Unlike the United States, the right to own a gun is not written in the country's constitution.
Police have confiscated and destroyed hundreds of thousands of unlicensed guns, but it's unclear how many illegal guns remain on the street.
Researcher Tracey also believes that criminal violence is rooted in South Africa's historical traumas. There was rampant proliferation of firearms in the nation before the end of apartheid, and liberation movements stockpiled them.
Many of those weapons, she said, were never recovered.
Laying down the guns
As Nelson Mandela, South Africa's first black president, took office in 1994, there was a tremendous desire to put the guns down.
"There was a national feeling that we had lived under the gun for so many years during apartheid, and we had to do something to signal that beginning anew was possible," said Claire Taylor, the non-profit's spokesperson.
Taylor was personally motivated to act. At the time, one of her closest friends was shot to death during a break-in.
In 2000, South Africa passed the Firearms Control Act. Since then, violence by handguns, Taylor said, has dropped steadily, often by double digits.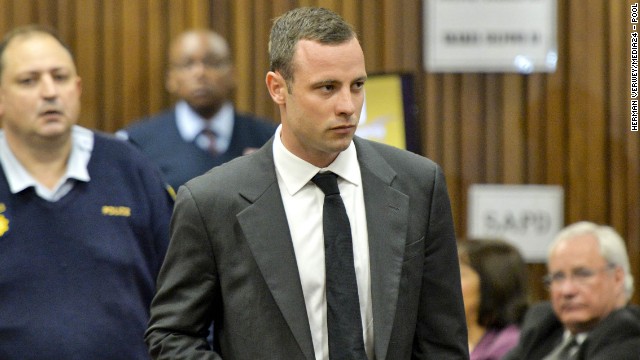 Oscar Pistorius appears in the North Gauteng High Court in Pretoria on Monday, March 3. South Africa's double amputee track star is accused of the murder of his girlfriend Reeva Steenkamp on February 14, 2013.
Pistorius won gold for the first time at the 2004 Athens Paralympics. He won the 200-meter final and set a new world record. The South African sprinter has been called the "Blade Runner" because of his carbon-fiber prosthetic legs.
Prosthetic legs stand on the ground as Pistorius coaches children in Manchester, England, in April 2006.
Pistorius competes in a 400-meter race in Berlin in June 2008.
Pistorius is seen in Rome during a race in July 2008.
Pistorius wins gold ahead of Americans Jerome Singleton, left, and Marlon Shirley, right, in the 100-meter T44 during the 2008 Beijing Paralympic Games.
Pistorius poses with his medals from the IPC Athletics World Championships in January 2011. He won three world titles there but lost the 100-meter T44 final to Singleton. It was his first loss in a race over 100 meters since the 2004 Paralympic Games.
Pistorius passes the baton to Ofentse Mogawane in a 4x400-meter relay race during the IAAF World Athletics Championships in Daegu, South Korea, in September 2011. Pistorius was the first double amputee athlete to compete at the World Athletics Championships.
Pistorius races in the men's 400 meters during the 2012 Olympic Games in London.
Pistorius competes in the London Olympics.
Pistorius carries the South African flag during the opening ceremony of the 2012 Paralympics in London.
Pistorius competes in a men's 400-meter T44 heat at the 2012 Paralympic Games.
Pistorius poses on the podium with his gold medal after winning the men's 400-meter T44 final at the 2012 Paralympic Games.
Pistorius receives his honorary doctorate from Strathclyde University in Glasgow, Scotland, in November 2012.
A picture taken on January 26, 2013, shows Pistorius and Steenkamp at Melrose Arch in Johannesburg.
Pistorius leaves the Boshkop police station with his face covered on February 14, 2013.
Pistorius, swamped by the press, leaves a Pretoria courtroom in June.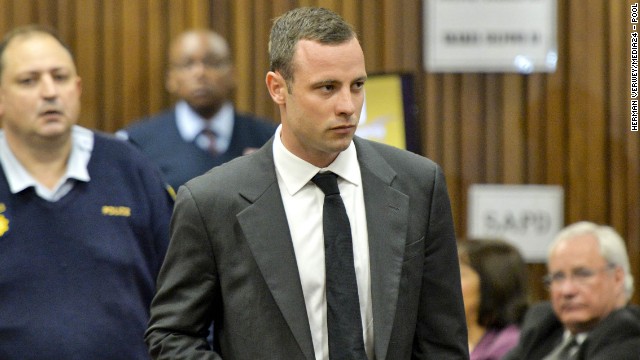 Photos: 'Blade Runner' Oscar Pistorius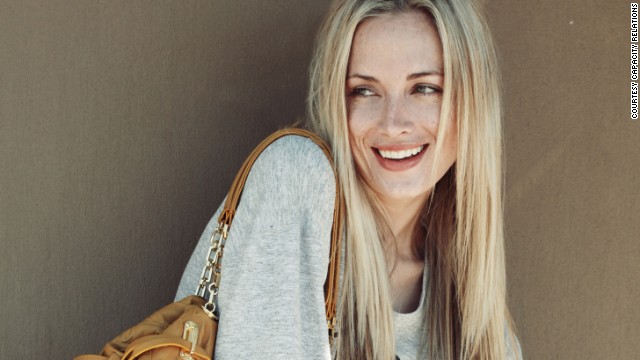 South African model Reeva Steenkamp died in February 2013 after she was shot at the home of her boyfriend, Olympic sprinter Oscar Pistorius. She was 29. Pistorius has been convicted of culpable homicide.
Before she started dating Pistorius, Steenkamp was famous in her own right. She was a law school graduate with a vibrant personality and a slew of modeling gigs under her belt.
A 21-year-old Steenkamp poses on a beach in Port Elizabeth, South Africa, where she grew up. Steenkamp's friend Kerry Smith photographed the aspiring model when she was a law student.
Steenkamp poses for another photo taken by Smith. Steenkamp was born in Cape Town, but she moved to Johannesburg to pursue modeling.
Pistorius admitted to shooting Steenkamp, but he says it was an accident. Prosecutors argue he intentionally killed her after an argument.
Steenkamp appeared as a contestant on a South African reality show, "Tropika Island of Treasure." Her pre-recorded episode aired two days after her death.
Steenkamp served as a presenter for FashionTV in South Africa. She was also an FHM cover girl and the face of cosmetics company Avon.
Steenkamp "was the kindest, sweetest human being; an angel on Earth," said Capacity Relations, the agency that represented her.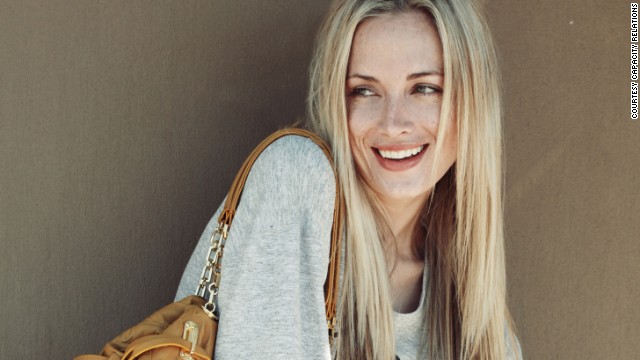 Steenkamp: Law student to cover girl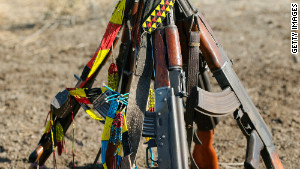 2013: Gun laws around the world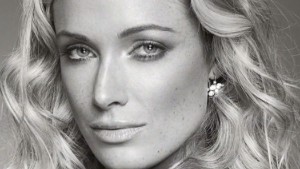 Remembering Reeva Steenkamp
Among the law's rigors: Before it was enacted, 16 was the minimum age to own a gun; today it's 21. To apply for a gun, you have to take competency tests, akin to a driver's license test, which demonstrates that not only can you shoot straight, but that you also know the law and how to store your firearm safely.
Next, law enforcement conducts a background check that runs an applicant's criminal history and also tries to assess whether the applicant has a propensity for violence, may be mentally ill or suffers from an addiction that might cloud their judgment. An applicant must give references whom the authorities will interview, including relatives and a spouse, if that's possible, Taylor said.
Authorities go a step further, checking medical information and digging into any instances of domestic violence or employment issues.
Once licensed, gun owners must reapply and requalify for their licenses every two to 10 years.
South African law also helps ensure that only one gun per person is approved. If someone is a sport shooter or has a reason that for needing to own more than one gun, he must file a separate application and explain, Taylor said.
The law isn't a fix-all
The law isn't perfect. As one South African correspondent put it, guns are still very much a part of the culture. Signs at South African airports and casinos point to where consumers should drop off their weapons.
And gun ownership advocates say that is why people are still incredibly afraid of hearing someone creeping in their house at night.
There are about 2,000 guns stolen from legal gun owners in South Africa every month, according to Gun Free South Africa.
Between April 2005 and March 2011, more than 18,000 police firearms were reportedly stolen or lost. Guns have gone missing from police stations.
There's also a severe backlog in gun license applications, some of which date back several years. A task force has been appointed to look into the problem, Taylor said.
All of this has highlighted one fact for the country gun rights organization Gun Owners of South Africa.
Executive Wouter de Waal told CNN that it is "dead easy" to get weapons illegally.
And there's little reason for armed burglars to think they'll be caught and punished. The rate of arrest and prosecution in the country is 7%, said former detective Rudolph Zinn, who wrote a book about home invasions and now trains South African police.
He believes there's one chief reason for that: Few South Africans trust law enforcement because in recent years, the police force has become politicized, with higher ranking officers who are politically appointed.
"In 1994 there was a push to have policing more community-focused, there was more legislation to focus on that," he said.
"There was a distrust related to our heritage," he says, referring to apartheid, "and unfortunately, over the years, we've gone back to that. I saw it often when I was a detective.
There are undoubtedly more home invasions, he said, than are officially counted.
"People don't even want to report a crime," he said, "because they don't believe anything is going to come of it."
READ MORE: What life's like in a South African prison
READ MORE: Photos show Steenkamp's transformation
CNN's Emily Smith contributed to this report.