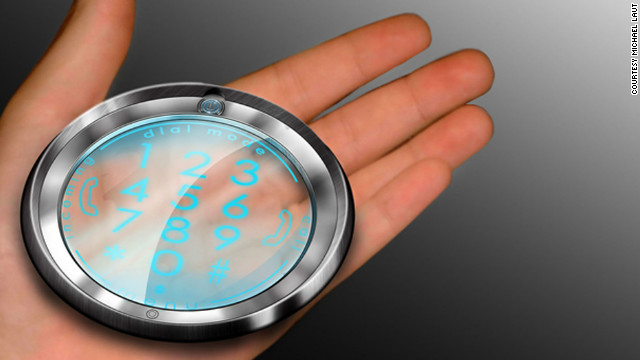 We all have our fantasies, we just don't always make them public. But for these tech-savvy designers, sharing their wildest dreams and making them a reality is what it's all about. So, here are 12 of the weirdest and most wonderful phone concepts from the last few years. Some might be made, most probably won't, but we can all indulge in a a flight of fancy from time to time. For American designer Michael Laut, the Radia concept phone is all about simplicity: Sleek, circular, transparent, touch-sensitive and small enough to slide in his top pocket.
Russian designer Ilshat Garipov's Kambala phone has a centerpiece that can be popped out and used to clip the phone to the ear. This phone has the camouflage qualities of a chameleon: As an earpiece it changes color to imitate your skin.
The Philips Fluid concept phone by Brazilian designer Dinard de Mata has a bendy organic light-emitting diode, which means it can be wrapped around the wrist as a watch or bracelet or used like a regular mobile phone.
Ukrainian designer Aleksandr Mukomelov's Mobile Script phone has one traditional touchscreen and one extendable, flexible screen that stiffens with electric current, perfect for watching films and sending emails.
Shikun Sun's DrawBraille phone uses braille finger pads and a display screen with mechanically-raised dots to facilitate communication for the visually impaired.
Russian designer Kamil Izrailov's multi-faceted Mobikoma is made from multiple blocks that fasten together with micro locks. Each block can then be used individually or collectively as a phone or tablet.
The Rollerphone by Alexey Chugunnikov is a futuristic watch with a retractable transparent screen at the base. The screen unfurls to the tip of your fingers making it a perfect fit between ear and mouth.
Jinyoung Choi's iPhone Pro concept was designed with photography aficionados in mind. It comes with a detachable DSLR lens, speaker/microphone and projector.
At first glance Ryan Harc's Maple Phone is nothing but a block of wood. But, sensitive to touch, it transforms into a sleek mobile phone with slide-out display, mp3 player and digital camera.
If Facebook made a phone this is what Polish industrial designer Michal Bonikowski thinks it should look like. It features a front and back camera, Facebook home button as well as a Facebook cloud storage service, that could offer up to 100GB of space.
This mobile phone-cum-projector by Italian designer Stefano Casanova has a rotatable screen with a micro-light projector that allows users to view their display on any flat surface.
Korean designer Seunggi Baek's Bubble Phone gives users the best of two worlds. It has a full-length touchscreen on one side and a raised bubble keypad on the reverse. The screen is transparent so users can flip the phone and use it whichever way they want. Compiled by Monique Rivalland
Futuristic phone concepts
Futuristic phone concepts
Futuristic phone concepts
Futuristic phone concepts
Futuristic phone concepts
Futuristic phone concepts
Futuristic phone concepts
Futuristic phone concepts
Futuristic phone concepts
Futuristic phone concepts
Futuristic phone concepts
Futuristic phone concepts
STORY HIGHLIGHTS
Mozilla to introduce mobile phones with its Firefox open-source operating system
The handset and system will compete with Apple, Google on apps, senior official says
The phones, from four manufacturers, will be available in nine countries starting in July
Barcelona, Spain (CNN) -- Mozilla announced Sunday it will launch handsets running its new Firefox mobile operating system, pitting itself directly against Apple and Google.
The nonprofit company made the announcement at a news conference on the eve of the world's largest mobile technology show, Mobile World Congress in Barcelona, Spain, under the new marketing slogan "Unleash the fox."
The company says it is partnering with 18 network operators and four handset manufacturers around the world to launch handsets running its open-source mobile operating system, which it also demonstrated Sunday.
Alcatel, LG and ZTE will be first to build the first Firefox OS devices, with Huawei to follow later in the year, a spokesman said.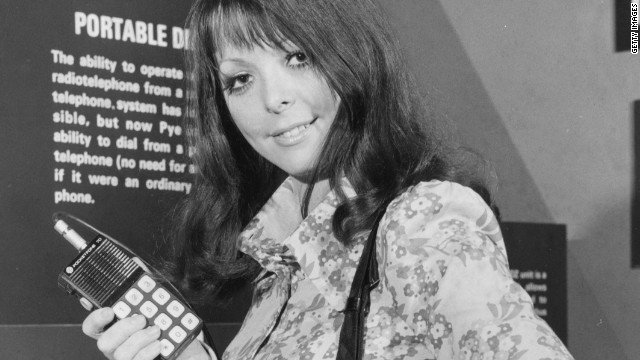 In this image from 1972, a model demonstrates a "portable radio-telephone" by Pye Telecommunications at a London exhibition called "Communications Today, Tomorrow and the Future."
Martin Cooper hoists an early phone, the Motorola DynaTAC 8000X. Cooper made what is widely considered to be the first cellphone call from a New York City sidewalk in 1973.
Tony James, bassist for British New Wave band Sigue Sigue Sputnik, with his girlfriend Janet Street Porter, in 1986. This brick-like model is also known as a "Zack Morris phone" after the phone-toting character on TV's "Saved by the Bell."
Franck Piccard of France talks on a mobile phone after the Mens Super G Slalom event at the 1988 Winter Olympic Games in Calgary, Canada. He won the gold medal. The phone, however, was shut out.
One of the most prominent pop-culture appearances of these early brick cellphones was on TV's "The A-Team," which ran from 1983-87. This fool appears to have stolen Hannibal's iconic device. We presume that Mr. T's B.A. Baracus (not pictured) pities him.
It's no iPhone. In this image from 1989, Allan Z. Loren, then-president of Apple Computer USA, talks on a mobile phone as cyclists ride past.
The Motorola MicroTAC Classic was released in 1991 and modeled after 1989's MicroTAC 9800x, which sold for up to $3,495.
NASCAR driver Rusty Wallace talks on a cellphone during practice for the Daytona 500 in February 1996. Perhaps he's complaining to his barber about his hair.
Republican presidential candidate Pat Buchanan does a radio interview via a clunky cellphone from his campaign bus in Roswell, Georgia, in March 1996.
Philips demonstrates its new digital phone, The Synergy, in 1997 at a press conference in Dubai. The then-advanced device offered wireless access to e-mail, Internet and faxes.
It's Y2K ready! A Samsung Electronics employee shows off this spiffy ''Millennium Multimedia Phone IMT-2000'' at a trade show in 1999 in Geneva, Switzerland.
Nigel Rundstrom of Nokia shows off the company's new mobile phone, the catchily named DoCoMo Nokia NM502i, in Tokyo in March of 2000. No explanation was given for his hat.
Even Microsoft chairman Bill Gates was not immune from holding ugly phones. Here he makes a point with a "new generation" cellphone during his annual "state of the industry" speech at the COMDEX convention in Las Vegas in November 2000.
This image from 2000 shows the Ericsson MP3 Handsfree and the Samsung Uproar MP3 Phone. Cute idea, making a telephone that also lets you listen to your music. Too bad it never caught on.
The Palm Treo 600 phone, pictured here in 2004, integrated voice calls with e-mail and Internet-browsing capabilities. And a nubby little antenna. The device was three years ahead of the iPhone but couldn't save Palm, which was dead by 2012.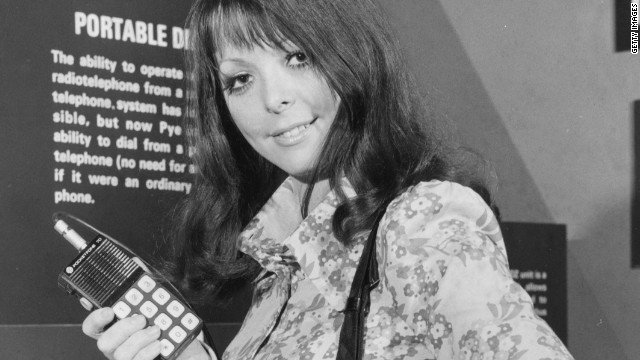 When cellphones were hideous
The company said the first wave of Firefox devices would go on sale beginning in July in Brazil, Colombia, Hungary, Mexico, Montenegro, Poland, Serbia, Spain and Venezuela.
What features would you like to see?
The new software is built on open Web standards and is capable of operating on much less sophisticated devices than many existing smartphones, the company says.
"Firefox OS will break down the walls between apps and the Web because Firefox OS apps are built using Web technologies, like HTML5," said Jay Sullivan, Mozilla's senior vice president of products.
"We expect to see lots of amazing apps people love built for Firefox OS because more developers are already creating for the Web than for any other platform."
Developers will be free to build and sell mobile applications for the operating system without having to share revenue with Apple or Google.
NYPD dedicates squad to phone thefts
John Jackson, vice president of the research company IDC, said, "The impressive lineup of operators who have now pledged to distribute Firefox OS devices speaks clearly and powerfully to the platform's potential and points to 2013 being a breakout year for Mozilla in the mobile domain.
However, Stuart Miles, editor of gadget review site Pocket-lint, said while there was potential for success in developing countries, the company faced an uphill struggle against the established big players.
"It's an interesting move, mainly because I think the people that are backing it are doing so to either hedge their bets or to provide leverage against the bigger players.
"The idea of HTML web apps is one that Apple had five years ago with the launch of the iPhone but soon realized that they could make much more money by charging for apps rather than giving them away for free. As an organization, Mozilla doesn't have those concerns."
Mozilla says operators who have committed to devices include América Móvil, China Unicom, Deutsche Telekom, Etisalat, Hutchison Three Group, KDDI, KT, MegaFon, Qtel, SingTel, Smart, Sprint, Telecom Italia Group, Telefónica, Telenor, TMN and VimpelCom.