African leaders sign Congo peace deal
February 25, 2013 -- Updated 1531 GMT (2331 HKT)
STORY HIGHLIGHTS
NEW: U.N.-backed deal could get Democratic Republic of Congo out of "current morass"
Leaders from several African countries sign the deal
It is meant to stabilize the nation's restive eastern region
Congo's army is fighting the M23 rebel group
(CNN) -- African leaders signed a U.N.-backed deal on Sunday meant to bring stability to the Democratic Republic of Congo.
Government forces are battling the M23 rebel group in the eastern part of that country.
"It is my earnest hope that the framework will lead to an era of peace and stability for the peoples of the Democratic Republic of the Congo and the Great Lakes region," U.N. Secretary-General Ban Ki-moon said in a statement.
Opinion: How Obama can end Congo conflict
The agreement calls for cooperation among nations to "preserve and protect the territorial sovereignty" of the Democratic Republic of Congo, he said.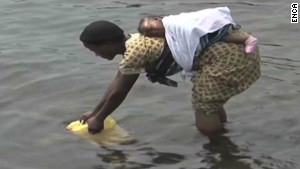 Life in Goma amid crisis
Ban praised the framework but stressed that it marks just the beginning of a "comprehensive approach that will require sustained engagement."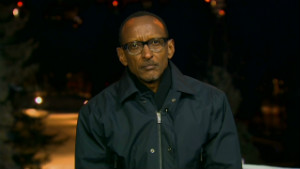 Rwanda's president discusses DR Congo
The deal was signed in the Ethiopian capital of Addis Ababa by envoys of several African nations, including Uganda and Rwanda. Representatives from the rebel group were not involved.
Ban said that a U.N. special envoy would be appointed to support the deal's implementation.
South African President Jacob Zuma said the agreement represents an opportunity.
Opinion: Hope for an end to world's deadliest war
"This framework in itself does not provide all the answers, it is an instrument that points the Government of the DRC, its immediate neighbors and the international community in a direction that will take this country out of the current morass," Zuma said at the signing ceremony. The possible deployment of an intervention brigade of U.N. troops has been mentioned as a way of stabilizing the nation's restive eastern region.
The agreement had been expected to be signed last month, but was delayed because of what Ban described as "procedural issues."
The M23 group was named for a peace deal of March 23, 2009, which it accuses the government of violating. The soldiers, mostly Tutsis, became part of the national army through that accord.
However, they broke away from the Congolese army in April, complaining they weren't being promoted as promised and because of a lack of pay and poor conditions.
Fighting between the M23 and the army has displaced close to a million people in North Kivu province and more than 300,000 in the southeastern province of Katanga, according to the United Nations.
The unrest continues a cycle of misery in eastern Congo, a mineral-rich region at the epicenter of political and ethnic conflict involving its neighbors to the east, Uganda and Rwanda.
The area has been embroiled in violence since 1994, when Hutu forces crossed the border from Rwanda fearing reprisals after the genocide in that country.
CNN's Joseph Netto and Nana Karikari-apau contributed to this report.

Part of complete coverage on
May 24, 2013 -- Updated 1406 GMT (2206 HKT)

When the former teacher Ingrid Loyau-Kennett saw the bloodied man wielding a knife, she tried to engage him in a conversation to distract him.
May 24, 2013 -- Updated 1053 GMT (1853 HKT)

A man dressed up as a woman to expose sexual harassment in Egypt -- and says he can't imagine how women put up with the daily abuse.
May 24, 2013 -- Updated 1029 GMT (1829 HKT)

The breakdown of the education system, growing youth unemployment and insecurity swelled Boko Haram, 'Funmi Olonisakin writes.
May 24, 2013 -- Updated 1251 GMT (2051 HKT)

"It's always the one we feared, the lone wolf that can come from nowhere and not be on our radar," said ex-London police chief John Yates.
May 24, 2013 -- Updated 0613 GMT (1413 HKT)

Christiane Amanpour and Nic Robertson give their insight on the brutal murder of a man in broad daylight. What's behind the horrific attack?
May 24, 2013 -- Updated 1054 GMT (1854 HKT)

In India, a child goes missing every eight minutes. What is behind this devastating statistic felt most by the parents left searching?

Learn about one woman's tireless battle against sex slavery in the Philippines, with Manny Pacquiao in her corner. Watch the full version here.
May 23, 2013 -- Updated 1043 GMT (1843 HKT)

Ai Weiwei, the controversial Chinese artist-activist, has released a music single and video inspired by his harrowing detention by the government.
May 24, 2013 -- Updated 1156 GMT (1956 HKT)

Meet Ugandan Ruganzu Bruno who uses recycled materials to create functional pieces of art, raising environmental awareness through his art.
May 24, 2013 -- Updated 1227 GMT (2027 HKT)

The Germans are coming, this time in the form of the first all-German Champions League football final -- and this time, London cannot wait.
May 23, 2013 -- Updated 1106 GMT (1906 HKT)

Bayern Munich's super fan Boris Becker takes a tour of London ahead of the 2013 Champions League final. What are his favorite spots?
May 23, 2013 -- Updated 1415 GMT (2215 HKT)

Imagine if you could paint a working light switch directly onto your wall, without any need for sockets, cables or wiring. Well, now you can.

Today's five most popular stories