African leaders sign Congo peace deal
February 25, 2013 -- Updated 1531 GMT (2331 HKT)
STORY HIGHLIGHTS
NEW: U.N.-backed deal could get Democratic Republic of Congo out of "current morass"
Leaders from several African countries sign the deal
It is meant to stabilize the nation's restive eastern region
Congo's army is fighting the M23 rebel group
(CNN) -- African leaders signed a U.N.-backed deal on Sunday meant to bring stability to the Democratic Republic of Congo.
Government forces are battling the M23 rebel group in the eastern part of that country.
"It is my earnest hope that the framework will lead to an era of peace and stability for the peoples of the Democratic Republic of the Congo and the Great Lakes region," U.N. Secretary-General Ban Ki-moon said in a statement.
Opinion: How Obama can end Congo conflict
The agreement calls for cooperation among nations to "preserve and protect the territorial sovereignty" of the Democratic Republic of Congo, he said.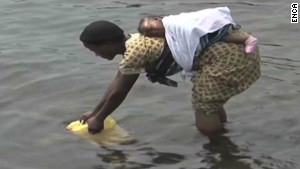 Life in Goma amid crisis
Ban praised the framework but stressed that it marks just the beginning of a "comprehensive approach that will require sustained engagement."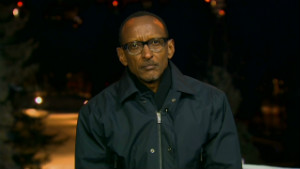 Rwanda's president discusses DR Congo
The deal was signed in the Ethiopian capital of Addis Ababa by envoys of several African nations, including Uganda and Rwanda. Representatives from the rebel group were not involved.
Ban said that a U.N. special envoy would be appointed to support the deal's implementation.
South African President Jacob Zuma said the agreement represents an opportunity.
Opinion: Hope for an end to world's deadliest war
"This framework in itself does not provide all the answers, it is an instrument that points the Government of the DRC, its immediate neighbors and the international community in a direction that will take this country out of the current morass," Zuma said at the signing ceremony. The possible deployment of an intervention brigade of U.N. troops has been mentioned as a way of stabilizing the nation's restive eastern region.
The agreement had been expected to be signed last month, but was delayed because of what Ban described as "procedural issues."
The M23 group was named for a peace deal of March 23, 2009, which it accuses the government of violating. The soldiers, mostly Tutsis, became part of the national army through that accord.
However, they broke away from the Congolese army in April, complaining they weren't being promoted as promised and because of a lack of pay and poor conditions.
Fighting between the M23 and the army has displaced close to a million people in North Kivu province and more than 300,000 in the southeastern province of Katanga, according to the United Nations.
The unrest continues a cycle of misery in eastern Congo, a mineral-rich region at the epicenter of political and ethnic conflict involving its neighbors to the east, Uganda and Rwanda.
The area has been embroiled in violence since 1994, when Hutu forces crossed the border from Rwanda fearing reprisals after the genocide in that country.
CNN's Joseph Netto and Nana Karikari-apau contributed to this report.

Part of complete coverage on
May 21, 2013 -- Updated 1714 GMT (0114 HKT)

Did you know that hurricanes can also produce tornadoes? Read facts you didn't know about destructive twisters.
May 21, 2013 -- Updated 1551 GMT (2351 HKT)

Ten years later, acid attack victim Sonali Mukherjee still fights for justice and appeared on India's "Who Wants to be a Millionaire" to pay for treatment.
May 22, 2013 -- Updated 0521 GMT (1321 HKT)

A quarter century after his death, American pop artist Andy Warhol has popped up in China again after his first and only trip to the country in 1982.

Just three years ago, Myanmar was being brutally led by one of the world's most repressive military regimes; today, it is a fledgling democracy.
May 20, 2013 -- Updated 1639 GMT (0039 HKT)

No solutions to the violence and total confusion is no longer just news, but a terrifying daily reality. Has Nigeria descended into civil war?
May 21, 2013 -- Updated 1054 GMT (1854 HKT)

A microscope slide with a trace of the late Indian independence leader Mahatma Gandhi's blood is up for auction in England.
May 21, 2013 -- Updated 1032 GMT (1832 HKT)

No longer grounded for battery problems, United's Dreamliner 787 Flight 1 sped down a Houston runway, en route to Chicago O'Hare.
May 21, 2013 -- Updated 1012 GMT (1812 HKT)

AC Milan striker Mario Balotelli gets personal with CNN's Pedro Pinto in this quickfire interview.
May 17, 2013 -- Updated 1354 GMT (2154 HKT)

Anthony Bourdain discovers an American style, fast-food chicken restaurant that opened in Libya after the revolution -- and became an instant hit.

A growing number of Chinese couples are opting for fantasy pre-wedding photography, with a price tag ranging from $500 to $20,000.

Today's five most popular stories