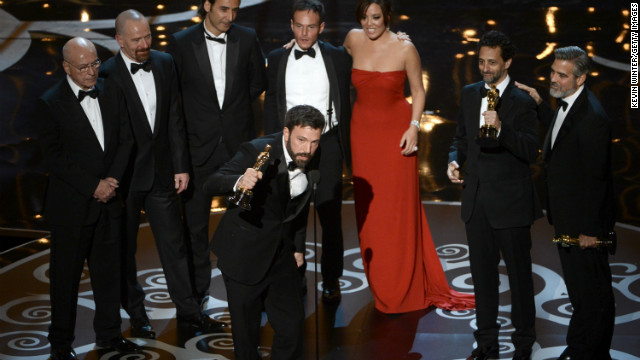 "Argo," best picture:
Director and producer Ben Affleck joined producers Grant Heslov and George Clooney, as well as the "Argo" cast, to accept the award. Heslov was sure to thank Affleck for his directing, after he was not nominated in that category.
See the full list of winners.
Daniel Day-Lewis, best actor: Everyone knew Day-Lewis was going to take this prize, but that didn't stop the actor from looking utterly overcome with emotion as he claimed his honor. "I really don't know how any of this happened. I do know that I've received more than my fair share of fortune," he said. He made sure to thank three men at the "apex of that human pyramid" that created "Lincoln:" Tony Kushner, Steven Spielberg and the "mysteriously beautiful mind, body and spirit of Abraham Lincoln."
Jennifer Lawrence, best actress: First-time Oscar winner Jennifer Lawrence tripped as she climbed the steps to accept her award, but the "Silver Linings Playbook" star quickly recovered. As she thanked her cast and family, Lawrence was sure to wish fellow best actress nominee Emmanuelle Riva a happy 86th birthday.
Christoph Waltz, best supporting actor: "Django Unchained" star Christoph Waltz graciously accepted his second Oscar on Sunday night, thanking both the writer-director, Quentin Tarantino, as well as his co-stars. "We participated in a hero's journey," Waltz said, "the hero here being Quentin."
Anne Hathaway, best supporting actress: As Anne Hathaway accepted her first Oscar win for her work in "Les Miserables," the 30-year-old actress looked down at her statue and said, "It came true." After thanking everyone from her friends and family to the cast and crew of "Les Mis," Hathaway was also sure to thank her husband. "By far the greatest moment of my life was when you walked into it."
Ang Lee, best director: Ang Lee accepted his second Oscar for directing as the audience stood on their feet in a standing ovation. "Thank you movie god," Lee said, adding, "I want to thank you for believing in this story." He noted that he shares the award with everyone who worked with him on "Life of Pi."
The winners list
The winners list
The winners list
The winners list
The winners list
The winners list
STORY HIGHLIGHTS
Best actress winner Jennifer Lawrence blames her dress for causing her to fall onstage
"It was my very own beard," Daniel Day-Lewis says of his "Lincoln" look
Anne Hathaway is not impressed with her "Les Miserables" performance
"I make my movies for Earth." Quentin Tarantino says
Los Angeles (CNN) -- Oscar winners use most of their onstage time thanking the Academy, their co-stars, agents, lawyers, family and God. Some of their best quotes happen backstage with reporters, where there is no orchestra poised to play them off.
Here's a collection of what you would have heard if you had a backstage press pass.
Best actress
Jennifer Lawrence was asked to explain why she fell on her way to collect her best actress Oscar for "Silver Linings Playbook."
"Look at my dress. I tried to walk up stairs in this dress. That's what happened. I think I just stepped on the fabric and they waxed the stairs... What went through my mind when I fell down? A bad word that I can't say that starts with 'F.'"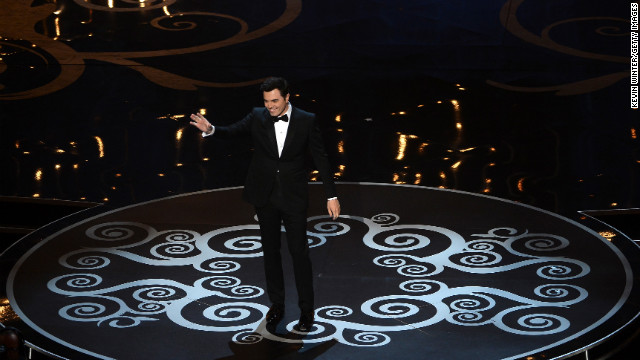 Oscar host Seth MacFarlane opens the show with a few jokes: "The quest to make Tommy Lee Jones laugh begins now" and "It's an honor that everyone else said no (to hosting). From Whoopi Goldberg to Ron Jeremy."
MacFarlane talks to William Shatner on the video screen during his opening. Shatner gives the host tips to make sure tomorrow's headlines don't read "worst Oscar host ever."
Charlize Theron and Channing Tatum dance to "The Way You Look Tonight."
Joseph Gordon-Levitt, left, and Daniel Radcliffe, right, join MacFarlane onstage for a rendition of "High Hopes."
"Brave's" Brenda Chapman and Mark Andrews accept the award for best animated feature film. Andrews wore a kilt in honor of the Scottish Highlands-set film, while Chapman thanked her daughter for inspiring the story.
"Avengers" actors Robert Downey Jr., Chris Evans, Mark Ruffalo, Jeremy Renner and Samuel L. Jackson present the Oscar for cinematography.
Dame Shirley Bassey performs "Goldfinger" during a tribute to the James Bond franchise.
While presenting the award for achievement in costume design, Jennifer Aniston and Channing Tatum thank all the amazing folks they have worked with in the past, including the people who've waxed them.
"Chicago" actress Catherine Zeta-Jones performs "All That Jazz" to pay tribute to movie musicals.
Jennifer Hudson sings "And I Am Telling You" from "Dreamgirls."
The cast of "Les Miserables" performs during the Oscars ceremony.
"Les Miserables" actress Anne Hathaway accepts the award for best supporting actress.
MacFarlane tries to introduce the Von Trapp family from "The Sound of Music," but an actor dressed as a Nazi runs into the auditorium and announces they're gone. Laughter ensues.
Hostesses hand out snacks during a break in the Oscars.
Adele performs "Skyfall" onstage in a sparkly dress and shoes.
"Harry Potter's" Daniel Radcliffe and "Twilight's" Kristen Stewart present the award for best production design. Stewart, who was photographed using crutches on the red carpet, had to limp to the microphone.
Songwriter Paul Epworth and singer Adele accept the Oscar for best original song for "Skyfall." An emotional Adele thanked "my man" before turning the microphone over to Epworth.
Barbra Streisand performs "Memories" onstage to pay tribute to the late Marvin Hamlisch.
"Django Unchained" writer/director Quentin Tarantino accepts the award for best original screenplay. "It's the writer's year man," he said. "Peace out."
Charlize Theron blushes after Dustin Hoffman complimented her dance skills.
Director Ang Lee accepts the Oscar for best director for "Life of Pi."
Daniel Day-Lewis accepts the best actor Oscar "for my mother" from presenter Meryl Streep.
Quvenzhane Wallis gets excited when she's announced as a best actress nominee.
Jennifer Lawrence trips on her way to the stage after winning best actress for "Silver Linings Playbook."
"You guys are just standing up because you feel bad that I fell," Lawrence said in response to her standing ovation. She wished fellow nominee Emmanuelle Riva a happy birthday before leaving the stage.
Jack Nicholson and Michelle Obama present the Oscar for best picture. Read more on the first lady's appearance on the CNN Political Ticker.
"Argo" producer Grant Heslov makes a joke about him, Ben Affleck and George Clooney being the three sexiest producers alive while accepting the award for best picture. Affleck eventually stepped up to the microphone to thank Canada, Iran and his wife Jennifer Garner, who he doesn't "normally associate with Iran." "I never thought I would be back here," he said.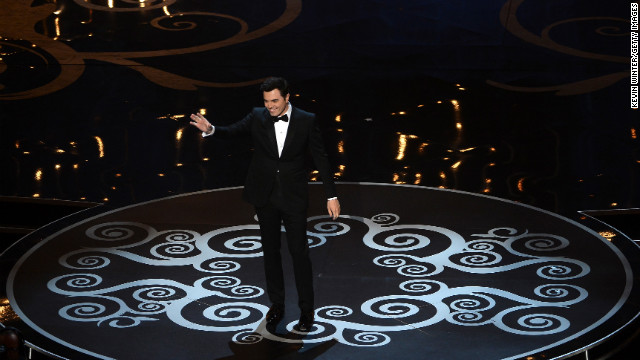 Oscars: The best moments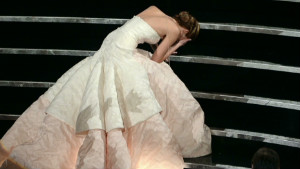 Jennifer Lawrence's Oscar night fall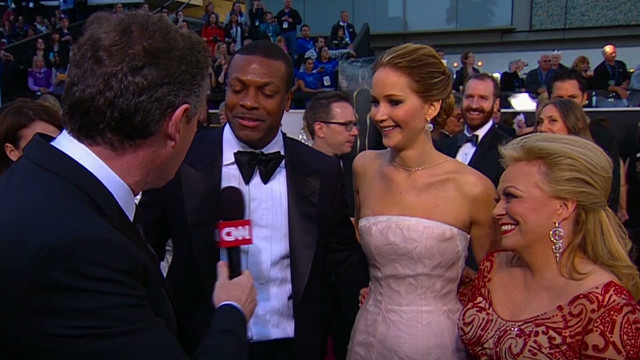 Lawrence: 'I want to see Al Roker'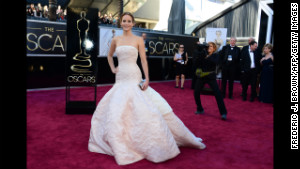 See red carpet hits at the Oscars
Best actor
Best actor Oscar winner Daniel Day-Lewis was asked if wearing a beard throughout the filming of "Lincoln" was annoying.
"What do you mean 'wearing it'? Do you wear your own hair? No, it was just a beard. It was a little bit scratchy now and then, but no, it was just a beard. It was mine. It was my very own beard."
Day-Lewis, the first person to win three best lead actor awards, is known for getting deep into a character. But he insists he's no longer into Abe Lincoln.
"I'm definitely out of character at this moment. If I slip back into it by mistake, you can do an intervention of some kind, Heimlich maneuver or whatever, if I get stuck in character. No, I'm definitely out of character now."
Best picture
Hearing first lady Michelle Obama announce that "Argo" won the best picture Oscar made Ben Affleck hallucinate.
"Honestly, I was just asking these two guys (co-producers George Clooney and Grant Heslov) outside, was that Michelle Obama? The whole thing kind of alarmed me at the time. But in retrospect, the fact that it was the first lady was an enormous honor and the fact that she surrounded herself by service men and women was special and I thought appropriate. Anyway, it was very cool."
Affleck was asked about not being nominated in the best director category for Argo.
"Naturally I was disappointed, and a lot of people said this is something that's going to happen. But when I look at the directors who were, people who weren't nominated as well, Paul Thomas Anderson and Kathryn Bigelow, just amazing, Tom Hooper and Quentin Tarantino. These are all directors who I admire enormously. So, it was a very tough year."
Clooney added "You were in good company not to be nominated."
Best supporting actress
Winning the best supporting actress Oscar will not keep Anne Hathaway from considering herself as the underdog.
"You're always looking for the next job. You always think at the end of one, it doesn't matter what's happened before, no one's going to hire me again. So, I do feel this evening the respect of my peers, and I am going to ride that wave for as long as I can, but I do also have a practical approach to acting, which is got to work, got to work, got to work."
Hathaway said she is not impressed with her Academy Award winning "Les Miserables" performance.
"I'm impressed by the work around me. I'm impressed by my makeup. I'm impressed by my costume. I'm impressed by the haircut and the set and the score and the song, but no, all I can hear is all of the notes that I didn't quite hit. But maybe I'll get over it some day.
Hugh Jackman was "our rock," Hathaway said.
"Hugh is this magical alien combination of strength and soul and heart and artistry and fun. And if you think about it, I mean, not to get serious, but we do live in a world that can tend toward the cynical, and to have someone in a film like this where it's inherent to the film's success that you believe in the goodness of the central character, and that someone like Hugh exists who has that goodness within him, it made the film soar. ... And we all knew that and, I mean, we are not coal miners. It wasn't hard work, but, you know, it was challenging. And we looked to him every day and to his strength and to his indefatigable spirit. He never complained once. He did as many takes as need be, and he was absolutely our rock and our inspiration through everything and to me personally."
Hathaway's "Les Miserables" role made her a better human.
"Playing Fantine, having to connect with the darkness of life, and I think maybe more to the point, the unnecessary suffering that human beings can inflict on each other, I would have loved to have gone home and forgotten about that everyday, but you just can't because it exists. And it exists for millions of men and women throughout the world. I think this film changed me because it made me more compassionate and more aware.
Hathaway got bit choked up explaining what she meant in her acceptance speech when she said "It came true."
"I had a dream, and it came true. And that can happen. And that's wonderful. And so, that was all I was saying was that it can and it did."
Best supporting actor
"Django Unchained" actor Christoph Waltz was at a loss for words to describe the feeling of winning his second best supporting actor Oscar.
"I was on a list with greatest actors around, with Robert De Niro, with Alan Arkin, with Tommy Lee Jones with Philip Seymour Hoffman. How do you think someone feels when all of a sudden his name is called in that context? I can't tell you. I'm sorry."
The Tarantino movie broke box office records for a western, but Waltz said he pays little attention to how much money a movie makes.
"I'm just an actor, I am not an accountant. I love this movie, not for being the highest grossing one. I love this movie because it's a fabulous, exciting piece of entertainment with a really deep message. So, I'm glad that it's popular because this is what the box office reflects. But the money, sorry, I do something else."
Best Director
Ang Lee suggested the Oscar he won for director "Life of Pi" should help him raise the big money needed to make more films heavy in visual effects. Computer generated visual effects and 3D offer "a very new cinematic language," but "it's too expensive," Lee said.
"Once it gets cheaper and easier, more filmmakers are going to dive into that and create something more and more interesting. And that language will establish the audience in the future. I see there's a quite brilliant future and I will try it again if I can afford it."
Best original song
Best original song Oscar winner Adele talked about being just two awards away from the grand slam of the entertainment industry -- the EGOT. Only 11 people have won an Emmy, Grammy, Oscar and Tony award.
"Maybe I'll do like an HBO special like Beyonce did (and win and Emmy.) And then a Tony, I'm not so sure. That may be one day maybe someone might want me to do a musical. ... That's not in my probability for the moment."
Best original screenplay
Quentin Tarantino was his usual exuberant self backstage after winning the best original screenplay Oscar for "Django Unchained." He declared that he is an "international filmmaker."
"The way I look at it is, I'm not an American filmmaker. I'm an American and I'm a filmmaker. But I make movies for the planet Earth. And I have since the very beginning with 'Reservoir Dogs.' I went all around the planet Earth, pretty much, for a whole year promoting it and doing all that, and I've been doing that ever since. And so, to me, America is just another market. I make my movies for Earth."
Best actor-reporter
Actor David Arquette was playing the role of reporter backstage, covering it for Howard Stern's radio show. His questions left more than a few journalists wondering about his new career choice.
"Are you excited about the possibility of a black pope?" Arquette asked Christoph Waltz.
Waltz wasn't thrown. "It would be an exciting thing. I am a very adamant non-racist. I don't care whether the pope is black or white or whatever color."
The press room moderator eventually shut Arquette down, refusing to call on him for more questions.