France says it will not negotiate with rebels who kidnapped family
February 26, 2013 -- Updated 1630 GMT (0030 HKT)
STORY HIGHLIGHTS
The minister's statement comes after rebels show video of kidnapped family
The family of seven was kidnapped in Cameroon
A masked spokesman says France has declared war in Islam
Boko Haram wants jailed members and their wives released
(CNN) -- France will not negotiate with the Islamist rebels who kidnapped a French family in Cameroon, Defense Minister Jean-Yves Le Drian said Tuesday.
"We do not negotiate on these bases, with those groups," Le Drian said on French radio station RTL. "We will use all possible means to secure the release of hostages."
The radio announcement comes a day after rebels in Nigeria released a chilling video of the family that was abducted in neighboring Cameroon.
The seven-member family was flanked by armed fighters from the Boko Haram movement in the brief video. One of the captive men read a statement demanding that Nigeria and Cameroon free jailed members of Boko Haram, which is battling to establish Islamic rule in northern Nigeria, and their families.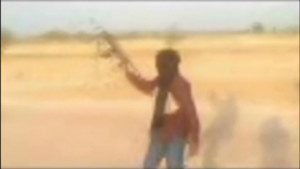 Obasanjo: Boko Haram undermine security
"Meet all the demands we have mentioned, and if you leave out one of them, we will kill these hostages," the masked man says.
France blasts 'cruelty' as Boko Haram displays kidnapped family
The family -- a couple, their four children and an uncle -- were seized in a national park in remote northern Cameroon on February 19. Authorities in Cameroon said they were quickly spirited across the border into Nigeria.
"This is the first time there are children hostages," Le Drian said. "This is an unacceptable situation."
French Foreign Minister Laurent Fabius denounced the video Monday, saying, "All of the state services are mobilized to free our countrymen."
"For all of us, these images are terribly shocking. They demonstrate cruelty without limits," Fabius said in a statement.
The kidnapping has raised fears of Westerners being targeted by Islamist militant groups in Africa in the wake of the French military intervention against other Islamist rebels in Mali. The masked man in the video says French President Francois Hollande "started war against Islam, and we must fight him everywhere."
The father works for the French company GDF Suez and is based in Yaounde, the capital in southern Cameroon. GDF Suez, which is developing a natural gas liquefaction project in Cameroon, said it was working closely with the French Foreign Ministry.

Part of complete coverage on
May 24, 2013 -- Updated 0122 GMT (0922 HKT)

"It's always the one we feared, the lone wolf that can come from nowhere and not be on our radar," said ex-London police chief John Yates.

Learn about one woman's tireless battle against sex slavery in the Philippines, with Manny Pacquiao in her corner. Watch the full version here.
May 23, 2013 -- Updated 1043 GMT (1843 HKT)

Ai Weiwei, the controversial Chinese artist-activist, has released a music single and video inspired by his harrowing detention by the government.
May 24, 2013 -- Updated 0209 GMT (1009 HKT)

CNN's Christiane Amanpour and Nic Robertson give their insight on the brutal murder of a man in broad daylight.
May 23, 2013 -- Updated 1415 GMT (2215 HKT)

Imagine if you could paint a working light switch directly onto your wall, without any need for sockets, cables or wiring. Well, now you can.
May 23, 2013 -- Updated 1445 GMT (2245 HKT)

A rare Apple 1 computer, with only 50 in existence today, could sell at auction for $400,000.
May 21, 2013 -- Updated 1714 GMT (0114 HKT)

Did you know that hurricanes can also produce tornadoes? Read facts you didn't know about destructive twisters.
May 23, 2013 -- Updated 1119 GMT (1919 HKT)

The World Economic Forum has declared Egypt one of the most dangerous places for tourists, above Yemen and Pakistan in terms of risks for visitors.
May 23, 2013 -- Updated 2107 GMT (0507 HKT)

Doctors used an experimental technique never tried before on humans to save the life of a six-week-old baby from a rare lung condition.

Five years after the 2008 Olympics construction boom, new Beijing hotels have steadily cropped up.

Today's five most popular stories