Frostbite forces Ranulph Fiennes to quit Antarctic expedition
February 26, 2013 -- Updated 1428 GMT (2228 HKT)
STORY HIGHLIGHTS
Ranulph Fiennes pulls out of attempt to cross the Antarctic in winter
British adventurer suffers frostbite after trying to fix a ski binding
The expedition viewed as last great polar challenge
Rest of team will continue on 4,000 km journey without Fiennes
(CNN) -- Frostbite has forced British adventurer Ranulph Fiennes to quit his attempt to cross the Antarctic in winter -- a challenge his team regarded as the coldest journey on earth.
Tony Medniuk, the chairman of the expedition, said Fiennes' hand was frostbitten when he had to fix a loose ski binding with his bare hands in temperatures of around minus 30 degrees Celsius (minus 22 degrees Fahrenheit).
"It is the last remaining great polar challenge," Medniuk told CNN.
"He was going to be on skis, in specially adapted clothing to withstand the temperatures, so that he would be the first person to actually ski across the Antarctic in winter."
Fiennes' evacuation has been delayed by a blizzard but he is expected to be transported by skidoo to the Princess Elisabeth Station about 70 kilometers (44 miles) away from his current position. From there he will be flown to Novo to get a connecting flight to Cape Town.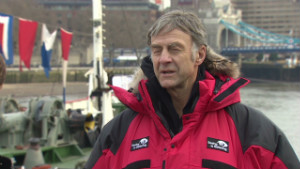 Ranulph Fiennes on Antarctic adventure
The other five members of the expedition will continue the journey without Fiennes as their leader, Medniuk said.
Read: Veteran explorer sets off on "The Coldest Journey."
They plan to travel almost 4,000 kilometers (2,485 miles) through icy wilderness mostly in complete darkness and in temperatures as low as minus 90 degrees Celsius. The journey is expected to take six months.
A Norwegian team recently completed a winter crossing of the Arctic but this is the first attempt to traverse the Antarctic.
Fiennes has previously been the first person to reach both the North and South Poles by land and the first to cross Antarctica on foot.
The team set sail from London in December and were building a base camp and supply depot inland from Crown Bay when Fiennes developed the case of frostbite. They are due to begin the polar crossing as scheduled on March 21.
Before his latest adventure, 68-year-old Fiennes described polar exploration as a drug or addiction.
"Once you get bitten by polar records, you keep going for it," he told CNN.
First woman to cross Antarctic solo: I've never felt so alone
Fiennes, who lost five fingers to frostbite on a previous expedition and also suffered heart problems during an attempt to climb Mt Everest, was sanguine about the risks of this adventure.
"I don't think about not coming back, because I mean, more people get killed on the roads here [London] than they do in Antarctica. I mean, I had a massive heart attack reading a magazine on an airplane. You don't need to go to Antarctica to pop it."
The expedition also aims to collect data on how climate change is affecting the Antarctic icecap in winter and raise $10 million for the blindness charity Seeing is Believing.
Adventurers recreate 'greatest survival story' of the Antarctic
CNN's Becky Anderson and journalist Tom Levitt in London contributed to this report

Part of complete coverage on
December 13, 2013 -- Updated 1644 GMT (0044 HKT)

Put aside out-of-date views of Africa and see it the way Africans seem to: With a high level of optimism, a CNN survey shows.
December 13, 2013 -- Updated 0937 GMT (1737 HKT)

The all too real political theater playing out in Pyongyang may offer another tantalizing glimpse behind the opaque curtain of the North Korea.

Read the journal of Mira Sorvino, a human rights activist and Oscar winning actress, who went to Cambodia with the CNN Freedom Project.
December 13, 2013 -- Updated 0757 GMT (1557 HKT)

Kenya could reinvent itself as a center for innovation. But it needs to build new research universities and expand its education, one expert argues.
December 12, 2013 -- Updated 1819 GMT (0219 HKT)

The sign language interpreter widely ridiculed for his performance at the Nelson Mandela memorial stands by his work.
December 12, 2013 -- Updated 1456 GMT (2256 HKT)

Behind the scenes in Cambodian karaoke bars -- a common front for child prostitution.
December 12, 2013 -- Updated 0446 GMT (1246 HKT)

A global risk firm surveys the most politically explosive countries.
December 12, 2013 -- Updated 1509 GMT (2309 HKT)

On Tuesday, I was free. On Wednesday, I became a criminal. India's high court just made being gay illegal, writes Tushar Malik.
December 12, 2013 -- Updated 1046 GMT (1846 HKT)

A Japanese actor says playing villians in Chinese films has helped the China-Japan divide. CNN's Ivan Watson reports.
December 11, 2013 -- Updated 1524 GMT (2324 HKT)

Pope Francis is Time's person of the year. His papacy has drawn adulation from people around the world for his man-of-the-people ways.

He was imprisoned for life but that did not quiet him. Nelson Mandela became South Africa's first black president, and an icon and inspiration.
December 13, 2013 -- Updated 1333 GMT (2133 HKT)

Browse through images you don't always see in news reports, taken by CNN teams all around the world.

Today's five most popular stories